Get on the Fast Track with These 20 Racing Fonts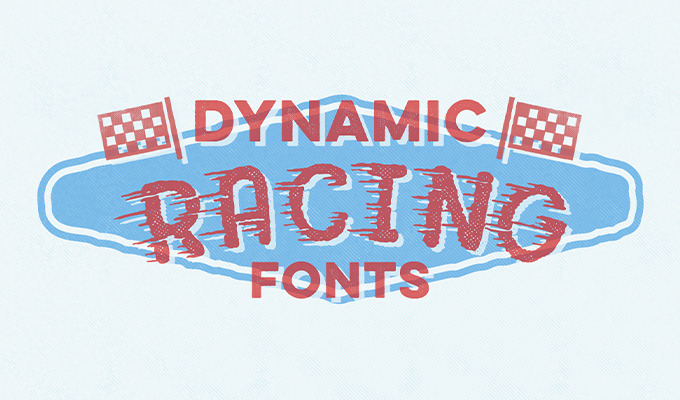 Typography is interesting in that one can instantly change the mood or evoke a certain feel simply by picking the perfect lettering style. Think of vintage posters or Hollywood glamour, for instance. Aside from carefully selected backdrops, the chosen typeface also adds to the overall atmosphere of the entire design.
The same is true if you want to make your compositions 'move'. The illusion of speed or movement can be conveyed with the help of dynamic racing fonts. Whether you need people to feel that adrenaline rush, or you're after a bit of speed, take your projects up a notch by using the right font.
Here are some great examples:
Inspired by vintage 70's motorsport posters, JAY KAZER presents this simple yet eye-catching typeface that just demands your attention.
This muscular lettering font is both assertive, yet down-to-earth. Laura Worthington outdoes herself with a script font that's reminiscent of the Industrial Age: practical yet beautiful, tough, and outstanding. What more could you ask for?
Remember when the Concorde ruled the skies or when cocktails were served on planes? Evoke the same feeling in your designs when you use this speedy number from Cape Arcona Type Foundry.
Make a lasting, strong impression when you use this dynamic sans serif by themesmile. Best used for logos, invitations, headers, quotes, image overlays, greeting cards, product packaging, and more.
Wild Giant Studio brings to you two styles that are sure to do some heavy-lifting when the time comes. Featuring the Regular, blocky display font that's a true beefcake for all occasions and Speed, that's sure to bump heads with its sharp edges and strong angles.
Are you working on retro, futuristic, automotive, or gaming themes? Then grab this typeface by Alfiyan. Perfect for that 80's vibe, it also comes in handy for other themes thanks to its sharp, powerful lines.
Look to NimaVisual and this sans serif font if you need to give your project a little techno or digital feel. Clean yet full of character, it's ideal for works with futuristic or vintage concepts.
Need an in-your-face font to quickly catch attention? Factory738 has the answer in this thick typeface that suits any contemporary project in any genre.
Missing the funky 80's? Go back in time with TSV Creative in this classic script font you can use in postcards, logos, titles, signature, branding merchandise, and more!
RXWI presents this strong typeface ideal for horror or occult themes that'll create interesting contrasting effects.
This font family by uncurve has four amazing styles (Base, Shadow, Insert, and Mix) you can use alone, or combined to create totally cool and unique looks. Don't limit yourself with retro projects on this one – use your imagination to play it up!
Welcome your new go-to font family when it comes to vintage, techno, sports, or minimalist themes. Created by Arterfak Project, this pack comes in nine styles you can quickly mix and match.
Make a bold statement today by using this dynamic wide font by RafaelRybar.
Quickly add edge to any artwork easily and seamlessly with this sharp font by inumocca_type. Ideal for posters, logos, catalogs, fashion labels, or automotive concepts.
Inspired by Japan Airlines ads around the 1950s, this typeface is an interesting hybrid of script and streamline fonts. Created by Cape Arcona Type Foundry, this pack includes six styles that call vintage living and charm to mind.
This simple offering from Fresh Pressed Fonts might be all you need when you want to make a commanding impression right off the bat.
Make sure you never run out of gas when you use this vintage script that's begging for speed. Bold with bit of a geometric touch, Sanborne recommends saving it for gaming and automotive themes.
This gem by Adrian Pelletier is the quickest way to add the illusion of speed to any project. But don't just use it for racing or automotive designs – the sky's the limit!
Inspired by retro race posters, as well as action comics during the 60s and 70s, this typeface comes in five styles to add an authentic vintage feel to your works. You can thank Vintage Voyage Design Co. later.
Love Steve McQueen or Marlon Brando movies? Got a thing for Harleys or Fords? Then you'll love this creation by Vintage Voyage Design Co.. A vintage font for true automotive lovers, the pack includes bonus graphics to help you achieve the best results.
Are you ready to catch all these dynamic racing fonts?
Choosing the right typography to suggest speed or movement is a great way to add action to an otherwise static project. In case you don't see what you're looking for, don't worry: Creative Market shop owners have more in store. With something new to look forward to every time, your toolkit will surely be filled to the brim with all things beautiful and useful. Go on, discover what you can create today.
Products Seen In This Post:
Free lettering worksheets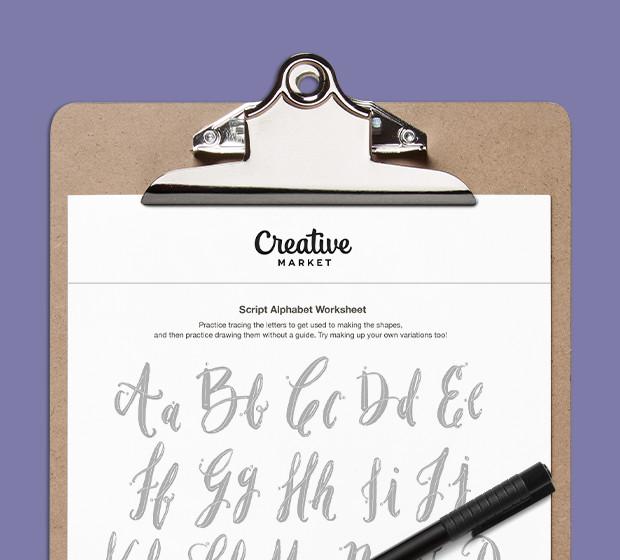 Download now!

Getting started with hand lettering?

Download these worksheets and start practicing with simple instructions and tracing exercises.
I'm a digital nomad and entrepreneur who loves bringing ideas to life. When I'm not working on inspirationfeed.com or fancycrave.com, I'm out taking photos. Follow me on Instagram: @igorovsyannykov
---