20 Sign Painter Fonts to Create Labels, Signs, and Cards

Whether they're stenciled, hand-drawn, or etched with mechanical precision, the letters of hand-painted signs catch the eye with styles both retro and modern. Sign painter fonts capture the feel of authentic hand lettered signage for a distinctive look on labels, signs, and cards. Here's a look at 20 unique fonts inspired by vintage and modern sign painting styles.
Pin them for later
A handcrafted typeface for large headlines, signage, and pricing, Jaywalk is a flexible system of three fonts that includes variants with both attached and separate drop shadows. Jaywalk features small slab serif terminals for cohesion and includes support for a variety of languages.
Inspired by the styles of vintage sign painting, the Berg Layered Font family features seven fonts including inline, shadow, ornament, and Western variations. With currency figures, numerals and multilingual support, the Berg Layered Font can be used for logos, branding, signs, posters, and more.
With inspiration from hand painted vintage food market signage, Grocery Brush is a rough brush script that also includes a cleaner alternative, Grocery Hand. Grocery Brush also comes with the original painted letters in Photoshop files and brushes.
Thillends is a brush calligraphy font that suggests the look of retro posters. Including a full character and numeral set plus ligatures, swashes and stylistic variants, Thillends adds hand painted style to branding, letterheads, posters, and even apparel design.
A bold, connected script, Black Script features 12 fonts, including inline, caps, ornaments and printed versions. Black Script comes with a variety of ligatures, swash and stylistic variations for creating headlines, logos and posters.
A textured, "hipster" display font with a flare serif, Wilton was inspired by a hand painted sign. Wilton includes a full set of capitals and punctuation for use in headlines, signs and logos with a rugged, outdoorsy feel.
Trincha is Portuguese for the kind of broad brush used on wall lettering, and Trincha is a sans serif font with 145 glyphs based on the hand painted letters on the walls of Brazilian cities. Trincha features two levels of distressed letters, created with a real paintbrush.
The HIPTON is a layered version of vintage, single stroke letters used in sign painting. The HIPTON font family includes seven font variations, plus a set of extras and artwork featuring the HIPTON font.
A non-connected casual sign painter's script, Suti features smooth, round letterforms in upper and lower case. Suti adds a friendly, retro feel to logos, titles, packaging and other display lettering projects.
Parts & Labor is a perfectly aligned layered type system based on newspapers and propaganda posters of the mid-20th century. Parts & Labor comes in four weights, each with its own stylistic variants and includes a bonus 3D type Illustrator action.
Inspired by antique and vintage advertising tins, Fictoria features four styles and a set of stylistic and contextual alternates for use in apparel design, logos, cards and posters. Fictoria also comes with a set of badges in Illustrator and EPS formats.
Completely hand-drawn, Ed's Market Main Script suggests classic mid-20th century grocery posters and shop signage. Including main, bold and upright script variants, Ed's Market Main Script also includes a set of basic and extended Latin characters.
A bold, sans serif font that suggests the popular storefront signs of the 1950s and 60s, Shop Casual includes a full set of upper and lowercase letters, plus numerals and punctuation, for use in headlines, posters and signs.
Inspired by 1960s-era television, posters and pop music, The Sign Panthers is a brush script font that comes in two variants, Bold and Script. The Sign Panthers also comes with a set of ligatures and alternative styles for use in branding, logos and other high-impact projects.
A casual, vintage inspired brush script, Laticka includes a set of stylistic alternates and ligatures for informal projects including social media posting, prints and logos. Laticka also comes with a set of four rough vector textures in EPS format.
Inspired by both modern decorative letterforms and Victorian-era circus posters, Humoresque is a mini font family with 12 weights that can be layered in a variety of ways. Humoresque includes extended Latin characters and currency symbols and comes with instructions for layering in both Photoshop and Illustrator.
Inspired by labels used on 19th century fruit crates, Appleton is a vintage script font with an extensive set of alternates, swashes and stylistic variants. Appleton also includes multilingual support and additional glyphs.
The Painter is a hand lettered script typeface inspired by vintage sign painting. The Painter comes in both regular and "rusty" styles with an extensive set of alternate characters, ligatures, and swashes for use on logos, invitations, posters and more.
Recreated from lettering manuals of years past, Egyptian Painters Sans is a sans serif brush display font with a full set of upper and lower case letters, as well as numerals and special characters.
With inspiration from circus and carnival posters of the late 1800s, the Chesterfield Typeface is designed for visibility in large displays, headlines and posters. Chesterfield comes in regular, extrude and gradient styles, and includes a bonus set of vector shapes.
Sign painter fonts blend vintage styling, rough textures, and embellishments inspired by commercial signs of years past. With inspiration as diverse as carnival posters, shop signs and fruit crates, these font sets add casual, retro style to contemporary design projects of all kinds.
---
Products Seen In This Post:
Getting started with hand lettering?
Free lettering worksheets
Download these worksheets and start practicing with simple instructions and tracing exercises.
Download now!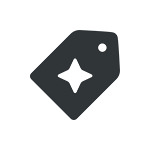 Creative Market