The Importance of Design Communities and How to Create Them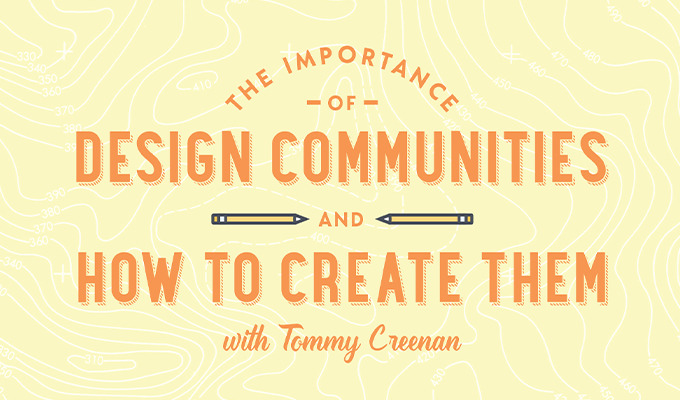 As soon as Tommy Creenan sat down in a design 101 class, there was no turning back. He fell completely in love with design.
However, even though Tommy has a graphic design degree, he credits other designers in his community with helping him take some of his biggest leaps forward. Additionally, his inspiration doesn't come from a textbook but from other designers and the designs he sees in the community in which he lives.
Today, Tommy shares his insights on:
The benefits of joining a design community
How to join a design community
How to create a design community in your community
The Benefits of Joining a Design Community
Surrounding yourself with a community that truly understands and appreciates design can be the key to thriving as a designer. Having a community like this can:
Give you a confidence boost when you need it most
Tommy says, "One of my biggest leaps forward mentally was going to the Creative South conference and speaking with people I look up to and admire, about the same struggles I felt day in and day out." From conversations like this, Tommy realized he wasn't alone in his struggles and experiencing these difficulties didn't make him a bad designer, "Everyone lacks confidence or feels like their work is sub-par at times, you just need to push through."
Encourage you to try new things
The whole reason Tommy started his Creative Market shop was because of support from one of his design friends, "My good friend and accountability partner, Mike Burroughs, first encouraged me to open up a shop (he recently opened a shop, too!). We're both big fans of Dustin Lee of Retro Supply Co. and Passive Income for Designers, so it seemed like we were both missing out by not working on our own digital shops."
You can read all of the design textbooks, tutorials, and blog posts in the world, but nothing compares to having a conversation or getting advice from people with experience. People who have spent hours a day, for years on end, engrossed in all things design, are sure to hold a wealth of knowledge.
Tommy has felt the benefits of this knowledge pool, "My career has been shaped by dozens of other designers taking the time to teach me something or just have a conversation about design. Getting out into the community and sharing what you know or being open to other people's ideas is how you grow."
How to Join a Design Community
For the most part, these communities don't just pop up on their own. It takes a little bit of effort to be part of a design community, but it's effort that will be rewarded in the long-run.
We asked Tommy what his number one piece of advice would be for those who want to join a design community. A word of warning to all our introvert readers, this will involve meeting people in person.
The Internet is a magical place, but Tommy insists, "I doubt my best Twitter exchange was even 1/100th as valuable as some of my shortest in-person meetings with other designers." According to Tommy, "You've got to get out there. I'll admit I am far from the best at this myself, but meeting people face-to-face and having a real conversation is where a majority of my 'ah-ha moments' came from."
Don't worry, you don't have to meet up with tens of people to get the full "design community effect." Your venture into the design community can start off with a simple one on one conversation, "Even if you only have one designer friend in town, make a point to meet up with them regularly. It's amazing what a simple conversation over coffee can do for your day, week, or entire career."
How to Create a Design Community in Your Community
Maybe the community in which you live isn't currently a supportive environment for a design community. Or perhaps you've got a small design community built up, and you'd like to see it expand into your greater area. Tommy lives in Buffalo, New York and has been working on developing a greater appreciation for design in his hometown.
Buffalo is a city of hidden potential. Tommy says, "Like a lot of Rust Belt cities, the people who live here know how special our city is, but it isn't very obvious to people who don't live here."
Tommy believes a good design scene could help other people see his city's potential, and he's is excited to have the chance to help. "For my entire life (and for most of my parents' lives in fact), Buffalo was in decline. Now things are starting to turn around and there is this amazing wave of positivity in the air. It's an amazing time to be a Buffalonian and I'm trying to do my small part in making Buffalo a better place."
How does Tommy plan to help make Buffalo a more design friendly community, and how can you do the same in your hometown? Here are a few tips:
Work on projects in your community
Work with clients who are contributing to your community. These clients are already doing amazing work that people in your community will appreciate. Help boost their impact by creating some killer designs as a way to say thank you for what they've done. This is a fantastic way to show and get the word out in your community about the importance of design.
Tommy recently did this for the Buffalo International Film Festival. "I was able to design the brand, website, and the posters and banners for the event. Buffalo has been growing tremendously over the past 5 years, but in many ways, it's still a very small town. A lot of our big, local events do not put a lot of thought and care into their design work, so to be able to design something special for an event like this is unreal. I'm very excited to be a part of it."
Don't be discouraged if design is initially undervalued
As you just read, Tommy noticed that many of the events in his community didn't put a lot of thought into design. Rather than let that discourage him, he takes this as an opportunity to jump in and prove the worth and value of great design.
In his words, "It's not hard to see why event organizers would rather spend their money and efforts on making the event itself run as smoothly as possible, but design can give a level of credibility that words and promises alone cannot. Design is an intangible thing. It triggers feelings in people. Making sure the right feelings are triggered can make all the difference in an event or business's success."
He notes that while some people may have a hard time seeing the value of design, there will always be people who are willing to listen, learn, and embrace this value. "All we can do as designers is try our best to show our value and embrace the people who [understand it]."
Donate your design skills, and treat those volunteer gigs like real jobs
Before your community has a strong understanding of the impact of great design, important events and projects in your community may have little to no design budget. While you shouldn't undersell yourself or devalue your work, if you hear about a project you feel passionate about and you're excited to be a part of it, consider volunteering your skills. Being passionate about a cause you're working towards can be extremely rewarding!
A note of warning here: just because you're working on a volunteer basis, does not mean your final product should look like it was done for free. Your goal is to show how impactful great design can be. In order to do that, you need to show your community great design.
Tommy talks about this aspect of volunteer work, "I try my best to volunteer my time designing things for people or organizations I care about. It's so important to them that I treat every project like the most important job I've ever done, regardless of how big or small my client is. You can't wait until you're working for Nike to start treating your clients like that. Every client needs to be the best company in your mind, or you won't do the best work you possibly can."
Put your best foot forward
As alluded to above, Tommy says the key to getting a community to care about design is, "Designers doing the best work they possibly can and showing how design can change things for the better."
He goes on to say, "It's easy for people to think, 'What difference could a professional logo possibly make?' until they see the results. Proving those results over and over again can start to make the shift happen."
A Final Word of Advice
Now that you know the benefits of design communities, it's time to get out there and join one or create your own. But before we send you off, we want to offer one last piece of advice from Tommy, to remind you that you can do this.
Tommy believes that every designer can play a part in contributing to design communities, "I have yet to meet a designer who didn't have something valuable to share with others. Everyone has that special something that makes other designers jealous and that they wish they could do as well as they can. Even Paul Rand and Saul Bass had idols. Never be afraid to share your work or your ideas."
Keep the Conversation Going
Do you have questions about starting or joining a design community? Ask them below, Tommy can't wait to chat with you!
Products Seen In This Post:
Download 6 Products for Free
A ball of energy with good intentions. Adventures, bad jokes, and the outdoors are my favorite things. If a puppy's around, there's a 110% chance that's where you'll find me.