The New SEO: Your Old Tactics Don't Work Anymore, Use These Instead
Traffic is the lifeblood of any website. With the advent of the Internet and its immense popularity, website owners realized that having highly visible sites added value to their businesses. Achieving a high ranking on search pages used to be a lot easier then, using SEO techniques that were acceptable to early search engines but are not acceptable today.
Old SEO Practices Have Lost Their Worth
Businesses' desire to be ahead of rivals gave rise to black-hat practices. Quantity over quality, using techniques listed here, was an SEO norm that enjoyed temporary fame.
Bad Linking
Link wheels and link farms provide a fast and easy way to build links to the targeted page, typically the landing page or the money page of a website. Link wheels can be abused by creating vicious circles of links that don't provide value. Link farms provide paid links that have no relevance to the websites they are linking to. Optimized, keyword-specific anchor text, likewise, give a semblance of unethical link-building practices.
Spammy Content
Mediocre, duplicated, or illegal content, spinning that results in unreadable content, spammy guest blogging, and automated forum posting are just a few of the things that can penalize a website. Quality content is the main ingredient of a website that Google (after recent algorithm updates), will like the best.
Keyword Stuffing
Most website owners think that including as many keywords as possible will result in their pages being recognized by search engine crawlers. Some go to the extent of repeating keywords in article titles, every subhead, and every paragraph. Some write them in bold text or use them as text links. The latest Google algorithms now treat this as spam.
Guest Blogging
I hesitate to include guest blogging in this section because it's still a strategy that many of us place a lot of importance on. That being said, it's taking a lot of heat at the moment.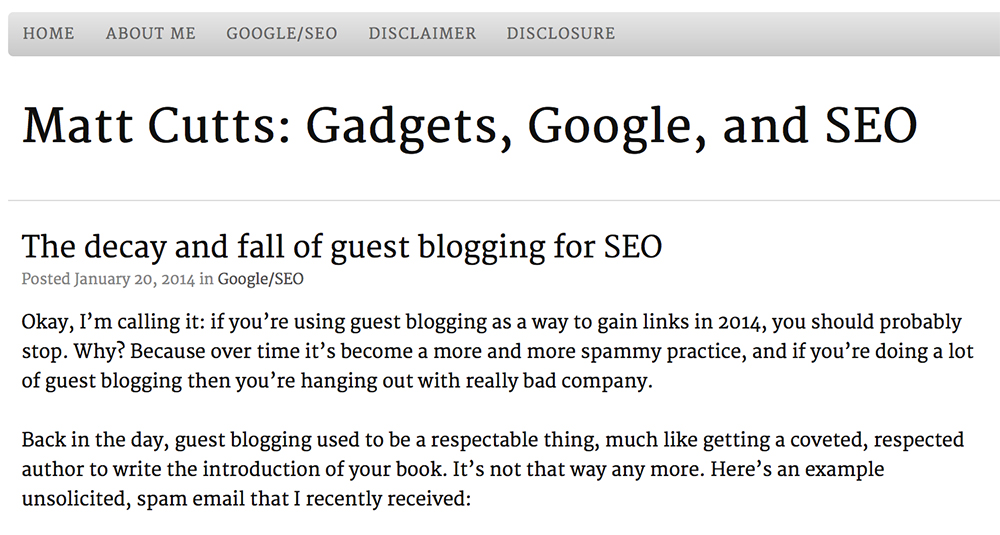 Matt Cutts, the head of Google's Webspam team, had this to say in a recent post on the fall of guest blogging: "if you're using guest blogging as a way to gain links in 2014, you should probably stop." Powerful words! He goes on to discuss how guest blogging started out as a well-intentioned trend that, like every other tactic in SEO, eventually got taken over and abused by no good, dirty spammers. So is guest blogging dead? Kissmetrics had this to say on the topic: "As I've reiterated many times, guest blogging — the legitimate, high-quality, and squeaky-clean variety of it — is not dead. But guest blog networks are dead, at least in Google's eyes." Bottom line: you need to carefully evaluate your guest posting strategy if you're interested in staying on Google's good side. Read through the two articles linked to above, weigh the evidence carefully, and make sure your guest blogging practices stay firmly out of the penalty zone.
The New Face of SEO

The needs of web users have changed. Search engines' approaches to evaluating targeted web pages have also changed, in order to improve the user experience. Google took the lead by rolling out Panda in 2011 and Penguin in 2012, with a continuing series of updates. These algorithms were aimed at making the web a better place by eliminating spam factors like poor-quality content, keyword stuffing, unnatural links, and cloaking.
Good Web Design Is Key to Effective SEO
Human and engine searchers give preference to websites that are fast-loading, easy to navigate, and compatible with most browsers.
Quality Content Is the Litmus Test of Effective SEO
Quality and relevant articles, blogs, white papers, ebooks, infographics, images, and videos are imperative to today's web pages. With content pieces that teach instead of pitch, inform and don't mislead, persuade but don't compel, everything else will follow – "everything" meaning a cycle of natural sharing and linking that both humans and search engines will love.
A Good Link Profile Is a Major Pillar of a Strong SEO Strategy
Links are websites' front-line tools for visibility to search engines. However, the link schemes that worked in the past have no place in a post-Panda and Penguin environment. Links that connect naturally with good content are very important.
Go Viral on Social Media
Social media has become a staple of everyday life. There is no better place to go for sharing ideas, socializing, and building relationships – and all of these things help create a more successful SEO campaign.
Pigeon
The most recent Google algorithm update hit in July of 2014 and is being dubbed "Pigeon." Among other things, it significantly alters how Google handles local search results by de-emphasizing the importance of Google Places over other local directories. If you operate a local business that is prominently featured on sites like Yelp or Urbanspoon, this could be good news for you. Adrienne Erin wrote up an informative piece on Google's Pigeon update that you should definitely read if you're interested in how it might affect your rankings.
The All Important First Page
Why is a new approach to SEO important? According to Chitika statistics, the vast majority of Google traffic happens on the first page of Google's search results. This means that websites found on the first search pages are more likely to be visited, generate leads, get potential sales, and stand to have more robust bottom lines. If you have any tips, tricks, or insight about new SEO tactics and strategies, leave a comment below. We'd love to hear from you.
---
Header image created using Photorealistic Screen Mockup
---
Getting started with hand lettering?
Free lettering worksheets
Download these worksheets and start practicing with simple instructions and tracing exercises.
Download now!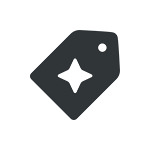 Creative Market