A Collection of Thin Cursive Fonts That Are Perfect for Tattoos
One of the most difficult parts for tattoo artists and enthusiasts is discovering the ideal font. These 15 delicate cursive tattoo fonts are perfect for artistic designs and beautiful lettering of any kind.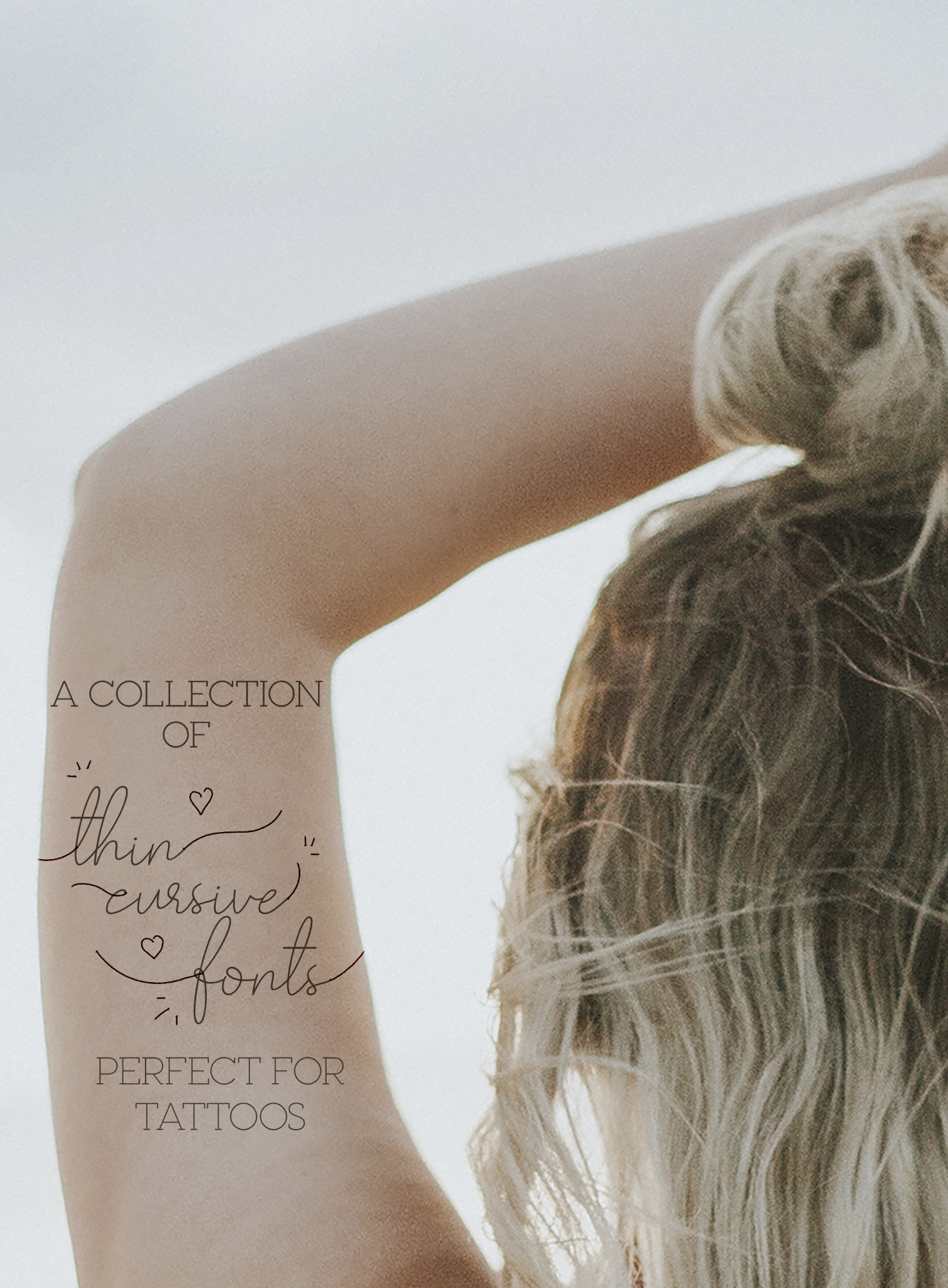 One of the most difficult parts for tattoo artists and others who seek to find a unique expression for their brand is discovering the ideal font. These 15 delicate cursive tattoo fonts are perfect for artistic designs and beautiful lettering of any kind. This is a stylistic calligraphy typeface that is ideal for a thin tattoo font, among many other uses. With expressive curves, the handwritten appearance also makes it perfect for wedding invitations, personal branding, or posters. The creator, MrLetters, has also designed many other stunning and decorative modern fonts.
This modern, decorative font was created by Senoajiletter, who is also the designer of a great variety of other handwritten signature fonts. This font can be used as a tattoo font or for personal branding and logos to present a strong personality. It includes ligatures and multilingual support.
Leitmotif designs both fonts and graphics in a wide variety of styles. The creator has also brought us Suarez, which is a handwritten font with alternative symbols. This unique font has ligatures that smoothly connect the individual characters. This makes it ideal, not only as a thin tattoo font, but also for posters, advertising, or even menus.
This is a whimsical, hand-lettered font with a monoline script style. It includes 500-plus gorgeous glyphs, ligatures, and dingbats. It is a modern version of old-style cursive with additional, uniquely-placed edges and curves. The designer, Molly Suber Thorpe is the author of three calligraphy books and focuses on calligraphy and hand-drawn lettering.
Sugar Cane is one of several offered by Uniontype, which was founded in 2016 by Roman Avdiushkin. They provide various font families and scripts with unique and smooth designs. Sugar cane is no exception. It was inspired by vintage monoline fonts and includes ligatures. It can be used as a thin, smooth tattoo font, or it can be used for signs, packaging, and logos.
This font is designed to be a mid-century California throwback. It is a monoline script with extras including popular catchwords. It was designed by Amy Hood of Hoodzpah Design Co. in partnership with RetroSupply Co., which also offers other fonts, templates, graphics, and add-ons. This easy-going, linked font is perfect for posters, merchandising, or even store signs.
This original, vintage-style font includes everything necessary for a thin tattoo font or other commercial or personal use. The graceful monoline script includes ornamental alternatives, ligatures, and multi-lingual support. The creator, Dharmas Std, also provides many other elegant scripts.
Joanne Marie has designed a number of incredible templates, graphics, fonts and add-ons. This romantic font is a work of art, with very thin lines, ligatures and one hundred free Photoshop patterns included in the packet. It comes in three different weights, with an additional ornamental glyph. The handwritten font is perfect for a tattoo font, cards, invitations, and much more.
This is a luxurious duo, with both the American Favorite script in regular or bold and the American Favorite Serif all-cap font. The first is a thin signature font with ligatures. Together, they make the perfect choice for personal branding, melding elegance and modern style. The set also includes eight customizable logo templates. The creator, Great Studio, also offers various other fonts in a variety of styles.
This font duo is brought by Inky Jar Design Studio, along with various other graphics, fonts, and templates. It includes a stylish, thin sans font in two different weights and a bold, forceful font with classy curves. It is idea for feminine branding. With nine logo templates and illustrations, this versatile duo can be used for many different purposes.
Typehand Studio brings fonts and templates of many different sorts to the design world. Signaline is a font duo including a thin, versatile font with a hand-lettered appearance and gorgeous flow in addition to a geometric, strong script. It includes swashes, symbols, and much more. It is perfect as a thin tattoo font, personal branding, invitations, and other such uses.
The handwritten signature font family has five weights, smooth ligatures, and stylistic alternates. It is highly expressive and ornamental. The maker, Adam Ladd, also has many other fascinating fonts for both commercial and personal use.
This is only one of many fonts created by Picatype, but it is the idea choice for a thin tattoo font. It is a casual calligraphy style and may be used for signage, labels, quotes, and many more purposes. It includes ligatures and alternates.
Sweet, simple and casual are the best descriptors for these fonts. The set contains 4 variations as well as 225 ligatures, more than 40 wreath logo templates and hundreds of illustration objects. It is ideal for merchandising, headlines, greeting cards and much more. 50Fox, the creator, has also made other stylish bundles and fonts.
This is a thin caligraphy font that offers both regular and bold weight, plus a slant option. It includes alternates, ligatures and more. It is expressive of a sophisticated style and is ideal for event announcements, logos, packaging and more. Creative.lafont also offers many other ornamental scripts.
It is extremely important to find a beautiful and clear font for tattoos and other decorative purposes, particularly since tattoos are something that are expected to last for a long time. With any of these fonts, you can create a work of art for any decorative or personal branding purposes.
Remember key typography concepts
Typography terms made simple.
Grab this handy cheatsheet summarizing some of the most important typography terms.
Download the PDF
Sarah Huard
I am a freelance writer who is deeply committed to giving clients the ideal experience and the ideal content to fulfill every need. I have completed over 250 projects for satisfied clients. In addition to building my own business for providing web content, I am currently working with Scripted.com.
View More Posts