20 Typewriter Fonts to Give Your Designs a Retro Feeling

Everyone loves the look of text printed with a typewriter. Luckily, today, you can achieve that classic, hand-typed literary look without having to change any ribbon. These 20 typewriter font families allow you to easily add vintage text to your projects from the comfort of your PC or tablet.
1. Smith-Premier Typewriter
Smith-Premier Typewriter is a fun typewriter font family that is equally fitting for creative, artistic projects and professional ones. This serif font is slim and lightweight with a slight curl for a unique look.
2. Old Typewriter Font
For a hand-drawn typewriter font, check out Old Typewriter Font. This set of retro fonts looks old-fashioned and rough, and it is a perfect typeface for a project with a vintage aesthetic.
3. Olivetti Typewriter
Olivetti Typewriter is a bold slab serif font. Olivetti Typewriter takes the classic typewriter font and makes it whimsical and full of character.
4. Grandpas Typewriter
Grandpas Typewriter is one of the best retro fonts if you're looking for a typeface that truly looks aged. The typeface was created from a real antique Olivetti Typewriter Machine, and it comes in a regular version, a strong hit version, a light distressed version and a double-hit version. One of the coolest parts of this font family is that it has an X version, full of typewriter mistakes, tests, and stains.
5. Baltimore Typewriter – Basic Pack
For a bold typewriter font, check out Baltimore Typewriter, which includes four distinct font styles. In the set, you'll find the classic font, a version that looks like typewriter keys, an Italic version and an extra bold variation.
6. Four Hours 'Til Dawn
Four Hours 'Til Dawn is a clean, minimalist typewriter font. This sleek font is appropriate for academic work and professional work as well as more creative projects.
7. Lettre
What makes the Lettre typeface so unique is that it's a geometric serif font, but its imperfections make it look hand-lettered. Lettre is a typeface that looks modern and trendy.
8. Special Elite Pro
The Special Elite Pro typeface recreates the look of the letters of the Special Elite Type No. NR6 vintage typewriter. This typeface is familiar and warm, and it comes with extensive figure sets.
9. Noodlerz
One of the most fun typewriter font families is Noodlerz. Aptly named, Noodlerz has curly serif letters that are, as the creator describes, "a cross between a Sharpie and a typewriter," making it a very versatile typeface.
10. Font + Textures Pack #1
The Font+Textures Pack #1 from Ana's fonts &c. is a set that includes Ana's Rusty Typewriter Font, a rough-edged, vintage-looking typeface. The set also includes 15 grunge textures that complement the typeface.
11. Mayonez Extralight
Mayonez Extralight is a typewriter font that balances seriousness and friendliness. It is a serif font with a rational structure, but it has rounded contours to make it fun and more approachable.
12. Skurier – 3 Fonts
This typewriter font family created by Leitmotif includes three 3 fonts inspired by the popular monospaced font Courier. Skurier can be used with Western, Central and Eastern European character sets as well as Baltic and Turkish languages.
13. 2011 Slimtype Pro Family
2011 Slimtype Pro Family is a light manual font, and the set comes with two styles. Choose from either a slab serif font or a typewriter pattern — and you can use it with font size 10 or bigger.
14. Erased Typewriter 2
Intellecta Design created Erase Typewriter 2, which is made to mimic the look of distressed or sloppy ink from older typewriters. This vintage set of characters comes with support for Albanian, Bosnian, Croatian, Czech, Danish, Dutch, Estonian, Faroese, French, German, Hungarian, Icelandic, Italian, Malagasy, Norwegian, Polish, Portuguese, Serbian, Slovak, Slovenian, Spanish and Swedish languages.
15. Underwood Typewriter
Underwood Typewriter is a fun typewriter font — serif with a twist. This typeface, which is intended to mimic the look of old typewriters, has the following family language supports: Albanian, Danish, Dutch, English, Estonian, Faroese, French, German, Icelandic, Italian, Malagasy, Norwegian, Portuguese, Spanish and Swedish.
16. Intellecta Typewriter
One of the most casual, easy-to-read vintage fonts is Intellecta Typewriter. It is a great choice for academic projects or those you want to give a distinctly retro vibe.
17. Catalina Typewriter
Catalina Typewriter is a serif font created by Kimmy Design. The typeface was inspired by the designer's visit to a bakery in Newport Beach, California, which touted beautiful organic design and hand-drawn menus, table cards, chalkboards and wall quotes. This hand-drawn font is casual, friendly and inviting — just like a warm cafe.
18. "Typerighter"
A set of six fonts, "typerighter" is a thin, light typewriter typeface. One of the coolest things about this font family is that each letter within it replaces itself automatically to six variations, so the text looks authentic and original — like it was really typed by a typewriter.
19. Detective
Make your project look like an old-fashioned detective novel by using Detective — a handmade mechanical typewriter font. The font family is well-suited for literary or business projects.
20. Typewriter Font
Typewriter Font, while reminiscent of vintage typewriter lettering, is a font that was created to look clean and legible. It comes in both regular and bold weights. If you're looking to give your design projects a unique or vintage feel, consider using one of the outstanding typewriter fonts from our designers on Creative Market. For more resources to make your projects look distinctly retro, check out our guide to going retro. You might even want to consider creating your very own typewriter typeface.
Pin them for later!

---
Products Seen In This Post:
Getting started with hand lettering?
Free lettering worksheets
Download these worksheets and start practicing with simple instructions and tracing exercises.
Download now!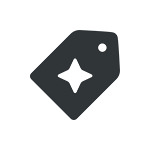 Creative Market