25 Vintage Grungy Stamp Fonts For The Perfect Letterpress Effect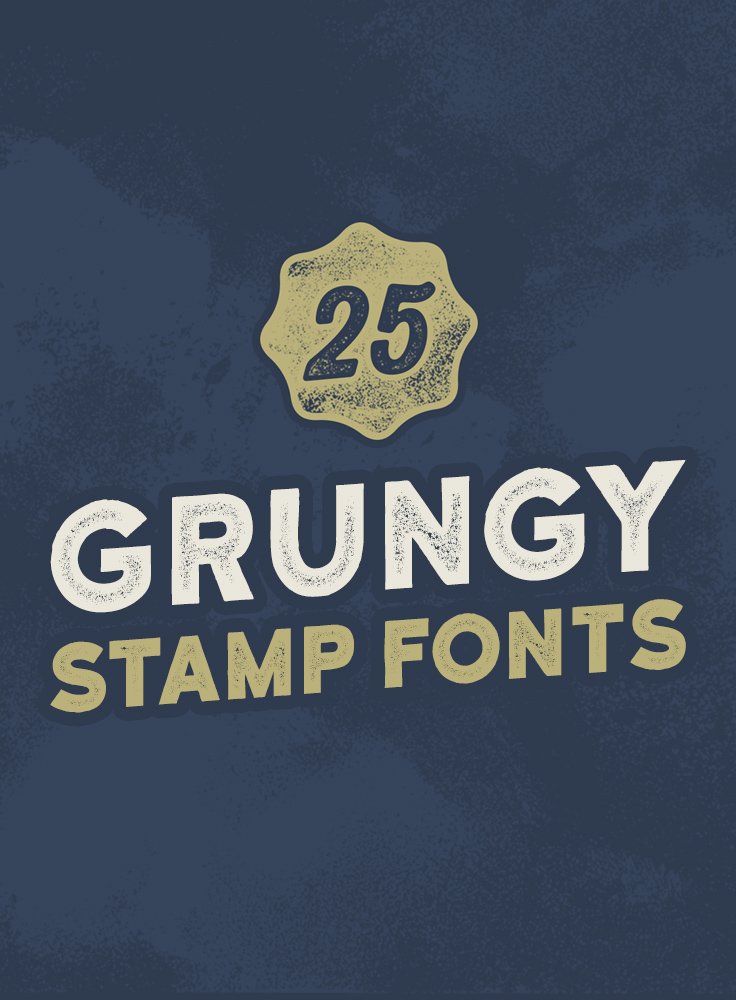 Signatures, letters, dates, and labels are just a few common uses of rubber stamps. Aside from enhancing cards, textiles, and signage, stamps can come in handy for clerical or admin tasks, too. Today, they lend a pretty, vintage feel to any design or project. There are plenty of tutorials online as well for when you want to create your own rubber stamps. Not in the mood to get crafty? Don't worry: these grungy stamp fonts can give you the same old-fashioned look you want to achieve. Simply pick your favorite from this list:   This super condensed typeface by Hustle Supply Co. includes a total of six styles, featuring three (Regular, Rough, and Textured) major files with oblique counterparts. The final product is both modern and vintage, depending on how it's used.
Inspired by the Pacific Northwest, this pack by Albatross contains five styles with bonus symbols, animals, swashes, and design elements to complement this 'legible vintage geo-sans'. Perfect for lending a rugged touch to any artwork.
In need of something inspired by nature? Then you'll love this creation by OpusNigrum. A mix of uppercase in script and sans in lowercase, it even comes with a vector pack of vintage illustrations for a true camp or forest effect.
A set of two fonts (Regular and Grunge), Greg Nicholls created them so they work well together in many contemporary projects, such as posters, logos, labels, branding elements, and more.
For that western rubber stamp feel, take advantage of this pack by Arkitype. Featuring 12 different styles in sans and a serif versions, it's a great addition to any designer's toolkit.
LeoSupply.co presents this charming old-school textured typeface ideal for vintage and retro projects. Feel free to get creative in four beautiful styles.
Who said old-fashioned fonts can't be fun? This gem by Finck Type does the job well with two styles suited for print or web designs. Use it for labels or your own website.
Make sure you have an ever-reliable font that's always ready for adventure – just like this font family from Arkitype. A multi-tasking vintage typeface, it looks good in small or large sizes.
Step back to simpler times with a little help from DikasStudio and their handcrafted font. Featuring clean and rough looks, don't be afraid to explore when this font has got your back.
Thanks to DikasStudio, now creating that authentic vintage feel has never been easier. Presenting six fonts with extra ornaments and catchwords, you'll finish those labels, logos, t-shirts, posters, and more in less time and with more flare.
Remember lamp-lit streets? The scent of freshly baked goods? Or offices of brooding men filled with smoke? Such are the images evoked by these grungy stamp fonts by DikasStudio.
Call back the industrial styles of yesteryear in this classic typeface by Haynie Design Co.. Remember vintage marts, farmers markets, and general stores featuring an aged, ink stamp-like style for a vintage feel.
Josh O. presents this versatile sans serif collection that can retain their legibility despite the size or design. Now you can craft awesome headlines, logos, labels, and more without the worry.
As a designer, you want something reliable you can always go to when sudden needs arise. That's why you'll be glad you got this product by DikasStudio. Introducing an old pressed font that comes in 14 styles with extra vectors and catchwords – you'll never run out of creative uses for it.
Inspired from beer and breweries of past years, you can now relive the same vintage vibe by using this collection by DikasStudio.
Check out this true rough, stamped style font by phitradesign fonts that now features a clean version. Amazing when combined, but also highly recommended for retro or grunge projects.
Inspired by the hand lettering movement and the outdoors, Trailhead Design Co. created this simple and clean hand-drawn font that includes a serif and sans serif version. Best suited for badges, logos, stamps, and posters.
Arkitype presents this stencil and sans display font family dedicated to exploration and adventure. With 10 different yet equally beautiful styles to choose from, surprise yourself with what you can create today.
Yellow Design Studio is proud to introduce this premium high-resolution letterpress family with rectangular letterforms and authentic, hand-crafted texture. With eight texture levels, light, bold, clean, and slanted versions included, that's a total of 20 font styles to mix and match!
Nothing says retro like grungy stamp fonts. Add the same charm to your projects with a little help from Yellow Design Studio and this letterpress family. The pack also comes with funky icons, super useful shapes and emblems to give you full control of customizing your retro designs.
One challenge in design is making your works feel organic. Now, you can effortlessly achieve that look with this old-school printed sans serif by It's me simon. It features that old-school printed look reminiscent of natural letterpress printing.
There's nothing like authentic handwriting to truly relive the glory of yesteryears. But let pratamaydh help you in realizing the same effect in your artworks in this vintage font inspired by the ink pen. With bonus badge templates to boot, now you can make business cards, logos, posters, t-shirts, nature-themed quotes in minutes.
This handcrafted textured script font by Typia Nesia includes a bonus aged font in all caps that you can combine with the regular typeface for a beautifully unique vintage feel to any project.
Unio presents this sans serif font as tribute to Johannes Gutenberg. These grungy stamp fonts have sketchy edges and irregular scheme imperfections to simulate transferred ink.
Worried about your designs looking computer-based? When you use a typeface like this one from Nicolas Fredrickson, you'll be amazed at the detailed texture variety that it'll be your new go-to grunge font from here on out. Love the look of grungy stamp fonts?
Make sure you have your own collection of trusted content for when unexpected projects come up. You never know who you'd want to impress. But just in case you're in need of something new, count on Creative Market to find exactly what you're looking for. Thanks to independent creative across the globe, you're sure to discover something beautiful each and every time. Their vast pool of reliable content includes fonts, photos, illustrations, templates, and more. So you'll never run out of resources to pack your toolkit with!
---
Products Seen In This Post:
Getting started with hand lettering?
Free lettering worksheets
Download these worksheets and start practicing with simple instructions and tracing exercises.
Download now!
Igor Ovsyannykov
We create fonts, graphics, and produce aesthetically pleasing photos.
View More Posts