Welcome Jackie to the Team
We have a new team member that you're going to want to get to know. Jackie is a judo enthusiast who loves hockey, enjoys traveling, has a history as a scientist, and is always pursuing creativity and further education. Yup, pretty awesome description right? Well, Jackie is a pretty awesome gal, and now she's increasing the awesomeness of the Creative Market team by joining us as a support specialist. Let's take some time to get to know Jackie a little better.
Tell us a little bit about yourself and what you do for Creative Market.
I'm a Bay Area native that loves to travel but can't leave the comforts of California for too long. My other loves include food, hockey (Go Sharks!), and judo. As a part of the wonderful Support team, I work hard at trying to provide the best user experience possible for both shop owners and customers.
What were you doing before you joined the team and how did you and Creative Market "find each other"?
I used to be a lab scientist, but I realized the research life wasn't for me. I then moved into tech doing support work, first for Minted then for Yelp. I worked at Yelp for a little over 2 years on the support team, which was a terrific experience. I was missing the creative aspect in my life though, and adding it in after a long day of work was a little difficult. Taking classes and what not helped a bit, but it was hard to find inspiration sometimes. I had been following Creative Market for a while and had a pleasant experience (yay free goods!), so when there was an opening for a support specialist, I knew I had found my calling 🙂
When not at work, what do you do for fun?
Many of my activities usually involve something food-related: eating, cooking, grocery shopping, or binge watching food-related television. I'm really into making everything from scratch, so I'm often found in the kitchen testing some new recipe I found or some crazy concoction I made up because I thought it sounded cool. I have a notebook full of ideas that I carry in my purse, just in case inspiration strikes when I'm spacing out on Muni.
Do you have any go-to music when you're working?
It varies on my mood that day, but I often like listening to jazzy music. It's usually either that or happy upbeat pop songs that I embarrassingly lip-sync to at my desk while answering emails.
Have you seen any products here on the site that you especially like?
I recently came across elfivetrov's shop and love all of her retro-esque illustrations.
What inspires you creatively?
Traveling and meeting new people. I love hearing all the various stories from different people and learning about different cultures, it helps me look at things in a different perspective.
Any parting words of wisdom?
Every experience is a chance to learn something new, so go out there and explore every chance you get!
Getting started with hand lettering?
Free lettering worksheets
Download these worksheets and start practicing with simple instructions and tracing exercises.
Download now!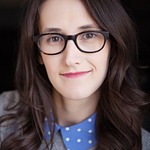 Kelley Johnson
I'm an ex-schoolmarm who is excited about all things creative. Photography makes me smile and when I find a new-to-me dress that fits just right, it makes my day.
View More Posts