Welcome to Creative Market!
Your local farmer's market is more than a transactional experience, it's an opportunity to meet the producers and learn the story behind their goods, and to interact with a community of like-minded people who all appreciate artisan creators. Creative Market is built with a similar ethos to make beautiful design simple and accessible to everybody, by building a platform that lets designers around the world connect with consumers of design assets like fonts, templates, illustrations, and more. And to facilitate those connections in a marketplace that celebrates, supports and pushes the design world forward.



We've hand-selected a number of talented content producers for our launch. We hope their offering shows you the quality & creativity we plan to support and incubate here.
Creative Stories
We don't just want to sell the goods of creatives around the world, we want to tell their stories… To start, we'll tell you ours. We've spent the past 10 years building design software and the best communities on the web for creative people to share their ideas and inspirations. Along that journey we've been both buyers & sellers of stock content and other design marketplaces. We've shared in the joy of finding the right asset to help complete a project, but also in the frustration of the pricing, terms and disorganization of those existing marketplaces. We built Creative Market for ourselves, and as customers, will always strive to build the best possible experience. And while we may have built Creative Market for ourselves, there are millions like us.
We thank you for your support in building the best place for creatives to buy & sell their digital design assets. The doors open today with the first step of a long and awesome journey that we're excited to share with you.
The Marketplace
For creators of digital design assets, we welcome you and promise to continue building the best place for you to sell your work. And because we believe so much in our ability to do so and the commitment we have to make it happen, we have no exclusivity clauses. You're free to sell your work wherever else you want, our job is to make sure that the best place is with us. We respect your craft and the hard work you do, so we're offering you the best royalty split regardless of your sales volume with us; 60% of every sale you get to keep. The other 40% covers the transactional costs of the sale, supporting our platform and rewarding partners that help bring attention to your work. We want you to think of your storefront on Creative Market as YOUR storefront. We've designed a beautiful store page that lets you showcase your work and your personality and we'll continue to improve the ways we let you showcase why you're so awesome.
For buyers of digital design assets, we built the simplest marketplace experience possible. The price of every purchase is clearly listed on each product and there are no confusing price schemes that hide the real amount of your purchases behind credits that aren't 1/1 with a dollar. We've created the SimpleLicense to help make it easier for everyone to understand the license they get with their purchases. You can read more about it here [https://creativemarket.com/license], but basically with every purchase you get the rights to use the asset in unlimited personal or commercial project. What you don't get is the right to resell that asset or include it in another product for sale.
For curators, we built a way for you to use your eye for great design to curate collections of your favorite assets. To us, your skill is valuable and you should be getting compensated for it more than in just social praise. We're working on an affiliate platform that will give you a real cut of every sale you help close, and you can still enjoy in the social praise too.
Our Future
While we don't yet have a vector illustration of a black bear playing lazer tag with a narwhal, someday we hope to host a marketplace of all the worlds creations and to be able to provide you with whatever asset you're looking for. The idea of a marketplace that allows anybody to sell is a scary one for some folks, "How will I find the good stuff if anybody can sell something?" That is what we're here for. Unlike some of the other stock marketplaces that are more media company than tech, we've got tech in our dna. Amazon isn't the most successful retail company in the world because they don't have too many products, they have millions. Amazon is successful because they're smart about helping you find exactly what you're looking for and they're constantly improving at what they do. We hope to deliver on the same idea, that we can have millions of things in our marketplace but still make it an enjoyable and easy experience for you to find & buy the assets you want.
It's day 1 for us here at Creative Market, but it's been hundreds of days in the making. Our team has been working hard to get our platform ready to welcome users and we're very proud of what we're launching today. We take a moment to relax, enjoy this milestone and appreciate the opportunity… and then we get back to work making our vision for the future of design a reality.
A very big thank you from the entire Creative Market team. We welcome your thoughts and feedback.
May you always be creative.
+B
Getting started with hand lettering?
Free lettering worksheets
Download these worksheets and start practicing with simple instructions and tracing exercises.
Download now!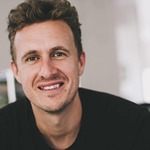 Darius Monsef
Friends call me Bub(s)(ba). CreativeMarket.com CEO #1 Cofounder of Hands.org & Nalukai.org Husband of Kaili & Father of Waialea, Spencer & Sachi.
View More Posts