What Is Vector Art? A Definitive Guide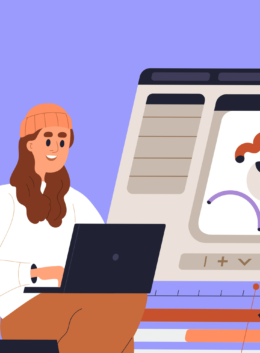 Developed in the 1960s, vector art solved a common problem for designers: the distortion that occurred when editing an image composed of individual pixels. More than 60 years later, design pros, complete beginners, and everyone in between are using vector artwork to create high-quality print and digital designs. Here's what you need to know about using vector graphics in your projects.
What Is Vector Art?
Vector art is a type of digital art composed of vector graphics, which are graphics made from lines, curves, points, and shapes. These design elements are derived from mathematical formulas, making them highly scalable. When you resize a vector image, you'll notice that it doesn't get blurry or distorted. It maintains the same resolution, whether you need to shrink it down for a logo or make it large enough to use on a billboard. As a result, vector artwork is highly versatile and used in a wide variety of graphic design projects.
Vector Art vs. Raster Art
The main difference between vector art and raster images is that vector art has a much higher level of scalability. Raster graphics are composed of individual pixels, which means they may become distorted when you resize them. As a result, raster art is typically used for photography and print projects, while vector-based graphics have more applications. If you create a raster file, you can save it as a JPEG, PNG, BMP, TIFF, or GIF.
Vector Art vs. Bitmap Art
Like raster graphics, bitmap graphics are composed of tiny pixels, which means there may be a loss of quality when you resize each one. Another difference between vector art and bitmap art is that a vector file is typically much smaller than a bitmap file. This is because bitmap images contain information about the colors used for each pixel. Since color information is embedded in the file, bitmap images are most useful for projects requiring a wide range of colors in different shades. Bitmap files are typically saved in the following formats:
BMP
PNG
JPG
GIF
TIFF
PPM
XBM
XPM
What Is Vector Art Used For?
Due to its small file size and scalability, vector art has many applications in the design industry. Whether you're an in-house designer for a large company or a craft enthusiast just starting out, you can use vector art for a variety of print and digital projects. Here are just a few ideas to inspire you.
Animations
Vector graphics are ideal for creating animations, as they're smaller than raster or bitmap files. Their small size produces smoother animations, increasing project quality. Because they don't contain individual pixels, vector images are also easier to resize, reducing the amount of time it takes to produce animations of varying sizes.
Embroidery Projects
If you want to create your own custom embroidery designs, it helps to start with a high-quality vector illustration. Due to their scalability, vector graphics files are easy to edit without a loss of clarity or quality. That means you can create designs on your computer and then import them into your favorite digital embroidery program.
Website Design
Millions of people use their mobile devices to look up information about products and services. Whether you own a small business or work for a large corporation, it's important to create designs that look good on multiple screens. The designs you create should look just as good on a tiny smartphone as they do on a 43-inch computer monitor. Vector graphics make this possible. Another benefit of using vector images for website designs is that vector artwork is easy to edit or reuse. When you use vector images, you don't have to spend as much time tweaking them, making it easier to be productive.
Print Projects
It's clear that vector designs work well for computer graphics, but they're also useful for print projects. These high-resolution images have sharp images and look good at any size, making them ideal for everything from a custom business card to a brochure promoting your company's products or services.
Clothing
Have you ever seen a T-shirt or other piece of clothing with a blurry graphic? It was probably the result of the print shop using non-vector files. The scalability of vector images makes them ideal for printing on shirts, jackets, vests, and other types of apparel. If you've ever worn a shirt with your company's logo on it, then you've probably worn something created with a vector image file.
Mobile Apps
Many of your favorite mobile apps use vector graphics to reduce load times and improve the user experience. It's even possible to use vector files in a mobile video game, increasing the number of frames that appear each second. The higher the FPS in the game, the smoother the gameplay.
Vector File Formats
It's possible to identify vector files by looking at the file types on your storage media. EPS, AI, SVG, and CDR are some of the most common vector file extensions.
EPS Files
EPS (Encapsulated PostScript) files are used for billboards, posters, and other large design projects. If you take your designs to a print shop, you may have to convert them to EPS format first, as EPS is often used by professionals in the printing industry. The main advantage of using EPS files is that each image maintains its resolution, regardless of how much you stretch it. A drawback of using EPS is that you can't edit from an EPS file. If you notice a typo or want to make a design change, you'll have to go back into your graphics software, make the change, and save the edited file as an EPS.
AI Files
The AI file extension is used for files created in Adobe Illustrator. Although you can view AI files in third-party programs, you can only create and edit them in Illustrator, which may be a drawback if you're a beginner who isn't ready to invest in expensive design tools yet. AI files work well for business cards, billboards, logos, and designs that will be published online. Like other types of vector files, AI files are small and scalable. They can also be used for layering and transparency.
SVG Files
SVG stands for Scalable Vector Graphics. One of the main advantages of using SVG files is that it's possible to store text in them, not just shapes. If you include text in an SVG, search engines can read the text and look for relevant keywords, making SVG files an important component of search engine optimization (SEO). These images are written in XML code, so they're extremely useful for online design projects. You may use SVG files for digital logos, favicons, digital animations, or infographics.
CDR Files
CDR is the default file type for CorelDRAW, a vector graphics editor. Like other vector formats, CDR files don't suffer a loss in quality when they're blown up or stretched. That makes them useful for a variety of design projects, including brochures, business cards, fonts, and invitations.
How to Transform Raster Art Into Vector Format
If you already have raster artwork and need to convert it into vector format, here's what you need to do in Illustrator.
Launch Adobe Illustrator.
Open your raster file.
Click Object–>Image Trace–>Make.
Select a preset option or choose Image Trace.
Make manual edits as needed.
Save the file.
To vectorize an image in a different design program, search for tutorials with instructions specific to your software.
Best Vector Design Software
If you're ready to experiment with vector art, you'll need design software capable of creating and editing vector images. Here are three of the best options on the market.
Adobe Illustrator
Industry-leading Adobe Illustrator makes it easy to create vector images for every design project. It has an intuitive interface and dozens of tools to make your designs stand out. It's also compatible with multiple operating systems, making it a versatile tool for designers at all levels of experience. Adobe Illustrator has a steep learning curve, but it's well worth taking some time to learn this full-featured design software.
Adobe Photoshop
Photoshop comes with vector tools, making it possible to create your own vector designs. This software also has powerful image-editing tools, making it a helpful addition to any designer's software library. One potential drawback is that Adobe requires Photoshop users to pay for a monthly or annual subscription. Because Photoshop has so many uses, it may be worth the investment.
CorelDRAW
CorelDRAW provides a variety of design tools all in one place, making it one of the best design software packages on the market. One of the biggest advantages of using CorelDRAW for vector graphics is that the software comes with many presets, reducing the amount of time it takes to complete your designs. It also has a LiveSketch tool, which turns your freehand sketches into vector artwork.
Inkscape
Inkscape is a free design tool developed for desktop computers. Compatible with Windows, Linux, and Mac OS X, the software comes with flexible drawing tools for object creation and manipulation. For example, Inkscape has shape tools, a gradient editor, a color selector, and the ability to edit nodes on vector graphics.
Best Vector Drawing Apps for iPad
Some designers prefer to work on their iPads instead of sitting at a desk all day. If you're one of them, check out these iPad vector drawing apps.
Affinity Designer
Affinity Designer has many of the same features as Adobe Illustrator, but it costs much less, making it a popular choice for budget-conscious designers. The app is optimized for iPad, so it works well with the Apple Pencil, responding quickly to changes in tilt and pressure. Affinity Designer also has some of the best node, curve, and shape tools available for the iPad.
ProtoSketch
ProtoSketch gives you many of the tools you'd find in a desktop graphics program, making it a good choice for graphic designers and product designers alike. Not only does ProtoSketch have basic vector tools, but it also comes with multiple UI elements. That makes it ideal for prototyping and other product design tasks. Available tools include Vector Brush, Line, Rect, Star, Poly, and Spiral, giving you everything you need to get started on your next project.
Find High-Quality Vector Graphics
If you need a little time to practice making your own graphics, you can download premade graphics from other designers. Visit Creative Market to find millions of ready-to-use vector graphics, fonts, and other design elements.
Getting started with hand lettering?
Free lettering worksheets
Download these worksheets and start practicing with simple instructions and tracing exercises.
Download now!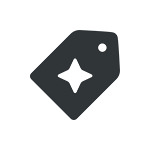 Creative Market