What on Earth is A Design Aesthetic & Why Do I Need One?
Aesthetics is a study of the mind and how our brains interpret something as being beautiful or ugly. It is crucial for design because our first interaction with almost anything is based on how it looks. Judging books by their covers — we all do it. A "design aesthetic", therefore, is a style.
What Sort of Styles, For Example?
Here are a few that I know you've heard of:
Material design
Flat design
Skeuomorphism design
Vintage design
Minimalist design
What actually constitutes an aesthetic style is highly debatable, since some of the examples above, Material Design especially, have a rulebook that outlines the basic rules of legibility, usability and design. If you wanted to be technical about it, you could call Material Design's color schemes an aesthetic style, but its concepts a way of designing.
Does Every Designer Need Their Own Style?
With all that in mind, my answer is yes. Your aesthetic style adds to your identity and brand, but that doesn't mean that you should tie yourself down to either Apple's idea of minimalism or Google's view of Material Design. You should consider the design brief at hand and decide upon a solution by yourself – one is not better than the other. Back to aesthetics, though…
Some of us resonate with a specific style of visuals. Back in the day I adored vintage design (and I still do), but over the last few years I've become deeply interested in typography and I love the concept of minimalism. I think I've been exceptionally efficient at understanding minimalism, so many of my designs are created in this way, but I also love bold colors, so I combine that with minimalism and creative typography.
You don't have to choose an aesthetic, you can curate one.
A Jack of All Trades
I've always thought that it's better to specialize in a certain area, or style, than to be mediocre in several styles. Have you ever thought "If I do all of the things I'll attract more clients"? This is nice in theory but rarely works in the long run. Here's an example:
If I wanted to hire somebody to design an album cover for my rock band, I'd look for a freelancer than specializes in understanding the look and feel of the rock genre, and by look and feel we mean aesthetics. By choosing this business model, a client may say to another rock band, "I hired this guy to design our album cover, you should hire him too — he specializes in it!".
From this dialogue, we can see that this freelancer has begun shaping his identity as "the guy who understands rock". He may design album covers, or band t-shirts, or craft websites, but he loves rock and he's really awesome at designing in that style.
Design Aesthetics and Branding
You could say that this guy has a design aesthetic. Sadly, that dialogue between the two clients may never have happened if the freelancer hadn't specialised in rock themes or album covers.
Here's another (but slightly odd) example.
If you had an uncontrollable craving for an american-style gourmet burger, you wouldn't go to McDonald's. Sure, they do burgers, but won't be as delicious as Gourmet Burger Kitchen will it? I mean, the name says it all really – there's no shame in focusing on one aesthetic and being alarmingly obvious it.
DesignForMusic focuses mostly on rock-related album covers, images and artwork.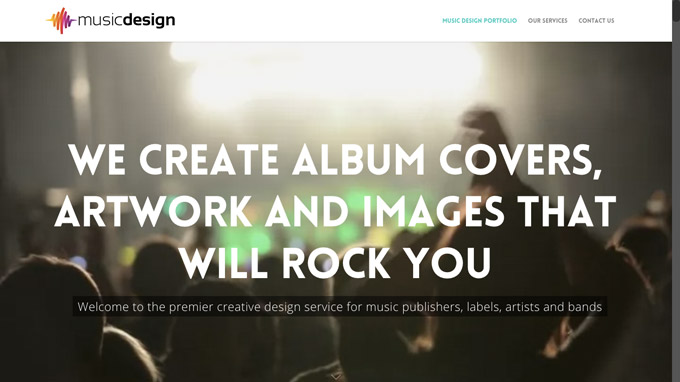 Search Engine Optimization
I absolutely detest those words, and I must confess that I don't spend much time optimizing websites anymore, but that doesn't mean we should abandon it completely. If you didn't have a design aesthetic, how would you describe yourself? Just…"designer"? Web designer? Well that certainly won't help you appear in search engines. "Rock & Indie-Style Designer" is much better.
Conclusion
What should you do when approached with a design brief that's beyond your skill set, or outside of your interests? Say no. It's completely okay to turn down work. After all, if you know that you won't enjoy it, or you won't be able to work to your usual level of standards, then that's a lose-lose situation for both of you. Instead, be true to yourself, and explain the situation; use this time to explain what you do do, and not only will the client respect you for your direct honesty, but they'll keep you in mind when somebody asks about album covers.
Don't work hard, work smart!
---
Daniel Schwarz is a full-time design writer and digital nomad. When he's not writing about design and code, he's actually doing it (sometimes) at Airwalk Studios, a creative studio of which he's the founder. 24 years of age, originally from London.
Getting started with hand lettering?
Free lettering worksheets
Download these worksheets and start practicing with simple instructions and tracing exercises.
Download now!
Alan Ashcraft
High-quality creative assets from the mega-corp that cares.
View More Posts