WordPress Groups and Communities and Why You Should Join Them
It can be quite a daunting task to find the solution to your problems, especially when it comes to problems associated with programming, web development and general technical knowledge.
While it's possible to depend on communities like the official WordPress.org foundation, you're sometimes being forced to look for clues by other community members, and all it does is makes your life miserable and difficult.
I will say that it's important to know how to use Google, but what about other types of communities? I'm an avid blogger, and I constantly play around with my WordPress installation to create changes, try new things and see what works the best.
My questions are usually focused around new types of queries, styling issues or optimizing the site for performance and speed. In some cases, it's necessary to take a more technical approach and manage these things trough my server, which requires additional knowledge and extra help.
I've been spending some time trying to gather up those WordPress communities which are not only most helpful, but also most innovative and offer new ways to look at things. I'd like to share them with you in this post, and I hope you'll find them just as useful.
WordPress Community Guidelines
Hey, before we get to our list, I just wanted to outline a couple of things for you, to make sure you're aware of the standards that these communities share and it will greatly increase your chances of getting help, connecting with like-minded people as well as help to spread the word about yourself.
Respect Other Peoples Opinions
Research Your Problem Before Submitting
Share Valuable Content and Insights
Mention People by Their Names
Give Out Compliments and Honorable Mentions
Don't Try Too Hard and Be Yourself
I'm not gonna lecture on how to perform each of those steps, just make sure you're taking them into account when expecting to be treated as a decent human being.

The WordPress Development Stack Exchange is – hands down – the best WordPress community to visit, if you're after intellectual and technical answers, which will be granted to you when you're presenting yourself as someone who needs genuine help.
You can try and ask questions like 'how to upload images to WordPress', but you're surely going to get buried and most likely told not to do it ever again. The community has well over 30,000 participants that have either answered, or asked a question themselves.
Tips for WordPress Development Stack Exchange Community
Research your problem
Make sure you're not asking what someone else has asked
Prepare and format your questions for pleasant reading experience
Thank users who help you, validate their helpful answers
Avoid telling someone off, he is most likely right
Be a loyal member of the community
It's not just for asking questions, and you will find that there are great ways to connect with new webmasters and developers along the way, most of which own a WordPress site themselves. (duh!)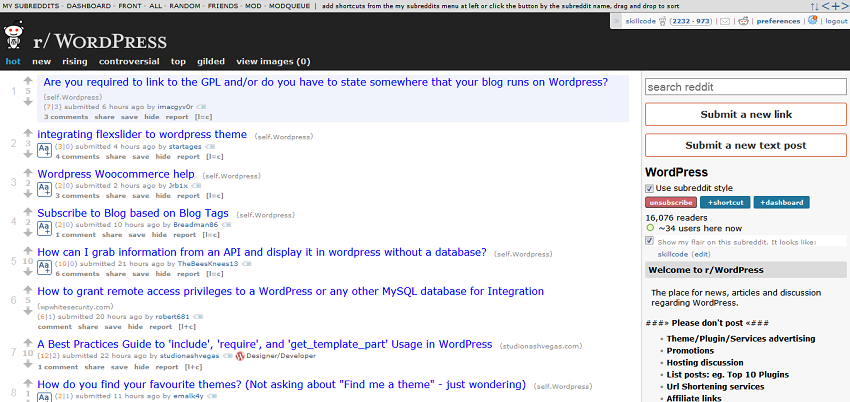 It's similar to Stack Exchange, with the exception of being a discussion board, as any Reddit board would be. It's much more friendly to beginners, but you'll have to read the rules on the sidebar in order to always be in accordance with the rest of the community.
It's currently 16,000 users strong and you're most of the time going to find out about new releases and features from this very subreddit. Majority of the members are developers, and long-time WordPress users themselves. You shouldn't be afraid of asking for help, if you need to solve a problem. That's what Reddit loves.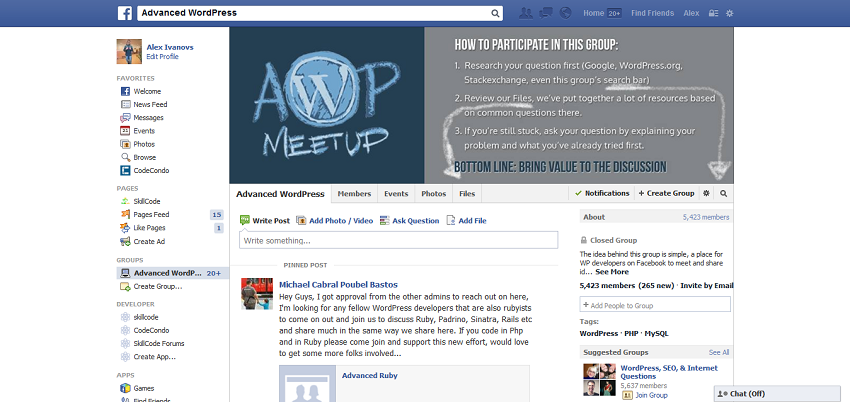 It's not that easy to just find a WordPress community that's not haunted by spammers, or isn't saturated. AdvancedWP is one of those rare communities which are filled to the top with experts, enthusiasts and helpful people, who're always looking to innovate and learn about new ways of doing things.
Joining this community requires a Facebook account, and it will also require of you to wait for an approval of an administrator, as it helps greatly to reduce the number of 'spammy' people joining the board. You'll find personas like Yoast, Chris Coyier and many more – discussing and helping shape the future of WordPress.

Quora is a full-scale questions and answers community, which has far wider reach than just WordPress. It's also one of the biggest communities, subscribers wise – with currently having 62,000 followers. It's worth knowing that many of those followers are subscribed only for the sake of it.
Great thing about Quora is that you're almost always guaranteed to receive an answer to your question, and you're also able to ask questions and then directly invite experts to help you answer them. You'll learn that Quora is awesome for asking insider questions, and more personal questions in order to learn more about a given company, or issue you're having trouble with.
Avoid / report spam whenever you see it, it's one of the things that the community is still working on.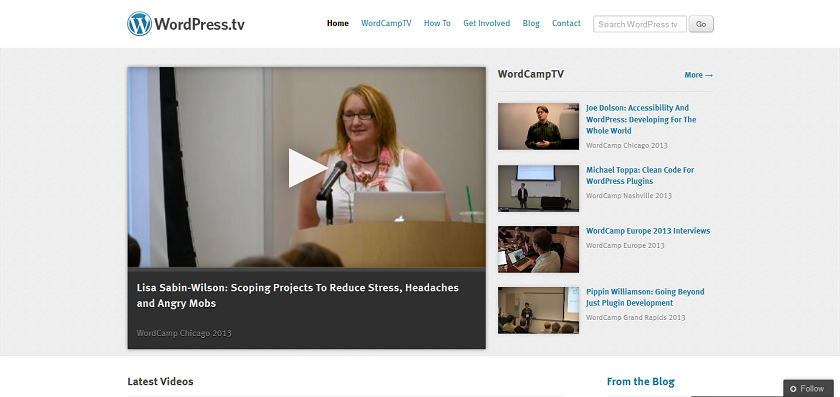 It's not all about text communities, and one great place to be is definitely WordPress.TV – and the reason is simple, you're provided with an enormous amount of free resources for learning more about WordPress and the developer / hacker community behind it.
You're also safe in the knowledge that this website is led by the WordPress foundation itself, and so everything you see on this community is actually going to make perfect sense, and add incredible value to your already growing knowledge about WordPress.
You can become a mentor yourself, and apply for a membership that will enable you to upload your own guides and videos, as well as enable you to connect with other community members. The great thing here is that you're given an audience straight away, usually in the thousands as people love to share anything that made their lives better.
Conclusion
These communities are the ones that have taken years to form and develop, so it's only natural that they're providing great value to those who need it, and they're only going to be difficult for the first couple of weeks, until you get a hang of how things are being run around 'there'.
Whether you're looking to promote something, ask for help with syntax's or simply want to chat with cool people, this list features all of the top WordPress communities on the web.
+++++
Catalin is the founder of Inspired Mag and recently launched a free tool for web designers to recommend to their non-coding friends: WhatTheme – the website templates detective.
Getting started with hand lettering?
Free lettering worksheets
Download these worksheets and start practicing with simple instructions and tracing exercises.
Download now!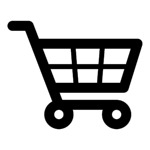 Catalin Zorzini
Ecommerce Platforms is an unbiased review site that shows the good, great, bad, and ugly of online store building software.
View More Posts