10 Awards Everyone Facing a Deadline Deserves

Man, the stuff designers have to put up with on a regular basis. Between ridiculous deadlines, crazy demands and software problems, we have to deal with so much stuff above and beyond what most people do. Wouldn't it be cool if we got an award for everything that we accomplished despite the odds? Oh wait — there is? Yes, and Creative Market is doing it. Kind of. We've put together 10 awards that everyone facing a deadline should win. Will you get one of them? Well sure, go ahead and print them all.
The "My Client Wants Me To Just 'Photoshop' This Out" Award
Whether you use Photoshop, Sketch or one of the alternatives, there's no denying that "Photoshop" has become a verb. As a result, clients everywhere think that designers can work absolute magic and remove anything from an image, and do so in a short time frame. I heard this once: "Can you just make my nose a little bit smaller? Then we'll be good." Oh, OK, sure. Because not only can I do a rhinoplasty real quick, but Photoshop makes it so easy to do that all I have to do is click the "shrink nose" icon here on the side. Short answer: yes, I can do it, but it'll take more time and effort than you think.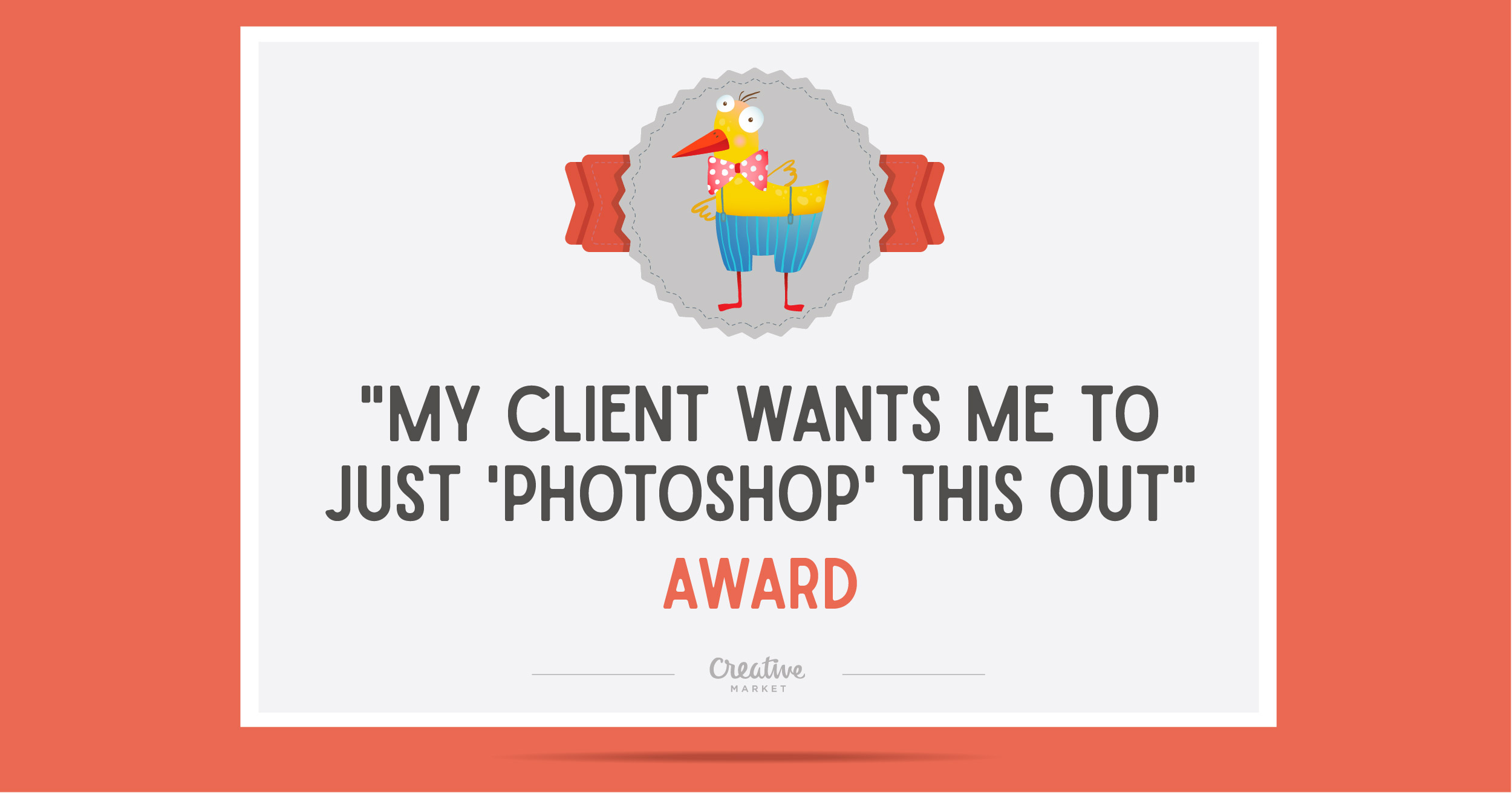 The "I Overcame a Software Update That Destroyed My Computer" Award
A few weeks back, Adobe updated Creative Cloud — you know, that app suite that a ton of designers use to get their work done — and it had a bug. A very big bug, actually, and it was deleting hidden files. That could've caused you a major headache (as it did for me), potentially affecting your work time. But let's not just pick on Adobe. Both Microsoft and Apple have pushed out updates to their OSes that have tanked productivity before, and sometimes getting through one of those days can be a Herculean task that seems like it will never end. If you had one of those days and somehow finished your project by the deadline with flying colors, then you just earned yourself this shiny award.
The "Client Wants Vectors and Sends JPEGs" Award
With a crazy deadline looming, it's obvious that you're going to get thrown some kind of curveball, but sometimes it falls into the land of Ridiculous Requests. Can you turn a JPEG into a vector? Sure, but it's not always easy, and it often takes more time than you'd like. So if your client asks you to convert something to a vector and sends you a JPEG — better yet, one they pilfered from the web that's 100X100px — it's gotta hurt. Maybe getting this award will help.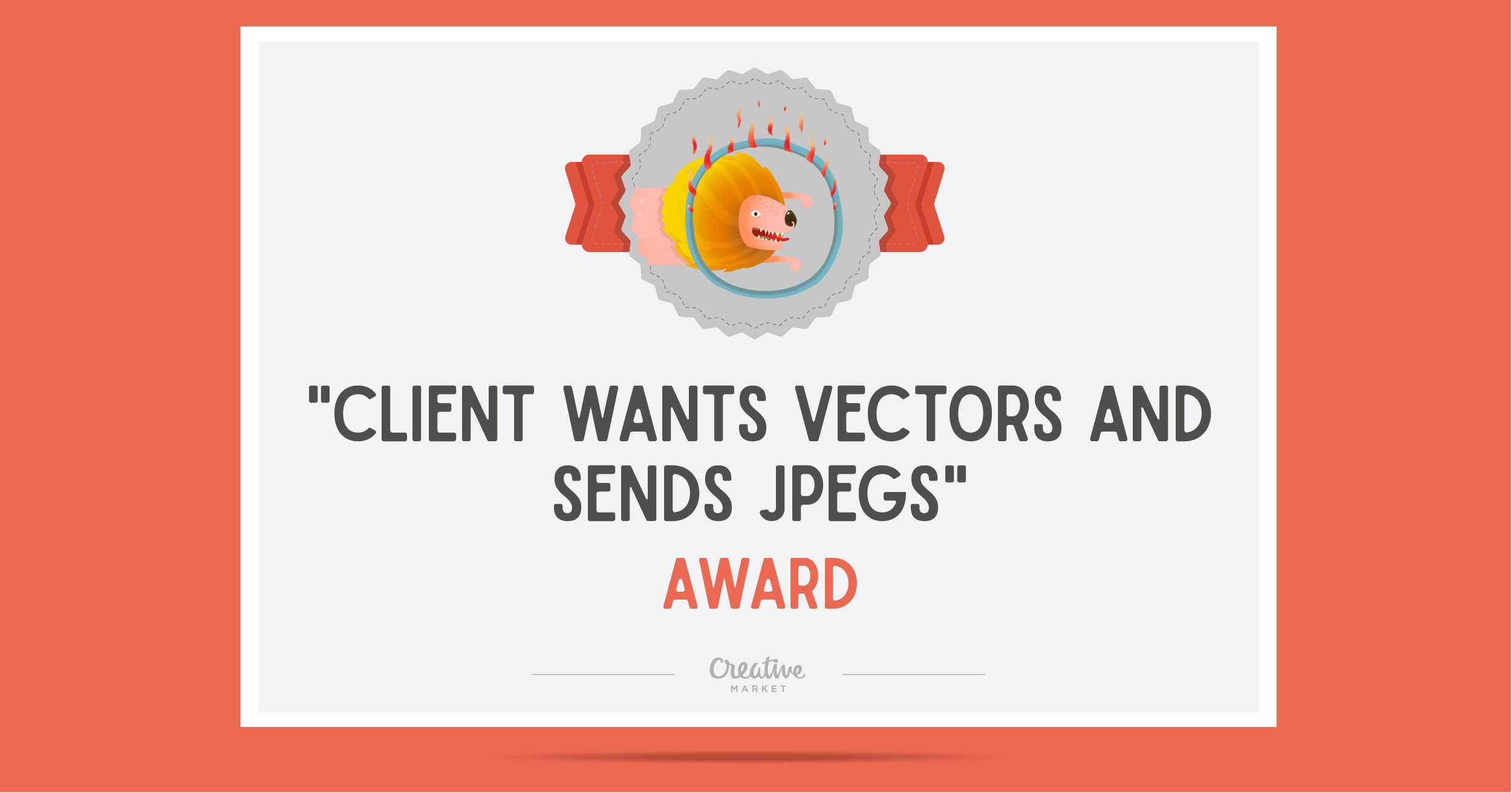 The "I Have Enough Coffee/Red Bull/Caffeine On Hand to Hit Deadline" Award
Caffeine can be the life blood of the designer, and if you've got a deadline to hit and it's late in the evening the night before it's due, nothing helps out more than a little jolt of the good stuff to pick you up a bit. But what if your stock is low and you don't have enough of your favorite caffeinated beverage to get you by? That's a nightmare scenario for anyone in a time crunch, so if you're prepared for the apocalypse from a caffeine standpoint, then you, my friend, are good.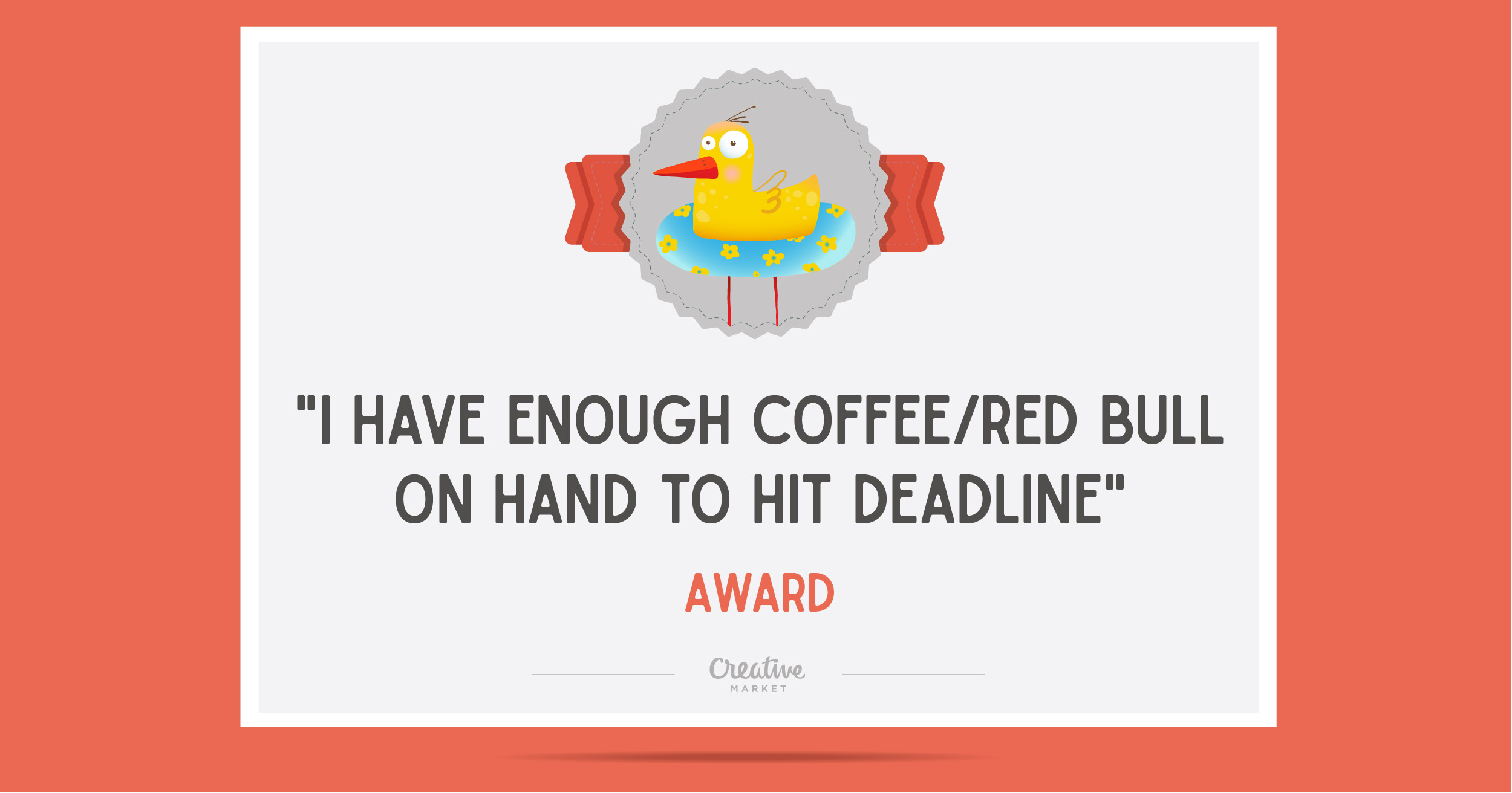 The "I Survived 20+ Revisions" Award
We all have that one client. The one who is extremely picky, but has no idea what they want. You know, the person who always says, "I'll know it when I see it." Sounds like a nightmare client, right? And then, because of course they do, the person wants a million tweaks and corrections, causing you to add "v1," "v2," all the way up to "v25" to the end of your filenames, just to try to hit that dartboard that's so far off in the distance that it might as well be invisible. Ugh. If you've been there, and you survived the experience, then you definitely deserve this award.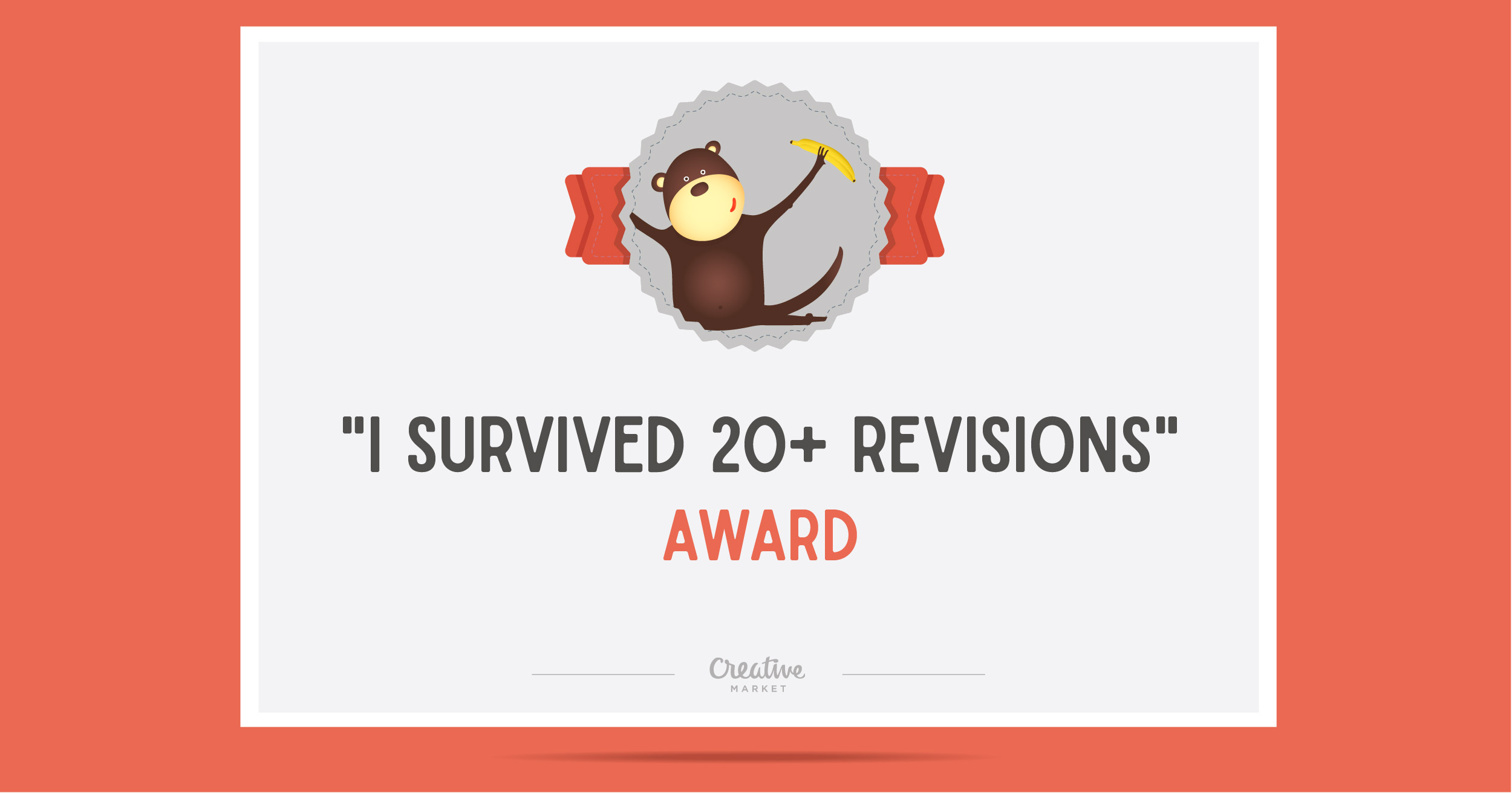 The "I Don't Know, I Think The Font Kinda Looks Like This" Award
You've got a huge font collection, right? Me, I've got something like 3,800 fonts, and I always feel like I'm in the minority and that I just don't have enough. Because there are so many to dig through, when somebody tells you they want a specific font, it can be hard to find. And even if you do get lucky finding it on WhatTheFont or something similar, sometimes it's still not exactly what the customer wants. That is not fun to experience, so those that make it through relatively unscathed are amazing. Kudos, my friend.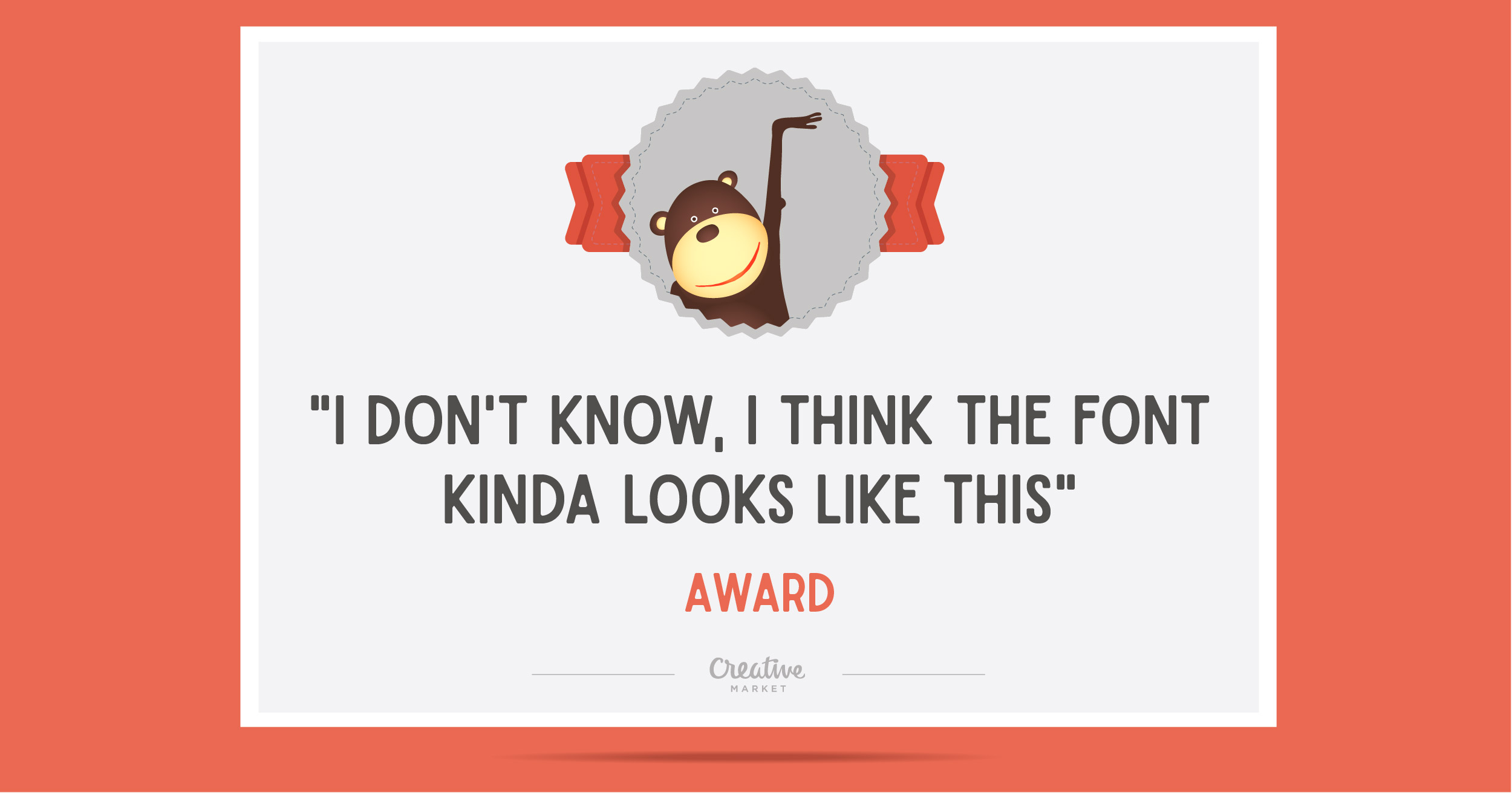 The "Meeting an Unrealistic Deadline" Award
Here's how a typical conversation with a client could go: Client: Hey, can you knock out this logo design for me? Designer: Sure. I have some stuff on my plate, but I could get it done for you. When do you need it? Client: Three hours from now. We're launching our product, we have a big demonstration, and we'll need it done by then. Designer: … Client: Awesome! Talk to you in three hours. Wait — make it two hours and forty-five minutes. Yeah, you know that these scenarios happen. Of course you don't always have to accept those crazy deadlines, but when you do, and then you meet them, you deserve a reward. A big one.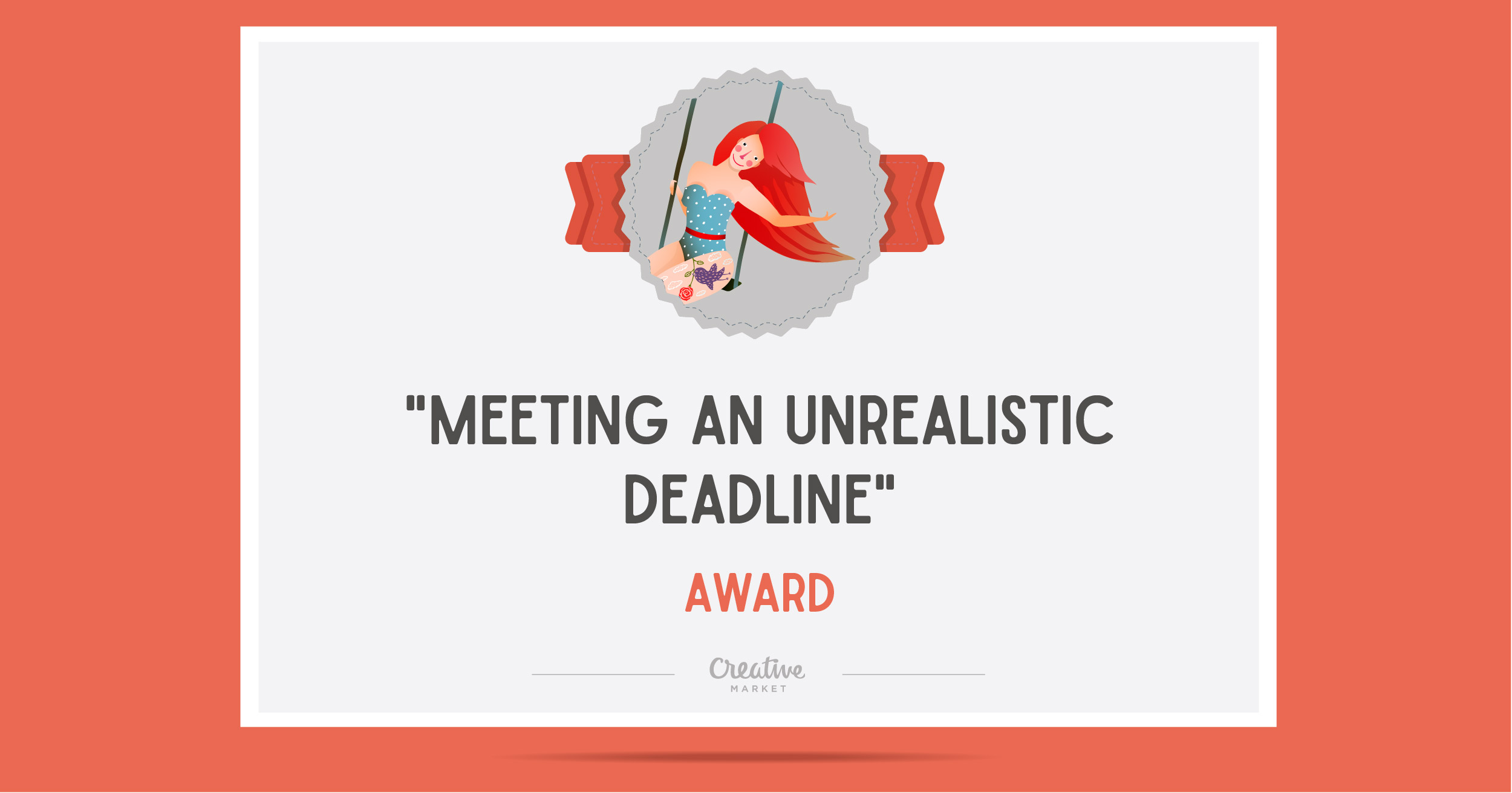 The "I Guessed the Correct Size Because Nobody Gave Me Guidelines" Award
It doesn't matter if you're working on print media or the web, there are always going to be restrictions on what you can put where. With most clients, you'll have a few guidelines to follow — bleeds, trim, pixel dimensions — but not always. If you actually guessed what the size should be and then got it right? Well you deserve more than just an award, you should get a new car or something equally huge. Seriously, you might as well have thrown a dart and expected to hit a dartboard when you were standing in the middle of a field.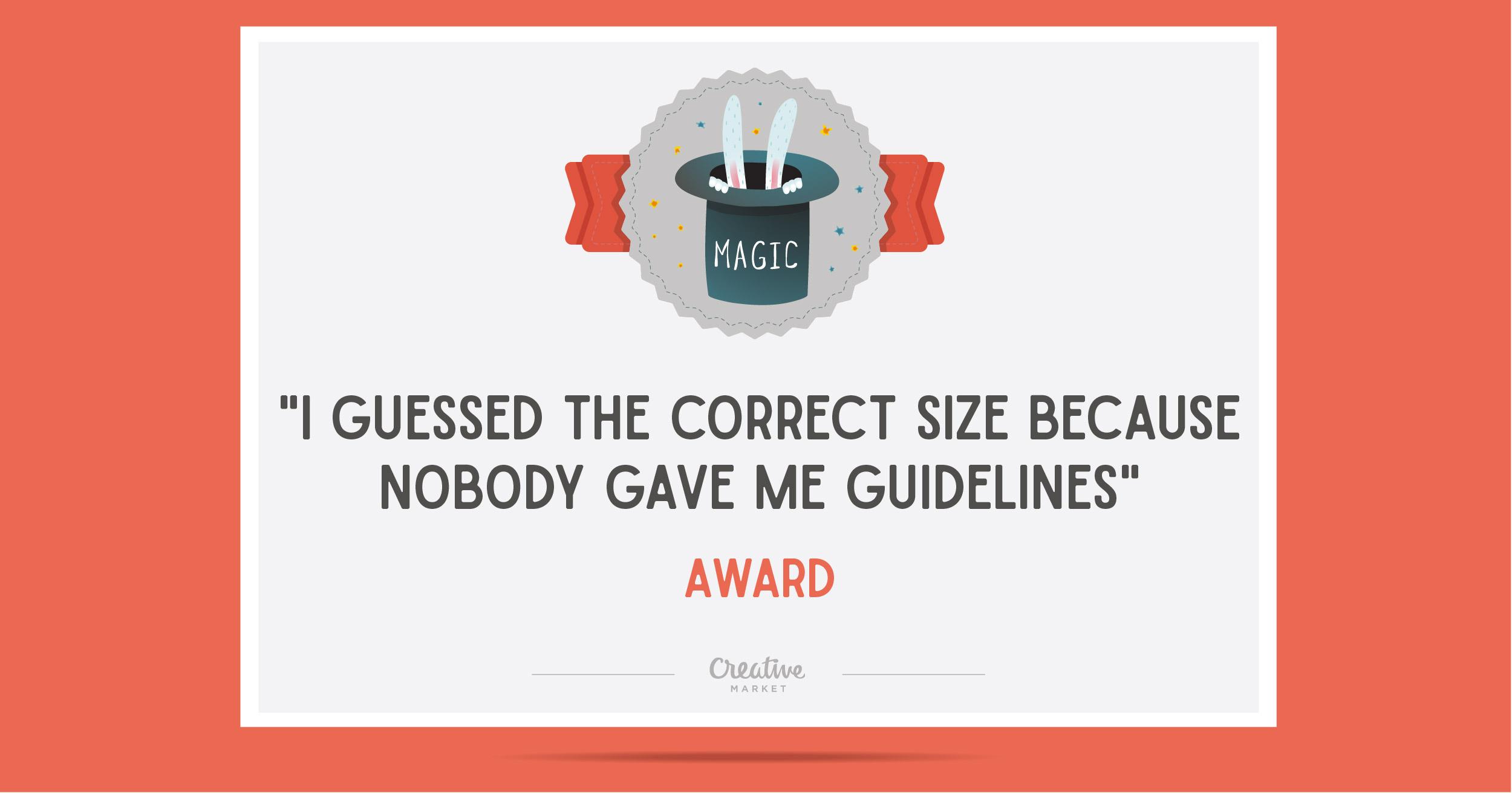 The "All My Files are in a Word Doc — That's Cool, Right?" Award
If I had a nickel for every time that somebody sent me a Word doc and told me that I should use the image they had there and make it work, I wouldn't be writing anymore, I'd be retired on my own private island drinking something with an umbrella in it. I mean, hasn't the word gotten out yet? Isn't the word out on the street that we can't use images embedded in a Word doc?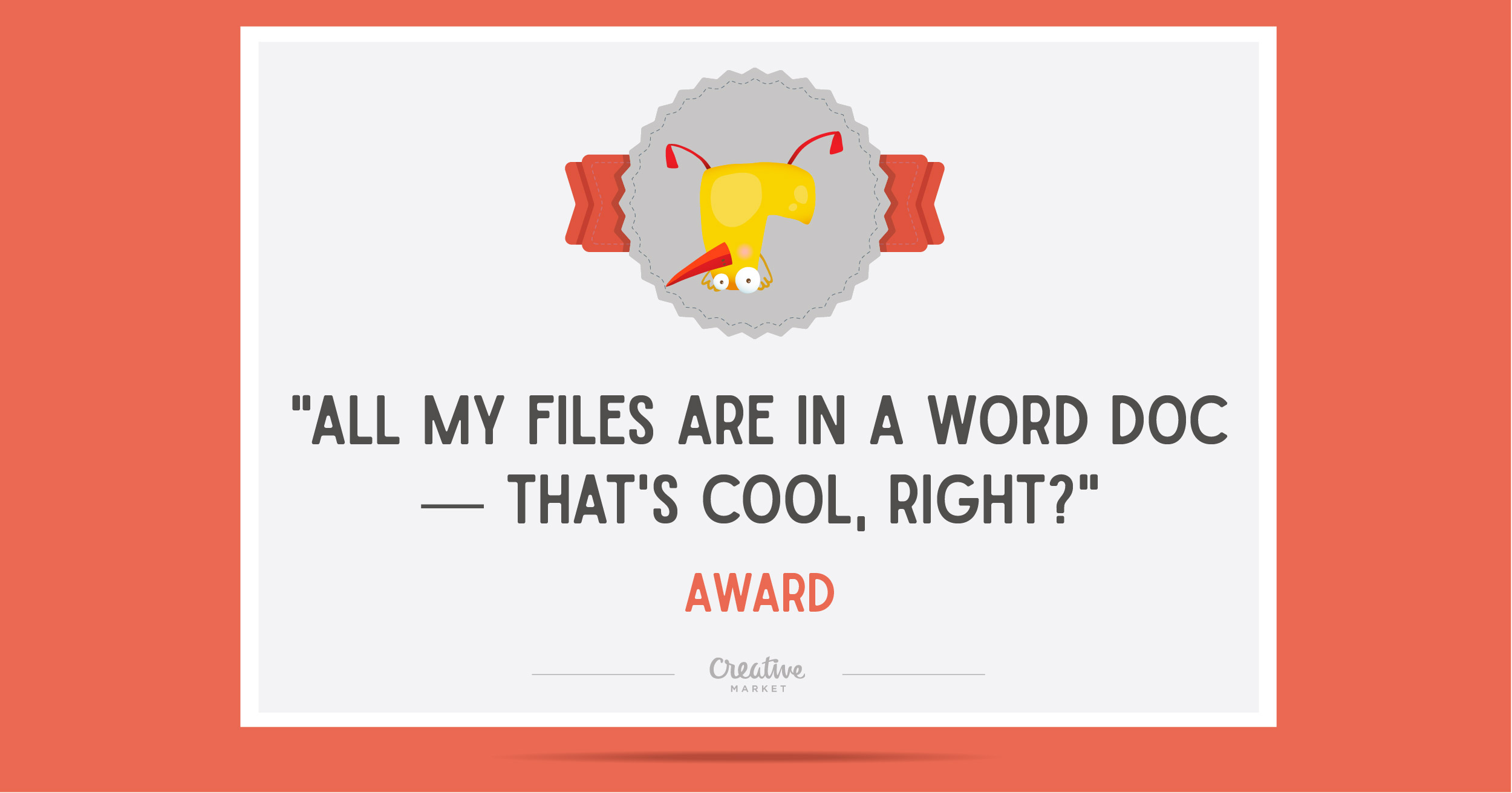 The "Let's Go With That Color — But Just a Bit Lighter" Award
Colors can be so complicated. It's not just a matter of whether or not the client wants pink, red, or orange, it's that they never know the right shade, and they're always pushing you to read their mind, and they don't know what CMYK or RGB is but they need "the one that you'd use for that one thing" … I mean, seriously? Give us a hex code, Pantone number or SOMETHING to work with, because otherwise, we're going to go with whatever color we think works best because ain't nobody got time for that.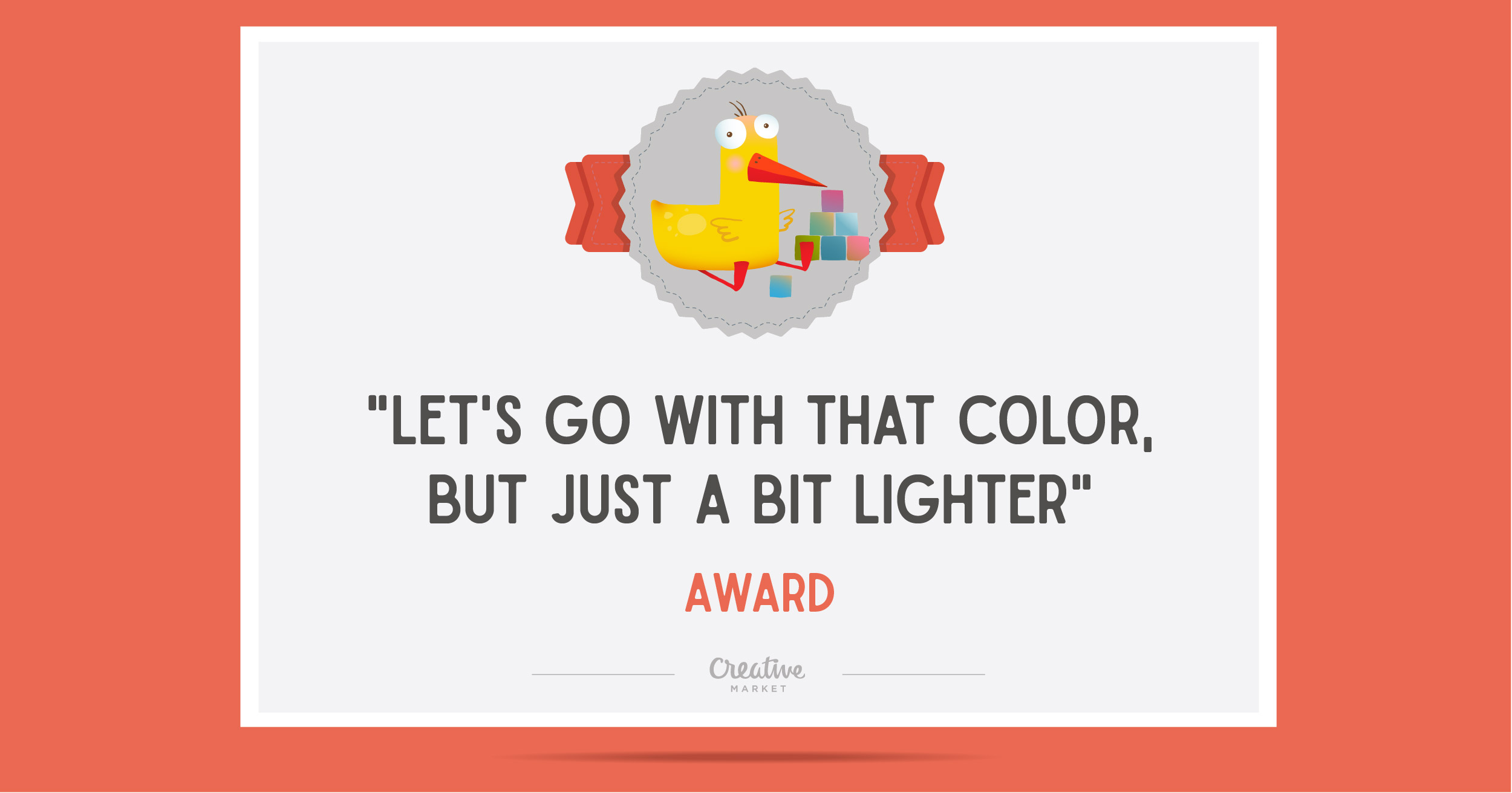 Did we miss any?
I'm sure there are a million additional awards we could give out, but for now, here's our best 10. Did we miss any of your favorites? Probably. But that's why there's always our next award show, right?
Deserve them all? Pin them.
---
Kevin Whipps is a writer and editor based in Phoenix, Arizona. When he's not working on one of the many writing projects in his queue, he's designing stickers with his wife at Whipps Sticker Co.
---
Products Seen In This Post:
---

Getting started with hand lettering?
Free lettering worksheets
Download these worksheets and start practicing with simple instructions and tracing exercises.
Download now!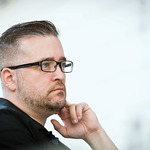 Kevin Whipps
Hi! My name is Kevin Whipps, and I'm a writer and editor based in Phoenix, Arizona. When I'm not working taking pictures of old cars and trucks, I'm either writing articles for Creative Market or hawking stickers at Whipps Sticker Co.
View More Posts