10 Design TED Talks You Should Watch
Ready to get inspired? TED speakers have unique stories to tell, and their captivating presentations highlight moments of real struggles and creative solutions. They can inspire us to create lasting change in the issues that we care about the most. We have collected 10 of the most inspiring talks aimed at designers, so lay back and get ready to learn something new. How can the tiniest change make a huge impact on users? Listen in as Facebook's Director of Product Design, Margaret Gould Stewart, shares three rules of design for the massive scale. Have you ever wondered what the man who creates typefaces like Verdana, Georgia and Bell Centennial is inspired by? Meet Matthew Carter, who designs typography that you recognize every day. How can you find inspiration for typography that embodies something as conceptual as the roots of life? Mafundikwa looks at ancient African alphabets, and shows you how to find inspiration in the least expected places. Sometimes unconventional ideas for advertising your brand actually end up favoring it. How can you replicate a successful campaign like Patagonia's "Don't Buy this Jacket"? Find out in Tim Leberecht's TED Talk.
5. Happy Maps by Daniele Quercia
We've become so attached to our phones and technology that we often forget to take the scenic route. Quercia encourages designers to take a step back and ponder ways to make users feel happy along the journey. Only designing for your user's eyes? How can you incorporate the other senses into your marketing? Discover how taste, sound, smell and touch play into the experience. How is content changed by art, technology and design? A specific typeface can change a person's reaction to the words he or she is reading. Follow designer John Maeda's journey to find inspiration through text. What makes design a unique field? Designing with intent is the key to this puzzle and it enables you to share brilliant ideas with the world. Hockenberry doesn't let a wheelchair stop him. Instead, he shares a tale of inspiration from a pair of flashy wheels. You can supply intent in your everyday life — find out how in this video. People do judge books by their covers. Learn effective selling techniques from Chip Kidd, who uses his design experiences to engage and inform. How can you describe modern objects like an iPhone? John Hodgman uses humor to explain ordinary objects in extraordinary ways. Challenge the way you design (and explain) your next product. Have you found your big idea yet? TED Talks can inspire you to think creatively and look at something ordinary in an entirely new light, as well as help you organize your life and career. Beyond these 10, there are over 1000 TED Talks to explore, ranging across dozens of topics. Never underestimate the power of an inspiring video!
---
Products Seen In This Post:
---

Getting started with hand lettering?
Free lettering worksheets
Download these worksheets and start practicing with simple instructions and tracing exercises.
Download now!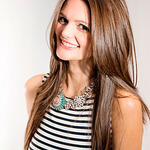 Laura Busche
Brand strategist. Creating design tools to empower creative entrepreneurs. Author of the Lean Branding book. MA in Design Management from the Savannah College of Art and Design (SCAD).
View More Posts