Are You Making These 9 Mistakes in Your Product Descriptions?
You know the feeling. You work for hours on a product only to find that it only sells a handful of copies. No doubt a great product is essential to success. And creating great screenshots is a must. But did you know there's something else that can have a huge impact on sales?
Any guesses?
If you said your product description, you're right! Your product description is the second most looked at area on your page. And it's a real bummer that it's so often neglected, because it can have a large impact on your sales.
So why are product descriptions so important? Because even if your product solves a problem and looks great, 99% of your potential customers have questions. And if you don't have answers—they're not buying.
Here's a list of 9 common mistakes shop owners make in their product descriptions:
1. Not Providing Enough Information
By far the most common mistake. After we've spent hours working on a product it can be temping to write a short description and release the product. The problem is, customers need all their questions answered before they buy, and the best way to do that is by providing the right information.
The Solution
Pretend you're a new designer. Provide enough information to answer every question you can imagine a new designer asking. Although some information might seem obvious to you, often times it's not to your customers.
Pro Tip: Ask another designer to look at your product description (without images). Give them 15 seconds to scan your description and then ask them to describe the product to you.
2. Not Using Specific Details
Have you ever read a product description that leaves you with more questions than answers? Not providing specific details about a product can be frustrating for customers. But even worse, it makes them not want to buy your product. Even if they think they'll love it.
The Solution
Pack your product descriptions with as many highly specific details as possible. Include quantities, dimensions, software versions, resolution, and anything else that eliminates uncertainty in your customers.
Here's an example:
Bad Description: A collection of paper textures you can use for backgrounds.
Better Description: 7 high resolution (3000×5000 pixel) paper textures scanned from 140lb 100% cotton paper.
3. Writing Paragraphs Larger Than 3-4 Sentences
Have you ever read a product description that was just one never ending paragraph? It makes trying to read the description into a crazy word search.
Long paragraphs are hard to scan. Plus they look like a lot of work to read. Many customers (including myself) will read a few sentences and then give up.
The Solution
Write easy to read 3-4 sentence paragraphs when possible. Writing to sell is all about making it easy for customers to find information. Don't bury the awesome details of your product in a word mountain.
4. Not Providing a CTA (Call To Action)
It's amazing how often product descriptions are missing a call to action. It's easy to assume potential customers will purchase if they like the product. But after reading about a product, a friendly nudge to buy can help customers make the decision to buy now instead of never.
The Solution
At the end of your description, have a clear and direct call to action. This could be as simple as "Buy now and start using my awesome font".
5. Not Using Bullets or Numbers
When customers are deciding to purchase your product, one of the first things they'll do is scan your description for all the details about the product. If the information they need is hard to find with a quick scan, they might miss it or give up.
The Solution
Use bullet points and numbered lists liberally.
Tip: You can press Option+8 on your Mac or Alt+0149 on a PC to get a bullet point.
6. Writing Like a Robot
Writing has never come easy to me. Every time I'd write something it sounded like it was written by a robot. I blame it on too many high school and college papers!
But after spending 18 months working for this blog, I learned that good writing when you're selling needs to radiate authenticity and friendliness.
The Solution
When you write your product descriptions, pretend like you're talking to a good friend. Imagine you're telling them all the cool details of a new product you discovered.
Pro Tip: Record yourself pretending to tell a friend about your new product. Write down what you said, edit it, and use this as your copy.
7. Using Big Words
Using big words is great for academic writing. But if you're trying to sell a product, the easier it is to read, the better.
I recently heard CNN tells their reporters to create content for an 8th grade education level. Not because viewers aren't educated, because it makes taking in information easier.
The Solution
Aim for shorter sentences and smaller words. Want a quick way to check your writing? Check out Hemmingway App.
8. Not Providing Social Proof
No matter how much good stuff you list off in your product description potential customers are going to be suspicious.
Why? Because you want to sell your product. You have a conflict of interest. People want proof from other customers that the product is going to satisfy their needs.
The Solution
Provide testimonials from customers in your descriptions.
Here are a few easy ways to get testimonials:
Provide a group of your biggest fans with early access to the product for free. Ask them for their feedback. Get permission to use the positive feedback as testimonials.
Search the comments below your product. Write a private message to those who leave positive comments asking if you can post them as testimonials.
Often, customers will email or tweet about products they love. When they do ask them if you can use it as a testimonial in your product description.
Pro Tip: Use the customer's full name and job title whenever possible. These specific details make your testimonials more credible.
9. Not Providing Links to Additional Details
On occasion, a product requires more details than you can provide on Creative Market alone. For example, a large photo collection. In these cases, it's important to provide links to additional material to help customers make a purchasing decision.
The Solution
Add additional information on trustworthy and popular sites. Not only will customers feel comfortable visiting the other site but it gives you an opportunity to get a new follower.
Here are a few places to feature additional details:
Behance: Additional images
Vimeo: Product demos
You Tube: Product demos
Note: It's important that you consider carefully whether the additional details are necessary. Anytime someone clicks a link that leaves the site you're selling on, there's the chance they won't come back. If you do send them to a different site, be sure to include a call to action on the other site as well as a link back.
Bottom Line: Make It Easy for Potential Customers to Find Information
Your goal is to eliminate as much friction as possible from the buying process. By crafting customer-centered product descriptions you can help more people find what they're looking for (and put more money in your pocket).
I'd love to hear your ideas! Do you have any tips on improving product descriptions? Let me know in the comments below!
Dustin Lee is the owner of RetroSupply. He's also launching a new site called GrainBureau, offering tutorials and free graphic design resources.
Getting started with hand lettering?
Free lettering worksheets
Download these worksheets and start practicing with simple instructions and tracing exercises.
Download now!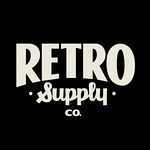 RetroSupply
RetroSupply makes brushes, textures, fonts, and templates for retro-loving illustrators and designers. Our products are made by a full-time team of creatives for use in Procreate, Photoshop, Illustrator, and Affinity.
View More Posts