15 Best Cricut Fonts to Use for Your Business
A Cricut machine is a handy tool for both designers and non-designers. It can print and cut designs out of all sorts of materials like paper, vinyl, cardboard,  leather and wood. It also helps bring your design in mind to life.
As a business owner, the use of Cricut machine will be a big help to produce branding and marketing materials such as menus, postcards, logo stickers, decals, and other brand merchandise.
Aside from access to premium images and system fonts, the Cricut Design Space allows you to upload and use your own images and favorite fonts so you can touch up and organize your designs on the Canvas Area.
Whether your designs will go through the Cricut Design Space or will be directly printed and then loaded into your Cricut Maker, your font choices will greatly affect how well your Cricut projects will turn out. But do not worry, we have compiled for you some of the best Creative Market Cricut fonts to help you choose designs.
Let's get started!
Monogram Fonts for Cricut
1. The Monogram Holder: Premium Monogram Font
This slab serif display font has over 450 letter combinations designed and crafted for creating unique, seamless monograms. Each two-letter combination creates a coherent single-character ligature for the perfect monogram design.
Whether you own a sporting goods store, car repair shop, or hardware store, you can create vintage logo stickers with your Cricut using this versatile font that can be easily integrated into your logo design.
2. Monogram She: Intertwined Monogram Font
Meanwhile, here's a font that you can use to print elegant monogram initials. In this script font, each letter is hand-drawn to form characters that are flawlessly intertwined.
If you're in the novelty shop or gift shop business, you can use this Cricut font to make personalized products such as coasters, mugs, shirts, phone cases, and stationery.
3. Monogram World Vintage
Create endless combinations with this monoline font with decorative serifs and multiple weights. Each letter was designed to combine perfectly with other characters to let you create original monograms.
This font also matches effortlessly with other fonts so you can easily come up with visually appealing font pairings. Plus, the package also comes with premade badges and halftone textures that you can customize to fit your brand.
4. Adorn Collection
Adorn is a font family of lettering typefaces that includes varied serif, sans serif, and script fonts along with different sets of ornamentation that all have distinct features yet work together harmoniously. With this font bundle, you will get:
4 script or cursive fonts
3 sets of monogram initials
1 set of frames
1 set of banners
1 set of ornamental flourishes
1 set of handwritten catchwords
6 serif fonts
3 sans serif fonts
The Adorn Collection is the complete package; perfect for those in the wedding stationery business. Using the elegant ornaments and fonts included, along with these monogram designs, you can already make everything you need for a wedding – from invitations and napkins to decorations and party favors:
5. Monogram Script
Lastly, here's another font that you can use if you are a wedding stationery designer. Aside from interlocking monograms, this modern font bundle with abundant flourishes lets you create round and heart-shaped monograms that are ready for cutting on your Cricut:
Calligraphy Fonts for Cricut
6. Honey Butter: A Lovely Font Trio
This beautiful cursive font comes in three styles – a serif font, sans serif font, and script font that can all be combined to create the perfect font pairing. It also comes with three sets of clip art that you can use to add visual interest in your designs.
Use the Honey Butter Script font to create attractive cafe and restaurant signs or eye-catching posters to pin up at your clothing store:
7. Sheraton Typeface
If you're looking for fun decorative fonts, the Sheraton typeface is a handmade calligraphy font that can create a fresh, warm look in your designs.
Completely compatible with Cricut Design Space, this bold font is perfect for corporate giveaways or branded merchandise as the thick strokes look great on print and will definitely get a lot of attention.
8. Meritorious Script
This bold, retro-style, hand-lettered script font has OpenType features such as letter alternates and ligatures that you can use to make creatively distinct designs.
Script fonts are best used for display or print due to their varied and fluid strokes, so this font is the perfect Cricut font for your store's signages, posters, and even product packaging and labels.
9. Lombard
The Lombard typeface combines a classic serif font with a modern lettering design. It features extended tails and prominent ball terminals that can create an elegant, dramatic effect for your text.
Whether you want to print greeting cards, gift tags, or even t-shirts, it's the best Cricut font to use for creating stunning, minimalist designs:
10. Big Dreams: Modern Font
This bold calligraphy font has specially designed characters that are smoothly connected to each other when arranged into words or sentences. Its charming modern design can easily fit your bakery, snack bar, or juice and smoothie bar and help you create different promotional materials using Cricut.
Handwritten Fonts for Cricut
11. Wigam: Handwritten Geometric Font
Aside from adding a personal touch to your designs, handwritten or free writing fonts have great readability; like this hand-drawn, minimalist-style geometric font. The Wigam font includes both regular and special font variations in which each letter is fused with a nordic symbol for a unique tribal design.
It's the perfect font for creating travel or camping-inspired posters, apparel, and merch for your travel agency.
12. The Junipes: A Textured Brush Script Font
For a more personalized design, try a hand-painted font for your Cricut project. The Junipes is a hand-brushed script font that has its own unique paint texture and can also be layered with other types of textures for an embossed look.
If you are an artist, this is a font you can easily use for your marketing collateral, like this business card below. The thick brush strokes will also look great as storefront signs for a boutique or flower shop.
13. Freshly Baked: A Sweet New Font Trio
Quaint and quirky, the Freshly Baked Font Trio consists of a handwritten serif, sans serif, and script font with a wonderful selection of OpenType ligatures. It also functions as a dingbat font, in which each letter has an equivalent alternate symbol that you can use as ornaments in your text.
As the name suggests, this cute font can easily be part of your cafe or bakery menu. It can also be used for a children's book or a children's clothing store:
14. Fribois: Monoline Script Font
Inspired by old-school penmanship styles, Fribois is a monoline script font that is carefully hand-crafted with pen and then digitally recreated. It comes in three ink textures; clean, rough, and stamp for a more realistic look.
Clean, cursive Cricut fonts like this are perfect for greeting cards, menus, and other small format printing projects that allow people to closely look at and appreciate the smooth linework.
15. Lyon & Crest
Finally, this hand-painted display font with thick, stiff brush strokes and unique ligatures is perfect for giving your designs a bold and stylish look. Lyon & Crest font has both a regular and textured variant to accommodate your different design needs.
Use this font for your posters, window decals, or other large format prints to make your text pop out whether it's on an image or a plain color background.
And there you have it! We hope these premium fonts got you pumped up to get started on your Cricut projects.
If you need other design tips and tricks or want to get an inside look at the best Creative Market products, sign up here.
Getting started with hand lettering?
Free lettering worksheets
Download these worksheets and start practicing with simple instructions and tracing exercises.
Download now!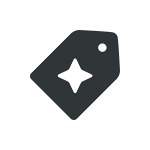 Creative Market