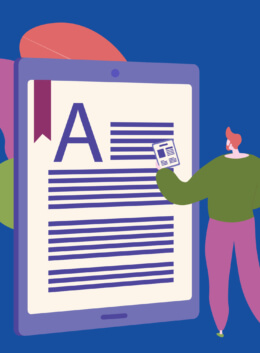 Ebooks are a popular form of reading material on electronic devices. It's a great option for those who enjoy the convenience of reading from their device. Reading books from smartphones and computer screens has become an essential part of life. Many different fonts, colors, and typefaces can make it easier and less straining for many people. It's essential to find one that is easy to read and not too distracting for your readers.
In this post, you'll find the best candidates for the most readable and non-straining fonts for your Ebooks with situational use cases to help you use them effectively.
Why Should You Have a List of Best Fonts for Your Ebook Project?
The best font for an Ebook isn't a one-size-fits-all choice that you can easily find. While some will recommend a particular serif font or sans serif font, those can be straining and headache-inducing for readers using a digital display.
Trying a different font other than the popular font choices is a great way to go about this. Sometimes, even sub-weighted fonts, such as the serif font Georgia, can be better than the standard serif typeface the publishing industry uses in their headers and body text.
For this reason, we believe a great list of non-fancy serif fonts that make reading pleasant is great for established or self-publishing authors of Ebooks designed for the smartphone or computer screen.
With a list of excellent fonts, you can achieve the following:
Make Reading Easy
Authors must choose a typeface that contrasts sharply with its background, has enough thickness to increase its legibility, and make it easier for their reader's eyes to track the lines of text.
Sundays by New Tropical design is one of the best fonts for Ebooks because it has enough thickness to introduce an effective contrast in any digital document from Microsoft Word content to the actual digital font you'll use in your publication.
Improve Comprehension
Fonts are a key element to any design. They can be chosen to portray certain emotions or moods, or they can be chosen for their readability. For example, larger fonts are more readable for those with eyesight difficulties, making the content look or feel silly. Elegant fonts can be challenging to read, but they can set the mood and add to your reader's imagination.
Idealist Serif by Nick Laatz is a great compromise in between because it's a font family that has enough thickness to become easily readable as Ebook fonts while having a stylish, suitable typeface for romance novels or marketing materials.
Encourage Imaginary Aesthetic
Fonts have their respective visual appeal, and you can determine this by writing or typing a single character and observing its aesthetic nuances. Some fonts, such as Comic Sans, feel playful and informal while Helvetica feels readable and businesslike because of its neutral and modern appearance.
Coax achieves the best of both character and formality. This modern typeface looks great on any banner or logo but achieves optimal readability as standard fonts for Ebooks, especially if you set it against a high-contrast background.
Help Readers With Dyslexia
Dyslexia is a learning disability that makes reading and writing difficult. One way to help those with dyslexia is by designing fonts specifically for them. A typeface like Dyslexie can make reading easier by mimicking how we read naturally, reducing the need for people with dyslexia to think about the letters and words they're reading and instead focus on understanding the story or content.
Laurelin is an excellent alternative to Dyslexie because it's much more stylish. With the help of Creative Market's web editor, you can control the character spacing to aid dyslexic readers to improve their comprehension. This is one of the best and easiest fonts for dyslexic readers to enjoy written content.
Which Are The Default Best Fonts for Reading on Screen?
Researchers have found that when people read on-screen, they spend more time fixating on chasing words, which reduces comprehension. However, the default fonts make it much easier to avoid fixation and continue reading for the entire time. 
Here are some of the best fonts for computer or smartphone screen reading.
Inspired by Verdana
Verdana is one of the best fonts for reading. It has good readability and is easy to read on-screen. It was designed for computer screen reading in the 90s and is easily readable in the smallest sizes.
Kirimomi Display is one of the best Verdana-inspired fonts that you can use for your Ebooks. Reduce reading strains by using an excellent font that is legible in small sizes.
Sans Serif Fonts Never Grow Old
Sans serif fonts are best for onscreen reading because they are easy on the eyes. They have clean lines that are not as hard on the eyes as serif fonts, with protruding strokes that become more visible with smaller text. Sans serif fonts make reading long passages of text easier without tiring out the eyes. This is especially important for long hours of reading.
Branch is an excellent custom sans serif font with style and legibility simultaneously. It can work as a banner or book cover text while being used as body text. It has many applications that we believe can make your work easier.
A Good Take on Helvetica
Helvetica is the best typeface for on-screen reading because it is clear and devoid of serifs. Serifs can distract the reader when they are trying to focus on the text. Helvetica has a very clear and open typeface, making it excellent as text characters.
If you need to spice up your Helvetica and sans serif font needs, Prelia is an excellent choice. Dyslexic readers and on-screen readers alike will find Prelia a font for comfortable and strainless reading.
Other Types of Easy-to-Read Fonts for Onscreen Reading
Here are more fonts perfect for reading ebooks on smartphones and computer screens.
Lucida's Pristine Characters
Lucida Sans is an excellent font for readability because it's easily readable at both large and small sizes. It provides excellent legibility at various weights and maintains the same width, meaning that it can be used effectively in headlines, subheads, text or captions.
Modernize your Lucida serif font with this family of excellent fonts. You can find your traditional Lucida Sans appeal and try other weights and thicknesses for various aesthetics.
The Hybrid Calibri-Serif
Calibri is a sans serif font, which means it doesn't have any serifs on the letters. This is important for readability because it helps make the letters easier to distinguish. Sans serif fonts are preferred for professional documents like business proposals, marketing materials, and advertisements. They tend to be less attractive than serif fonts but they are easier to read because the letters are uniform in shape.
Monato is a great variation on Calibri that achieves a modern and more aesthetically pleasing look. You can use Monato to achieve a legible and stylish font.
The Classic Times New Roman
Times New Roman is an excellent font for readability because it is designed to be easy to read. It has a simple, solid structure that makes the letters easier to read. The lowercase 'a' doesn't have an extra line through it, and the letter 'o' doesn't have a slash through it at the bottom.
Antiqua Roman is a great take on modernizing and adding flair for the traditional Times New Roman. If you want an ebook with great flair and aesthetics, you'll find Antiqua Roman an excellent choice.
What's The Best Font Size For Ebook Reading?
Here are some qualities that make excellent fonts for book reading.
Legible With Minimal Embellishments
Fonts should be legible enough to allow for easy reading. Fonts with decorations, scripts, swashes, and other ornamental features are not recommended. They can make a font harder to read. The typeface should also have a good contrast between the letters and background colors.
Larger Than Print Material Fonts
Computer fonts are much easier to read and more visually appealing than a book-printed one. The average size of a computer font is 12pt, which is slightly larger than the 11pt average of a book-printed one. A person can easily read a 12pt font, even if it's just for short periods.
'No Zooming' Rule
People should not have to zoom in on a text to be able to read it. While zooming in is a great option, some ebooks have formats and ebook readers that don't allow readers to enlarge the text.
Translates Well In Various Devices
A good font should be able to translate well over various devices. For this reason, most publishers choose default fonts to make sure ebooks appear well on ebook readers and various ebook formats used. However, PDF formats allow you to "digitally print" your books, ensuring that all devices translate your content excellently.
Get The Best Free Fonts Today
By registering for an account on Creative Market, you'll have access to thousands of fonts, images, and other content that will help you get started on your projects quickly. Sign up today!
Getting started with hand lettering?
Free lettering worksheets
Download these worksheets and start practicing with simple instructions and tracing exercises.
Download now!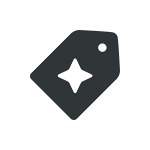 Creative Market