12 Best Fonts For Embroidery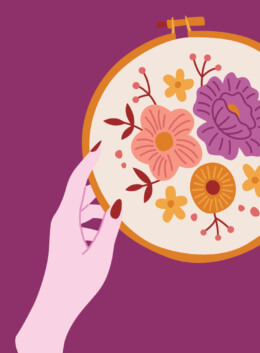 Embroidery is the art of decorating fabrics with a needle and thread.
For centuries, this decorative art form has allowed us to turn everyday objects into creative works of art. As early as 490 BCE, embroidered clothes, couch covers, drapes, and tents were depicted on ancient Egyptian tomb paintings while Greek vase paintings show quilted garments worn as armor.
With embroidery, you can embellish anything from apparel to home decor. Cross-stitch, quilting, needlepoint, and surface embroidery are some of the basic and most popular forms of embroidery.
Like any skill, learning how to embroider takes a lot of time and effort. Luckily, you can still create beautiful embroidered designs without the knowledge and skills needed for it, thanks to embroidery machines. There are various embroidery softwares available for digitizing designs for embroidery machines. To help you come up with attractive designs, here are some of Creative Market's best machine embroidery fonts that you can use:
What Are Some Popular Embroidery Fonts?
Many embroidery designs are characterized by embroidered words or names that resemble handwriting or hand-lettering, which is why cursive and calligraphy fonts are most often used for embroidery.
Cursive and calligraphy are both under script fonts, and the main difference between them is that when it comes to cursive fonts, the characters are all connected together while calligraphic lettering styles don't necessarily require that the characters connect.
Let's take a look at some cursive and calligraphy embroidery fonts:
Cursive Embroidery Fonts
1. Stitched: Handwritten Font
This handcrafted font with dashed strokes perfectly reproduces a real running stitch. Its subtle imperfections such as irregularly tilted characters and unique superscript dots create a completely authentic look. If you want to give the impression that you handstitched a design yourself, then this is the embroidery font you're looking for:
2. Cross Stitch Cursive
Recreating an elegant and detailed stitching style with embroidery letters that appear to be cross-stitched and embossed for a more realistic effect, this font is perfect if you want a more traditional hand-embroidered look for your designs.
This is what your favorite quote would look like when embroidered using this font:
3. Good Morning: A New Script Font
Now on to a more modern-looking font, the Good Morning typeface features elegant cursive handwriting with glyphs that have high-contrast strokes and a tall x-height. It also comes with swash alternates for small letters.
Designed for embroidery, it works well even in a small font size so it will look great whether embroidered on a handkerchief, apron, blanket, or other personalized items:
4. Family Home: A Lovely Script Font
A beautiful handwritten cursive font, Family Home has smooth, thick strokes that result in quirky coiled characters. Apart from the heart-shaped superscript dots, the font itself has a romantic look and feel that is perfect for a wedding embroidery hoop or other love-themed embroidery designs.
5. Bodoni Terracina
Royalty, elegance, and grace – these are the things that come to mind when you look at Bodoni Terracina font. The glyphs are etched by Italian typographer Giambattista Bodoni himself; and with the neat, thin strokes and all the letters slanted, this stylish font has great readability and can help you create a majestic, formal-looking embroidery design:
6. Cattieshine
Get the complete package with this fully-loaded font bundle that consists of a handwritten sans serif font, a cursive script font in 2 weights, more than 100 doodles, swashes, and floral ornaments, and 10 background patterns.
The Cattieshine script font has wild, irregular strokes while the sans serif is condensed and monoweight and comes in big and small caps. By combining these fonts along with the decorative elements included, you can produce beautifully stylized embroidery designs for tote bags, pillowcases, and different types of clothing. Here's an example:
Calligraphy Embroidery Fonts
7. Stitch Warrior
Another cross-stitch-inspired font, Stitch Warrior is a vector font that is specifically created for embroidering, so each letter is packed with many tiny scalable pixels in order to achieve a solid textured look. Add a personal touch to your designs and give your embroidered pieces a classic look with this gothic-style calligraphy font:
8. Good Day Font
With narrow rows of flat stitches, the Good Day font resembles a neat satin stitch and forms a delicate calligraphy handwriting style through the thin, high-contrast strokes. It comes in all capital letters and as a bitmap font, its display sizes can accommodate all your printing and embroidery needs.
9. Hodgeson: Calligraphic Slab
This monoline slab serif font comes in 4 styles with stylistic swashes, alternates, and ligatures. The custom lettering with heavy strokes, well-defined block serifs, and slightly narrow set width are all characteristic of modern calligraphy, which makes Hodgeson a very versatile font that can fit any kind of embroidery design.
Here's how solid and seamless it would look like when printed on fabric, and you can only imagine how better it would look like when embroidered:
10. Angon: Display Serif Typeface
Angon is a lovely, retro-style calligraphy font with eye-catching features such as bold, rounded strokes, clean wedge serifs, and a tall x-height. It comes with common ligatures and special alternates that are made distinct by the extended tails and prominent ball terminals, which can help you create stylish vintage embroidery designs.
11. Milgnite: Display Serif Font
On the other hand, this modern calligraphy font is made up of stiff, flat, high-contrast strokes complemented by the sharp and thin wedge serifs and wide-set width. Its alternates have unique teardrop terminals which further contribute to its overall classic and luxurious look.
Here's what it looks like printed on a patterned paper background to help you envision how it would look like embroidered on a textured fabric:
12. Retromax: Reverse Contrast Script
Finally, for a fun and unique embroidery font, try a reverse-contrast font like Retromax. Retromax is a layered font that comes in 3 layered styles which are 3D, shade, and offset that you can use to add dimension to your text and make it appear raised.
In reverse-contrast or reverse-stress typefaces, the horizontal lines have thicker stroke widths instead of the vertical lines, which is usually the norm in type design especially in printing and Latin-alphabet writing. This reverse in stress results in a dramatic effect, in which the letters look like they have been printed the wrong way round:
This custom lettering style was invented in the early nineteenth century as attention-grabbing novelty display designs, and now you can use it to create bold embroidery designs that will stand out on different fabrics. Give your next embroidered t-shirt project a cool vintage look using this font. Here is an example for inspiration:
And there you have the best embroidery fonts from Creative Market! Each of these fonts comes in OpenType and TrueType files that you can easily convert into embroidery files. Download them now by signing up here so you can start creating impressive embroidery designs!
If you have other font needs, check out the rest of our font collection with over 52,000 fonts for all kinds of design projects for web and print.
Getting started with hand lettering?
Free lettering worksheets
Download these worksheets and start practicing with simple instructions and tracing exercises.
Download now!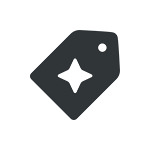 Creative Market