12 Best Fonts For Thumbnails In Your YouTube Videos | Creative Market
Video player on the tablet near man By robuart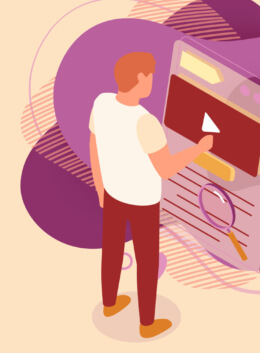 With over 2 billion users, YouTube has billions of videos containing a wide range of content that different types of people can choose from. To a single viewer, that means endless options; but to a content creator, that means tough competition. With billions of videos streamed on Youtube daily, it is crucial to stand out.
While content is key, creating an eye-catching Youtube thumbnail is a great way to attract users and to get more views. A video thumbnail should be able to convey the contents of the video and can help users decide if your video is worth watching!
What Is a YouTube Thumbnail? 
A thumbnail is the small clickable image seen when you're browsing YouTube videos. Creating an eye-catching thumbnail is a great way to draw in more users to get those views. An alluring and interesting image combined is a great way to get potential viewers to check out your content and hopefully subscribe to your Youtube channel!
YouTube offers the option of selecting a frame from your uploaded video that you can use for your thumbnail; however, if you want to grab your target audience, you'll need something that captures the attention of your viewers and communicates what your video is about!
Finding the Best YouTube Thumbnail Fonts to Get More Views
Finding a font you can use for your Youtube thumbnails can be a pretty daunting task. Here are some ways to help you identify the best fonts for thumbnails!
Check Out the Fonts Youtubers Use for Thumbnails 
Take some time to browse other Youtube channels and watch other videos to see what thumbnail fonts your favorite content creators are using. Checking out the thumbnails to see the font styles used by your favorite Youtube content creator will help you find the font style perfect for your own thumbnail. 
Feeling experimental and want to dive right in? Check out Creative Market to browse the hundreds of available YouTube templates that you can use to design your Youtube channel, from pre-design banner templates to thumbnail templates.
Designing and Choosing the Best Font for Your YouTube Thumbnail
Designing your YouTube thumbnail is crucial to gaining more viewers. An eye-catching thumbnail will give viewers a preview of your Youtube video and will help them decide whether or not they will click on that link.
Here are three things to consider when you create YouTube thumbnails:
1. Understand your content and what you want to say. Always make sure to circle back to what you want to say with your video. By having a clear direction on what you want to achieve with your video, it will be easier for you to design a thumbnail to match your message.
2. Use a relevant and compelling image. Grab your viewer's attention with an image that will get them to click on your video. A high-quality and relevant image is a window into your video and will give your viewers an idea if they will be able to relate to your content.
3. Use the best font style for your title text. Once you've figured out the title of your video, it now comes down to choosing a font to make your audience aware of your brand and content. Remember that it's a small thumbnail so you'll need an easily legible font! Keep your thumbnails consistent with the same font style and use an eye-catching color palette for to get the attention of viewers.
Best Fonts for YouTube Thumbnails 
Choosing a font for your YouTube thumbnail is no easy feat. Lucky for you, Creative Market has hundreds of fonts available to help you create your custom thumbnail. Find one that inspires you and you can go about designing your thumbnail!
We've rounded up the 12 font styles that you can choose from for your thumbnail text:
Best Fonts for Vlogging Thumbnails
1. Tingler Duo
If you're looking to add a handwritten touch to your video thumbnail, Missy Meyer's Tingler Duo is your best bet! With options in print and script, Tingler duo is a great way to customize your thumbnail if you're creating a vlog with some arts and crafts! 
2. Fonseca Rounded
For Youtube channels that showcase lifestyle videos, you can use a font like Fonseca Rounded for your travel vlogs! Taking inspiration from vintage travel posters, Fonseca Rounded is a beautiful sans serif font with a timeless and classic appeal created by Indonesian designer Nasir Udin. Use this font together with a beautiful landscape image and you're sure to get those clicks! 
Best Fonts for Gaming Thumbnails
3. Comicon Comic Type Pack 
Comicon is a dynamic collection of fonts inspired by hand-lettered works of comic book artists. Its bold display face with an outlined component makes this comic font the perfect choice for titles or words that need dramatic emphasis, such as when you're posting the highlights of your game! 
4. Rebel Nation
Rebel Nation is a street graffiti-inspired font with the aggressiveness and bursting energy of the youth. This powerful font is a cool font choice for gamers with an action-packed video stream! 
Best Fonts for Fitness Thumbnails
5. Burpee 
Burpee is a basic condensed sans typeface that takes inspiration from sports. Designed to pack a powerful punch, this bold font is sure to give your video thumbnail the visual impact needed to get those views! 
6. Athletic Condensed
Athletic Condensed is a bold and elegant font that can be used for any type of workout video! A versatile font that can be used as a strong headline or casual text, Athletic Condensed is a great font choice in designing a thumbnail for your workout video. 
Best Fonts for Food Thumbnails
7. Watermelon
Watermelon is a chunky bold typeface that gives off a fun and quirky vibe! Bold character fonts like Watermelon are a good way to grab the attention of viewers and seem approachable if you produce video content for the everyday foodie.
8. Gastro Kultura
Gastro Kultura is a handwritten font that conveys the feeling of taking a brush and writing something without overthinking it. The free and playful sans serif is a perfect font choice when set in white against colorful food video thumbnails. 
Best Fonts for Music Video Thumbnails
9. Rockstar Display
Inspired by rock music, this Rockstar Display font by typologic best conveys strong rock music with its bold uppercase letters. Use this as your font for music video thumbnails when you want to promote your music videos online! 
10. Bison
Bison is a strong yet sophisticated font style. The font gives the perfect balance of hard lines and smooth curves, with varying weights that convey a different feel for your music videos- whether it's conveying a quiet strength or commanding authority. 
Best Fonts for Educational Thumbnails
11. Bebas Neue Pro 
Bebas Neue is a popular font choice for its versatility and legibility. If you've watched a lot of videos on YouTube, it's likely that you've encountered Bebas Neue in educational videos or tutorials. The font has been used for a wide range of video content because of its professional look, making it the best font choice whether it's for a large company or a small locally-run business.
While it gained popularity for its upper cases, Bebas Neue now has lowercase and italic characters available to help you customize your video thumbnails!
12. Config Rounded
Config Rounded is a condensed geometric sans serif font with rounded corners that make it a strong yet approachable font choice that you can use for educational videos! It's a functional choice for typesetting (with 10 weights to choose from!) and provides multiple options to add character to your Youtube video thumbnails! 
Drive more clicks to your channel and videos by using a catchy font when creating your Youtube video thumbnails! The right color and typeface will give viewers a preview of what to expect from your video so make sure that you choose what's right for you. Sign up here today!
Getting started with hand lettering?
Free lettering worksheets
Download these worksheets and start practicing with simple instructions and tracing exercises.
Download now!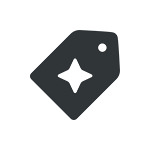 Creative Market