10 Best Procreate Brushes to Try in 2023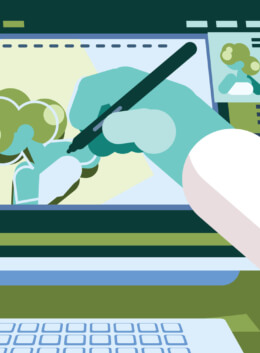 Whether you are a professional illustrator or someone who is into creating digital artworks during your free time, you may have probably encountered or may already be using Procreate. Procreate is an advanced digital illustration application for iPad, and it is a helpful tool for users who would like to draw or paint conveniently.
To help you get the most out of the Procreate app, we have handpicked the best Procreate brushes here on Creative Market to give you an opportunity to enhance and improve your work. Continue reading to learn more:
Best Procreate Painting Brushes
Make stunning digital paintings with these fully-optimized Procreate brushes that let you utilize different painting styles and techniques:
1. Watercolor Studio
This watercolor kit contains 7 watercolor Procreate brushes and 6 premade color palettes as well as canvas layers with paper texture and watercolor effects to make your digital paintings look as if they are made with real watercolor paint. It even includes video tutorials demonstrating how to use each brush.
Make realistic landscapes, unique floral designs, or breathtaking watercolor portraits with these ready-to-use Procreate brushes:
2. Eldar Zakirov's Oil Painting Brushes
Take your digital art to the next level and make fully digital oil paintings with this brush pack from Eldar Zakirov. Utilizing the impasto effect, these professional Procreate brushes simulate the appearance and feeling of applying thick paint so you can create life-like paintings with an embossed and textured look.
Enjoy using up to 86 brushes, with each one made for recreating different painting techniques. These include:
5 pre-drawing brushes for charcoal drawings or markings
11 texture brushes for canvas-grained paint strokes
6 relievo or sculpting brushes
15 mastichino brushes for imitating palette knife techniques
15 volume brushes
23 impasto brushes
5 additional brushes for expressive brushstrokes
6 (+1) detailing brushes
3. Impossible Watercolor for Procreate
This easy-to-use and easy-to-install set of Procreate watercolor brushes is very handy for beginners as it comes with extensive painting tutorials. With over 25 unique watercolor brushes, most of which are for creating different strokes, swashes, and splatters while the rest are for blending and detailing, these custom brushes for Procreate can help you paint more freely and creatively.
This brush set also includes a cold press watercolor paper texture to add realistic details to your paintings.
4. Effortless Gouache Brush Collection
Create gorgeous gouache paintings with these Procreate brushes from Lisa Glanz. This brush set includes 6 stamp brushes as well as 4 color palettes that make use of strong, bright, matte colors. Choose from smooth, textured, or linework brushes to help you make vivid paintings with a velvety surface. Plus, if you need an introduction to gouache painting, there's a free video tutorial on how to create a beautiful botanical bird art print that comes with this collection.
5. Dirty Halftones Brush Set
Try something new and different and give your paintings a unique style with these halftone texture brushes for Procreate. These inspired paint brushes let you paint and create cool effects with halftones and textures that have been sampled out from real-life materials and then digitally manipulated to work as seamless patterns. Create depth through shadows and smudged line and dot patterns that give the illusion of a rough or "dirty" surface.
The whole brush pack includes 42 halftone brushes made up of 14 shading brushes, 14 texturizing brushes, and 14 spraying brushes as well as 2 video tutorials.
Best Procreate Sketching Brushes
Whether your medium is ink, charcoal, or graphite, these unique Procreate brushes for sketching are specifically designed to take advantage of the pressure sensitivity feature of your Apple pencil so you can produce creative illustrations that highlight your expertise.
1. Graphite Pencils Pro Set
This Procreate brush set has 21 distinct graphite pencil brushes that are designed to look as close as possible to the real thing. It also comes with 2 drawing paper textures to make the transition from traditional drawing to digital drawing much easier for both hobbyists and professionals. These brushes are perfect as well for those who have never used graphite pencils but always wanted to try. Now you can sketch with graphite pencils anywhere you want without actually bringing a bunch of pencils and canvases with you.
2. Fine Liners
If you prefer using ink for your digital illustrations or calligraphy, then these ink brushes that double as lettering brushes are perfect for you. This brush pack contains 11 Procreate brushes, 7 of which are solid liner brushes with tip sizes between 005 and 1mm that can rival actual fine line pens. Use them to create detailed linework or inspired monoline art or to enhance your handmade typography with clean, defined serifs. Along with the ink brushes are 4 specialty brushes, which include 2 stippling brushes and the felt tip and bristle brush which are flexible tip brushes.
3. Stipple Studio
These precision stipple brushes combine the traditional technique of stippling and the efficiency of digital technology so you can create stipple dots without having to tire your arm out. With Stipple Studio's finely tuned bleed settings, no two dots will be the same and a single brush stroke will create dozens of new, unique dots.
This brush pack has a total of 69 brushes, with 4 pre-sized and texture-matched liner pens as well as:
40 stipple brushes grouped into 4 types of felt-tips – round tip, rough tip, bleedy tip, and blotty tip
17 stipple spray brushes with multiple brush tip styles, dot intensities, and pressure settings
12 stipple fill brushes in light, medium, and dense spacing
8 eraser presets
a sketchbook paper texture
If you love making comic style art, these Procreate brushes can help you do all kinds of work, from creating marker drawings to shading edges and tight spaces to building up blended gradients.
4. Pencil Pack
Sadie Lew's pencil pack has 21 custom brushes made up of pencil textures that were created using real pencils on paper and then scanned at a high resolution so the results look as realistic and seamless as possible.
Ensure perfect brush strokes with the different brush sets such as the fill brushes, pencil brushes, scribble brushes, and stamp brushes. Create bold graphite pencil drawings or picturesque color pencil drawings with 1 graphite palette and 7 color palettes with swatches that were eye dropped directly from real colored pencil sets to produce accurate colors. Many brushes use the tilt capability of your Apple Pencil so you can count on more realistic side shading.
5. Georg's Procreate Big Pack
Finally, this massive bundle has everything you will ever need to draw and color cartoons, manga, and other illustrations. A few notable inclusions in Georg's Procreate Big Pack are:
The DUNCE Comic Brush Set with 25+ rough sketch, dirty ink, messy marker, & dry shading brushes,
The INKTOBER Ink Brush Set with 45+ dynamic ink brushes and rough markers,
The DIRTY DOZEN Brush Set with 19 messy ink, gritty shading, & grunge paint brushes,
The Manga & Anime Brush Set with 25 traditional East Asian ink and paint brushes, seamless pattern brushes, and shading brushes, and
The Big in Japan Brush Set with 5 wet ink brushes inspired by traditional Japanese art
Aside from those, you also get various painting brushes such as the ROSSBOB wet paint brushes for creating a Bob Ross style oil painting, multi-purpose paint brushes for both wet and dry oil, acrylic, and gouache paintings, a pastel and crayon brush set, an oil paint and glaze brush set, pattern brushes for painting, shading, drawing, and concept design, and many more.
Now you have all new tools to help you create your next masterpiece! Install Procreate brushes from Creative Market to transform your digital artworks. For more exclusive tips, products, and inspiration, sign up with us!
Getting started with hand lettering?
Free lettering worksheets
Download these worksheets and start practicing with simple instructions and tracing exercises.
Download now!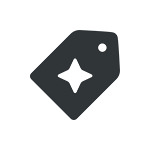 Creative Market