12 Best Sans Serif Fonts for Professional Use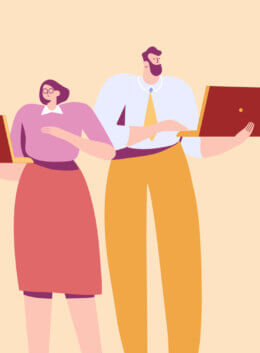 From the four main type classifications, the sans serif font is the most versatile and easy to use. Sans serif fonts have a simple and modern look, but they can also be unique and stylish at the same time due to the variety of stroke widths and shapes that can be included in their design.
On the off chance that you don't know what a sans serif font is, some of the most popular sans serif fonts are Arial, Helvetica, and Calibri, which means you may have been using sans serifs for the longest time without noticing it.
Sans serifs are known for their great readability and legibility. Without the 'serifs,' or the strokes at the end of a letter to draw the eye, sans serif fonts are much easier to read on-screen, whether as small captions or as large headers or titles.
As a graphic designer or corporate professional, the effective use of fonts is a big deal in your line of work. It is part of your marketing, branding, internal and external communications, and most especially your designs and creations.
To make your job a little easier, we have come up with a collection of the best sans serif fonts to suit your day-to-day needs. Check them out below:
Modern Sans Serif Fonts
For brands, using modern fonts can help you become more relevant and relatable to consumers. Modern fonts convey exclusivity and style, and they are usually characterized by thick and thin transitions in the strokes of a particular letterform. Here are some of the best sans serif fonts with a modern design:
1. Geefray: Modern Sans Serif Font
Geefray is a modern sans with a strikingly taller x-height and tighter kerning or spacing in between characters. It also comes with ligatures to help you create unlimited combinations from different letters.
Not too thin nor too thick, this stylish font has just the right stroke width; which means you can easily use it for both titles and body text.
2. Bleu Belle: Modern Sans Serif
This elegant sans serif typeface with simple, clean, and high-contrast strokes, stylized bowls and counters, and a broad set width is perfect for a fashion brand. If your work involves creating fashion magazines, social media posts, ads, and other marketing collateral, the Bleu Belle can be utilized for various design purposes.
3. Vlasta: A Modern Minimalist Sans Serif
If you are looking for a font to complement your minimalist design, this sans serif font has sharp and crisp strokes with a modern and minimalist look. Use the regular font for plain text or create beautiful, delicate ligatures with the ligature mode.
The Vlasta font works great whether on its own or paired with other font styles, and since it has thin strokes, it will be better suited for your titles and headers.
Popular Sans Serif Fonts
Meanwhile, here are some of the most popular sans serif fonts here on Creative Market to give you an inside look into the kind of fonts that designers and other professionals are using:
4. Qualy
Qualy is a neat, visually balanced sans serif font that is specifically created to support your logo design. The rule of thumb when it comes to logos is to keep your font choice clean and simple as simple logos tend to be more memorable, eye-catching, and emotionally stimulating.
With this font, you can create an effective, instantly recognizable logo for your technology company, like that of Google's or Netflix's:
5. Bison: A Powerful Font Family
Instantly grab attention with this strong and sophisticated sans serif display font. As the name suggests, it is inspired by the bison, with a balance of hard lines and smooth curves and a sturdy, uncompromising style felt through the controlled letterforms and modern touches.
Dynamic and authoritative, the Bison font family consists of 12 typefaces, all of which are versatile fonts that can stand alone or blend well with other fonts and make great fonts for titles and headlines.
6. Milk & Clay: A Handmade Font
For a more approachable, laid-back font, Milk & Clay is a monoweight, handwritten sans serif font with soft and smooth features and a wider kerning. It is a versatile typeface that comes in all caps with regular and bold variations.
It can fit any friendly brand design and looks stunning either as a headline font or body text font.
Geometric Sans Serif Fonts
Geometric fonts make use of symmetrical shapes to make way for a simple, clean, and dynamic design. For brands, using geometric fonts gives your brand design a friendlier, more humane look that allows you to connect well with consumers. Here are a few geometric sans serif fonts that you can leverage for your brand:
7. Givonic: New Geometric Sans Serif
Givonic is a clean geometric sans serif font with a taller x-height, wider set width, and optimal kerning. It has six weights ranging from extra light to extra bold to suit your different design needs.
The emphasis on round shapes give it a lot of personality, which makes it a great font to use for posters, book covers, web design, and other branding projects.
8. Rebar: A Geometric Sans
This strong, geometric sans serif font has slightly angled, reinforced framing and exact measurements for widths, curves, and angles for a more balanced and harmonious design. It comes in 6 weights and 12 styles and is a highly versatile font that serious brands can use to make headlines and copies more engaging:
9. Neuthing Sans
Whether you want to be casual, formal, trendy, or classic, the Neuthing Sans is an extremely versatile typeface that can fit any design and go with any font. Simple yet stands out, it comes in three weights – regular, medium, and bold with 4 variations for the bold font to make your titles and headers more prominent.
Professional Sans Serif Fonts
Using professional fonts can help establish your authority and expertise in your field, and professional sans serif fonts work by keeping audiences' focus on your content and making it easy to read. Here are great examples:
10. Karl: A Minimalist Sans Serif
Karl is a distinct sans serif font with stylistic alternates that can give your designs a unique, professional look. The alternate characters are specifically designed with irregular lines to complement the clean main characters and create a perfectly balanced typeface.
This font is perfect for creating unique logos, bold packaging, powerful website headers, and other designs that can elevate your brand.
11. Neulis: A Geometric Sans and Script Hybrid
This one-of-a-kind font is what you get when you effectively combine a script font and a sans serif font together. Inspired by script letterforms. the Neulis font family is made up of 36 font variations that showcase a unique display of characters in various styles and weights.
The monoline type promotes a clean and modern look while the creative design makes text more expressive, allowing you to create stronger branding and marketing materials.
12. Flatline Sans
Elegant, modern, and professional, this sans serif font with smooth, simple strokes can help you achieve a clean, beautiful design. Its OpenType features include standard and special ligatures and character variants to help you produce creative designs.
With its sophisticated simplicity, you can create luxurious logos and attention-grabbing headers and give your content a fresh look:
And that concludes our compilation of the best sans serif fonts here on Creative Market. Make sure to use one of them on your next design project!
To get exclusive content, products, and updates from Creative Market, sign up here.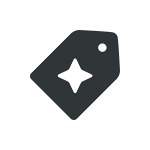 Creative Market