20 Geometric Sans Serif Fonts That Are Perfect For Logo Design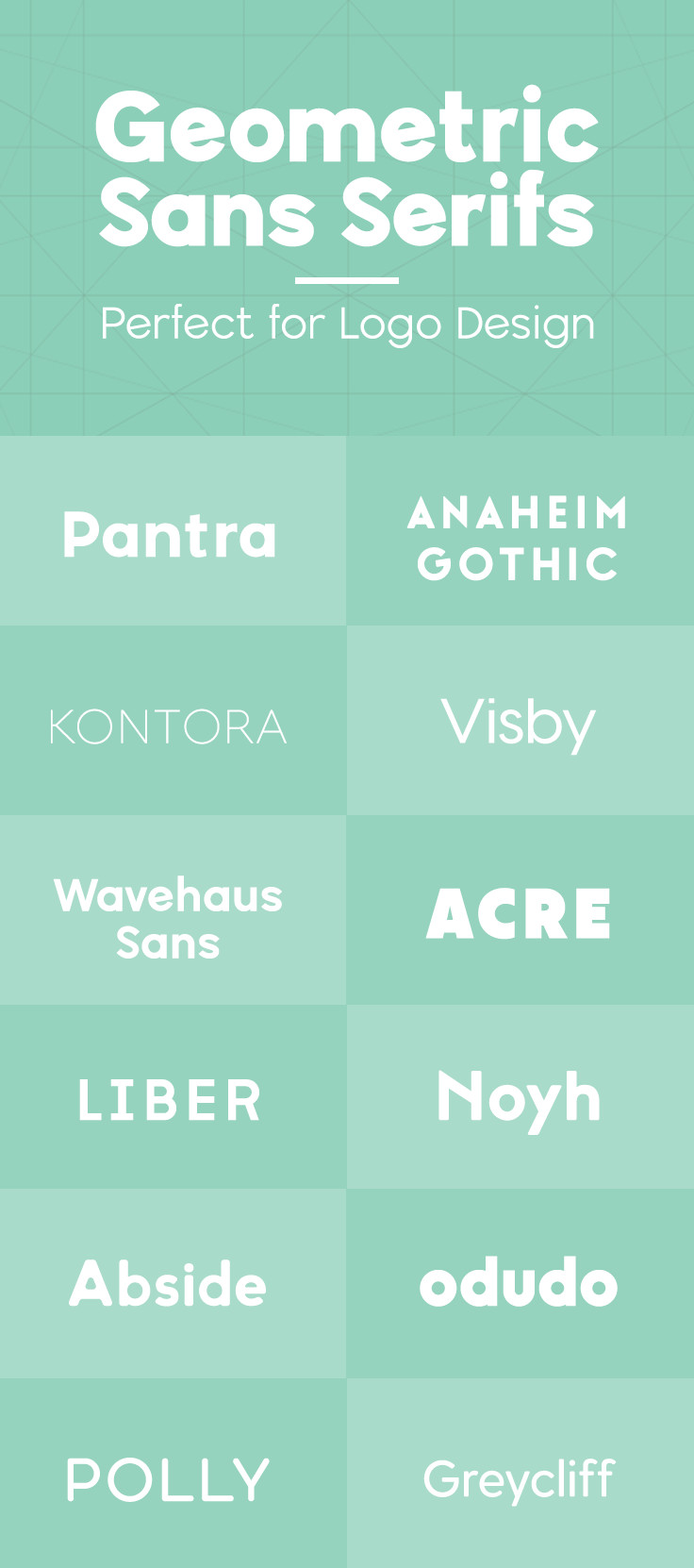 Every company or blogger needs their own logo — or a visual representation of the company that becomes an immediately recognizable reminder of the brand. Logos should be memorable, clear, and readable — which is a good reason to use a geometric sans serif font when designing them. If you're creating a logo for a company, here are 20 great fonts you might want to use in your design. You can find even more geometric fonts here.
Pin it for later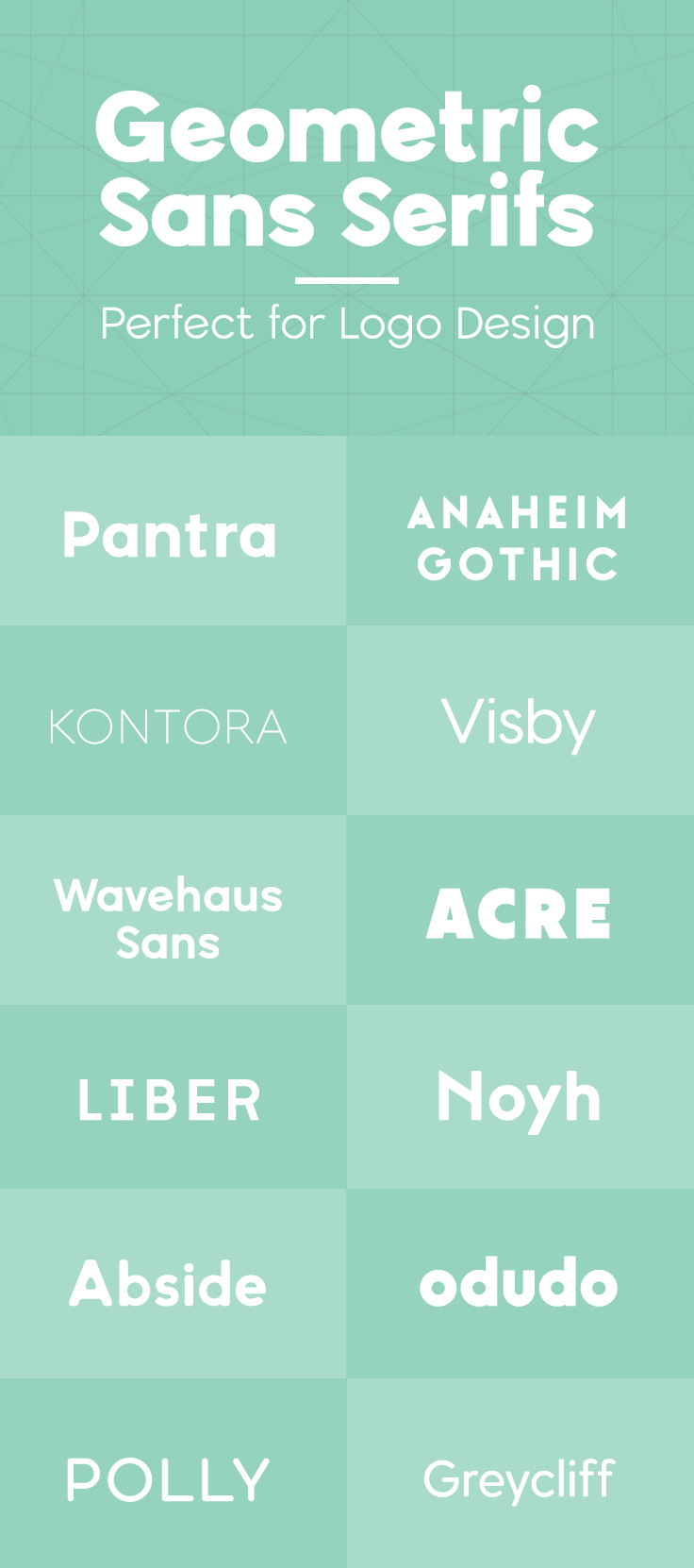 Pantra Type family is a minimalistic sans serif font that has a casual edge. The font comes in four weights: light, regular, medium, and bold.
This font comes with six different weights — thin, light, book, semibold and extra bold. It is simple but funky, which means it could be great a company or organization with character.
This font was created by Kostas Bartsokas, and it brings together features from early European grotesques and American gothics. The typeface feels modern, with geometric rounding and open apertures in characters.
Arquitecta is a geometric, sans serif font inspired by hand lettering from the early 20th century. The font comes with European accents.
The creator of Noyh, Typesketchbook Foundry, explains that the font was created based on font research from the 1990s and 2000s. The font is bold and noticeable, so it's a great choice for headlines and eye-catching words in logos.
The Anaheim Gothic Font is inspired by vintage logos. It comes with multilingual support for more than 22 languages, as well as full upper and lower case.
This font was created in the tradition of fonts like Avenir and Futura — but meant to incorporate stylistic developments of the 21st century. The font celebrates the "mathematical purity of geometric circles and clarity of squares."
Olio is a chunky sans serif font that's warm and inviting. This bold font is great for anyone who wants to be sure that the characters in their logo can be read.
The designer of this font, Jonathan Ball, explains that the font is named after his great grandfather, Tex Acre. Acre was a sign artist whose signs were lit up alongside highways in the Midwest during the mid-century, so this font typifies the mid-century aesthetic.
Pontiac is a friendly font with a casual aesthetic. The download comes with four fonts: light, regular, bold, and black.
Nexa is a font family with 16 different styles and weights. It is extremely legible and can be used in both print and web logos.
URW evokes feelings of the 1920s, but it is designed to be used in projects today. The font family comes with 10 different weights.
If you like Century Gothic, you're gonna love HK Nova. This font is like Century Gothic and Futura — but a typeface all its own.
Who doesn't have good memories with the MONOPOLY game logo? This font resembles that famous title, and it comes in three styles: light, bold, and bold inline.
Polly is extremely minimalistic and straightforward. It comes in four different weights.
This font is chubby, and it feels fun and full of character. The designer of the font explains that it has some inspiration from Futura, ITC, Avant Garde, and ITC Bauhaus. Use it for a company that's fun and loud — it's certain to get seen in a logo.
Abside Font was created by Hederae Type Foundry. The font is minimalistic and clear, and it's based on Neretto typeface and 2000 grotesques. Abside font is usable for projects in print or digitally, and it comes with four different styles: regular, round 1, round 2, and smooth. Each style has its own oblique version.
The designer of Greycliff, Connary Fagen Type Design, explains that the font is "rugged, hearty and warm." The durability of the font is reminiscent of the 1940s — but it has softer edges and more vibrant shapes. The font family comes with seven weights and their obliques.
Visby CF Geometric Sans Font was created by the same designer as Greycliff — who says that this font was "inspired by the stark beauty and crisp air of the arctic." The font has hard lines, sharp corners, and smooth, rounded bottoms. It is eye-catching, clean, and very easy to read.
This font, created by Petr Bushuev, comes with three different weights. The typeface has a touch of retro, but with modern proportions. It comes in three weights, with 7528 kerning pairs and 510 glyphs.
Creating logos is a great way to communicate a company's values, mission and aesthetic. You can use simple sans serif fonts to design them, as well as logo templates, graphics, and photos — all of which are available on Creative Market.
---
Products Seen In This Post: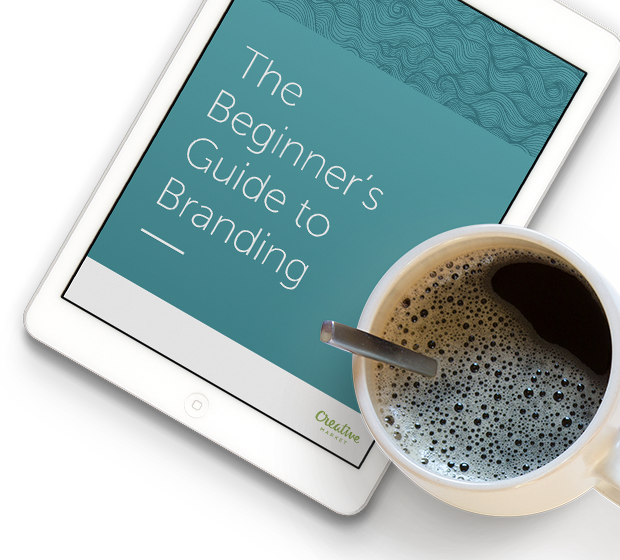 Free Beginner's Guide to Branding
Designing your own brand?
A fun, friendly, FREE guide to build a stellar brand identity.
Download now!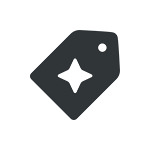 Creative Market