Bring Your Art Alive with Disney's New 3D Coloring Book
Get ready, because I'm about to blow your mind.
Disney has created a method for turning 2D images created on a printed page into augmented reality via a tablet. Basically, you color an image on a page, hold it up to the camera on your iPad, and then, using this special app, watch the character come alive.
Watch:

Spoiler alert: as amazing as this is, it isn't actually a thing — yet. From what we can tell on the video, this is still a work in progress. However, they do look to be awfully close, and that means it could become reality sooner than later. Here's to hoping.
---
Kevin Whipps is a writer and editor based in Phoenix, Arizona. When he's not working on one of the many writing projects in his queue, he's designing stickers with his wife at Whipps Sticker Co.
Getting started with hand lettering?
Free lettering worksheets
Download these worksheets and start practicing with simple instructions and tracing exercises.
Download now!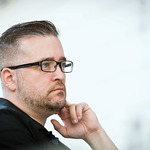 Kevin Whipps
Hi! My name is Kevin Whipps, and I'm a writer and editor based in Phoenix, Arizona. When I'm not working taking pictures of old cars and trucks, I'm either writing articles for Creative Market or hawking stickers at Whipps Sticker Co.
View More Posts