10 Creators Share the Most Important Career Lesson They Have Learned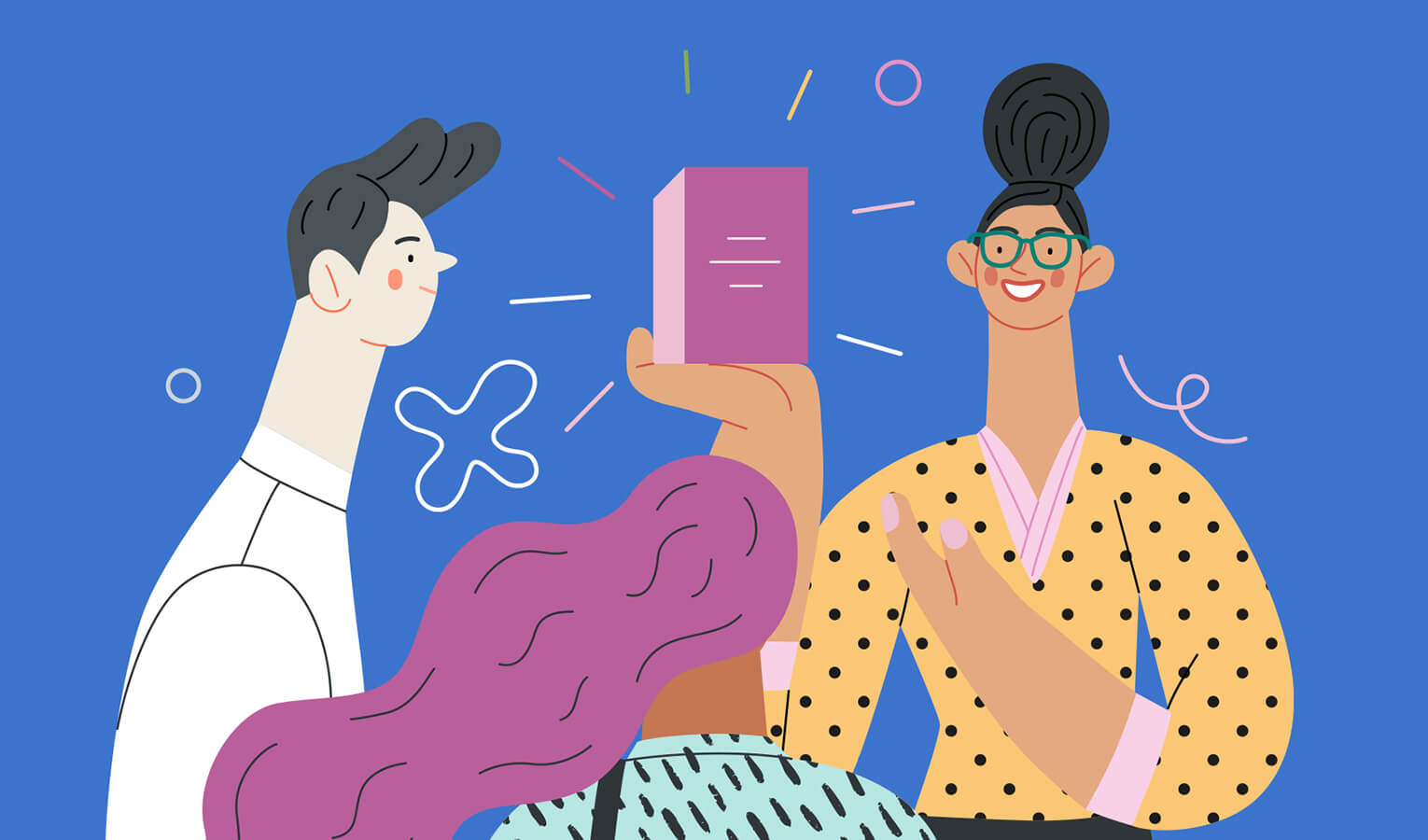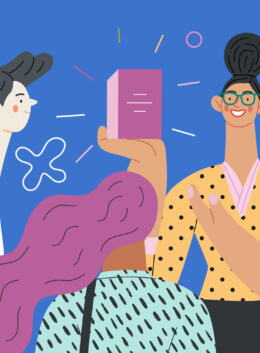 What is something you wish you had learned earlier in your career? There's a point in every creator's journey where learnings become crystal clear. You've been around long enough to recognize pitfalls, red flags, and the seemingly small decisions that will make a project successful. Emphasis on seemingly small. When it comes to leading a successful creative career, details matter. No choice is too small: you become intentional about your time, workflow, style, and the brands you work with.
We recently surveyed our community to learn about the most important lessons others had learned as creators. Read on to learn 10 essential takeaways from their careers.
1. Stay in research mode
Avoid the echo chamber at all costs. Business owner Christina Stokes relies on research to keep her ideas fresh: "This year, in particular, I've learned to keep researching and learning! Digital creation is a process and banging your head on the desk isn't conducive to your work."
2. Mistakes are lessons
This was a popular takeaway for designers in our community. The Grafix Cat recommended you should take "one step at a time and learn from mistakes", while Nino, the shop owner behind NinON, says the trick is to "never stop learning". Once you recognize every failure is an opportunity in disguise, your journey becomes more enjoyable.
3. Do you, always
Brand designer Samantha Neville emphasizes it is essential to honor your identity and perspective. "Making content that you like, will be the best way to stay consistent and gain a true following! Do it for yourself first, and people will follow you because you're passionate about what you do!"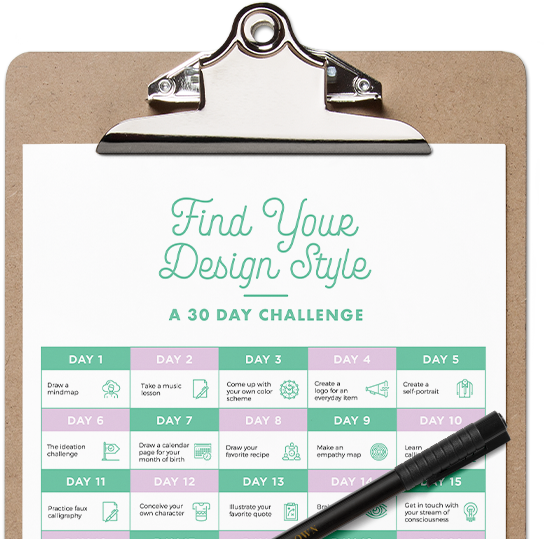 Find your design style in 30 days
Free Challenge Calendar
Having a hard time finding your unique design style? This creativity challenge will get you on the right track.
Download it here
4. Creating is combining
Creator and online instructor Nancy Badillo says that "combining different elements from different pieces helps you make something super unique". The idea of pulling from different sources to define your style is not new. Author Austin Kleon demystified combinatorial creativity in Steal Like an Artist.
5. Test, test, test
If you never try, you'll never know. Alné, from Sincerely Stone Design Studio, has some advice: "Just jump into the design process and keep exploring. Don't be afraid to try something new!" Whether it's a new medium, tool, process, or design field altogether, give yourself enough options to find a craft that fulfills you creatively.
6. Surround yourself well
Sometimes we forget the impact a colleague or client can have on our career. Designer Craig Allen is adamant about this: "The people you surround yourself with can have a direct influence on the quality of your work, either good or bad."
7. Set boundaries
At the heart of every boundary you set is a deep sense of self-respect. This is something illustrator theartofnoon knows well, stating that she has learned to respect her time and creativity over time. Shop owner ana & yvy shares her sentiment: "Stick with your boundaries & listen to your gut — always."
8. Stop waiting for a muse
Pablo Picasso famously stated, "Inspiration exists, but it has to find you working." When you've been in the creative industry long enough, you come to realize that motivation won't be there all the time. Artist Marina Solodkaya, the shop owner behind solmariaart, says you should "try to create even when inspiration is absent".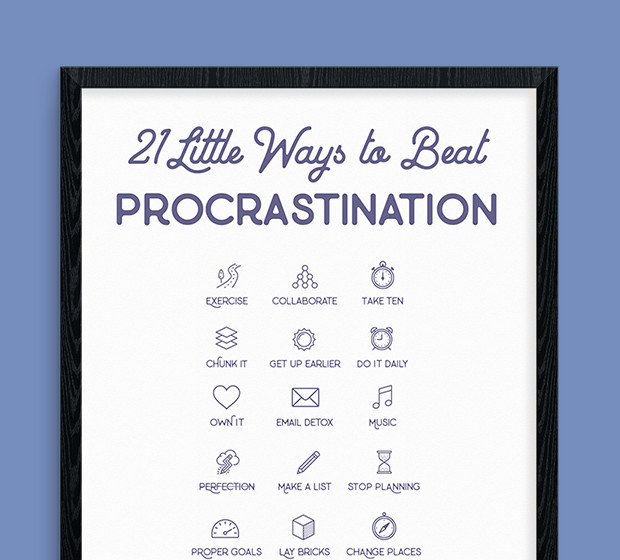 Beat procrastination with these 21 reminders
Get your free printable
Tired of putting off goals and projects? Kiss procrastination goodbye with these smart tactics. Download and print this sheet to stay on top of your productivity game.
Download it now!
9. Get paid your worth
Pricing your work fairly is a whole topic in and of itself. For designer Samantha Dorri, you shouldn't "charge for your hours. Charge for the value you give. Stay true to your mission to help and add value and the right customers will come who are ready to invest in their brand."
10. Back up everything
As a creative, your body of work becomes a library you can pull from over time. Work in progress, discarded finals, loose elements, and other leftover assets can actually be repurposed as products that accelerate others' projects. You could even build a Creative Market shop and earn passive income that way! To avoid losing valuable assets, illustrator Oksana Berko recommends backing up your work every single time.
What's the most important lesson you've learned as a creator?
We want to know: what is the most essential piece of advice you'd share with other creators? Do any of the lessons above resonate with you? Share your own advice in the comments section below.
Getting started with hand lettering?
Free lettering worksheets
Download these worksheets and start practicing with simple instructions and tracing exercises.
Download now!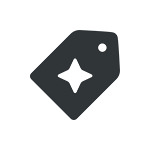 Creative Market