Design Trend Report: Coastal Design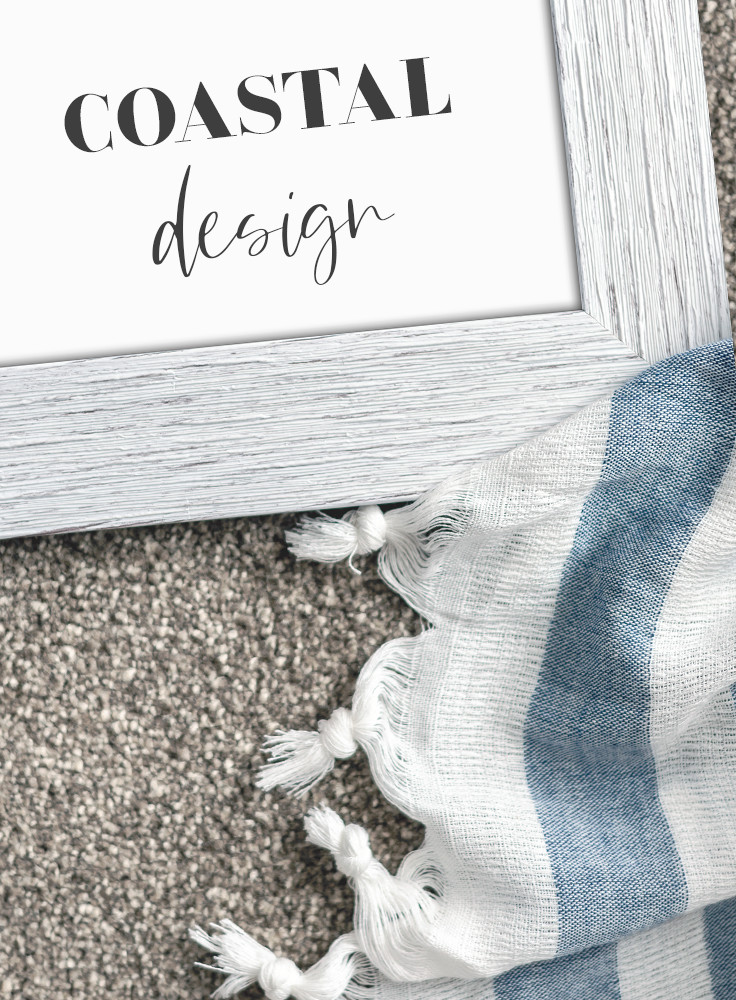 There's nothing like coastal design to cool you down when you're in the hottest days of summer. Also referred to as Hamptons design (after the trendy seaside resort community), coastal design is light and airy, with a soft color palette to calm you and help you beat the summer heat. The strong suit of this design style is its reliance on colors and moods that are naturally found in coastal communities and beachside resorts. When nature is giving you such monumental design inspiration, it's best to run with it, which is what coastal's proponents have done to great effect. If you're looking for a great descriptive term for it, "minimalistic elegance" is probably the most accurate. Every aspect of this design trend is intended to provide some sort of escapism and reprieve—whether visual or spatial—from the stresses and rigors of everyday life. Done right, coastal design is effortless. Here's the 411 on this design style.
The History of Coastal Design
Unlike other design trends, it's somewhat trickier to nail down the origins of coastal design. Mankind has always been in and around the beach since the early days of our civilization, so it's just naturally been a part of our environment. However, the actual intention of incorporating this laidback design aesthetic into graphics, the web, and interiors had to originate somewhere. Where did that spark come from? It's safe to say that its origins can be traced back to the world's most famous beach community, the Hamptons, which is where we also get another name for this design trend: Hamptons style. Located in Long Island's South Fork, the Hamptons is a series of villages and hamlets that actually started out as a humble farming community in the 19th century. In the late 19th century, affluent folks in the area began to descend on the Hamptons as both a vacation spot and to form a dedicated community.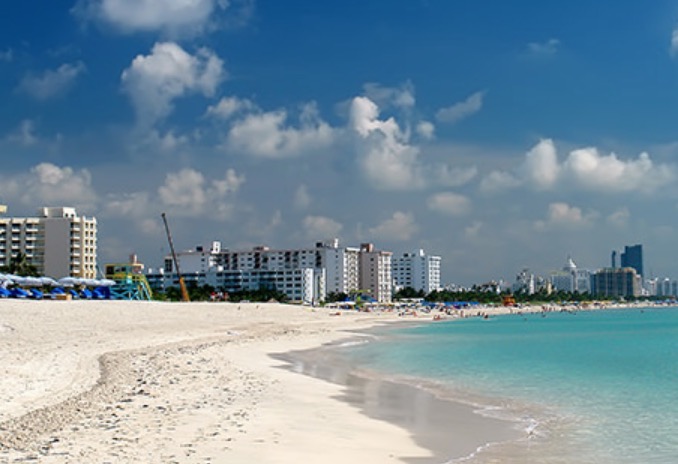 All throughout the 20th century, the area only grew in its reputation for exclusivity. Today, of course, the Hamptons is synonymous with wealth and elegance: the destination of choice for not just America's rich, but the world's. Thanks to pop culture shining a spotlight on the area, people around the world began to take notice of its environment and atmosphere, which wasn't just about the wealth. The area also possessed magnificent beaches, sumptuous residences, and an upmarket, preppy vibe that captured the imagination. Some examples of the Hamptons in pop culture include:
The Pruitts of Southampton (TV series)
The Real Housewives of New York City (TV series)
Royal Pains (TV series)
Revenge (TV series)
Weekend at Bernie's (movie)
Something's Gotta Give (movie)
Inside Job (movie)
As more audiences were exposed to this part of the country over the decades, they began to notice the distinct design and décor of the area—and sought to replicate it in their own lives.
Characteristics of Coastal Design
It's important to note that the Hamptons hasn't been the only inspiration for coastal design. That's why there are varieties of coastal design, each with its own specific and unique touches that reflect its particular corner of the globe. Besides coastal design inspired by the Hamptons, there's also Polynesian or Hawaiian coastal (some would simply call it island style), and Mediterranean coastal, which features the rich heritage of Greece, Italy, and some parts of Spain.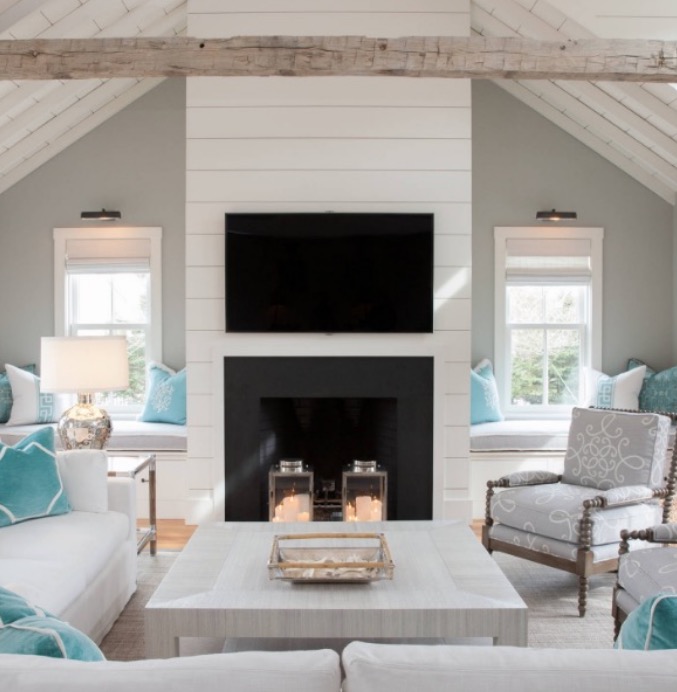 The beauty of this design trend, though, is that no matter which of its varieties you explore, they all have the same, big-picture design traits that make this aesthetic instantly recognizable and appealing wherever you're from. In general, coastal is characterized by the following traits:
Neutral colors that feature a gray base (neutral doesn't have to always be white)
Cooler color pairings (blues and greens)
Bold and vibrant colors (turquoises and pinks)
Reflective surfaces
Emphasis on texture (whether implied or real) like woven shades and wicker
Natural light
Nature themes (incidentally also big in Scandinavian design) like seashells, the sea, sea creatures (crabs, fish, whales, etc.) flowers, coastal-inspired illustrations, and color palettes inspired by the sea
Natural materials
Patterns for visual variety, such as stripes of alternating colors
Soft furnishings
Architectural details (paneling, crown molding, etc.)
A mood that evokes calm, relaxation, and comfort
Nautical décor
Beyond these general qualities of design, each coastal variety has additional characteristics that are well worth exploring.
Hamptons Style Coastal
Hamptons design is idiosyncratic in that it's unique to northeastern design and décor sensibilities. Look for these traits in true Hamptons style:
Neutral colors that are more on the earth tones side of things (sandy, creamy, etc.)
Ornamentation for added elegance (chandeliers and mirrors in homes, scripts in font design, etc.)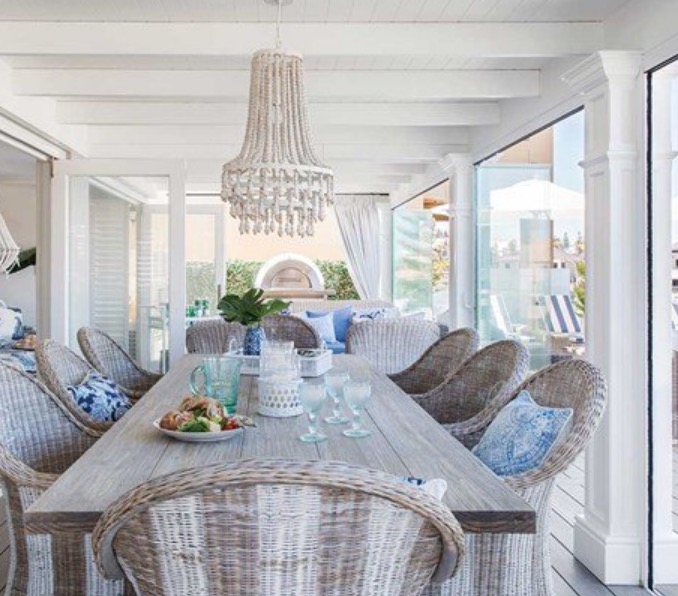 In short, if you're leafing through a magazine about the Hamptons or are watching a movie or TV show that prominently features this vacation enclave, then you're seeing a lot of this type of design.
Hawaiian Coastal Design
It's not surprising that another locale known for its fabulous beaches would inspire another take on this design trend. While Hawaiian shares many traits with the Hamptons style, it has evolved to showcase some unique touches when it comes to design inspired by the beach. This technique is characterized by the following traits:
Tropical patterns
Neutral colors, but specifically more emphasis on whites
Palpable materials and textures like seagrass, shutters, and dark wood
Palms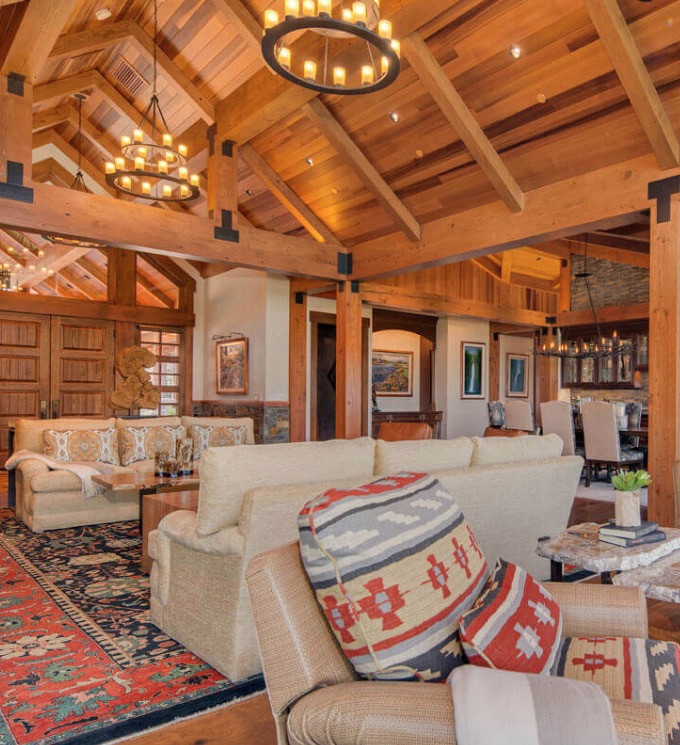 When you're on vacation in Hawaii, watching a show about island life, or looking through a magazine on island living, you'll notice these style elements immediately.
Mediterranean Coastal Design
With the sequel to Mamma Mia! in theatres now, it seems apropos to finish off with the Mediterranean's version of coastal design. Of note, in contrast with the other two varieties, is the more liberal use of sunbaked colors, giving this take on coastal a warmer feel than the cooler colors punctuated by neutral whites that you see in Hamptons and Hawaiian coastal. In particular, Mediterranean coastal includes the following traits:
Warm colors (think reds, oranges, yellows, and pinks)
Terracotta materials and colors
Engraved detailing
The presence of heavier materials like metals and irons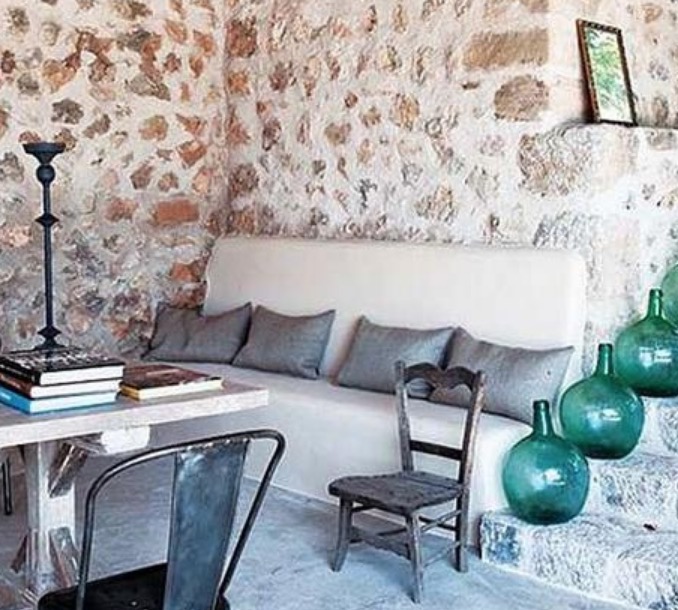 When you're watching Mamma Mia! Here We Go Again (or any other movie set in Greece), you'll easily spot many of these design touches. Have a look at some of the coastal design graphic assets in our vast selection to see these design characteristics in action:
Coastal Design in Web Design
Although coastal originated in interior design and architecture, it has since expanded into other niches like what we see and interact with on the web.
Sandals Resorts
Almost a no-brainer, the website of Sandals Resorts is a veritable homage to everything coastal because the nature of its business depends on making vacationing by the seashore look like the greatest thing on the planet. Accordingly, users of this site will notice striking imagery of coastal resorts and environments, but that's only the beginning.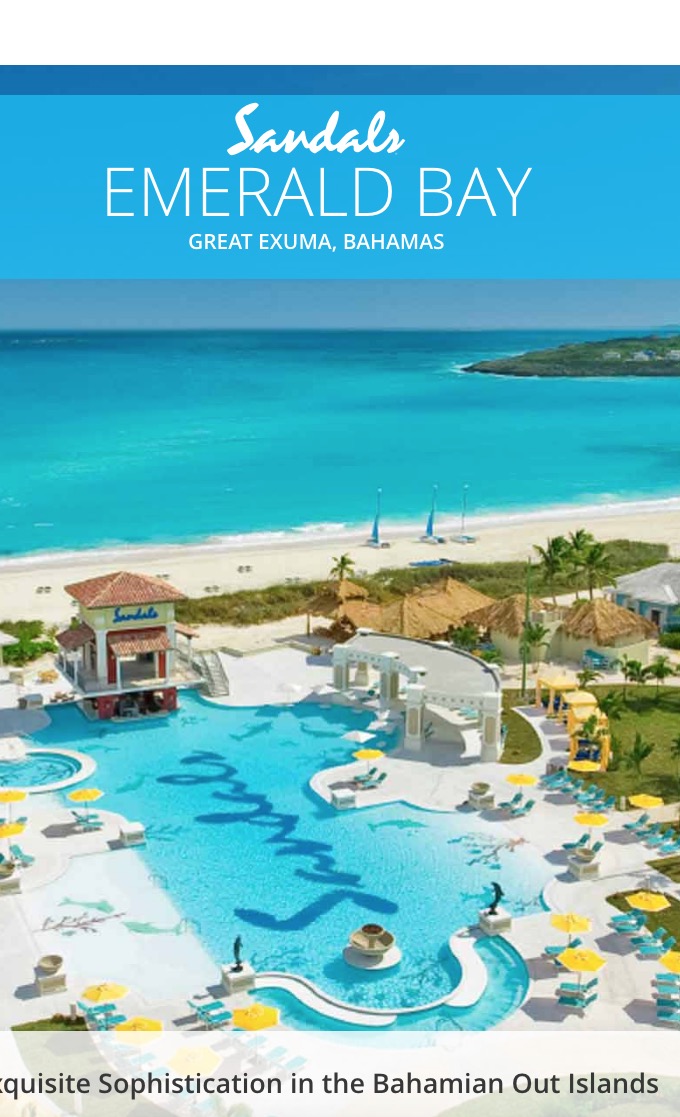 The color scheme of Sandals also ties into the beach theme with relaxing, cool blues and greens, along with the white sands of the beaches in and around its various resorts. In fact, the white space that forms much of the background of the site is smartly interspersed with varying shades of blue and green as users (and potential vacationers!) scroll down their web pages. All in all, a great tribute to infusing a site with coastal design.
Coastal Living Magazine Facebook Page
Coastal Living Magazine is a publication that covers all the finer points of beach living and the coast, whether it's the breaking waves of the seashore, beach activities like surfing, or food and drink for the coastal lifestyle. Its Facebook page is, expectedly, a treatise on how to apply coastal design to your social media channel. For starters, the magazine's wordmark logo uses a seafoam-y, bluish-green color that immediately makes readers think of the relaxed, beach atmosphere of the tropics. Then, its Facebook cover page features nature themes like breaking waves, the sands of a beach, and activities (surfing, thanks to the surfboard) to be enjoyed in nature.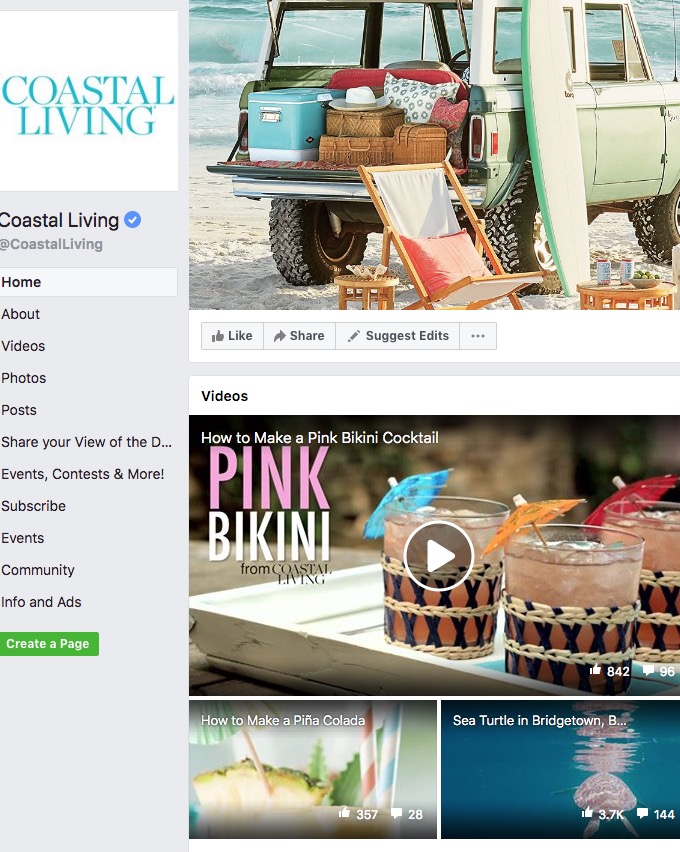 Further down the page, we have more nature themes (the sea turtles) in the video section, along with coastal colors like the blue umbrellas of the cocktail and yellow and green tones of the fresh pineapple in the pina colada video. Safe to say that this publication practices what it preaches by decking out its web presence in coastal design. If you're looking for social media templates to replicate this style, check out some of the kits designed by Creative Market shop owners:
Disney's Aulani Resort
Disney's resort in Hawaii is understandably more along the island-style variation of coastal. Its website is laid out in a grid pattern that mimics the all-round clean and airy aesthetic of coastal, resulting in a user experience that's easy to read and appealing. The generous white space around the content blocks helps make this aesthetic pop with all the more vigor.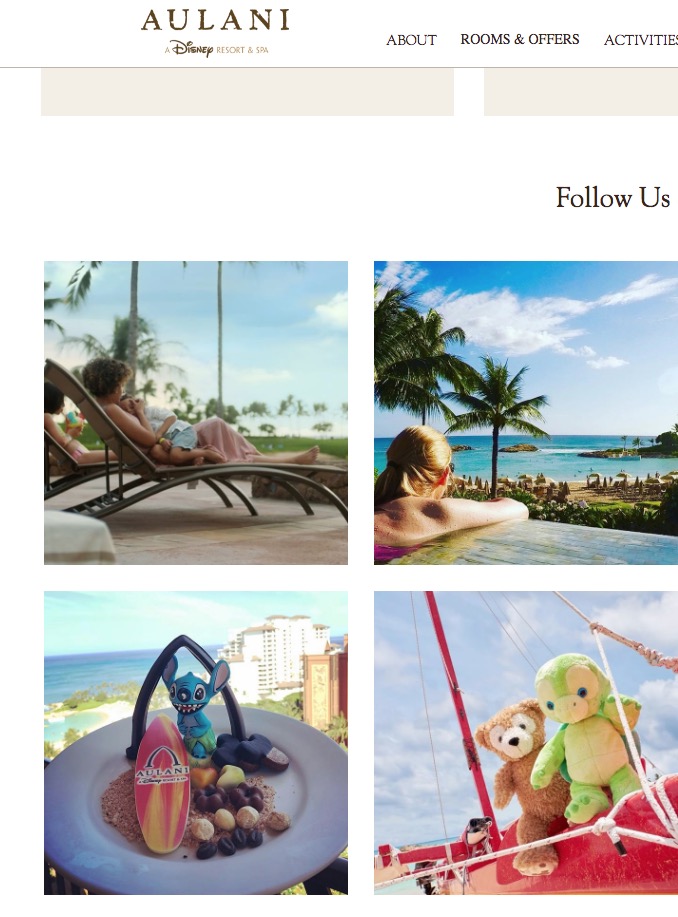 Imagery is big on this site, too, as its high-quality photography showcases the resort's closeness to the water and the tropical patterns it's lucky enough to enjoy due to its location in Hawaii. Photographs boast the typical blue-green color scheme of the tropics, along with the enviable palms, a telltale sign of island style.
Coastal Design in Graphic Design
The lazy and soothing colors and eye-popping textures of this design trend make it a perfect fit for graphic design. Here are some standout examples that'll impress upon you the creative possibilities of this style.
Watercolor Sea Palms Seascape Kit
This digital asset kit features the colors, textures, and elements we'd expect to see in any easygoing coastal scene. The turquoise of the water and the greens of the palms and land produce a relaxing mood, thanks to their cool color scheme. Then, the shading in the palm leaves creates the impression of effective density in the trees, while careful spotting on the water creates the appearance of ocean spray and mist on the surface.
Coastal Multipurpose Theme
This WordPress theme offers a spectacular backdrop for any freelancer's work and an inspiring presentation for any site visitor. Its minimalist approach that features the soothing calm of purple and pink hues on the horizon line (both above and below the water) screams "Beach vacation!" The breezy and light color scheme contrasts nicely with the texture of the breaking waves, creating an homage to the nature motif that coastal always celebrates.
Classic Coastal Digital Paper
A digital product that showcases the lovely patterns that abound with this design trend, this digital paper comes in a variety of patterns. From chevrons (inverted, V-shaped marks) and stripes to classic marine anchors and dots, these patterns offer a plethora of visual variety to offset the calm and relaxing colors present in this style. Color-wise, this paper features seafoam turquoises, flamingo pinks, and marine blues—all tied together by neutral white.
Coastal Design in Interior Design
Perhaps the biggest contribution to coastal design can be found in interiors. After all, it's homes in places like the Hamptons that have tremendously helped to popularize this style in pop culture. Here's a look at how to turn any interior into something that Hamptons living can be proud of.
A Convergence of Traditional and New
One big factor in making any interior coastal is the choice of accessories you bring into your home. Something like a shell or a nautical symbol can go a long way toward telling your guests that you've put the stamp of coastal in your home. There are both traditional and more modern accessories that you can use to convey this look.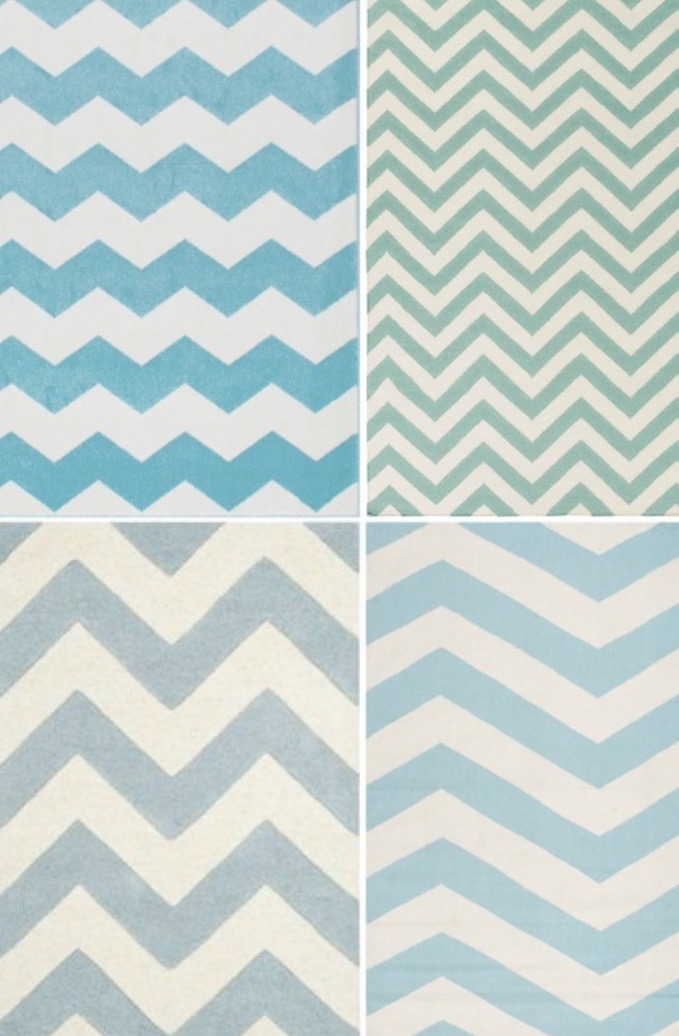 Traditional coastal accessories include:
Conchs
Sand dollars
Shells
Driftwood carvings
More modern accessories are:
Chevron insignias
Shiplap touches
Ornamental lanterns
The winning move would be to incorporate both old and new coastal accessories into your home, like a chevron pattern over your mantle and some driftwood carvings in your living room, where they serve as great conversation pieces.
Lots of Light
It makes sense to infuse your interiors with excessive light—coastal areas always enjoy the brilliant sunshine and natural light that makes these environments so appealing. Here's one surefire trick to brighten up your interior: paint the walls white. Using white walls amplifies the effects of natural light that makes it into your home. And that segues into another important strategy: windows, specifically large windows. The more windows your home has, the more it'll be flooded with light, thereby amplifying the coastal effect exponentially. Besides windows, think about adding skylights and glass doors.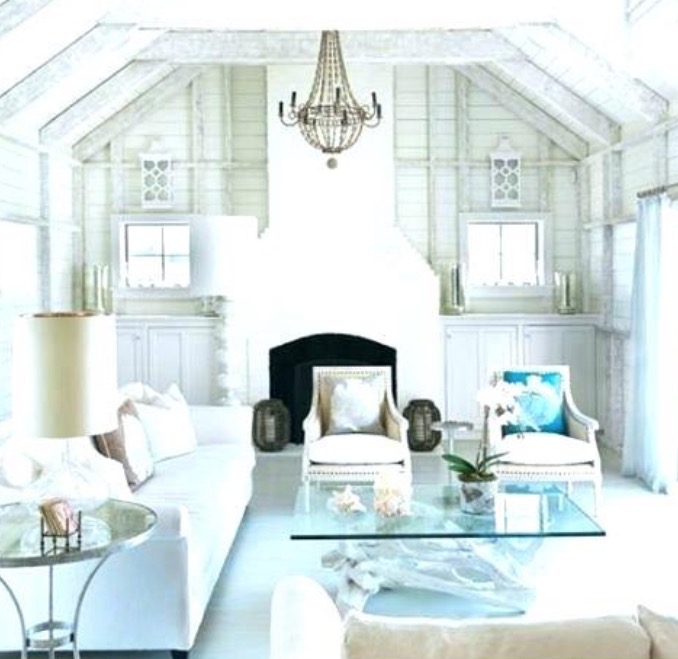 Finally, you can resort to clever uses of mirrors. For example, add a glass top to your breakfast table, or situate a mirror directly across from a window. Both of these arrangements help to diffuse the light in your home all the more.
Simple Fabrics
Tying into the whole clean and crisp look of white walls and airy modernity, the use of fresh and comfy fabrics in your home is another necessity to achieving coastal design. The goal with these kinds of fabrics isn't just for aesthetics; it's also to get to a certain level of comfort that makes you want to relax and take in the sumptuousness of your environment. Ideas for fabrics in a coastal scheme include:
Cotton rugs
Linen slipcovers
Billowy curtains
Of course, going with pure white is always a winner, but so are faded pastels and patterns like stripes, to provide some texture to the eye.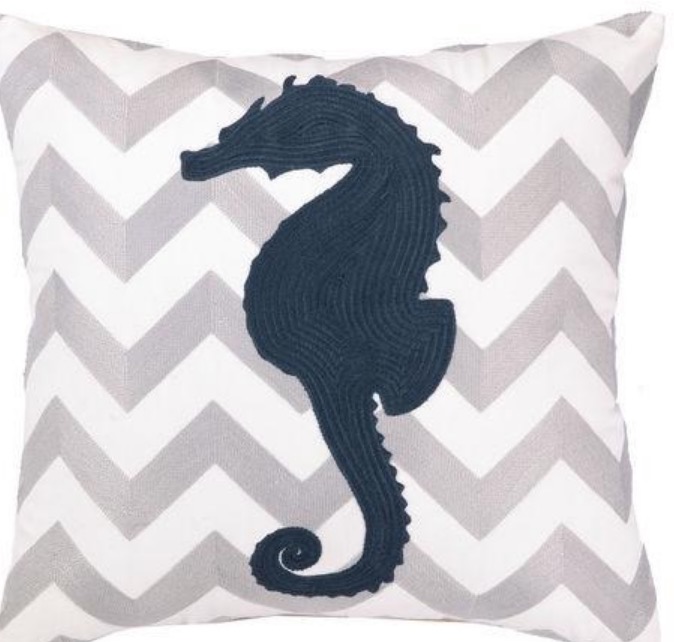 When you're purchasing fabrics, find those that feature interesting prints for added variety and contrast in your home. We're talking things like nautical themes and shell illustrations. Choose the ones that are in good taste, and don't bring in these prints to the point of oversaturation, where they become gaudy. Also, keep them confined to only a few items in any given room, such as a single recliner in the corner or a couple of throw pillows on your favorite couch.
More Than Just the Beach
It's easy to write off coastal design as being solely about the beach. After all, all its trappings—like sand, sun, and ocean—are mainstays of this design trend, yet there are also sophisticated design elements at work here. The whole lightness and airiness of this design style are due to factors like its cleanness and minimalism, two elements that give this style its unique aesthetic. Overall, achieving coastal means that you have to err on the less-is-more side because this style isn't about kitsch. It's about a design that incorporates nature, clever and unassuming decorative touches, and timelessness to make a long-lasting impression.
---
Products Seen In This Post:
Getting started with hand lettering?
Free lettering worksheets
Download these worksheets and start practicing with simple instructions and tracing exercises.
Download now!
Marc Schenker
Marc is a copywriter and marketer who runs The Glorious Company, a marketing agency. An expert in business and marketing, he helps businesses and companies of all sizes get the most bang for their ad bucks.
View More Posts