Design Trend Report: Shabby Chic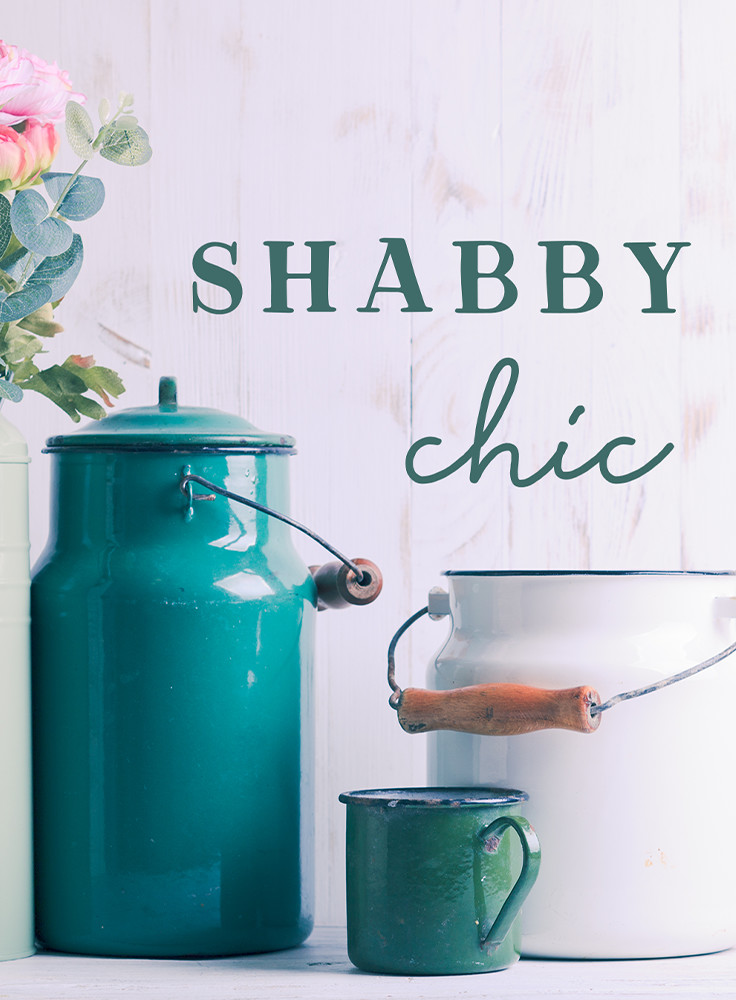 Shabby Chic is a design trend that takes inspiration from other styles like vintage, but also adds its own, unique touches to create a design that's idiosyncratic. You'll easily recognize Shabby Chic by its emphasis on the worn quality of its elements. This doesn't necessarily mean that its design elements have to be vintage to begin with. Elements that aren't originally old are intentionally distressed—displaying signs of wear and tear in order to merely give them the appearance of being antique. In addition to this weathered appearance, it also focuses on emanating colors and textures that are softer while also stressing an artificial, overall vibe. In short, Shabby Chic is a trend characterized by equal doses of old-school (both genuine and simulated) and lighter, airier design touches. Here's all you need to know about this stimulating design trend.
The History of Shabby Chic
As far as styles go, Shabby Chic is an oxymoron in the purest sense. The first part of the phrase alludes to something grungy and dirty while chic, of course, means sophistication. When you read about how this style got its start, you'll begin to understand a bit more how two seemingly juxtaposed approaches can exist within the same technique. We have the British to thank for this design trend. Its roots actually go back to the big houses in the rural areas that the English countryside is famous for. In these older, majestic homes, it's quite common to find furniture that's — for lack of a better word — somewhat dated. Examples like chintz (floral patterns originating from calico textiles) couches and even old paintings hanging on the wall come to mind.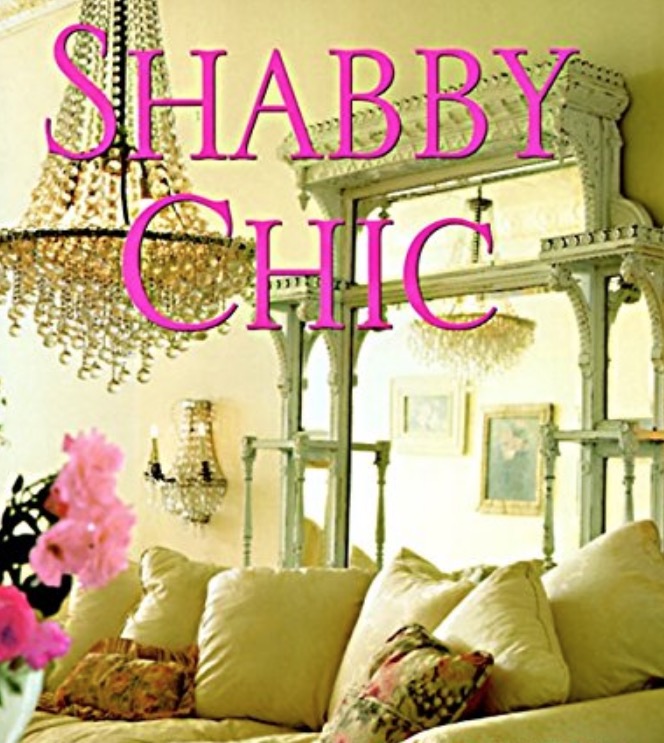 More specifically, it's attributable to Rachel Ashwell, a British designer who emigrated to the U.S. in the 1980s. With a background in prop and wardrobe styling in England, Ashwell became an entrepreneur in California, opening her first home furnishings store in Santa Monica in 1989. Several years later, she published the 1996 book titled Shabby Chic, thereby giving this design trend a name people could associate it with. The book contained everything you wanted to know about home décor based on floral arrangements and flea-market sensibilities, intended as an accessible guide to style your home on the cheap. This trend slowly but surely started to grow, with Ashwell then hosting a Shabby Chic TV show on E! from 1999 to 2003. The show was a visual deep dive into the finer points of finding and outfitting your home furnishings in Shabby Chic style. Perhaps the best indication of the style's success was a plug from none other than Oprah Winfrey herself in 2006. Unfortunately, by 2009, Shabby Chic in the form of Ashwell's home décor company filed for bankruptcy, a victim of the worldwide economic downturn. However, the final chapter for this take on chic wasn't finished yet. Only a couple of years later, Ashwell reemerged with a reinvigorated Shabby Chic brand, this time targeting more moderately priced collections to be retailed all across the country, and expansion into her native UK followed shortly thereafter. Today, the style, and, arguably, her brand, is still going strong, with an e-commerce platform and brick-and-mortar stores in California and Japan, not to mention Target carrying her line. Now that you have a sense of where this design trend came from, we'll examine its defining qualities. For a sense of what this style looks like, have a peek at some of our favorite Shabby Chic digital selections:
The Characteristics of Shabby Chic
At this point, you're probably getting a sense of this trend as being somewhat unconventional. This atypical approach is largely based on the combination of elements that are seemingly at odds with each other in the same style. Of course, it's this clash that provides a lot of the charm of this style. As mentioned earlier, Shabby Chic essentially mixes classic themes and décor (both authentic and artificial) with soft colors and textures. The result is a pastiche of sorts that draws on other design influences to create something unique and popular. You know you're admiring a design styled in Shabby Chic if it:
Features distressed elements (patterns, textures, colors, shapes, etc.) for an extra aged look
Is genuinely old, faded, or antique from the get-go
Espouses a cottage or country style design scheme that clearly differentiates it from a true period piece
Has endured heavy, repeated painting (as in reapplications of paint)
Includes a lot of flowery motifs and patterns (which means it shares a common design technique with Art Nouveau, which also included a lot of organic and floral imagery)
Showcases specific themes like cherubs, festoons (or garlands), and wreaths
Linen and cotton fabrics for interiors
A lot of pure white colors, along with earth tones and some pastels (faded and weathered, of course), and even cooler colors like soft blues and lighter pinks
Rococo-inspired elements and lighting fixtures for interiors
Relaxed and romantic themes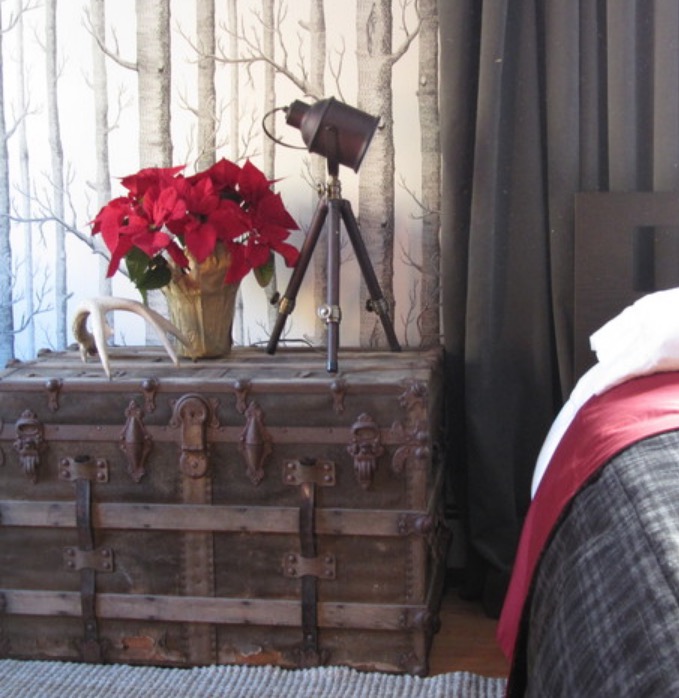 If we want to make this chic a bit more rugged, we can easily do so by adding the following adjustments into our characteristics:
Rustic elements
Colors that are more intense or deeper (example: instead of a soft pink, a dark red or a stronger brown)
A more natural take on interiors, such as using twigs and logs in furnishings (which would move closer to the Scandinavian style of incorporating a lot of nature in design)
The bottom line is that there's a good deal of versatility with this design trend, which explains its endurance over the last couple of decades. Let's now take a look at all the neat places where we can find Shabby Chic.
Shabby Chic in Graphic Design
The one-of-a-kind design combinations within this trend have allowed graphic designers a good amount of freedom to take the trend in highly creative directions. Here are some interpretations of the aesthetic in graphic assets.
Country Chic Script
An allusion to the country influence of this approach to chic, this typeface epitomizes all the design qualities of the trend in lettering form. Both approachable and unassuming, this font wastes no time in showcasing some of the appealing, vintage effects we've come to expect. The lettering features grungy textures that almost look like scuff marks, adding to the old-school feel and the rustic nature of its country-esque vibe.
At the same time, the style's lighter color palette isn't neglected, and the trademark floral and nature motifs are well-represented. As a bonus, this script comes in italics as well. It's definitely a font that will inject country and antique vibes to your next project.
Shabby Chic Rose Digital Paperback
A design asset that goes all-out in the floral department, this digital take on paper is excellent for a wide array of projects. Not only is the aesthetic's flower characteristic the main attraction here, but its focus on roses makes for a truly attractive virtual paper. Choose from a variety of rose illustrations adorned with geometric shapes, vertical lines and columns, and dots. The soft-warm color palette is also a joy to behold, as it sets the mood for an inviting atmosphere.
There's almost no end to the different uses of this digital paper:
Cards (invites, weddings, birthdays)
Label stickers
Gift wrap
Stationery
Print for fabrics
T-shirts
Pendants
Buttons
Packaging
Easy to customize, this paper makes a perfect addition to any creative project.
Shabby Chic Spring Tea Party
This file of illustrations showcases how far designers can take this style when they apply a theme to it. A tribute to springtime, this collection features more than 100 graphics in all for a thorough treatment of this style. The vintage and floral motifs collide to create fun illustrations that celebrate the whimsy of a tea party.
As such, this collection is ideal for projects where you want to inject a sense of playfulness. Its childlike, innocent theme gels nicely with the breezy and light design aesthetics of Shabby Chic, making for a wonderful introduction to this design trend.
Shabby Chic Watercolor Pack
A set of watercolor-inspired Shabby Chic digital assets, this collection has everything you need to impress clients on your next project. With 58 nature and flower-based design elements, it is elegant, soft, and sophisticated—perfect for educating and delighting clients and audiences alike about the beauty of Shabby Chic.
Extra attention has been shown to this collection, as its hand-painted graphics exude a level of detail and personality that's hard to find elsewhere. Because of its unique approach to this aesthetic, this watercolor pack is good for:
Logos
Blog designs
Party tags
Greeting cards
Digital scrapbooking
Stationery
Invitations
Cards of all types
Overall, an ode to this lovely design trend.
Shabby Chic in Web Design
It's a bit challenging to find good examples of this design style on the web since it's a very specific, acquired taste. That's not to say that it doesn't exist, of course. Here are some of our favorite web design pieces built in this style. The most obvious place to start on the web is Ashwell's own site for her brand. It's a visual and virtual repository of Shabby Chic imagery and design choices on the web. What site visitors notice right away is the hero images in the slider at the top of the homepage, as well as throughout the length of the page in the card-based layout. These high-quality, sharp pictures give an accurate, iconic look at how this décor should look in one's home.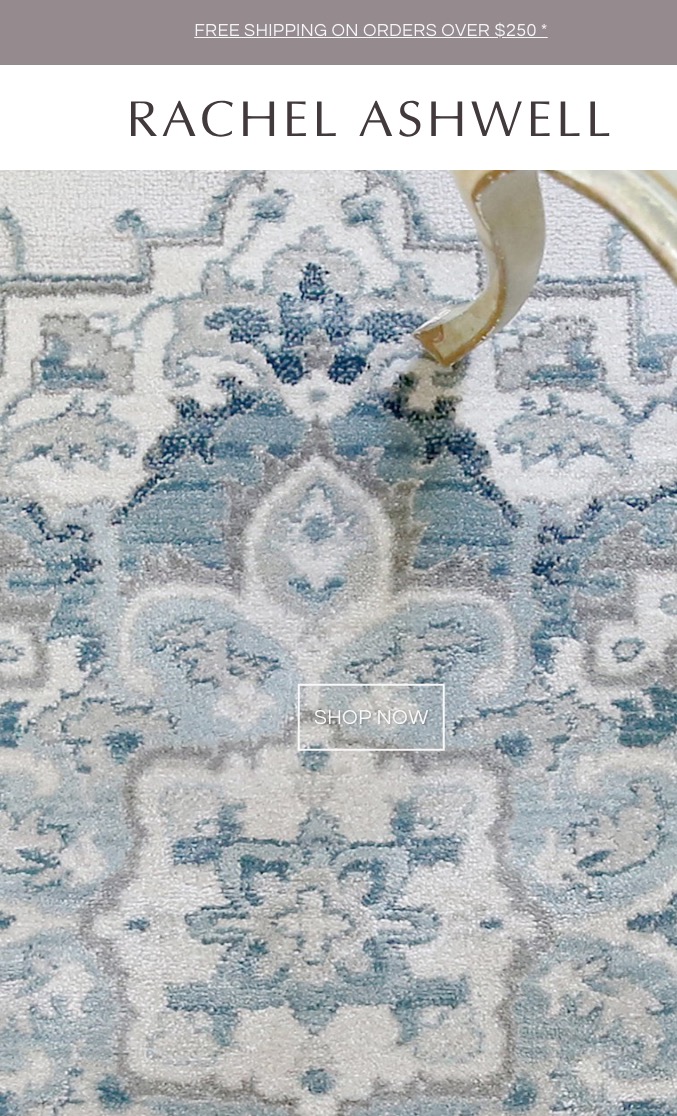 Together with this imagery, you'll find an almost off-white/cream and earthy color scheme on the site for a more faded look, particularly in the negative space around the content areas. Font-wise, the site uses both serifs and sans serifs to mainly ensure content that's both legible and readable without much effort. A blog that specializes in all things home design and lifestyle, Shabbyfufu is aptly named due to its strong Shabby Chic influences. Created and run by an interior stylist and photographer from Miami, the blog features delicate Shabby Chic style right off the bat in its logo. The wispy, script lettering evokes elegance and class while the soft, blue color is in keeping with this style's lighter hues.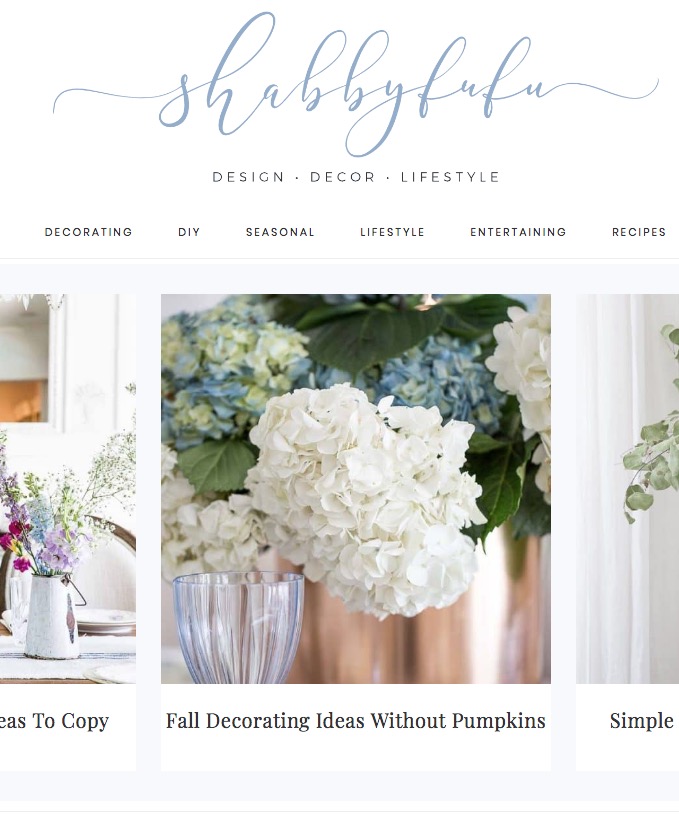 Floral imagery and references abound, especially in the attractive imagery that accompanies each blog post. There's a lot of white space here for framing purposes, and it's effective in directing visitor and reader attention to the interesting content found in the main columns. Thanks to its clean, minimalist presentation and design, the blog is visually sumptuous while being easy to read. As far as repositories for Shabby Chic knowledge go, you can't beat this website. Administered and authored by a consultant who lives in a Victorian house, it's a web-based love affair with everything this style has to offer. The creator's appreciation and study of this design trend is apparent by analyzing the site's layout and presentation. You'll remark to yourself how light, feminine and airy the site's vibe is when you land on it. You can thank the soft-warm color palette filled with different shades of pink for this, along with the numerous references (both visual and written) to floral themes and patterns.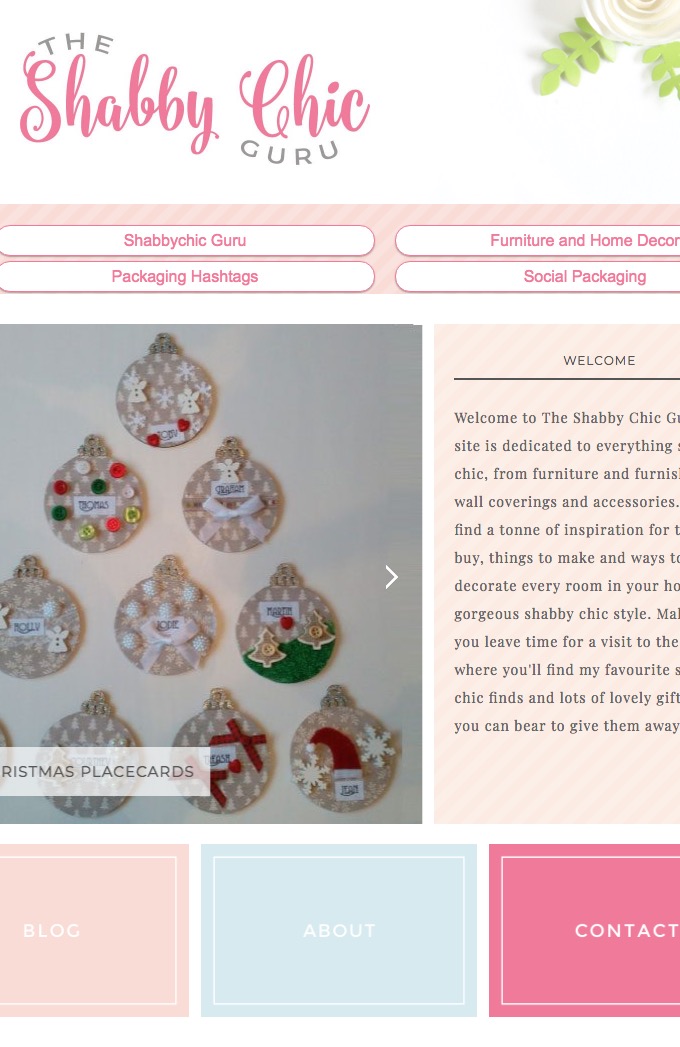 On the arrangement front, the site boasts a clean, modern layout that uses the grid well and pagination to great effect. Its card-based design efficiently showcases different blog entries, featured content, and links to different parts of the site. All told, it's a study in how to design a site according to Shabby Chic sensibilities.
Shabby Chic in Interior Design
This aesthetic's roots are obviously in decorating for the home, so there's no shortage of inspiration for how you can add some chic touches to your interiors. The point of this approach to interior style is to decorate your home uniquely and beautifully, but without having to invest a large amount of money in order to do so. Here are some actionable ideas on how to bring your interiors closer to Shabby Chic.
Country-fy Your Space
One of the influences behind chic is the countryside, so bring more of that into your home to get this look right. Incorporate some rustic and rural elements in your home by using:
Soft stripes
Neutral shades of color
Checkered patterns
Wood furniture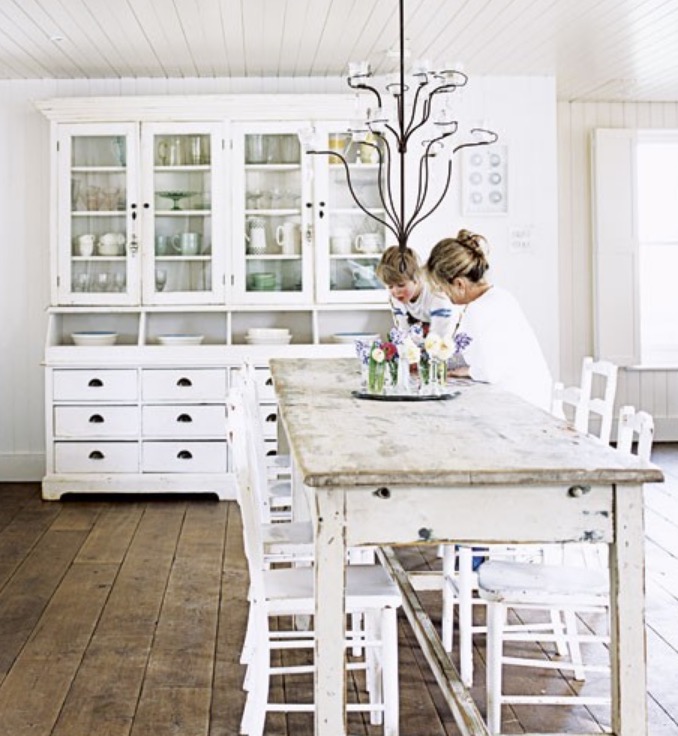 Something as basic as beige and creamy walls with linen couches and cushions featuring soft, red stripes work well together. For flooring, the best would be to already have naturally weathered floorboards that have aged with time and foot traffic.
Bring in the Vintage
Remember that this take on chic doesn't mean that you actually have to go and find real antiques to decorate your home. You certainly can if you want, if you have the time and money to find them. Another option is to simply buy furniture that's already distressed; there are many places online that sell distressed furniture, from Overstock and Bed Bath & Beyond to Amazon and even Etsy. When you buy, make sure to look for distressed furniture that fits the mold of Shabby Chic, which means:
Wood and natural materials
A softer color scheme, with neutrals and earth tones
Country-inspired pieces, like dressers and kitchen tables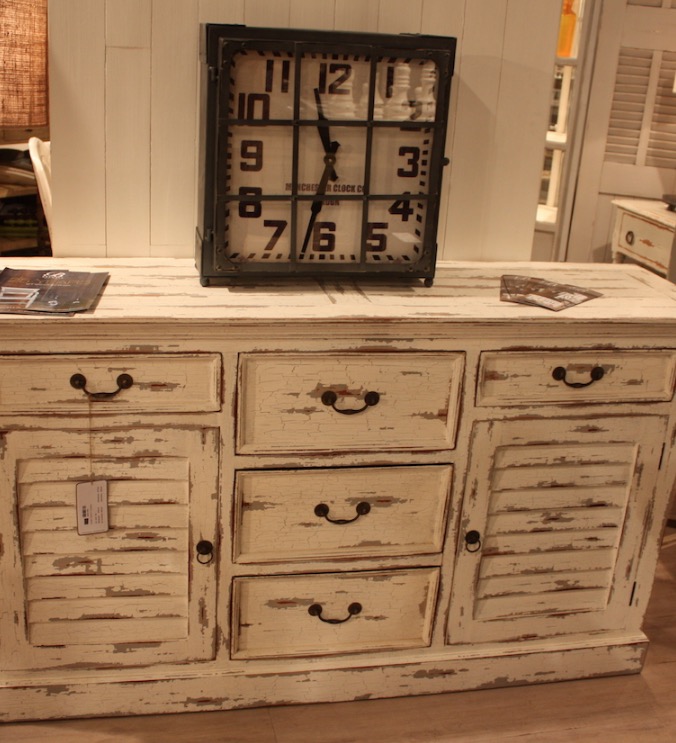 Of course, you can always distress new furniture yourself if you're up for a little adventure. In general, it only involves: 1) Prep the furniture's surface by lightly sanding it 2) Put on some base paint and let it dry for 24 hours 3) Create a paint wash by mixing your paint with water and then apply it as a top layer; let it dry for another 24 hours 4) Finally, distress the edges and corners, too, by lightly sanding them
Accessorize With Smart Touches
Believe it or not, it's fair game to include a chandelier over your dining table or the corner of a room for additional light and elegance. As long as you don't overdo it, one or two chandeliers is fine. Chic allows for elements like this because they provide the touches that make this style sophisticated—which also contrast wonderfully with the country-inspired and more rural and rustic design touches.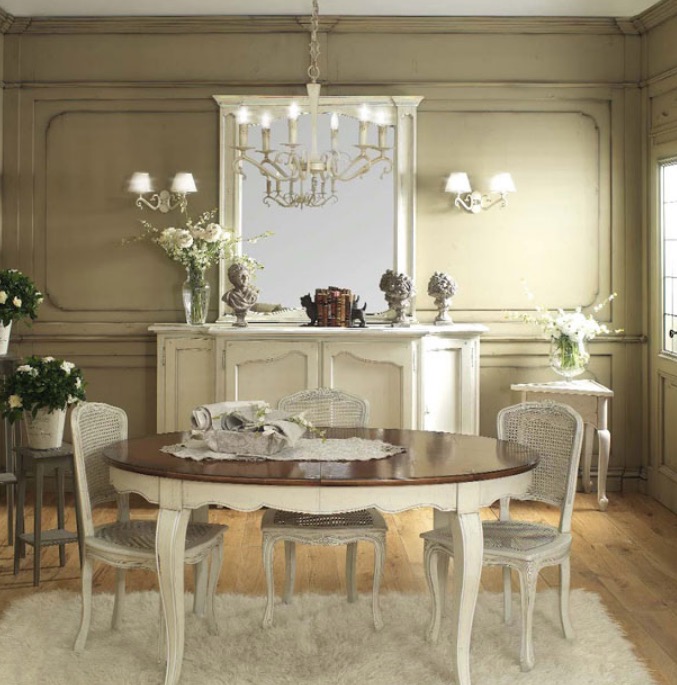 That begs the question, where can you find reasonably priced chandeliers? After all, Shabby Chic is meant to be accessible to anyone.
Combining Vintage, Elegance, and Distress
Shabby Chic is really an approach to design that borrows from other movements to create a style that's memorable and one-of-a-kind. It celebrates antiques (real or distressed) and paler pastel colors to provide an old-school look and feel to environments. At the same time, it uses soft and feminine color schemes along with touches of class like chandeliers to pump up the elegance factor. What you're left with is a style that's easy to copy in graphic design, the web and interiors with equal ease. Thanks to its accessibility, it continues to leave its mark in the world of design.
---
Products Seen In This Post:
Getting started with hand lettering?
Free lettering worksheets
Download these worksheets and start practicing with simple instructions and tracing exercises.
Download now!
Marc Schenker
Marc is a copywriter and marketer who runs The Glorious Company, a marketing agency. An expert in business and marketing, he helps businesses and companies of all sizes get the most bang for their ad bucks.
View More Posts