Design Trend Report: Naive Art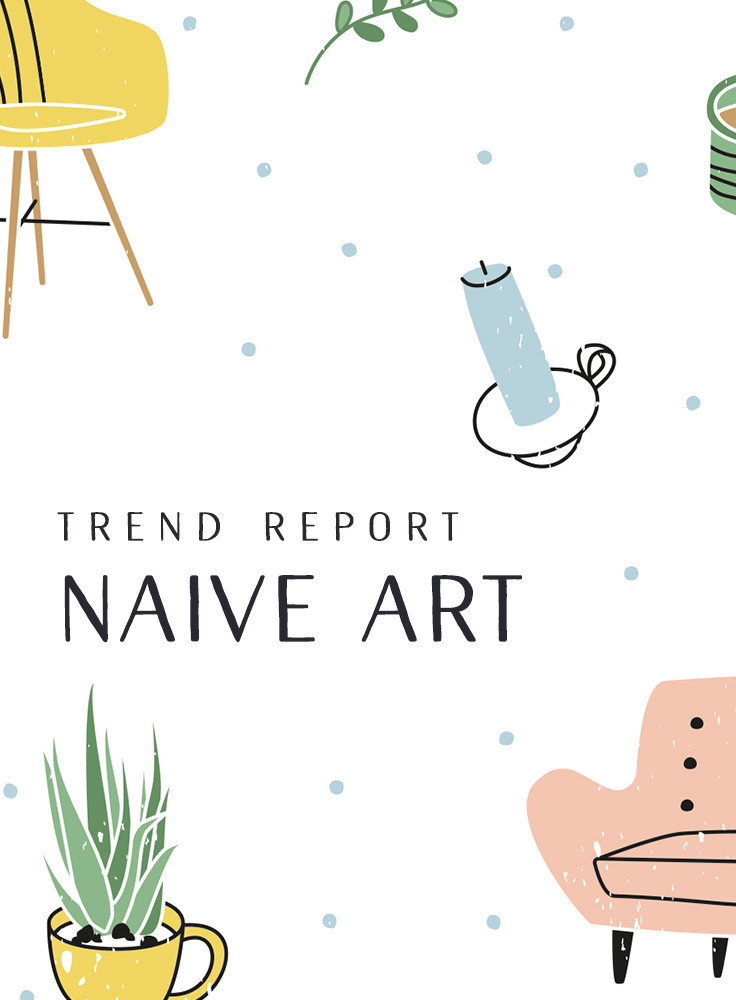 When someone calls your work naive art, take it as a compliment! While being called naive isn't necessarily flattering, when it refers to design, it's a different story. The entire concept of this unassuming approach to composition, which has earned the term naive art, has nothing to do with innocence, but everything to do with a rough-around-the-edges aesthetic that communicates a refreshing, more natural take on composition and technique. Tired of the same, old principles of good design? Think they're too restrictive and not creative enough? Looking for something more radical that turns the notion of graphical perspective completely on its head? If you are, then naive art is the design movement for your sensibilities. This movement's creations have been compared to the simplicity and straightforwardness of children's works. You may very well be surprised at the visual beauty and interesting framing that this design style produces.
The History of Naive Art
With a style such as this, exactly pinning down its origins can be a hit-and-miss affair. After all, this approach to art isn't a purposeful one, as with established design trends like Art Deco design or Swiss Design. Rather, it's all in how you define "naïve" for our purposes here. We have two choices. We can either go by when this genre of design created by people with no formal education in art was actually accepted as a movement, or we can expand our concept of naive art to the point of prehistory. That is to say, when everyone seriously lacked any formal training at all since we were all just cavemen and cavewomen scrawling cave paintings on the rock faces of our dwellings. By this second definition, everyone who picks up a pencil and starts doodling away can be considered a contributor to this style, too. If we go by the first definition, though, we have to set the history of naive art firmly at the feet of one Henri Rousseau. Rousseau was a French painter who got his start quite late in life: he only began painting with dedication in his early 40s and embarked on a full-time career by his late 40s. Known as Le Douanier, a riff on his previous career as a toll and tax officer, Rousseau began to be noticed by the French art world in approximately 1886, when he started to exhibit his artworks.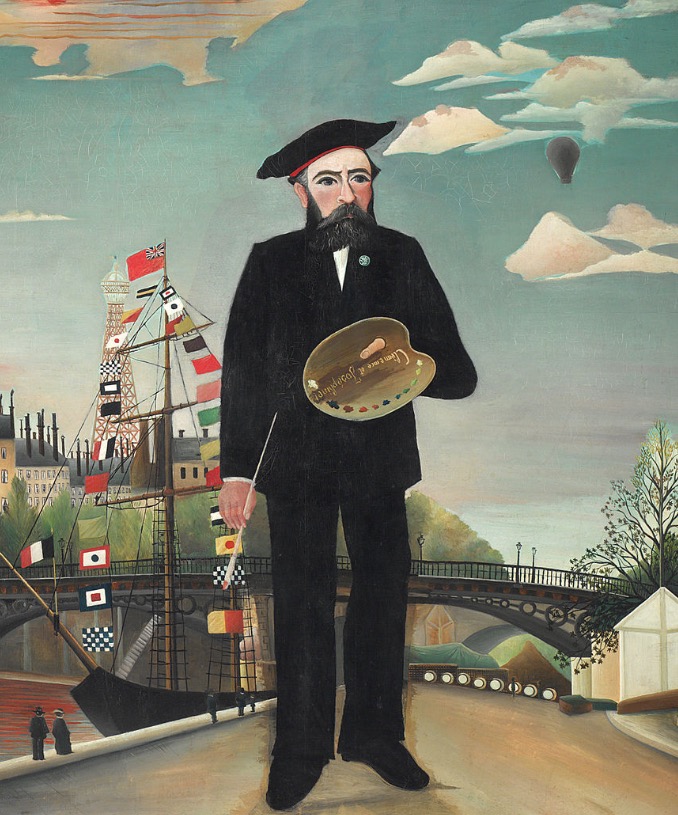 However, because he is in effect the father of this design trend…you can probably guess that the response to his designs during his lifetime was…less than kind. In particular, Rousseau came in for criticism for his infantile-looking artworks by the establishment critics of his day. When he began to display his paintings at the Salon des Independants, which was a series of huge exhibitions put on by an association of artists, they were at first not prominently displayed. Even so, they attracted derision from a great many people who had issues with his style of painting that came to define the naive art style in general. This was artwork that was characterized by a flat, childlike approach to composition, which led to reactions of either shock or outright mockery. This type of establishment-critic and public-at-large ridicule echoes the way that the early Impressionists were greeted when they debuted their style, which was characterized by painting outdoors and emphasizing natural light, to an unsuspecting public in 19th-century France. To help you better visualize this aesthetic, here's a look at some prime examples of naive-art digital assets, straight from our marketplace:
Although he was widely disparaged during his career, it has to be pointed out that there were some isolated bright spots in the feedback he received, which pointed to the great potential naive art had, nevertheless. Years later, when a young Pablo Picasso came across a Rousseau painting that was being sold on the street (with the intention that it be used as a canvas to be painted over), he actually recognized the uniqueness in the naive art and went to meet Rousseau. In 1908, Picasso even held an honorary banquet in Rousseau's honor, called Le Banquet Rousseau. Notably, the list of attendees were some of the most significant in the art world at the time—such as Gertrude Stein, Leo Stein, Guillaume Apollinaire—indicating that those who knew design and art the best had a very good feeling about naive art in spite of the criticism coming at Rousseau. While Rousseau would never become famous for the style he invented, he was forced to play the violin in the street after retiring from painting to make ends meet, naive art still went on to influence many design trends that are even more famous, such as: Rousseau's work also influenced more famous artists like Picasso, Jean Metzinger, and Andre Breton. Since Rousseau's death in 1910, this naive art movement spread to other places around the world, where it enjoyed a notable influence wherever it landed. Still, it retained its main impact in Europe, although it did eventually also move beyond the continent's restrictive borders. For instance, from 1929 to 1935 in Croatia, the Earth Group was active. It was a collection of artists and architects who used naive art to address social issues. Independent creative freedom and the requirement for art to reflect the needs of their local community were two of its hallmarks. However, the group was eventually banned by the Croatian government in 1935 due to provocative exhibitions. Then, there's the Hlebine School. Hlebine is a small village in Croatia where some of the local, peasant population started to develop their own radical and idiosyncratic approaches to design. This was in response to a burgeoning belief that the country required its own, unique, nationalistic style separate from western influences. Krsto Hegedusic, a Crotian illustrator and painter, founded this Hlebine School in 1930, devoting it to the search for an artistic expression rooted in rural values. The school soldiered on through World War II. After the war, the school enjoyed international renown with its artists displaying their naive art works at popular exhibitions like the Sao Paolo Art Biennial.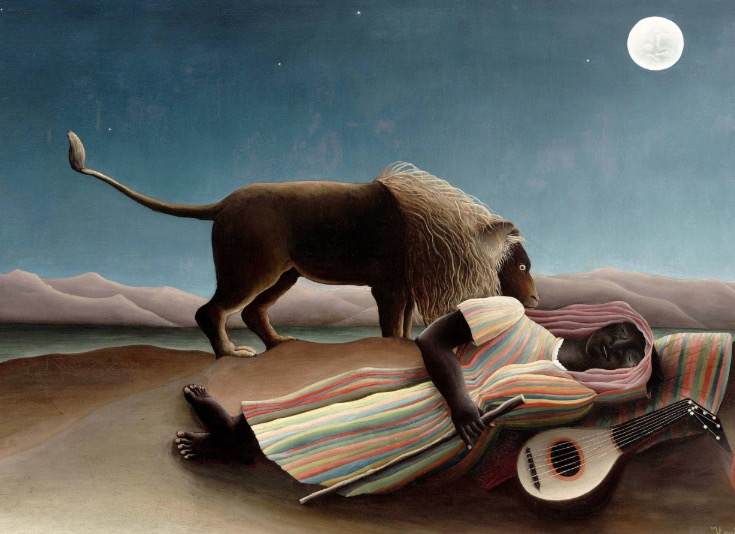 Overall, this style has produced noteworthy artists throughout the 20th and 21st centuries:
Jan Balet
Howard Finster (who designed album covers for Talking Heads and R.E.M.)
Bob Justin
Bunleua Sulilat
Fred Yates
Sergey Zagraevsky
Ferreira Louis Marius
Because of all this impact throughout the 20th century, naive art is now a fully recognized design category. Ironically, today, academies for this style exist all over the world, which is a far cry from the unschooled roots of Rousseau, along with art galleries that put on exhibitions for it. There are also numerous museums devoted to this design trend in Europe (France, Hungary, Spain, Latvia) and South America (Brazil).
The Characteristics of Naive Art
It's still too much of a simplification to use terms like "childish" to describe this style, since that's very subjective. Certainly, some forms of minimalism can be described as childlike, too, so that begs the question, what specifically sets this trend apart from anything else? The term "outsider art" is sometimes used to describe naive art, with the implication here being that these artists really have very little contact with the mainstream design world and institutions (and so are completely independent from their conventions and expectations). The most important concept to understand is that this aesthetic's characteristics are based on their relationship (or, rather, rejection of) to the formal rules of painting. In essence, naive art throws the rules of perspective out the window. Having said that, its qualities are:
Geometrically incorrect effects of perspective, so that objects don't decrease in size with greater distance
Compositions that feature vivid, loud colors, without respect to distance (that usually makes colors fade in strength)
Equal accuracy in a composition's details, no matter the distance, resulting in no shading in the background
Extreme simplicity
An unpolished or rough appearance
Naive Art in Graphic Design
Graphic design has produced various takes on this design trend. Here are some great examples that illustrate its roughness and minimalism.
Naive Art Seamless Patterns
A strong introduction to the possibilities that exist when you work with this style, these patterns grab your attention almost immediately due to their strong use of color, a hallmark of this approach. All the patterns demonstrate well-known and classic shapes that you're familiar with, but do so in a way that's visually striking for the ultimate in pleasing contrast.
This collection works wonders for a myriad of projects you'll find yourself working on, including:
Backgrounds
Packaging
Web design
Textiles
Brochures
Accessories
Naive (Medium Weight)
Here's a memorable take on naive art from the standpoint of typography. This medium-weight font is a whimsical example of this style that takes its unassuming nature into an even greater, childish nature. A handwritten serif that was designed in Paris, this font features subtle, inconsistent lines that are still noticeable. The overall feel the font gives off is a human and imperfect one.
This font is ideal in numerous projects, when you want to demonstrate a natural and more accessible voice:
Pamphlets
Brochures
Websites
Blogs
Menus
Doodle Brushes
Perhaps nothing quite says naive art like the doodles that you used to create when you were a kid in school. These Illustrator brushes take you back to that innocent, carefree time and epitomize the types of designs, sketches and illustrations that this style is well-known for around the globe. Each brush in this high-value collection exhibits that irregular and scribbled feel, so you can get to work creating those charming, unpolished drawings that look like they were made by Rousseau himself.
Here's what you get:
23 scribbled doodle brushes
13 wiggly doodle brushes
11 zigzag doodle brushes
11 simple doodle brushes
11 straight doodle brushes
5 E-shaped doodle brushes
Naive Art in Web Design
If you know where to look on the web, you'll find a veritable treasure trove of naive art websites that will keep you enchanted due to their vibrant colors and accessible approach to design. Here are just a few of our favorites. Barbara Sala is a naive artist who has been painting in this genre since 1987. In the last three decades, she's had her work displayed in dozens of exhibitions in North America, Israel and Europe. Her entire site is a visionary cornucopia of this style. The site's wordmark logo in the center of the homepage features what some would call a simple (read: naive) font while a naive-art painting can be seen peaking out from behind it.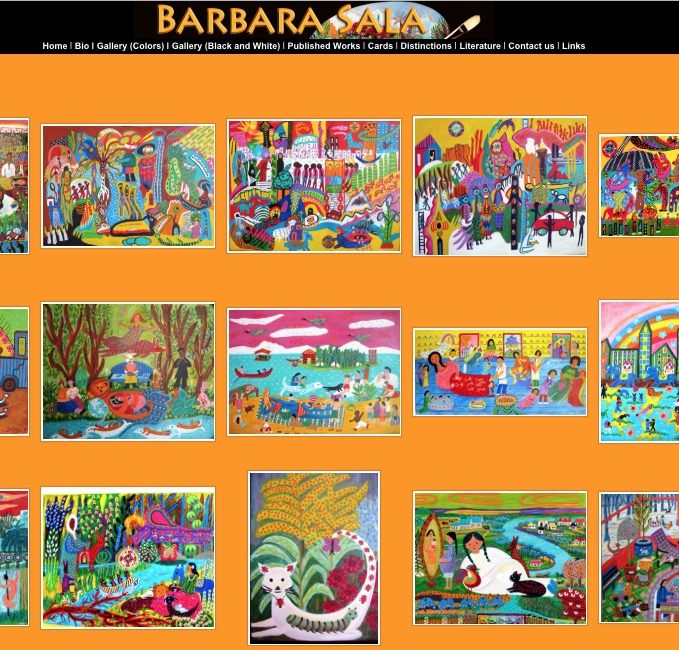 Image Credit: Barbara Sala
The gallery section of her website is a tribute to the striking design of this aesthetic. Featuring a lush, bright-orange background, this webpage uses a card-based layout to showcase her many artworks that highlight this style's minimalism, childlike innocence, and vivid colors. The homepage of this collection of Croatian naive art has seamlessly incorporated this look into one of the Internet's most well-known design elements: the sliding carousel that casually scrolls through a series of images when you land on a site's homepage. Here, four paintings illustrated in this aesthetic greet site visitors as they enter and interact with the carousel.

Image Credit: Croatian Naive Art
You'll see everything from a Strawberry Hat Gypsy to the quiet simplicity of Gathering Mushrooms, created by Croatians who hail from the same region where the aforementioned Hlebine School made a name for itself more than half a century ago. The hero image on a webpage is the giant, high-quality image that spans the entire width of the page, above the fold. On Serbia.com, the hero image is cleverly represented by a naive art piece that calls to mind specifically the artworks of the Slovak people as part of their national identity.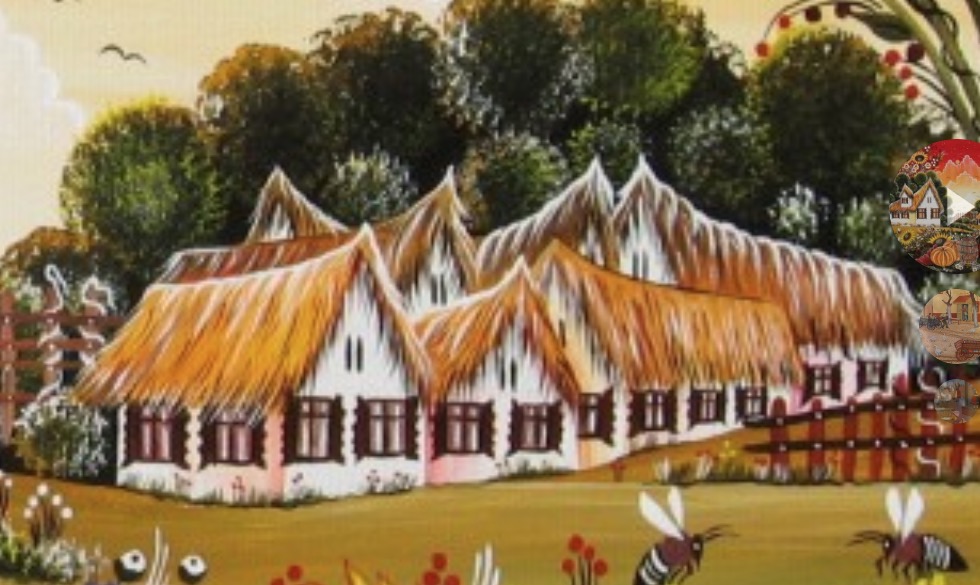 Image Credit: Serbia.com
The colorful picture shows traditional, Serbian houses with straw roofs and shutter-pane windows that look like they came straight out of a fairytale story by the Brothers Grimm. The hero image really sets the tone for the rest of the content on this page, which is a deep dive into the Serbian contributions to this aesthetic over the years.
Naive Art in Sculptures
Another area where we can see beautiful examples of naive art is in sculptures. Here, simple-looking figurines are the result of careful and painstaking work. Guido Vedovato is an Italian naive artist who began creating artworks in this style decades ago. His interpretation of a horse in this aesthetic lays bare the minimalism at the heart of this approach.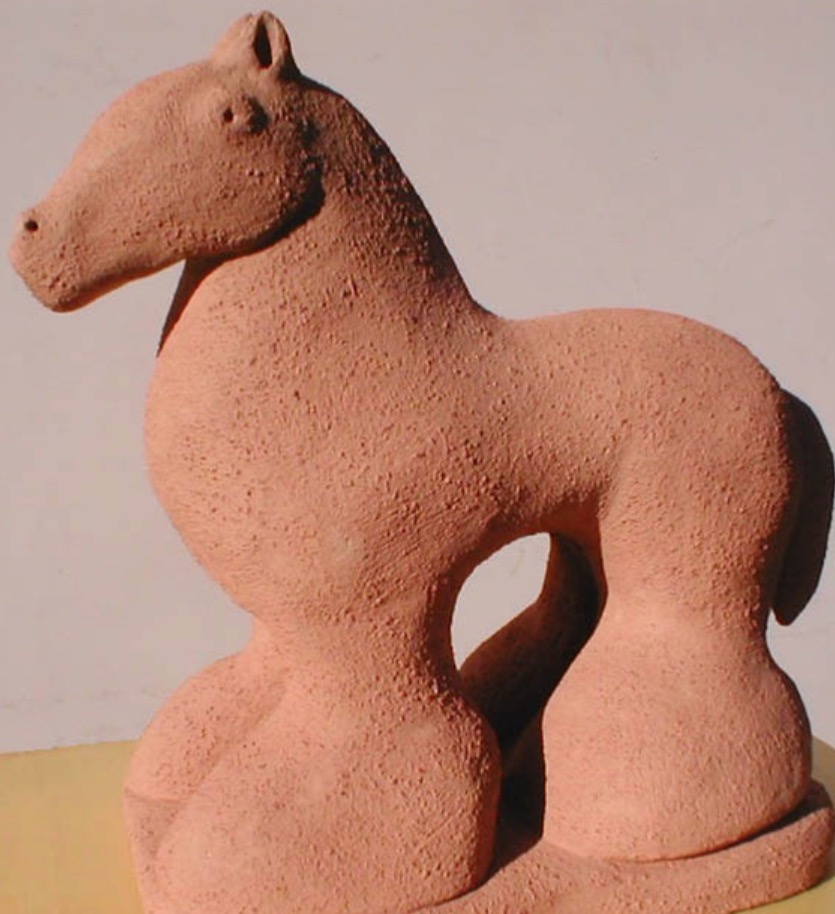 Image Credit: Guido Vedovato
Due to its lack of detail, you can only rely, for the most part, on the shape of the horse to make out what it is. There are only very fine marks where its eyes, ears and nose are, which give you additional clues. The entire sculpture is defined by its reddish-brown color and overall rough look, which lend it a notably unfinished feel. From 1969, this work by Mato Generalic, a Croatian painter, sits in the Koprivnica Town Museum at the Gallery of Naive Art at the aforementioned location of Hlebine. What sets this artwork apart is its unmistakable, narrative quality.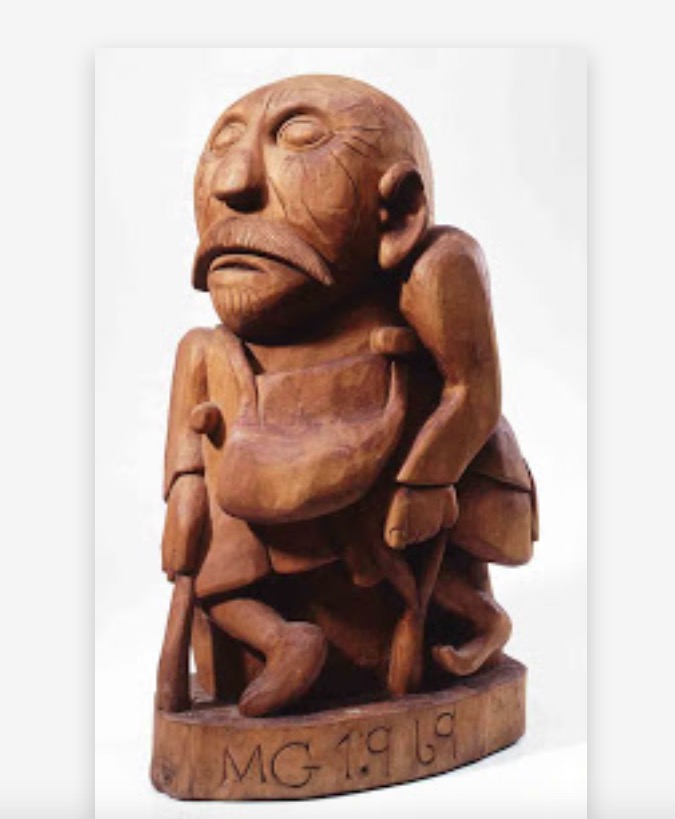 Image Credit: Google Arts and Culture
If you look carefully at the sculpture of the old man, you see his story in his face. His handlebar moustache sits underneath many wrinkles. He suffers from misshapen legs and therefore needs to use crutches, which he leans on under his armpits. In short, this well-named sculpture does a great job of epitomizing what a poor (read: unfortunate) man looks like. This striking sculpture is a 21st-century edition of naive art in sculpting. Carved from wood, this free-standing piece sits on a pedestal and is a paradox of sorts: Though it's extremely basic in appearance, if you look closer, you begin to see amazing detail that still doesn't betray its naive roots.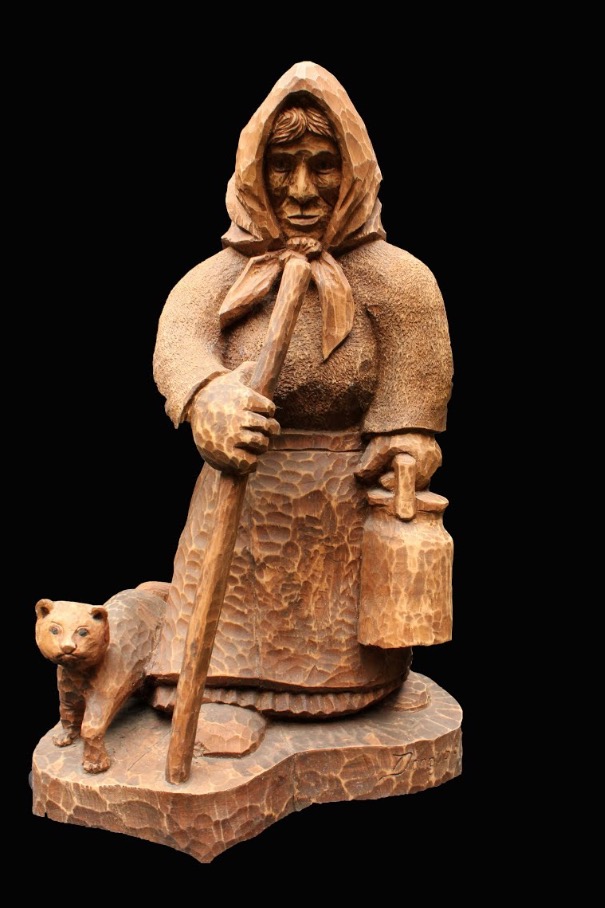 Image Credit: Google Arts and Culture
The face features an evocative expression, which speaks to the skill of the sculptor. The rest of the figure, her garments and bodice, exhibit various surface areas and textures that natural light plays on for an added effect. Overall, it's a showpiece that demonstrates how intricately a work in this style can be crafted.
A Memorable Take on "Childishness"
By now, it's clear that the descriptor of "childish" is more of an unjust disparagement of this design trend than an accurate description of it. That's unfortunate because, as we've shown, this aesthetic is full of eye-popping and vibrant designs that take an immense amount of creativity to pull off. When you consider the fact that this style's adherents don't have formal training for the most part, it actually makes their artworks even more impressive, not less. Naive art started as a movement by Rousseau, who had no formal training. In the decades and centuries since it came to the forefront, it's developed a following and a style all its own, so that, today, it's recognized as a legitimate aesthetic with loads of uniqueness to spare.
---
Products Seen In This Post:
Getting started with hand lettering?
Free lettering worksheets
Download these worksheets and start practicing with simple instructions and tracing exercises.
Download now!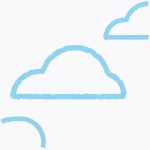 Marc Schenker
Marc is a copywriter and marketer who runs The Glorious Company, a marketing agency. An expert in business and marketing, he helps businesses and companies of all sizes get the most bang for their ad bucks.
View More Posts