Design Trend Report: Steampunk Design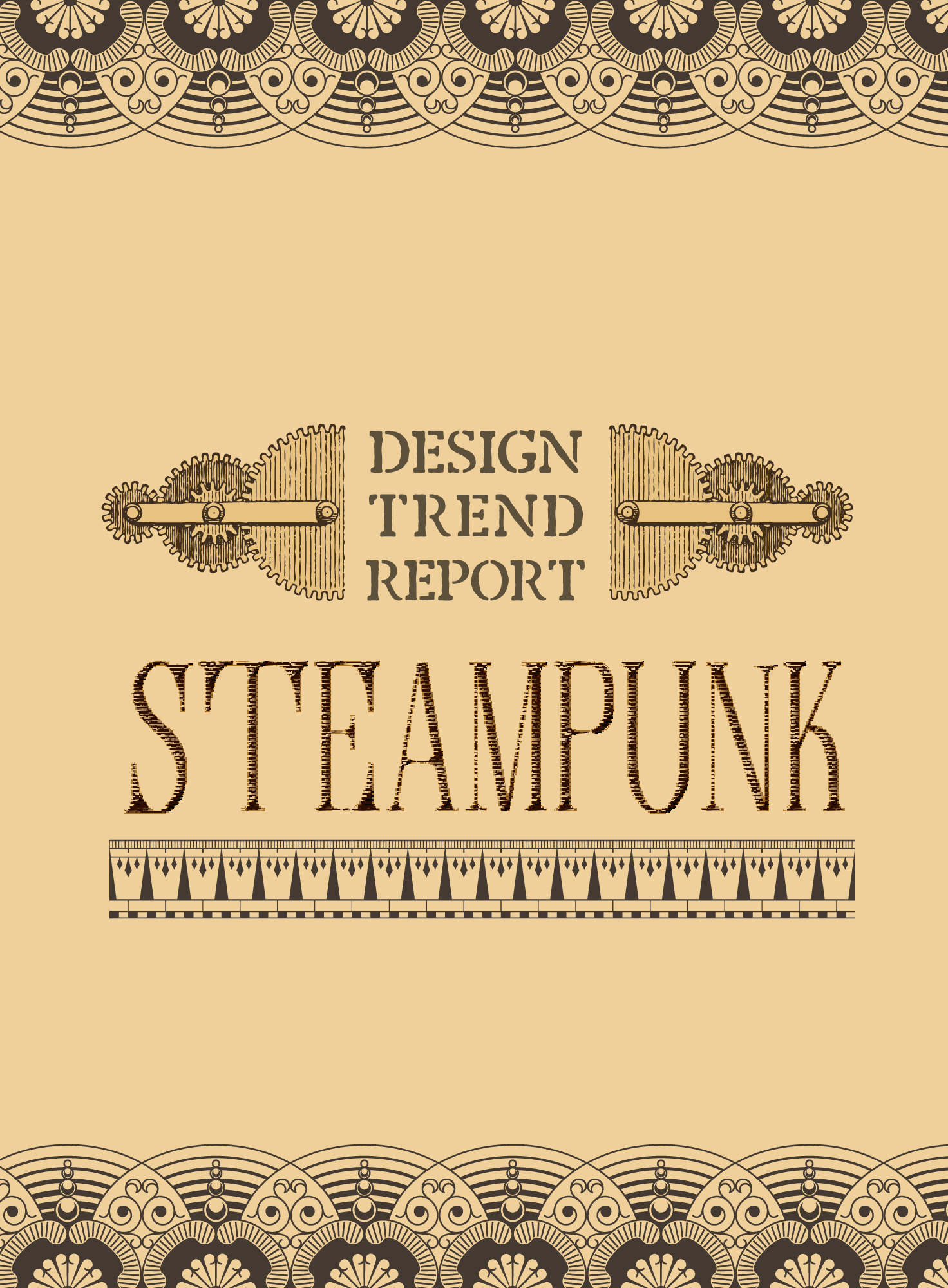 Steampunk design has its roots in science fiction. Its imaginative, retro-meets-the-future approach has given birth to a unique aesthetic that you won't soon forget. Instantly recognizable, steampunk relies heavily on the marriage of history and steam-powered machinery to create a slick look and feel in anything it touches. A highly interesting feature of steampunk design is that is settings are frequently in the British Victorian era of the 19th century or the Wild West of Frontier America, circa the 18th and 19th centuries. Of course, where this design movement starkly diverges from history is in its vivid conceptualization and exaggeration of technology in these historical settings. This almost paradoxical relationship is what gives this movement such a visually dazzling aesthetic that's at once classic and futuristic (for its time). Brace yourself for a deep look at what makes steampunk design so creative.
The History of Steampunk Design
When we talk about the origins of this movement, we'd be lax to skip over the science-fiction works of famous authors like Jules Verne, Mary Shelley, and H.G. Wells. Many of their novels were based in the 19th century, which is the usual setting for stories in this genre. Their sweeping and ambitious works of science fiction were filled with over-the-top scientific speculation, the perfect breeding ground for steampunk design to eventually come into its own. The term itself is curious because it's a derivative of cyberpunk, which is an offshoot of science fiction that centers on the relationship between high tech and the dregs of society, especially when couched in an environment of aggressive social change and scientific achievements, happening at the same time. The actual word, "steampunk," was introduced fairly recently (in the late 1980s), but, as a unique design language all to its own, it was already understood for decades. We have science-fiction and horror writer K.W. Jeter—who also wrote Star Wars and Star Trek novels—to thank for coining this term. Now that we have the etymological origin out of the way, we want to find out where this movement's extremely captivating visuals had their start. Looking through the media of the 20th century, it was Disney's 1954 classic, 20,000 Leagues Under the Sea, that was one of the first, visual depictions of this style on a grand scale. The movie tells the story of an expedition on the hunt for a sea monster, only to discover that the monster is really a submarine controlled by the anti-hero, Captain Nemo. In particular, it's Nemo's submarine, the Nautilus, that boasts interesting steampunk design. To help you visualize this aesthetic even better, here are some standout steampunk examples from our library of digital assets:
Of course, since we're talking steampunk here, it's not surprising that this movie is based on Verne's 1870 novel of the same name, and we've already established how his works have been an influence for and precursor to this genre. Besides 20,000 Leagues Under the Sea, another early picture that boasted visuals in this style was the 1960 film The Time Machine, an MGM movie that was based on the H.G. Wells book of the same name. Here, it is the time machine itself that displays the design traits of this aesthetic. Wells' book was another one of the precursors of this style, when it was written back in the late 19th century. In 1990, the seminal book, The Difference Engine, by William Gibson and Bruce Sterling was published. Recognized as exposing people to this aesthetic on a large scale, it featured the classic steampunk recipe, where its protagonists' steam-powered, mechanical computer (technology) finds itself in an alternative Victorian time. What was noteworthy about this steampunk novel was its distinctly dystopian outlook, whereas most literature in this genre actually has a more optimistic tone.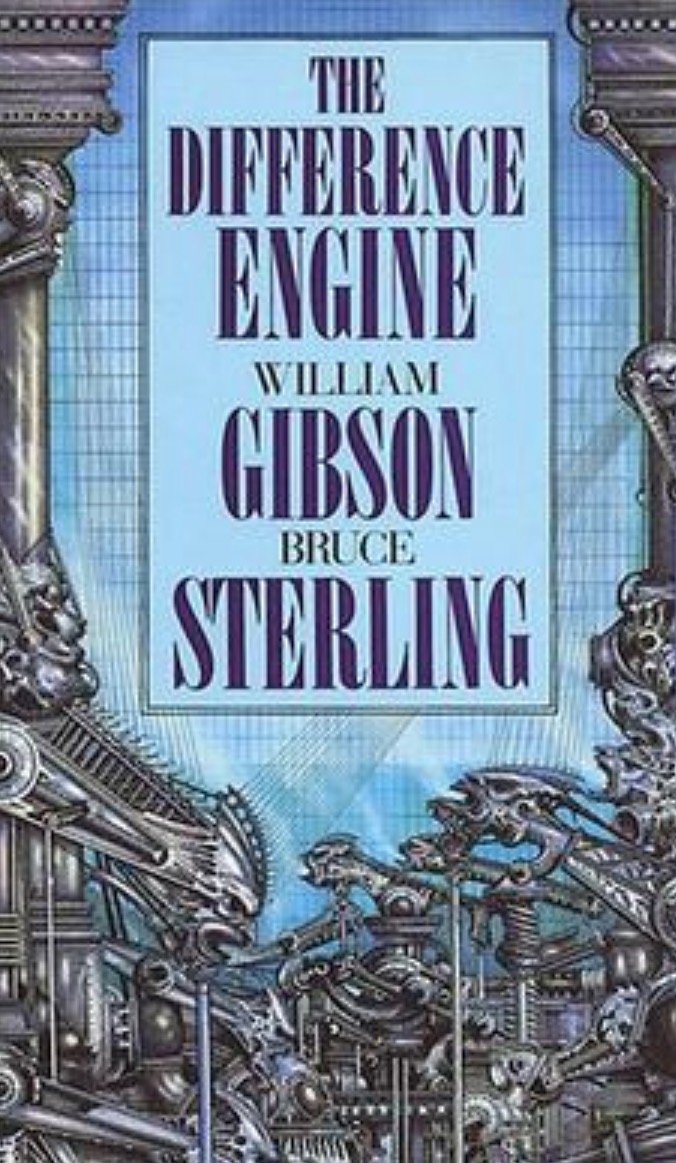 Theme parks also did their fair share of helping to popularize this style, with both Disney and Six Flags doing their part. Disney's Tokyo DisneySea theme park features a "Mysterious Island" section where this aesthetic is prominent; likewise, Six Flags' Magic Mountain theme park featured a "Steampunk District." Over the years, media and entertainment weren't the only industries where you could see this movement. Owing to its increasing popularity, the Paris Metro's Arts et Metiers station was done up in steampunk sensibilities back in 1994 to commemorate the contributions of Verne, a native of Nantes. The station features the following design traits:
Brass sheaths
Portholes
Large cogs
Similarities to a submarine
The spread of this design movement would continue into the 21st century as more and more people and places experimented with its uniqueness.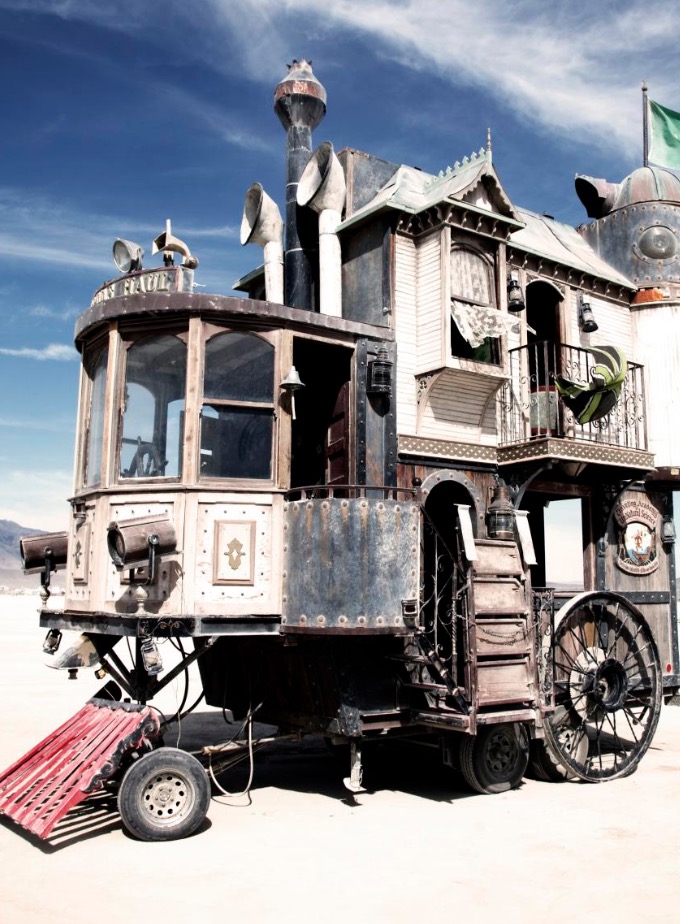 The legendary Burning Man festival got involved in the action when it displayed The Neverwas Haul for almost a decade at its location, from 2006 to 2015. The Neverwas Haul is best described as a mobile Victorian house on wheels that serves as a work of art. After its appearances at the Burning Man festival, it was "retired" to an art-vehicle factory in Vallejo, California. Also around this time, from 2004 to 2008, we began seeing more steampunk elements in the movies, with two notable examples in the Hellboy series of films. Based on the comic book series, Hellboy (2004) and The Golden Army (2008) demonstrated various traits of this style in its characters. The first movie's villain, Karl Ruprecht Kroenen, has many mechanical parts in his body, such as a clockwork heart. The sequel went over-the-top with elements of this design, as the namesake Golden Army itself is a squadron of almost 5000 mechanical steampunk warriors. In 2008, London-based sculptor and artist Paul St. George exhibited a modern-day art installation named the Telectroscope. It was a means of establishing a visual link between New York City and London and was based on a Victorian-style apparatus. Then, from late 2009 to early 2010, England's The History of Science Museum, in Oxford, put on an exhibition of steampunk artworks, the very first of its kind in the world. This exhibition showcased the contributions of numerous artists of this style from all across the globe. As another indication of this design trend's rising popularity, some 80,000 people attended this exhibition, making it the most popular in the museum's history.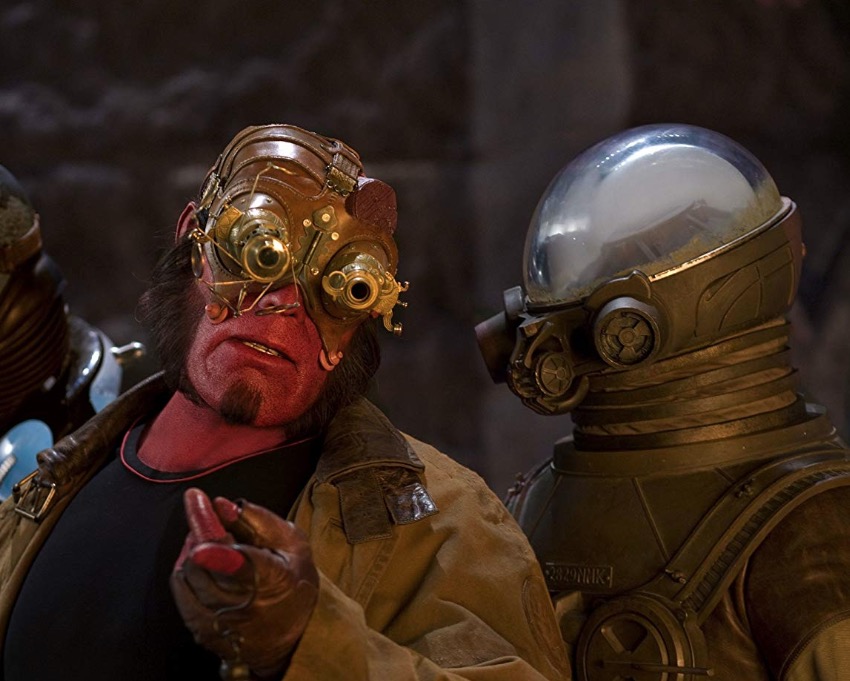 Now we go halfway around the planet to New Zealand, where, in late 2010, The Libratory Steampunk Art Gallery was opened. This was the first art gallery dedicated to this design trend in the country; it was established to allow steampunk artists in the region to sell their artworks all year round. The Libratory Steampunk Art Gallery featured:
A huge, subterranean-level setting
Retro industrial equipment
Steampunk ephemera
In 2011, another art gallery dedicated to this aesthetic was opened in New Zealand. Now a big tourist draw for the country, Steampunk HQ, as its name implies, is an art gallery and collaboration located in Oamaru's Victorian precinct, focused on displaying an industrial-flavored take on this design trend. The gallery features various sculptures, some audio-visual installations, and its famous steampunk engine. The engine sits outside the establishment and is known for "fire" coming out of its chimney. Even the fashion industry has gotten into this design movement. In 2013, IBM's Social Sentiment Index predicted that steampunk would be integrated into the retail industry in the coming years, based on an analysis of greater than half a million public posts on everything from news sites and blogs to social media and message boards. Sure enough, high-fashion brands like Dolce & Gabbana, Prada, and Christian Dior have already introduced this aesthetic into some of their clothing lines.
The Characteristics of Steampunk Design
To say that this design movement is eye-popping is an understatement. By now, you get the sense that its visuals are a blend of old-school and the future, retro, and technology. In this peculiar way, it's on the same wavelength as other design trends that mix old and new, such as retro futurism. Another curious parallel is to the Arts and Crafts movement that was big in North America and Europe all the way back in the late 19th and early 20th centuries. A contemporary take on Arts and Crafts is Americana Style, which, like Arts and Crafts, exhibits the delicate balance of form and function that steampunk espouses. Let's look more closely at the details of this aesthetic:
Heavy Victorian-era influences, whether historically accurate or an alternate imagining
Machine-based technology that's limited to the Victoria-era: Tesla coils, steam-powered machinery, capacitors, hydraulics, etc.
Impractical exaggerations (for example: Wild Wild West's spider vehicle)
Fantastical flying machines (think those straight from Leonardo DaVinci's sketches)
Balance between form and function, meaning luxurious touches aren't neglected in favor of practical design
Themes that include chivalry, romanticism, and old-school virtues
Viewpoints of how the past imagined the future
Subdued colors as opposed to loud ones
Neutral colors (blacks, whites, browns, grays) that are intermittently spruced up by blues or reds
Telltale accessories like goggles, top hats, parasols or mechanical gadgets
Fashion includes suits, top hats, vests, gloves, long coats, leather boots, and googles for the guys, while dresses with petticoats and corsets, skirts, pants, floral pins, headwear, pea coats, riding jackets, and carriage coats round out the choices for the gals
Steampunk Design in Graphic Design
Here are some memorable examples from graphic design that illustrate how creatives can use this look in their projects.
STEAMPUNK Bundle
A well-rounded collection of digital assets that showcase the creative possibilities of this genre, this bundle is a well-balanced combination of mouse-made and hand-sketched designs. With more than 100 elements total, this collection includes everything from the most basic icons to elaborate T-shirt designs.
The versatility of this bundle can't be underestimated: You have no shortage of projects and objects on which to use these stunning designs:
Websites
Invites
Flyers
Apparel
T-shirts
Digital presentations
Patterns
Posters
Greetings
These vector files feature motifs that run the gamut from wild-west influences and mechanical overtones to heavily stylized typography, producing a plethora of ideas for your next project.
Steampunk Elements Megabundle
Here's the megabundle for you if you need to pepper your own designs with touches of this aesthetic for a subtle-yet-unmistakable design statement. A true creation kit, this megabundle is actually a collection of three, separate steampunk bundles that feature illustrations, icons, graphics, drawings, logos, shapes and anything else you need to turn your ordinary designs into something unforgettable.
In this kit, you'll receive digital:
Clock dials
Clock hands
Pistons and connecting rods
Propellers
Dials
Cogwheels
Valves
Lighting-bolt shapes
Mechanical wings
Frames
Borders
Ribbons
Chimneys
Banners
Pipeworks
What makes this set stand out is its concentration on the mechanical and technological side of the design movement, as opposed to playing up the Victorian-inspired elements.
Gold Steampunk Digital Kit
67 digital images invite you to explore the world of steampunk to take your projects and presentations back to the world of 19th-century, Victorian-era sheik. A digital scrapbooking kit, this collection comes with a fine balance of the mechanical side of this design trend and the fashionable aspects of its Victorian heritage.
20 eye-popping backgrounds work wonders on your next templates or website projects, while the vintage steampunk illustrations and icons like airships, clocks, gears, keys, hats, goggles, and hot-air balloons make for classy touches on your next report, case study, or brochure.
Steampunk Design in Web Design
Another intriguing area to look for examples of this design trend is in web design because it epitomizes the past-meets-future relationship of movements like this style. Here are some of our favorite examples from the Internet. The website for the upcoming Steampunk festival in Rosemont, Illinois', Westin O'Hare—which runs September 27, 28 and 29, 2019—is a perfect take on this aesthetic on the web. For starters, the site's background is a retro design complete with faded and grungy markings, along with cogs and gears rotating in the top left. Then, your eyes drift to the center of the homepage, where you're greeted with vintage typeface for the exposition, a vintage border in the hero image, and a vintage silhouette of Chi-town.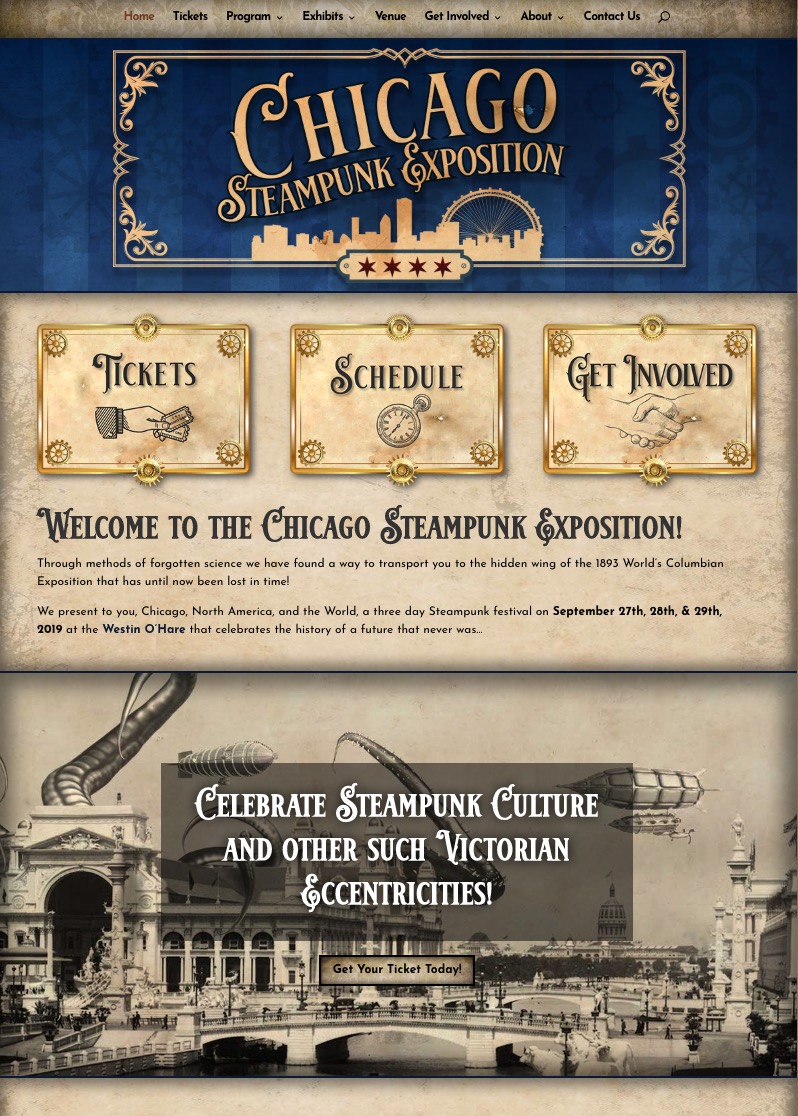 Scroll down the page's single-column design, and you see navigational cards with golden, mechanized borders and an imaginative drawing that's more speculation about the kind of technology that would've been present at the 1893 World's Columbian Exposition. All told, the homepage is like taking Wells' titular time machine right back into the late 19th century. The New York Times has a regular column that explores Styles stories that were significant when they first ran on the paper's site. Its steampunk Styles story from 2008 made quite a buzz, so the paper decided to take a look back at the story in a 2018 piece that ran on its site. After your eyes fix on the column's neatly centered, serif headline, they immediately drift down to the page's feature image, which includes a screengrab from the paper's May 2008 story titled Steampunk Moves Between 2 Worlds.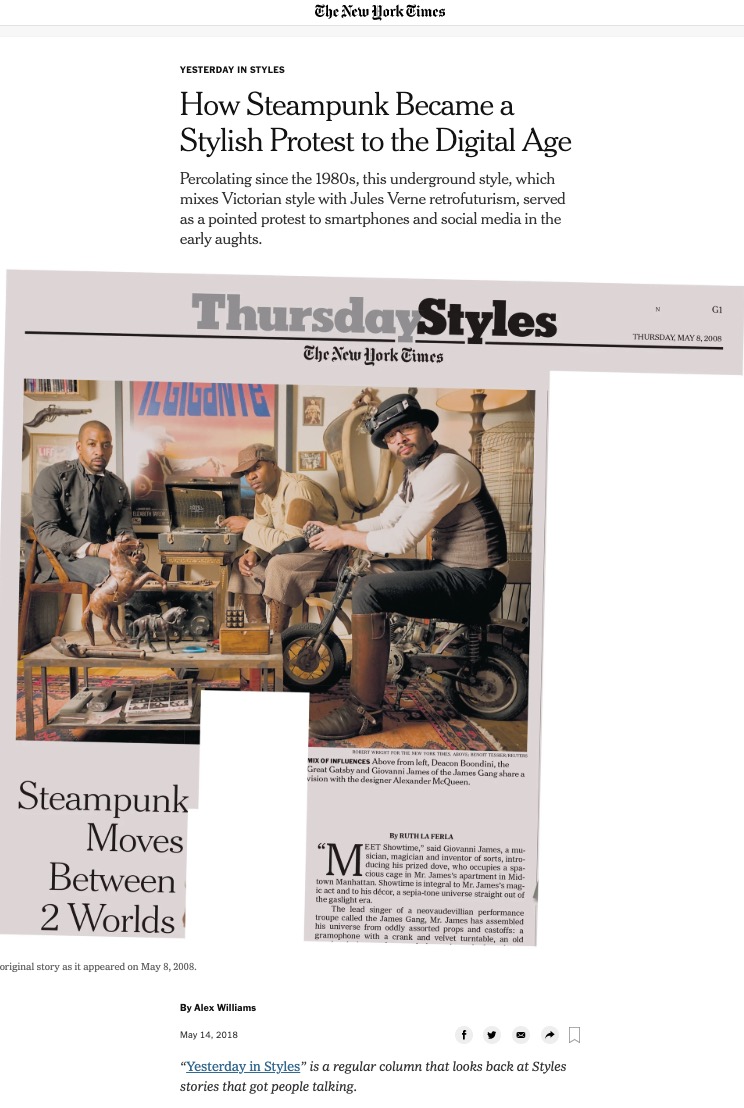 This giant image is what makes this page a study in this aesthetic. It's a vibrant, stylized shot of three entertainers who dress in steampunk fashion and consciously decorate their environment with steampunk ephemera—essentially living their lives in the 21st century as though they were back in the late 19th century. The snippet of the original story—made to look as if it was clipped from an old paper—also lends more credence to the old-school flavor of the page design. This story on the paper's website features a video where one would expect the feature image of the article. The video is a scrolling-story video, including moving images and text, full of steampunk-inspired stills and information.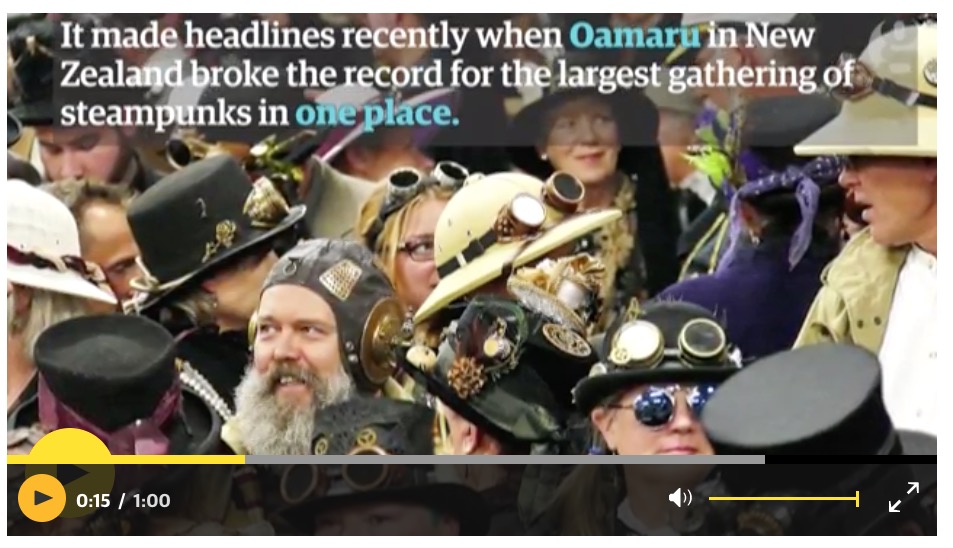 While having a video right above the text of the article almost defeats the purpose of reading the piece in its entirety, it's nonetheless an effective way of presenting this aesthetic to a web audience in an easily digestible way.
Steampunk Design in Interiors
Ever wanted to live in a dwelling that was decked out in this style? Now you can, with these actionable takeaways on how to turn your abode into pure steampunk glory.
Install Mechanical and Industrial Finishes
No surprise here: To truly embrace the essence of this style, you need to add mechanical and industrial touches to your home. This aesthetic specializes in showing off the inner workings of the mechanical (think of the trademark steampunk elements like cogwheels and gears, as two examples), after all.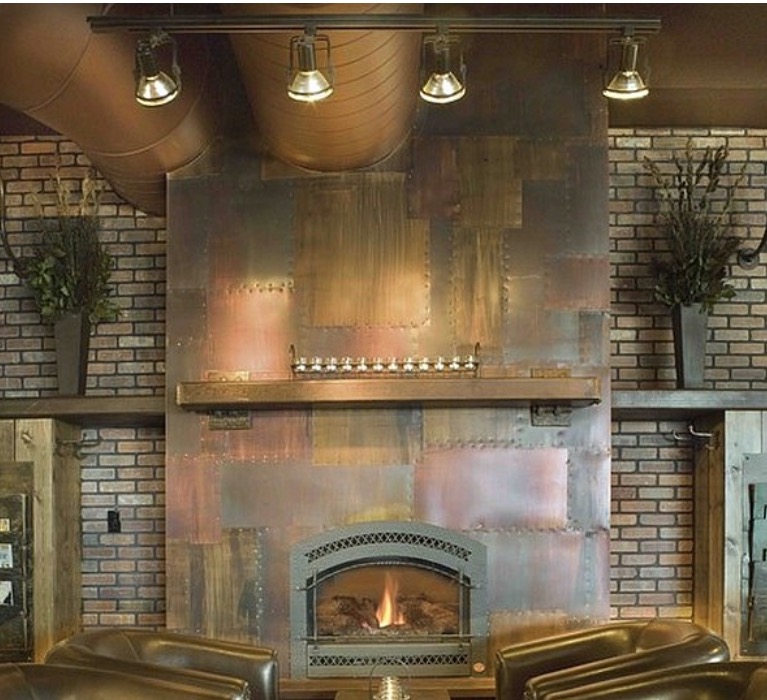 Therefore, some ideas include leaving your ceiling exposed (think pipes, etc.), hanging bronze or gold-colored light fixtures, and installing a fireplace that oozes an unpolished, industrial finish.
Utilize Old Maps
In almost any movie you've ever seen, old maps hanging on the walls give the scene an impression of something vintage—a way of looking to the past. A low-cost way of bringing more steampunk into your rooms is to simply hang old, worn-out and yellowed maps on your walls.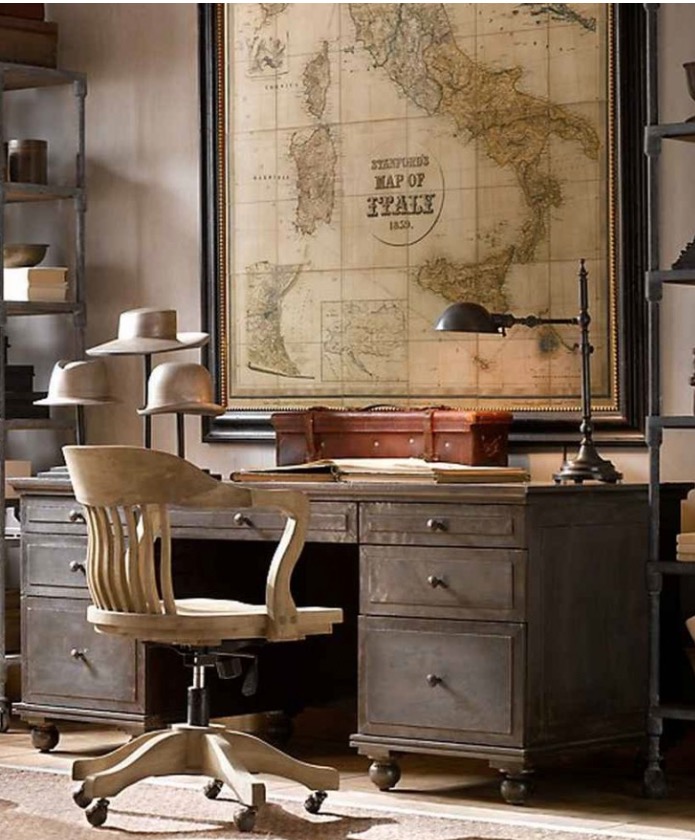 Combine a few of them to create giant wall murals or go a bit neater by framing huge, aged maps to hang on an entire wall. The more of these vintage maps you hang, the more you transform your living space into something from the Victorian-influenced 19th century.
Turn an Antique Steamer Trunk Into a Coffee Table
Steampunk décor involves ingenuity and improvisation. Taking simple objects that you may lock away into storage and instead showcasing them as the centerpiece of your living room will create a memorable impact.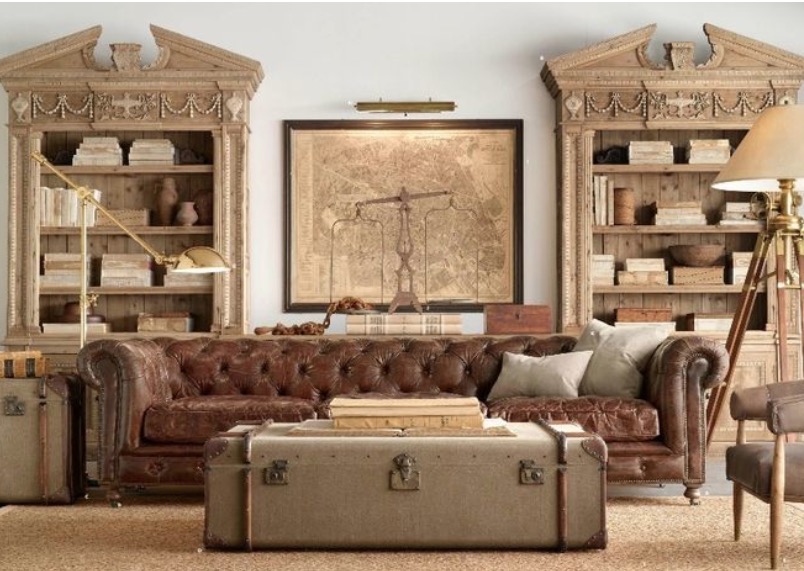 Buy an antique steamer trunk, which is very fitting because these kinds of trunks were historically stored away in the cabins of steamships and were first used back in the 1870s. Note the historical tie-ins to this aesthetic, both with the setting of steamships and the date they first appeared! Use them in place of coffee tables in your living room. Their size makes them an ideal table from a functional standpoint, too.
Mechanical Technology and the Victorian Era
If we had to sum up this design trend in just a few words, it'd easily be the fusion of mechanical and technological elements set in a Victorian setting, complete with romanticism, flair and old-school values. As far as these retro-futurist-inspired design trends go, steampunk is certainly one of the most vivid, leaving you with quite the impression for some time to come. Though its roots lie in literature, this style is commonly misunderstood to have been around for just a few decades. While its name may have been coined only fairly recently, its long history in the pages of science fiction for more than a century has allowed this style to permeate the visual arts, pop culture, and fashion.
---
Products Seen In This Post: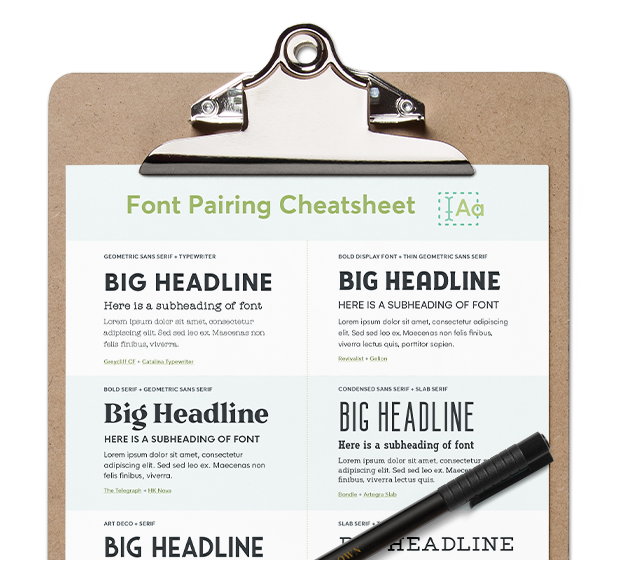 15 Pre-designed Font Combinations
Free Font Pairing Cheatsheet
We've curated a list of font styles that work well together so you can design interesting type lockups in minutes.
Download the cheatsheet
Marc Schenker
Marc is a copywriter and marketer who runs The Glorious Company, a marketing agency. An expert in business and marketing, he helps businesses and companies of all sizes get the most bang for their ad bucks.
View More Posts