Design Trend Report: Gothic Design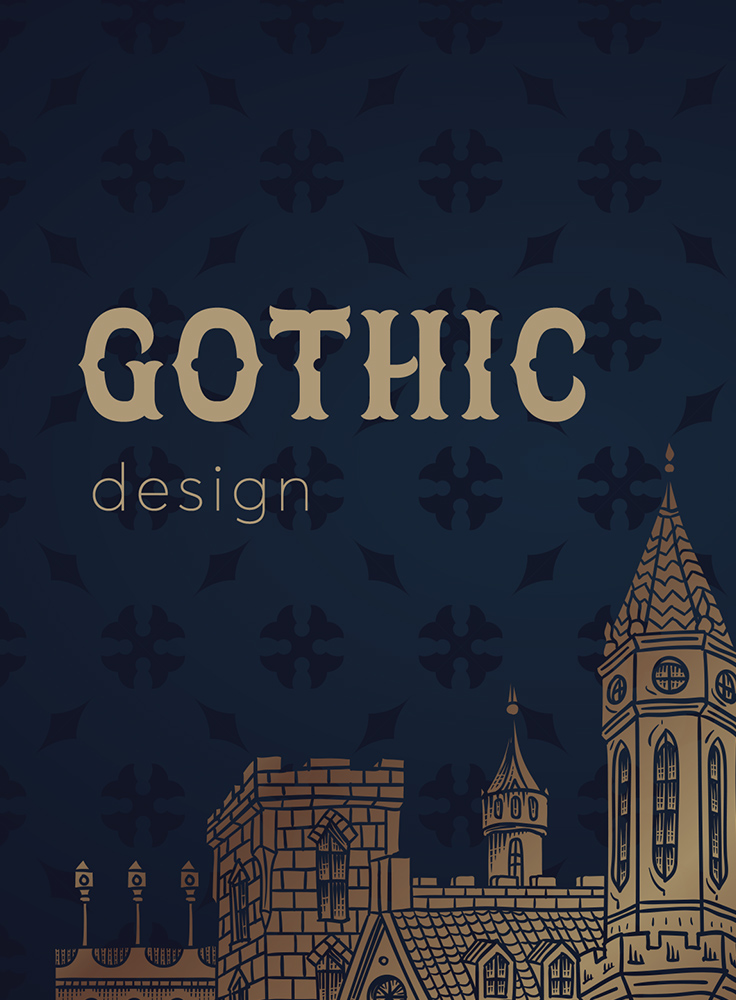 Gothic design was a broad design movement that emerged in Northern France in the early-to-mid 12th century AD, preceded by the Romanesque period that lasted for 200 years. Giving this movement legs was the simultaneous spread of Gothic architecture across much of Europe, which made for a trend that influenced Western culture across a number of design-related interests. To modern-day observers, gothic design is likely something that evokes imagery and themes that are somber, dark, and even somewhat moody. You could even say that it's borderline brooding, both in aesthetics and subject matter. However, that's only half of the story. This design movement was actually rooted in religious origins, as cathedrals and abbeys were some of the first places to exhibit this aesthetic. Christian art of this time was typological in nature (concerned with the relationship between the Old and New Testaments of the Bible), but, in later centuries, even Gothic would become more secular, coinciding with the rise of more cities and universities.
The History of Gothic Design
The very first instance of art of this type was found on the walls of the Abbey Church of Saint Denis (or the Basilica of Saint Denis), in Ile-de-France, one of France's 18 regions. From this seminal design moment—there had been no history of sculpture of any kind in this part of France before—the movement quickly expanded like wildfire. We're talking about a rapid spread to everything from paintings (panel paintings, fresco and stained glass), sculpture and architecture to textile art. Rooted in religion, Gothic's quick adoption was due in large part to the devotion of monastic orders (read: monks) like the Catholic Carthusians and Cistercians who were active in architecture as proponents of this style. It's important to note that, while much of this style featured religious motifs, there was also a fair amount of entirely secular Gothic artwork, though more of the religious themes ended up surviving.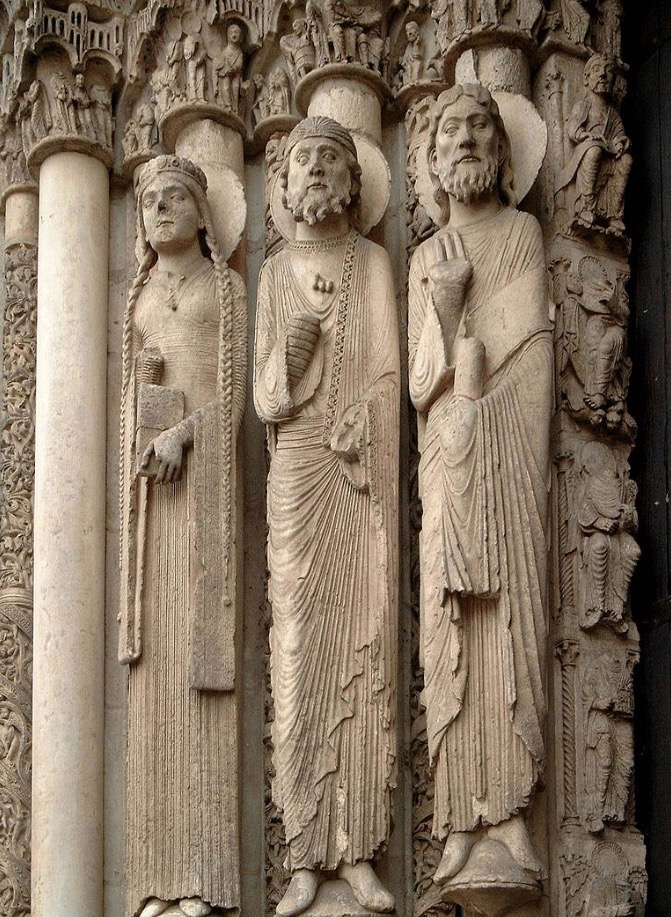 Image Credit: Cancre
Various, local interpretations of this trend sprang up all over Europe, ultimately leading to International Gothic by the early 15th century. It's also interesting to note that, as this style spread, it was initially ridiculed by the elitist powers of its day, who were displeased with its refusal to continue the design traits established by the traditional artworks of classical Greece and Rome. In this way, Gothic has a good deal in common with later design trends such as Impressionism, which only surfaced several centuries later in 19th century France, but also endured the same disparagement from the critical elites of its day. Any discussion of this trend can't happen without acknowledging the architectural aspect of the movement as well. The aforementioned Abbey Church of Saint Denis is the world's first example of Gothic design, when it was remodeled and redesigned by an abbot named Suger. Many of today's architectural details we see on buildings that are instantly recognizable—such as the flying buttress, rib vaults, stained-glass windows, and rose or circular windows (sometimes also referred to as Catherine windows)—are telltale signs of this style. Interestingly, architecture of this style experienced an enthusiastic revival in the middle of 18th-century England and continued until the 20th century. While there are many paintings associated with and produced in this style, Gothic paintings only appeared approximately half a century after the first buildings and sculptures created in this style, in the early part of the 13th century AD. The paintings covered a diverse range of approaches that included stained glass, frescoes (a type of mural painting found on wet or freshly laid lime plaster), manuscript illumination, and panel painting. For a greater understanding of how the influences behind these paintings survive in the modern day, have a look at some of our favorite Gothic-inspired digital assets:
For the next couple of centuries, until about the 15th century AD, stained-glass paintings were a prominent feature in churches, which communicated a sense of prestige and significance to the public. What helped make stained-glass designs so popular and omnipresent was Gothic architecture, as it featured a lot of glass in its buildings. In essence, stained glass is a reference to the vibrant, brilliantly colored glass itself or any artworks created with it. By the 15th century, panel painting became more fashionable. This was a technique where a flat panel of wood was the artist's painting surface; it was common to utilize either a single piece or numerous pieces fashioned together. It wasn't until the 16th century when using oil on canvas supplanted this style of applying paint. Up until that time, panel painting was the default style of painting for any artwork not found on a wall (a fresco). Illuminated manuscripts, for the most part, span the entire era of this design trend, from about the 13th century onwards. We can't address this trend's history without spending a bit of time also addressing its contributions to sculpture, although that's a bit tricky because Gothic sculpture essentially evolved somewhat independently of this broader design movement. In any case, sculpture in this context also began at the Abbey Church of Saint-Denis, the origin point of everything for this design trend.
From there, it branched out into Germany, England and Italy, with notable examples being found in places like:
Germany's Bamberg Cathedral (completed in the 13th century)
English tombs
Italy's Pisa Baptistery of St. John (completed in 1363)
The Characteristics of Gothic Design
What makes this style so appealing are all the peculiarities of its design that distinguish it from other aesthetics. Sure, it borrows from other design trends like Romanesque art, from which it evolved, but its rejection of the then-popular classical styles of art from traditional Greek and Roman influences made it stand out with great impact in the High and Late Middle Ages of Europe. Today, casual design observers associate this style with dark and almost frightening characteristics, in part thanks to the way it's been depicted in pop culture, especially movies and TV shows. If we dig a bit further, we see, though, that the style is much more complex than just that. Here are the telltale signs to look for, confirming that you're admiring a work of Gothic design. In General:
Somber
Brooding
Dark
Evocative
Moody
Cooler and neutral colors (purples, blues, blacks, etc.)
Highly stylized typefaces
In Artworks/Paintings/Illustrations:
Christian themes (Christ, saints, Virgin Mary), but later on more secular
Greater detail and expressiveness in subject matters' body language, facial expressions, and poses
Compositions feature smaller figures in relation to background and freer arrangement when more white space is available in scenes
Black paint on clear or brightly colored glass; later on, yellows became the dominant colors
The presence of spatial markers like buildings and natural features like clouds and trees
In Architecture:
Rib vaults
Flying buttresses
Stained-glass windows
Rose windows
Pointed arches
Grandiose, tall buildings
Portals
Tympanums (triangular or semi-circular wall surfaces found over doorways, mainly for decor)
Spires
Towers
For a closer look at some of these design characteristics, check out some offerings from our large Gothic collection of digital assets:
Famous Gothic Works
Due to its epic influence, this trend has produced numerous creations that have stood the test of time and are today, centuries later, revered as seminal examples of this style. Here are our choices of some of the most memorable contributions Gothic design has gifted the world.
Notre-Dame de Paris
Commonly referred to as "Notre-Dame", this medieval Catholic cathedral is one of the most stunning examples of French Gothic architecture. Notre-Dame de Paris translates to "Our Lady of Paris", a fitting name for its location on Île de la Cité in the 4th arrondissement of Paris, France. In 1991, the cathedral was designated by UNESCO as a World Heritage Site. Some of the most outstanding Gothic details at Notre-Dame include its archivolts and rose windows.
On April 15, 2019 the cathedral caught fire while it was being renovated. President Macron vowed to rebuild Notre-Dame and restore the areas that burned during the incident.
Chartres Cathedral
The Chartres Cathedral or the Cathedral of Our Lady of Chartres was constructed in the early 13th century and eventually designated as a World Heritage Site by the United Nation's UNESCO. Regarded as a high point for the French Gothic style, it's a well-preserved cathedral that makes it easy for onlookers to appreciate the Gothic stylings it has in abundance. Featuring a multitude of beautiful stained-glass windows, many of which are originals, the cathedral exhibits large flying buttresses on the outside and great spirals that reach toward the heavens.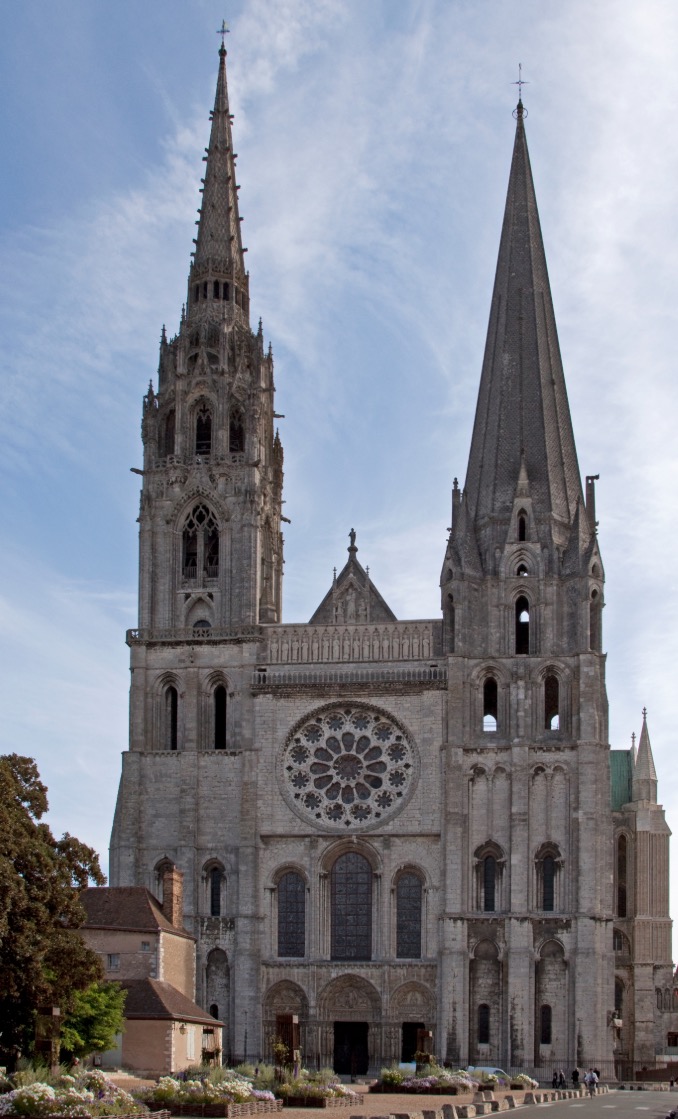 Today, the site attracts both Christian pilgrims interested in its relic associated with the Virgin Mary, as well as secular tourists who appreciate its gorgeous, period-specific architecture and history.
Abbey of Saint-Denis Stained-Glass Window
Back to the church that started it all, the Abbey of Saint-Denis features a stained-glass window that depicts its builder and designer, the French abbot Suger at the feet of the Virgin Mary. Suger is traditionally credited with being the figure who popularized this style all over Europe, in large part thanks to the success of his Abbey at Saint-Denis.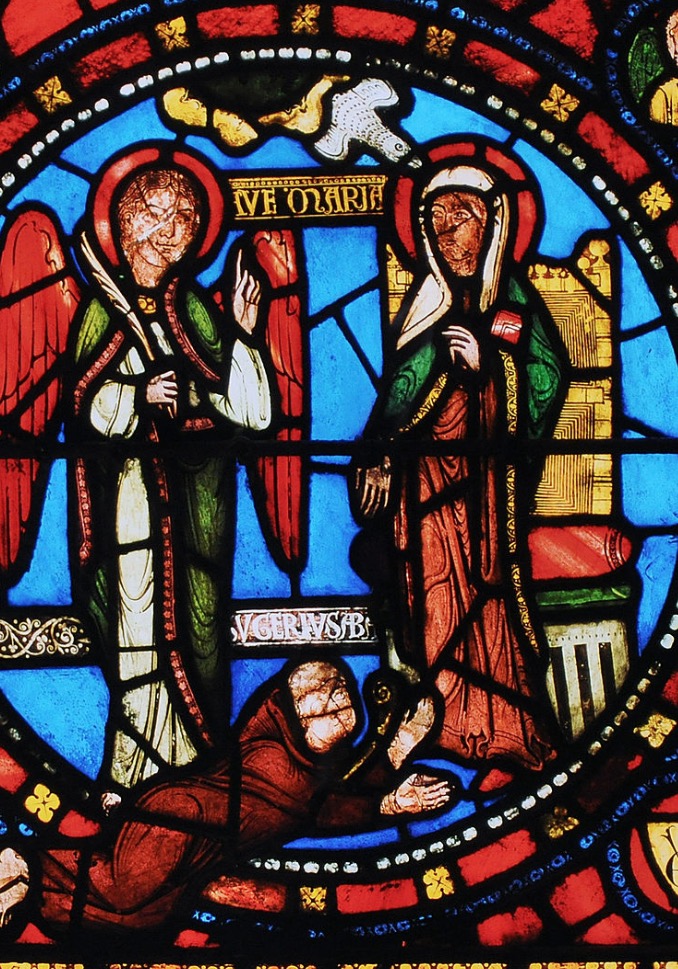 Image Credit: Vassil
The stained-glass window itself is resplendent, boasting a cornucopia of vibrant colors that contrasts vividly and showcases religious themes. In the window, an angel is on the left, the Virgin Mary is on the right, and the abbot is at her feet in supplication. The scene represents the Annunciation.
The Sainte-Chapelle de Vincennes's Rose Window
The Sainte-Chapelle de Vincennes sits in Paris. As a Gothic chapel, it was founded in the late 14th century to house the relics associated with the passion of Christ. Today, it's a tourist attraction and a mecca for visitors who appreciate its aesthetic wonders that celebrate this design trend, which is particularly evident in its glorious rose window.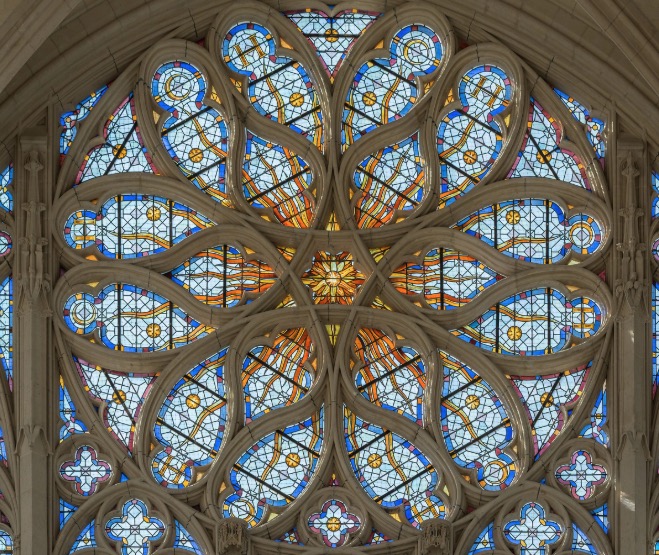 The chapel's rose window features sinuous lines (exhibiting many turns and curves) that are noticeable on the window frame. The prominence of this design feature is what led to it being called a flamboyant example of this style. Behind the window frame, you also notice the attractively colored stained glass, which features nice color contrast between the blue and orange tones.
Simone Martini's Christ Discovered in the Temple
Simone Martini was a famous painter from the Italian city of Siena. An influential figure in Gothic painting, he had a huge impact on the development of the later International Gothic style. One of his most famous paintings is Christ Discovered in the Temple, which depicts the New Testament story of Mary and Joseph afraid that they had lost Jesus while on a visit to the Temple of Jerusalem, only to find the young Jesus teaching among scholars back at the Temple.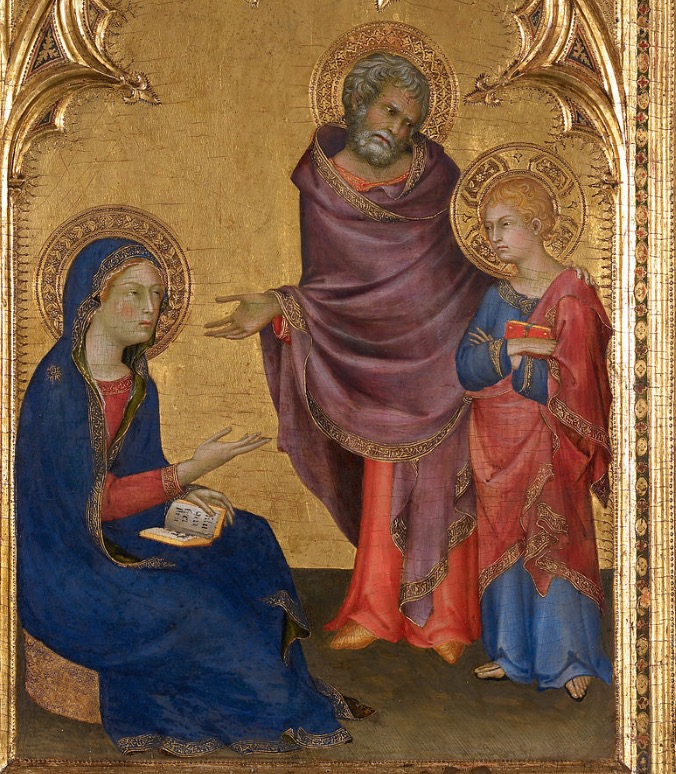 The painting itself is sumptuous in its use of jewel-like colors, the graceful lines of the figures, and the presence of patterned gold. Note also the rich detail in both the facial expressions and body language that Martini conveys, which includes Jesus' annoyance (seen in the crossed arms and grimace) and Mary and Joseph's facial expressions of worry and frustration.
Gothic Design in Graphic Design
Here are some examples of modern-day graphic design using the rich legacy of Gothic to create astounding presentations.
Hand of Doom (Gothic Font)
Looking like something straight out of an evocative Mary Shelley novel, the Hand of Doom typeface features every stylized element that makes this style fun to look at and use. With thick slab stems, extended descenders, and wispy ascenders, the characters here are bursting with the kind of personality only found in the Middle Ages.
This digital asset comes with letters, numbers and a special alternative alphabet for even more Gothic creativity. Use it for design projects ranging from newsletters and brochures to web and blog designs (and everything in between).
Blackletter Modern Gothic Font
For another spin on this traditional Gothic font, try this modern version of the Blackletter font. Optimized to work best when used in at least 60 pt, this typeface is meant to leave a big, impactful impression on anyone who encounters it. This is the typeface to use if you want your next project to read like it's coming straight out of some medieval illuminated manuscript.
Each character features beautiful, streamlined design that calls attention to smooth and clean presentation, heavy on stylistic elements. If you're looking to make a very retro statement on your next project, then this is the font with which to do it.
Carol Gothic
Now, for a more traditional take on the Blackletter typeface, the Carol Gothic font comes very close to Linotype's Old English version. Coming straight out of the old-school, 19th-century typography found in English novels, Carol Gothic is the perfect complement for any design project that requires a Victorian-esque approach to fonts.
With its fat stems, distinctive and heavy-set bowls, and scene-stealing bars, this font makes an immediate impression when you use it on websites, brochures, pamphlets, flyers, business cards, and invitations.
Gothic Design in Web Design
In the 21st century, this style has also made a splash on the web. Here are a few of the most imaginative statements in web design. Alt-metal/goth-rock band Evanescence, whose logo is also featured and analyzed in our What Top Music Bands Can Teach Us About Logo Design roundup, has always been close to the Gothic side of décor. If you've seen them in concert or taken a look at some of their music videos, you'll know this well.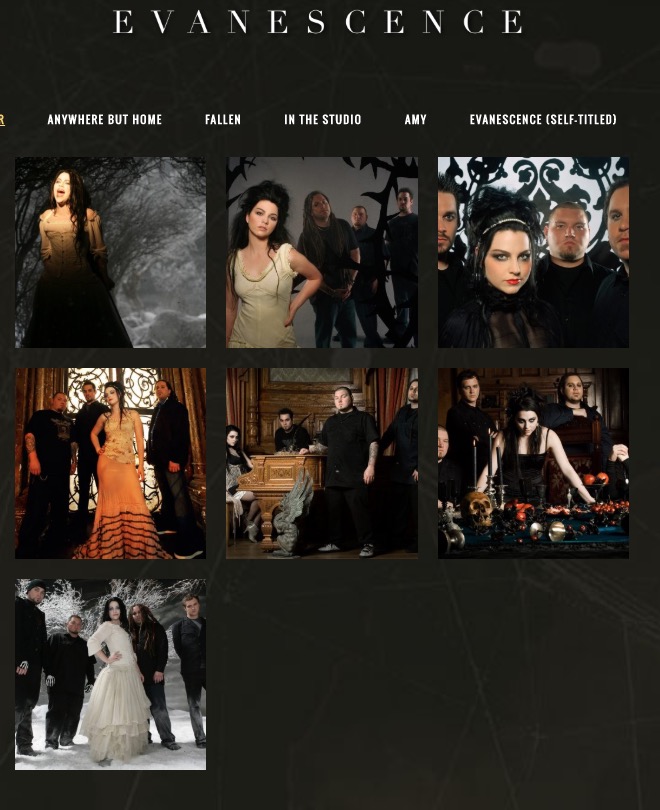 Image Credit: Evanescence.com
It also happens that the webpage on their site that chronicles their The Open Door album shoot is a celebration of Gothic style. From their poses on the sets of music videos for Call Me When You're Sober and Lithium to vocalist Amy Lee's Gothic-inspired dresses, the band displays style sensibilities that would be right at home during the High and Late Middle Ages. A Tumblr blog, this webpage devoted to every building and statue this design trend has ever created is ambitious. It's essentially a series of long-scrolling pages full of flying buttresses, somber statues and crypts, Christian motifs, and glorious ceilings.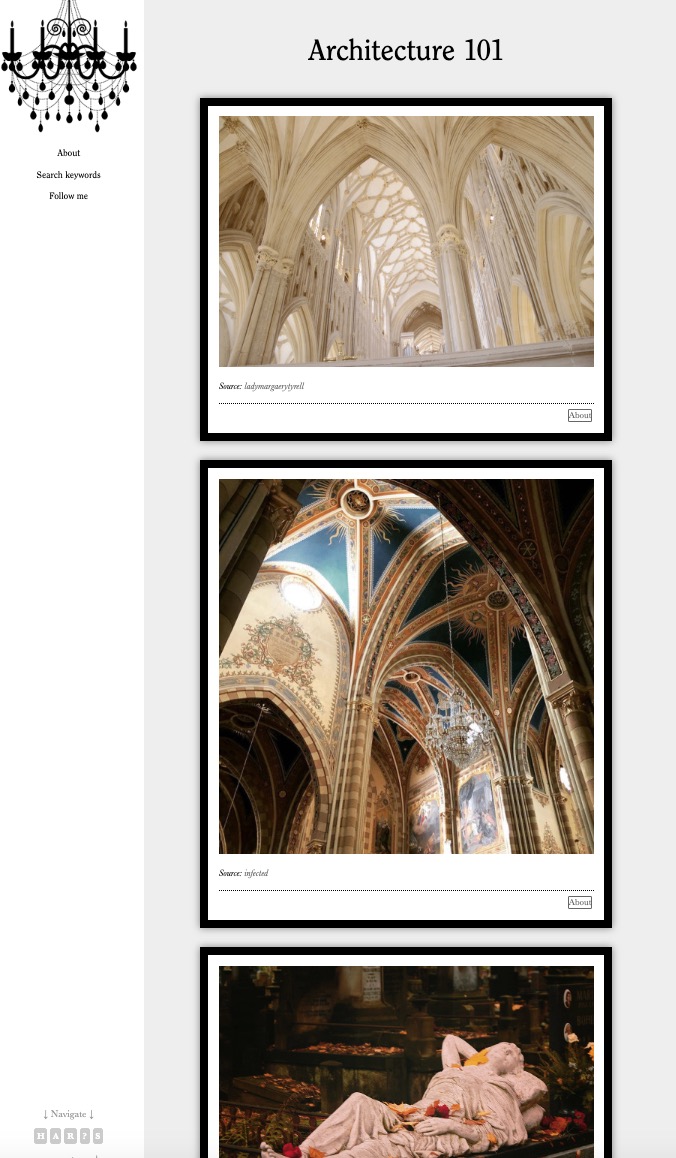 Image Credit: Tumblr
Curated by Adrianna, this blog's effective use of white space and vertical, single-column layout ensures that site visitors focus only on the aesthetic images. All images function like thumbnails; simply click on each to open up a large-screen version to see additional details in a sharper resolution. From two art and history professors comes this noteworthy contribution to Gothic web design. The Mapping Gothic France project is a lofty endeavor intended to serve as a research tool for anyone interested in this design trend. The site offers various Gothic works that are analyzed from the perspectives of images, floorplans, stories and mapping.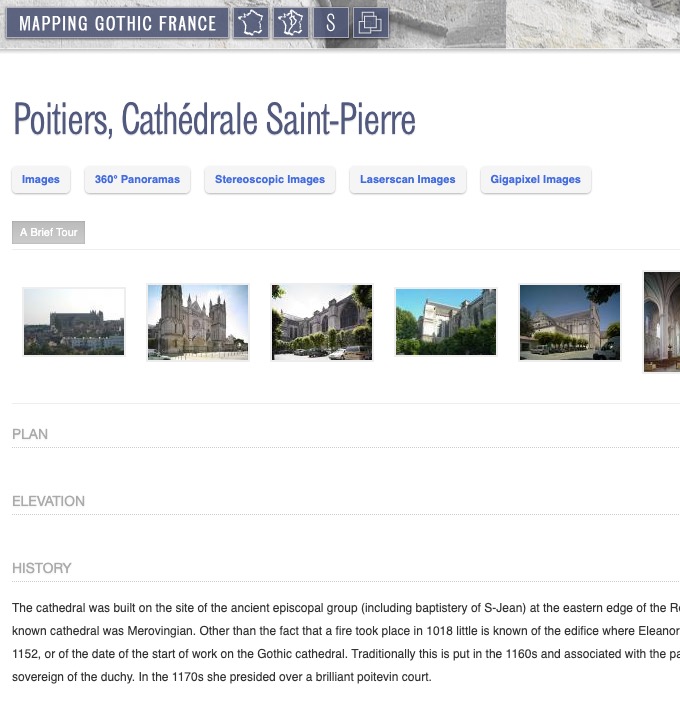 Image Credit: Mapping Gothic France
A well-organized, three-column layout ensures that the site's information architecture provides content to visitors in a complementary way. Visitors are able to scroll through image galleries, take in information about each Gothic site, and even take an in-depth look at the floorplans for each structure in a very comprehensive way.
The Aesthetics of Being Somber
Gothic design has a reputation of being associated with horror themes, according to pop culture, which is unfair. This trend is actually based on Christian themes and features many unique and interesting design approaches and elements. Nonetheless, it's easy to see why pop culture has made this association with this style: Its frequently brooding, serious and somber paintings, illustrations, sculptures and architecture can sometimes be a bit unnerving. Overall, though, this trend is a study in western design that emerged at a very specific moment in European history and ended up influencing other trends that came after it. Its longevity—almost 1000 years after it first appeared—is also something to behold.
---
Products Seen In This Post: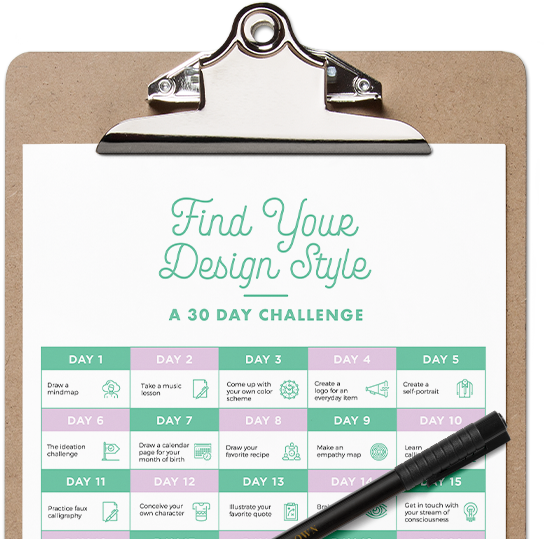 Find your design style in 30 days
Free Challenge Calendar
Having a hard time finding your unique design style? This creativity challenge will get you on the right track.
Download it here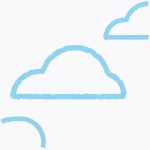 Marc Schenker
Marc is a copywriter and marketer who runs The Glorious Company, a marketing agency. An expert in business and marketing, he helps businesses and companies of all sizes get the most bang for their ad bucks.
View More Posts