Design Trend Report: Spring 2022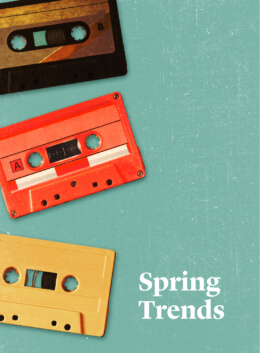 Trends give us a hint of the underlying patterns inspiring creative professionals around the globe. As we've mentioned here before, design trends are meant to serve as starting points to kickstart your own creative process. A set of insights to spark a design that is still uniquely yours.
Inspire your perspective as we go over some of this season's most popular design themes. A detailed overview of Daring Sunflower, our Color of the Season, is also available here. If you'd like to see these trends in action, check out our handpicked collections with fonts, graphics, photos, templates, and more assets featuring each theme.
This funky take on Pop Art is, at once, digital and retro-inspired. We've seen designers layer quirky mascot illustrations, flat UI elements, and block typefaces to create playful looks that are the exact opposite of neutral. There's usually very little dimension in these graphics, allowing their high-chroma palettes to truly stand out against true black type.
Just like the Arts & Crafts and Art Nouveau movements stood against hyper-industrialization in the 1880s, we're seeing some designers steer towards an artisanal, workshop look in reaction to hyper-digitalization. Heavily ornamented compositions are paired with wavy, Nouveau-inspired typefaces. In line with this artisanal outlook on design, we're seeing a resurgence of woodcut typefaces. 
The Ukraine crisis has triggered a global non-violence movement that is expressed through pacifist art. Drawing inspiration from 60s anti-war motifs like flowers and the peace symbol itself, this style also incorporates patterns and soft serifs that were popular then.
Iconic fashion magazine from the late 80s meets grunge, indie zine. Scanned effects, gritty textures, and editorial roman serifs come together to shape a look that feels both familiar and fresh. Typography here is carefully set: tight grids and hierarchy must accommodate lots of information. You'll also find a specific color grading in photos meant to emulate the printing technology available at the time.
Reminiscent of Dali or Gaudi's work, this trend is all about warped, experimental looks full of fantasy and rule-breaking. Think reverse contrast type, wavy stems, fluid baselines, melting effects, and an overall psychedelic feel. In true Surrealist fashion, these scenes evoke an ethereal feel— the illusion of walking into a dream.
What are you seeing more of?
Have any other trends caught your eye this season? Any other products you think would be a great fit for these collections? We'd love to hear! Share your findings in the comments section below.
Getting started with hand lettering?
Free lettering worksheets
Download these worksheets and start practicing with simple instructions and tracing exercises.
Download now!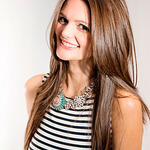 Laura Busche
Brand strategist. Creating design tools to empower creative entrepreneurs. Author of the Lean Branding book. MA in Design Management from the Savannah College of Art and Design (SCAD).
View More Posts