3 DIY Wedding Invitations That Are Unique and Affordable
It's now easier than ever to make your wedding completely your own, right down to wedding invitations and other printables. Put together these stunning, yet affordable, wedding invitations by following along these three simple tutorials.

Cheers to the bride and groom! You've found your better half, and while your love may be priceless, your wedding sure won't be. But it's your day! And every part of it should express your unique personality and vision—without breaking the bank.
Fortunately, it's now easier than ever to make your wedding completely your own, right down to wedding invitations and other printables that you can affordably create yourself, even without a background in design.
These three DIY wedding invitation template sets include everything you need to design unique, affordable invitations, save-the-date cards, menus, place cards and more, with themes ranging from elegant and sophisticated to casual and relaxed. With a few digital tools and some DIY craft-store embellishments, you can design your own wedding invitations with a personal touch – and at an affordable price.
To get started, you'll need image editing software and a way to print your finished designs. The files for each template set are editable in Adobe Photoshop, with each element on a separate layer for quick customizing. When you're finished customizing the template, simply save it as a high-resolution PDF file for printing from your computer or from a local or online print service.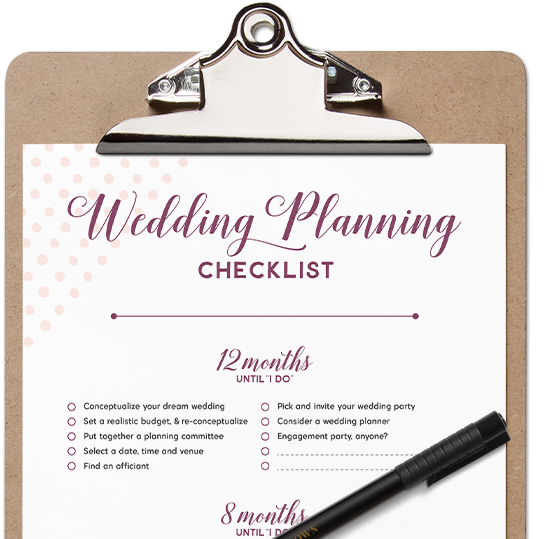 Prepare For Your Big Day
Get a Free Wedding Planning Checklist
Download this 12-month wedding planning checklist to stay organized as you prepare for your big day!
Get the checklist
1: Wedding in Paradise With the Tropico Wedding Invitation Suite
With a pastel pink highlights and fern leaf embellishments, the Tropico Wedding Invitation Suite is a cool and minimalist collection of templates for invitations, save-the-date cards, RSVP and menus, as well as place cards and table numbers, all at standard U.S. card sizes. The Tropico Wedding Invitation Suite adds low-key sophistication to both casual and formal events.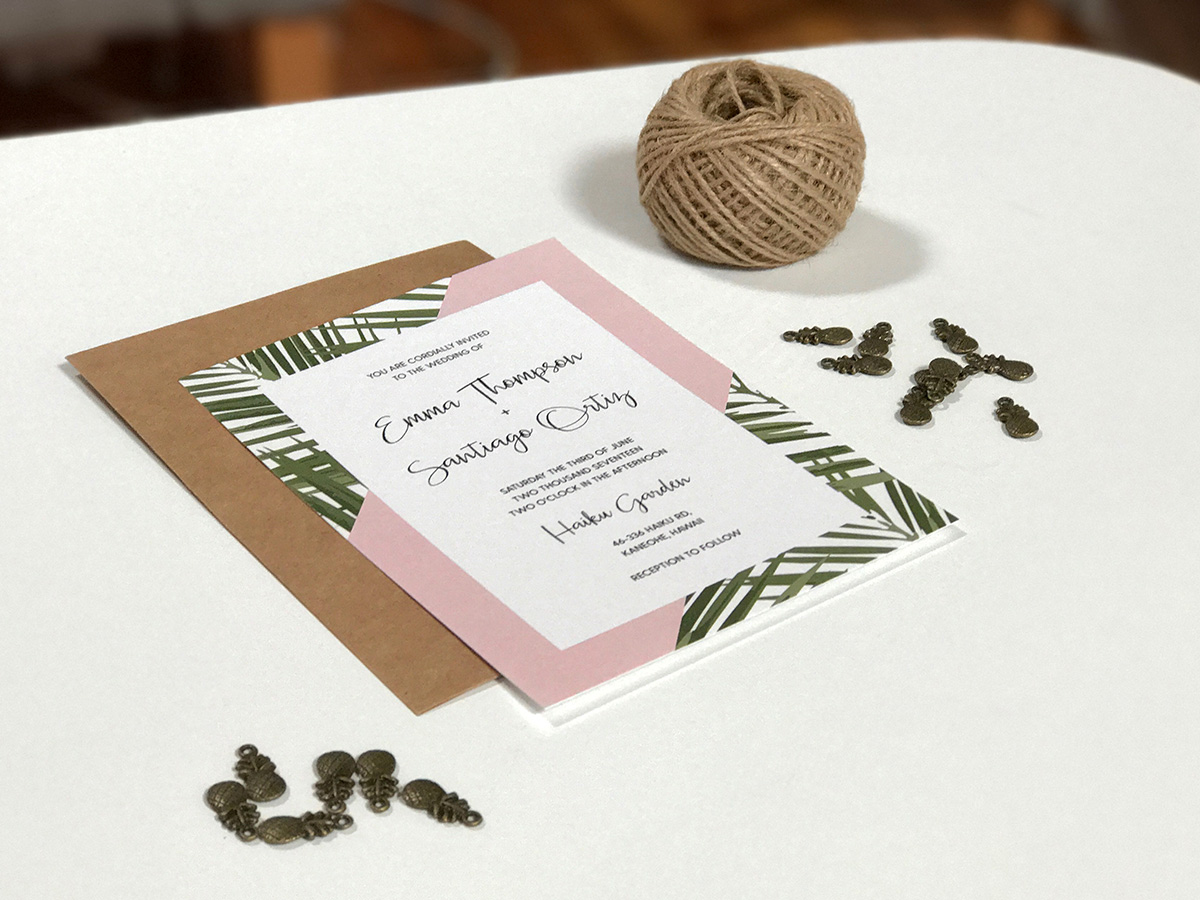 What You'll Need
The Budget for 100 Invitations
**Does not include shipping costs, or printing costs for the rest of the invitation suite
Step-by-Step Instructions
Customize the Template
Download the Tropico Suite files to your computer. All files in the Tropico suite are editable in Adobe Photoshop. Select the file you want and open it in Photoshop.
When you open the file, you may receive an error message about not having the right fonts. Ignore the message, because you will be adding a new set of fonts to customize your invitations.
Choose an appropriate script font for display and names from our Wedding Fonts category. The Caleigh Script Font is elegant and easy to read.
Pair the script font with a simpler sans serif font for body text, such as the date and directions. Greycliff Geometric Sans is minimal but distinctive. When you're searching for fonts on Creative Market, be sure to use the font preview view.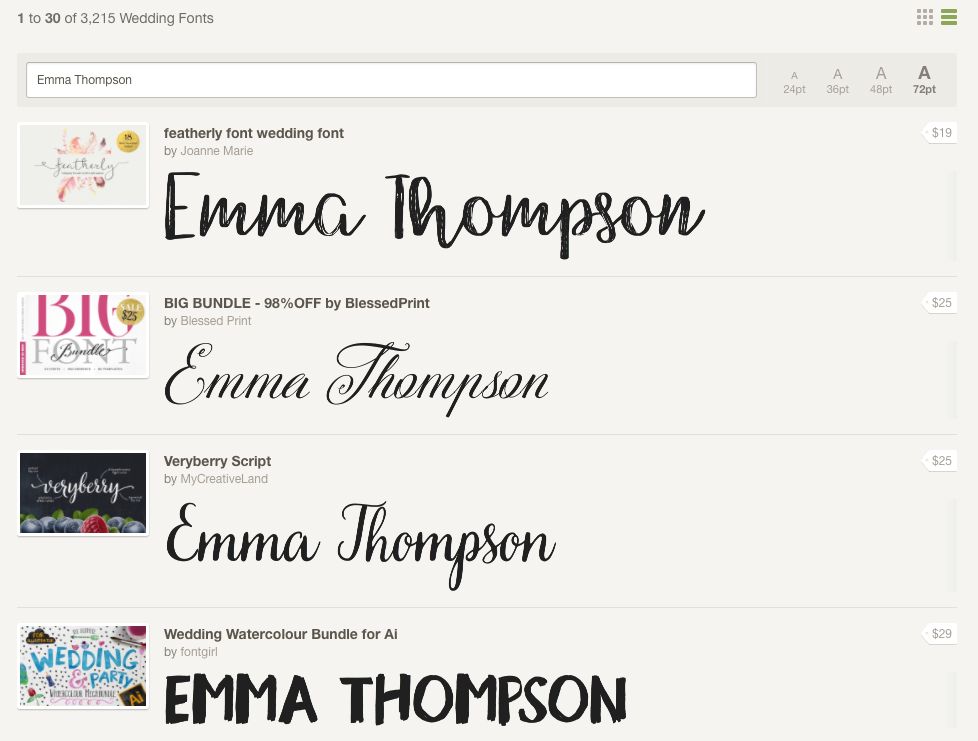 Add your new fonts to your computer's font book.
In the open template file, select each Type layer and replace the placeholder information with your own using the appropriate font.
In Photoshop's Character tool box, make any necessary adjustments to the text. Pay attention to kerning (the spacing between letters), tracking (the spacing throughout a word) and leading (the distance between lines of type) for a balanced and appealing design.
Save the file and print it, or send it to the printer of your choice.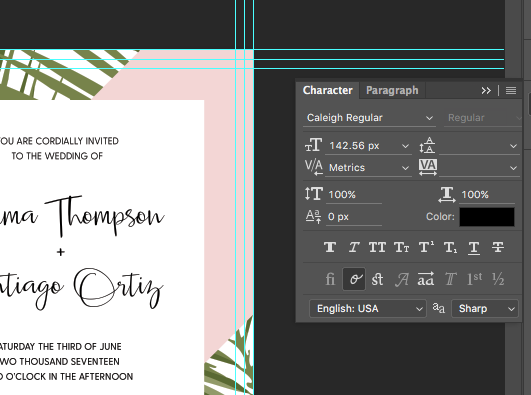 Add the Charms and String
Cut a piece of burlap string long enough to tie around the invitation like a ribbon on a package, about 30 inches, with enough left over for a bow.
Make the first knot and loop a charm onto one piece of the string.
Tie the final bow.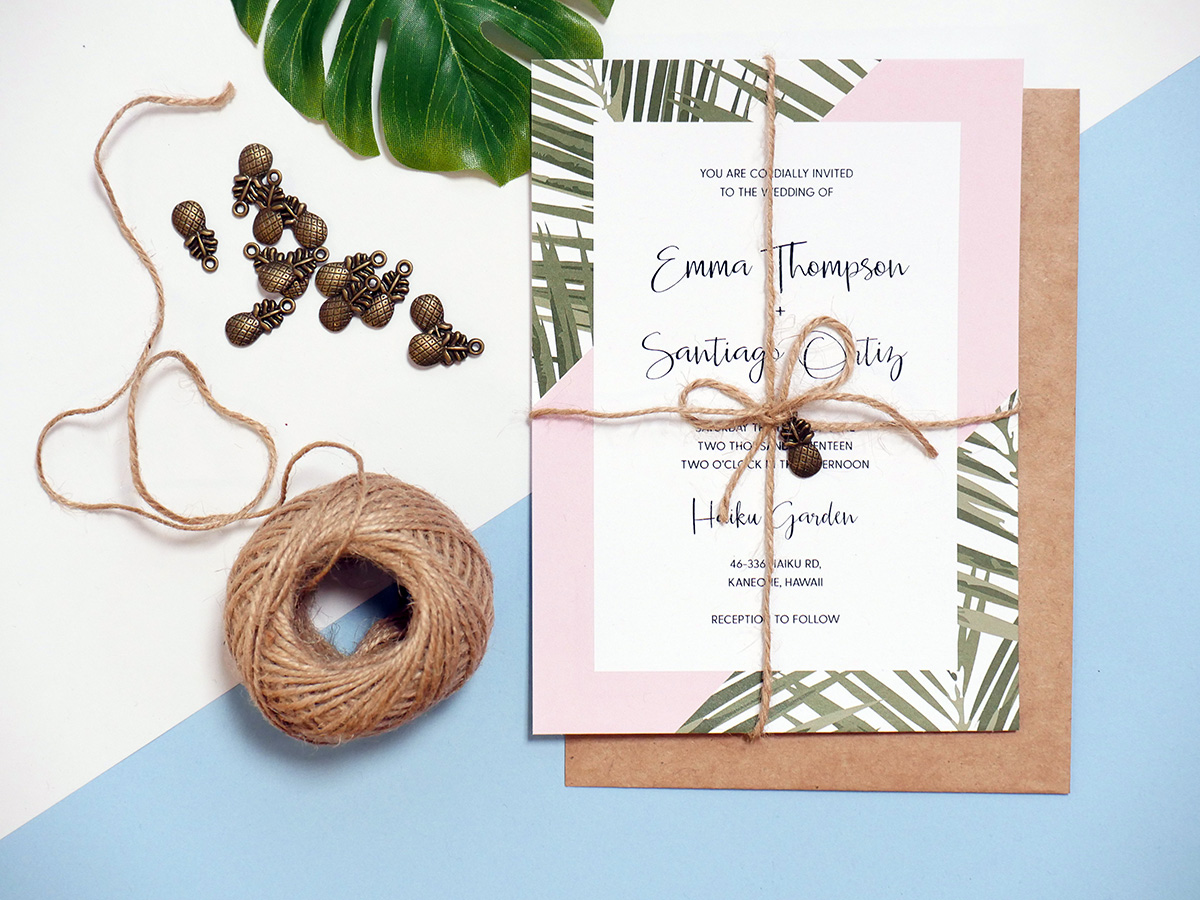 2. Farmhouse Chic With the Wedding Invitation Template Suite
With a casual, speckled pattern and vintage-style embellishments, this farmhouse chic invitation adds a casual, light touch to informal or outdoor weddings. Choose premium cardstock for a more luxurious feel, or select textured paper for a low-key look. The Farmhouse Chic Wedding Invitation Template Suite includes invitation, RSVP card and info card templates at standard card sizes, plus a list of all necessary fonts.
To complete the look, add a printed belly band around each invitation to conceal the invitation information and tie it with burlap string.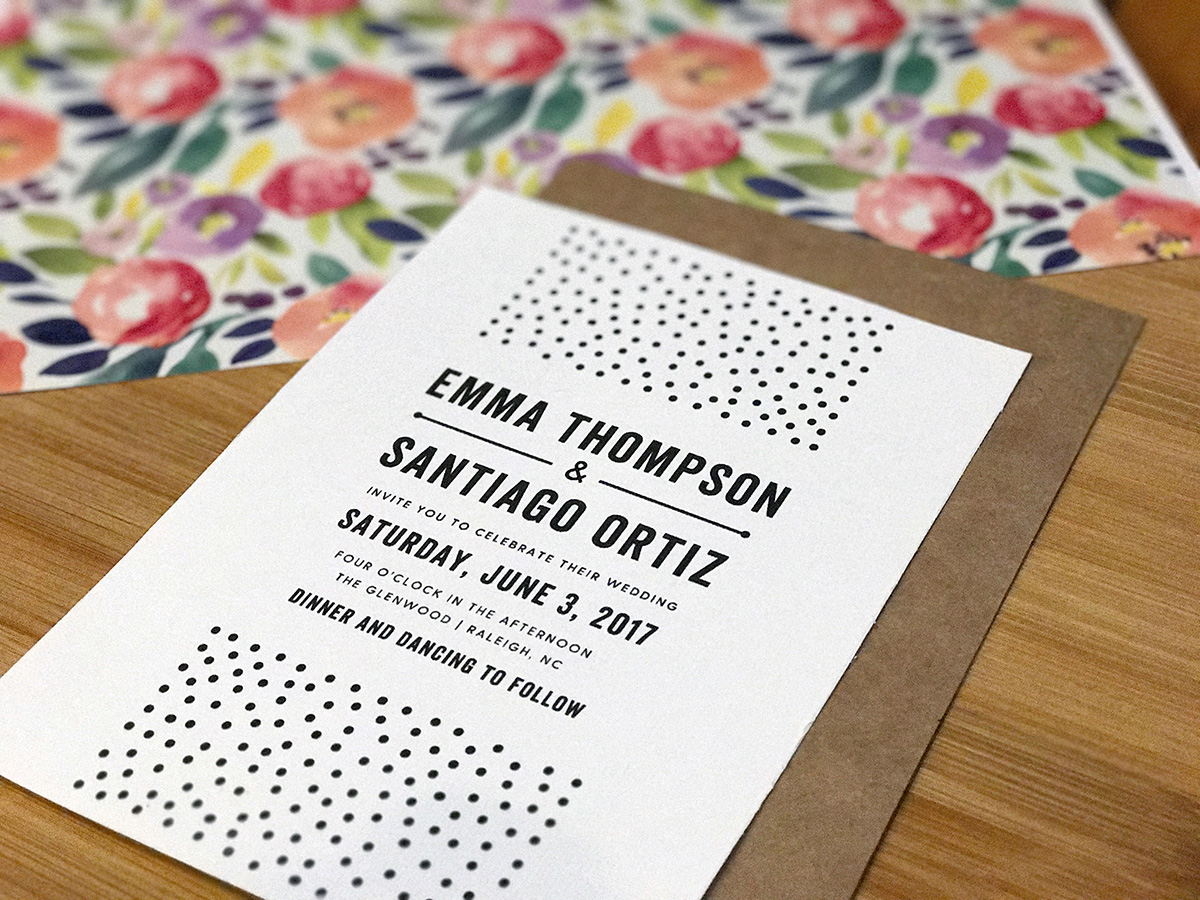 What You'll Need
Materials and Budget for 100 Invitations
Step-by-Step Instructions
1. Customize the Template
Download and open the Wedding Invitation Template in Adobe Photoshop. The Suite files are also available in Adobe Illustrator format.
Load your new fonts and add them into your font book.
Select and change text on each layer as needed.
Adjust kerning, leading and other spacing as necessary. Not sure of the difference? Read our guide!
Make sure your text is aligned to center.
We'll need to make sure the text is concealed by the width of the belly band. In section 2, you'll see that the belly band will be about 2.75 inches. In order to keep all the invitation text within that range:

Click View > New Guide Layout
Click "Row" and only add one
To vertically center the row so we can position the text within the frames of the guide, we have to add a margin to the top and bottom. 2.75 inches is actually 825 pixels. The document's height in pixels is 2175. A quick calculation shows us that the top and bottom margins should be 675: (2175px-825px)/2
Adjust text within the newly laid out guides. This is how we'll assure that the belly band will conceal the text.

Save your file as a PDF for printing and upload to Zazzle!
2. Design the Belly Bands
Download the floral pattern file and open it in Photoshop.
Create a new document and set the size to 8.5×11 inches.
Click "View" from the top menu and "Add New Guide Layout". Set your new guides to 3 columns. This is just to ensure that the pattern design within each belly band looks just how you want it. You can adjust the pattern size to your liking.
Drag in the flower pattern on a new layer.
Duplicate it multiple times by clicking Alt and dragging it into all the various sections of the document. The pattern is seamless so it should line up flawlessly.
Save the file as a PDF and print. We took ours to Kinkos! Each 8.5×11 sheet yields three belly bands at about 2.75 inches.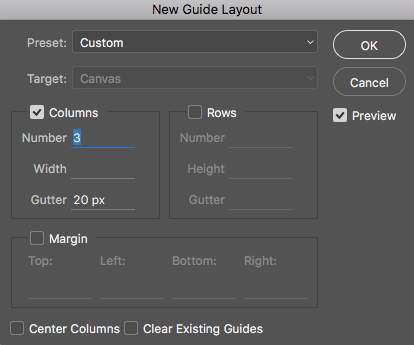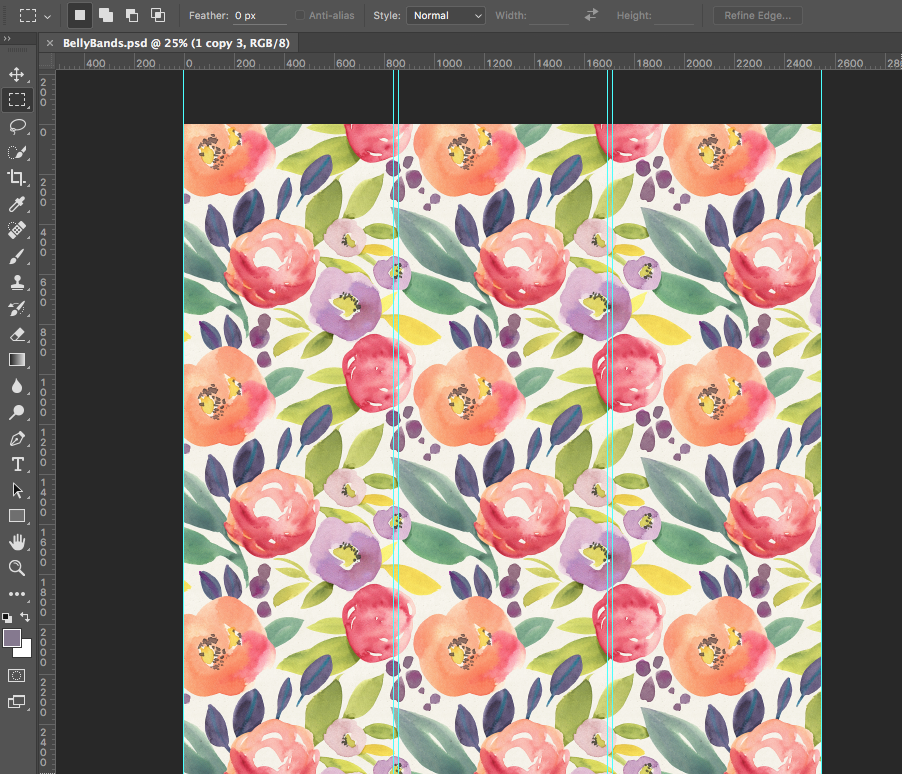 4. Cutting and Placing The Belly Bands
If you don't have a Paper Trimmer, you might want to cut the belly bands at Fedex
Start from bleed, and mark the design 2.75 in wide. You should have just enough of the design for 3.
Wrap each belly band around the middle of the invitation so that the text doesn't show.
Tie each band with a length of burlap string (about 30 inches) and make a bow.
Pair each invitation with a Kraft paper envelope.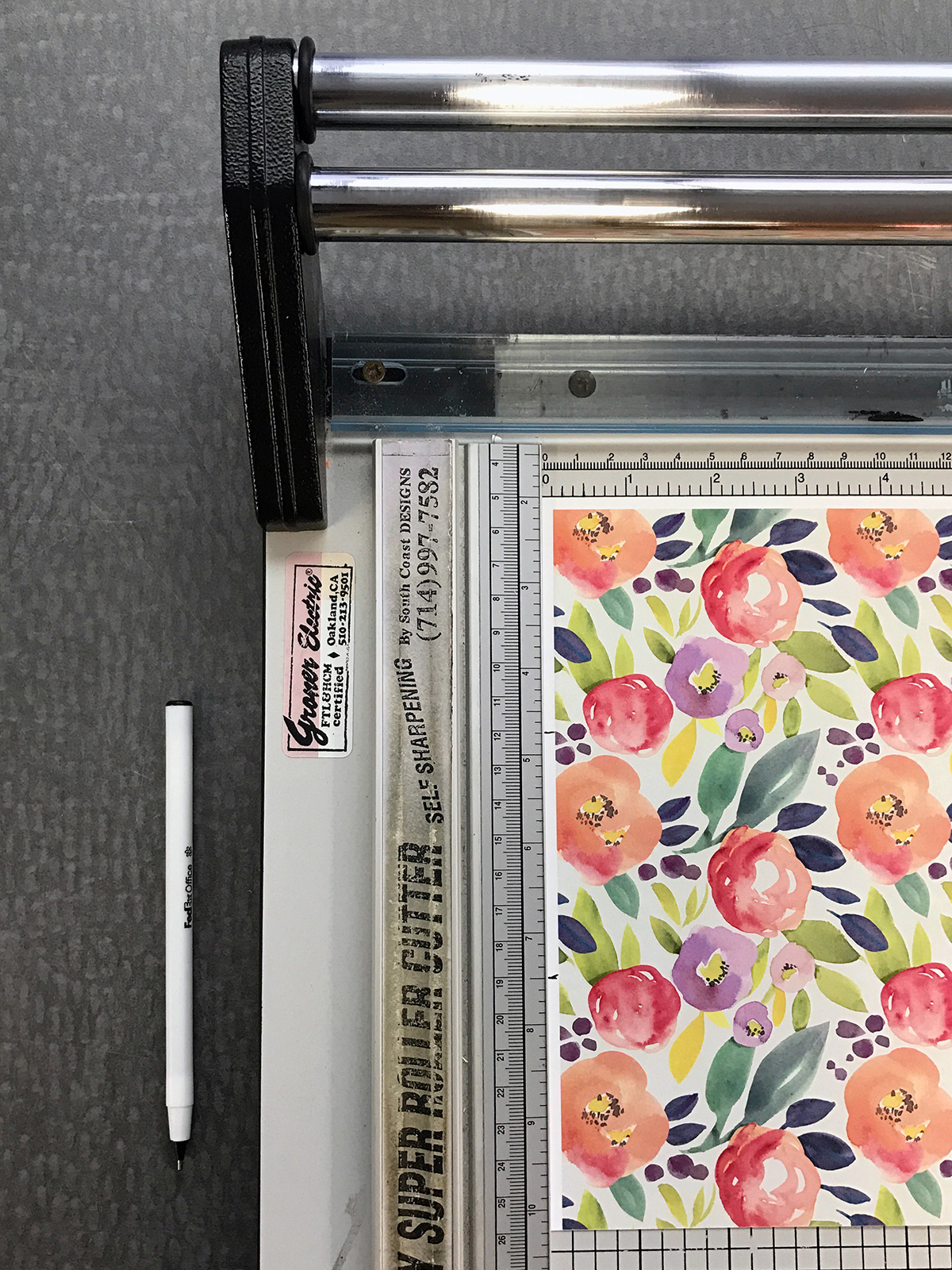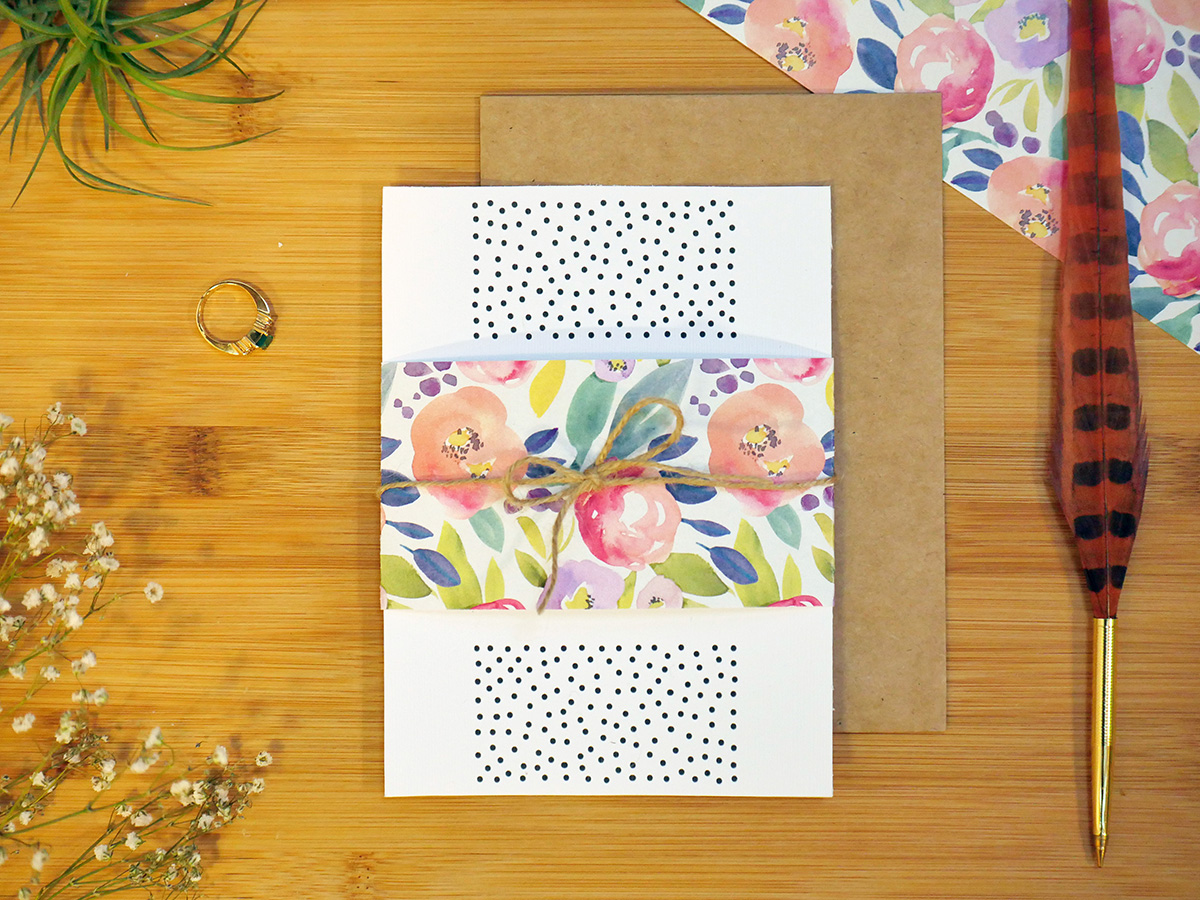 3. Utmost Elegance With the Modern Laurel Wedding Collection
With an understated color palette of lavender, plum and green, the Modern Laurel Wedding Collection blends refined typography with expressive florals for an elegant look that complements just about any style of wedding. The Modern Laurel Wedding Collection contains templates for invitations, save-the-date cards, menu cards, RSVPs, escort cards, table numbers and thank-you cards. Also included are four high-res botanical prints.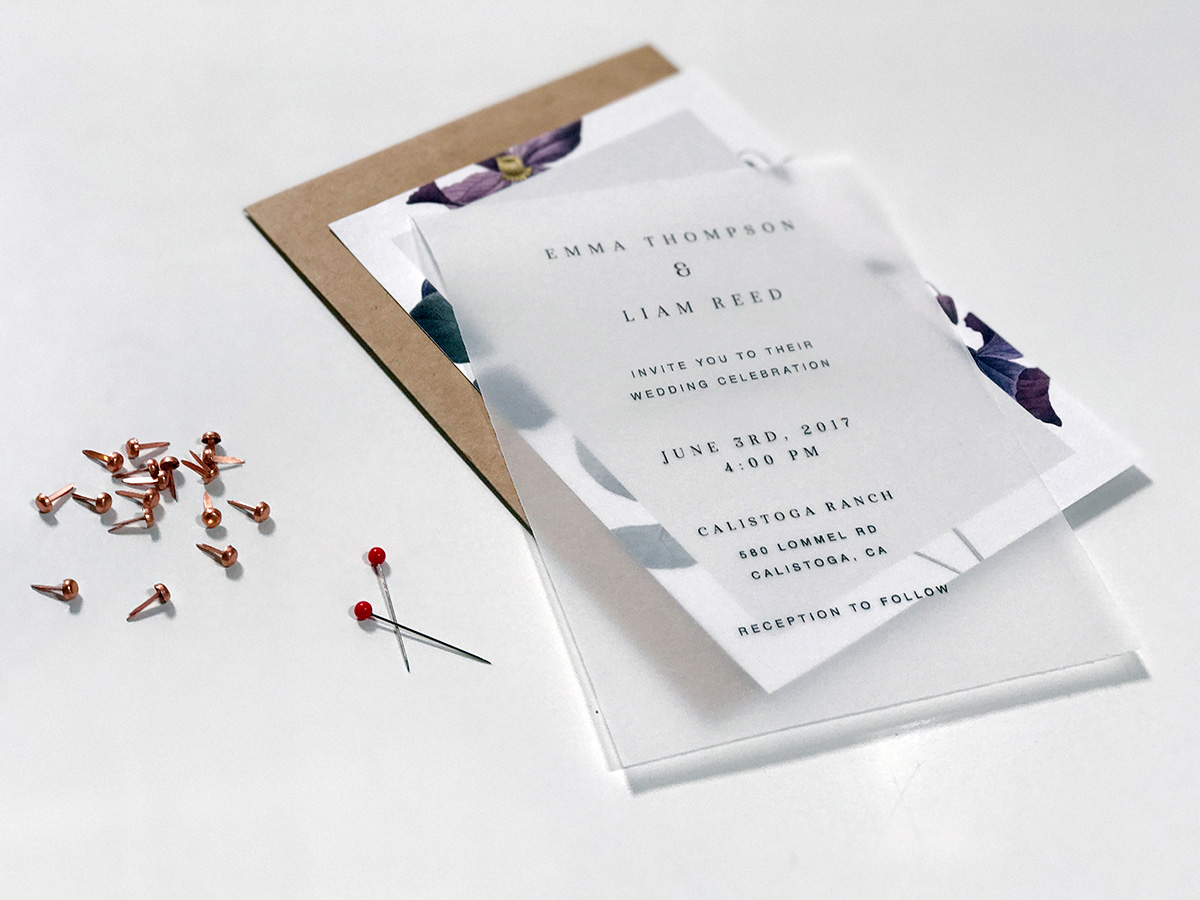 What You'll Need
Premium fonts of your choice. For the main font, choose a serif font that looks good in all caps and has appealing special characters, such as Isabel. Helvetica Regular makes an easy-to-read and visually appropriate secondary font.
Vellum paper for printers. Vellum is a translucent paper made from cotton and wood pulp.
Copper Brads for attaching the vellum and background sheets. You'll need four sets for 100 invitations.
A large dressmaker's pin
Kraft envelopes for an artsy look that complements the colors and florals.
The Budget for 100 Invitations
*This is for 50 sheets, the perfect amount for 100 invitations. You might want to buy an extra pack incase of printing mishaps.
Step-by-Step Instructions
1. Customize the Template
Download the invitation template and open it in Adobe Photoshop. The template is two sided, but for this project you'll use only the back.
Choose a main Serif font. We went for Isabel, which is elegant, looks great in all caps, and has a beautiful ampersand!

Though the template comes with the option to use several fonts, we simplified it and only used two: Isabel and Helvetica.

Back in Photoshop, replace each layer with the appropriate information and make spacing adjustments as needed.
2. Print the Background
The finished invitation will have two parts: the invitation information printed on vellum, and a blank background sheet with floral embellishments.
You'll send the blank background of the invitation to Zazzle, but printing the invitation information on vellum at home is actually pretty easy!
Toggle layer visibility with the eye icon in the Layers panel in Photoshop to save the background as a JPEG to upload to Zazzle.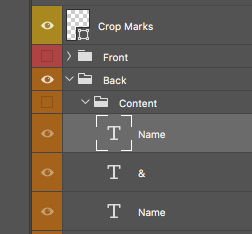 3. Print the Vellum Sheet
To print the "top" sheet of the invitation on vellum, resize the invitation text document to 5 inches wide.
Save the document as an EPS file and open it in Adobe Illustrator.
Create a new document in Illustrator at 11×8.5 inches, the size of a normal printed sheet, horizontally. We'll want to print two invitations per sheet.
Copy and paste the invitation text file into the new document.
Duplicate the invitation text so that there are two copies on each sheet.
Line the two copies up side by side.
Add trim marks for ease of cutting by selecting Object > Create Trim Marks.
Make sure the text is within the dotted lines of the printer boundary.
Check the "do not scale" option.
Save and print on vellum sheets. Let them dry thoroughly to prevent smudging and curls.

4. Assemble the Invitations
Cut the invitations on the vellum sheets apart. Use a paper cutter for clean, perfect edges.
Place the vellum sheet over the patterned background sheet.
With a dressmaker's pin, make holes in the top corners of both sheets.
Insert a copper brad through each hole and open it up to fasten the two sheets together.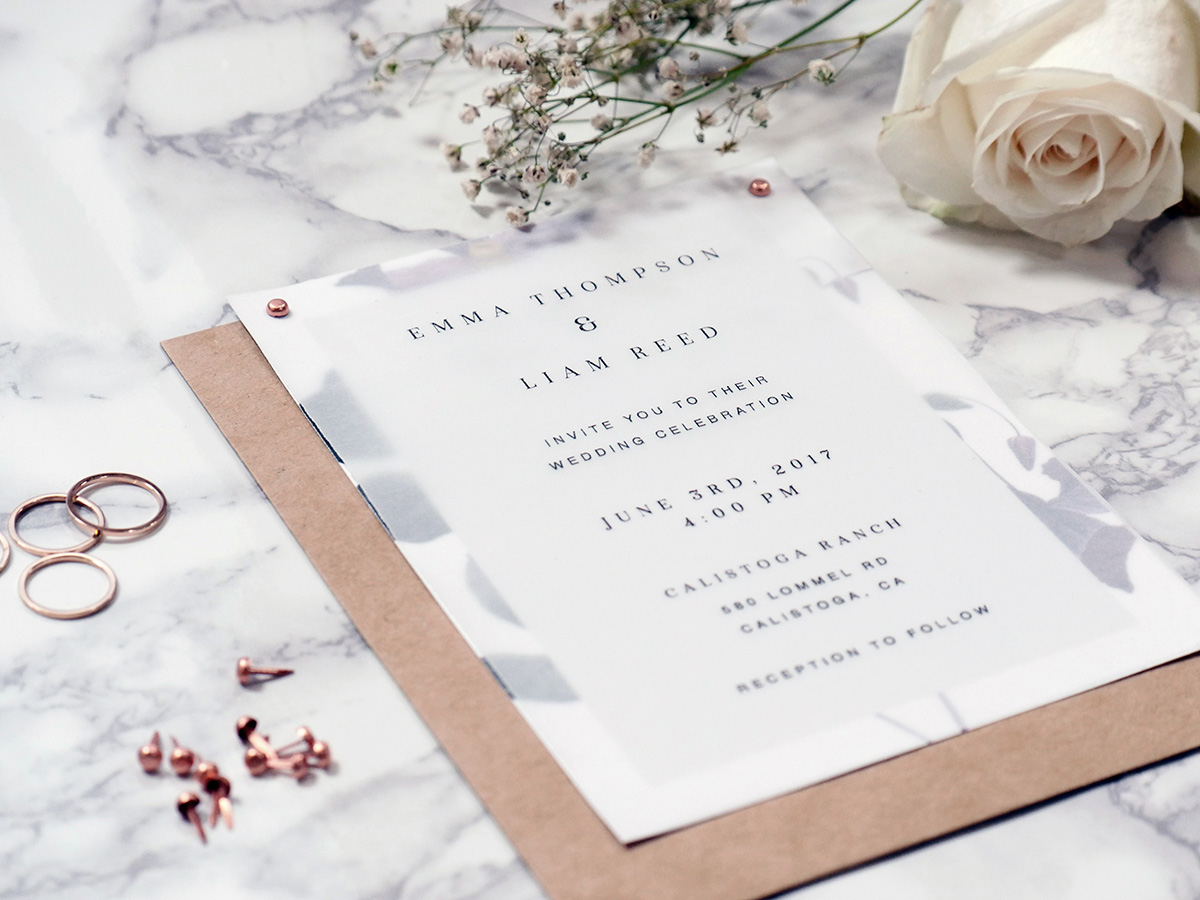 The cost of creating DIY wedding invitations with these wedding invitation templates depends on factors such as the costs of printing, craft supplies, fonts and templates. But even with printing from a local or online print shop and the purchase of premium fonts, the cost of each design project hovers around $200 or less, leaving more room in your budget for other things. You don't have to be a designer to get stunning invitations for your picture-perfect day.
Pin These For Later!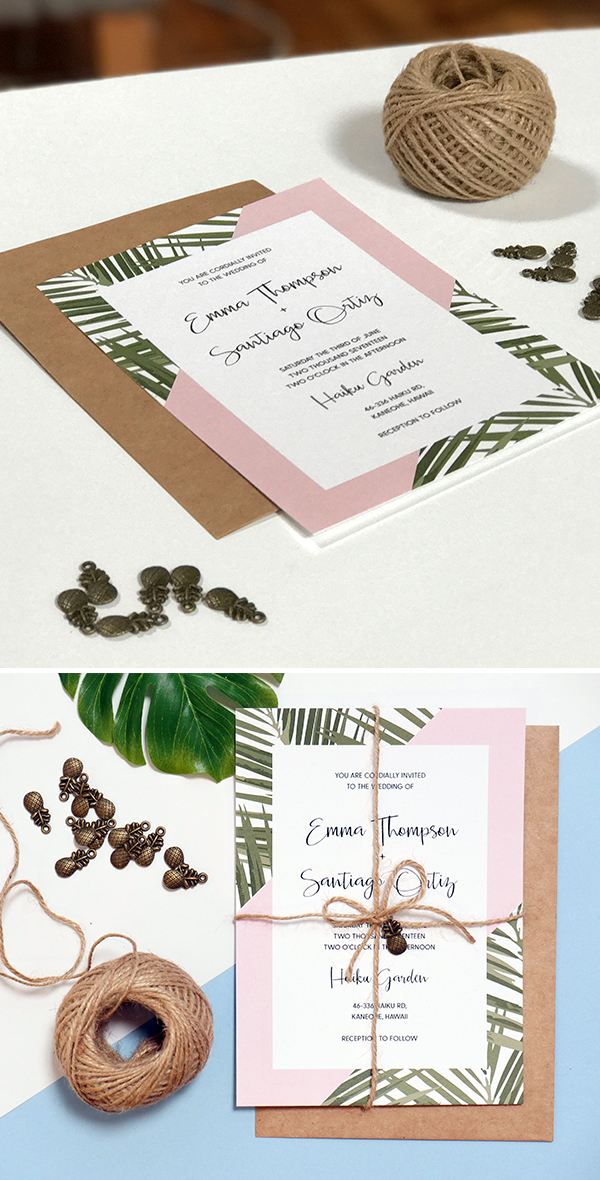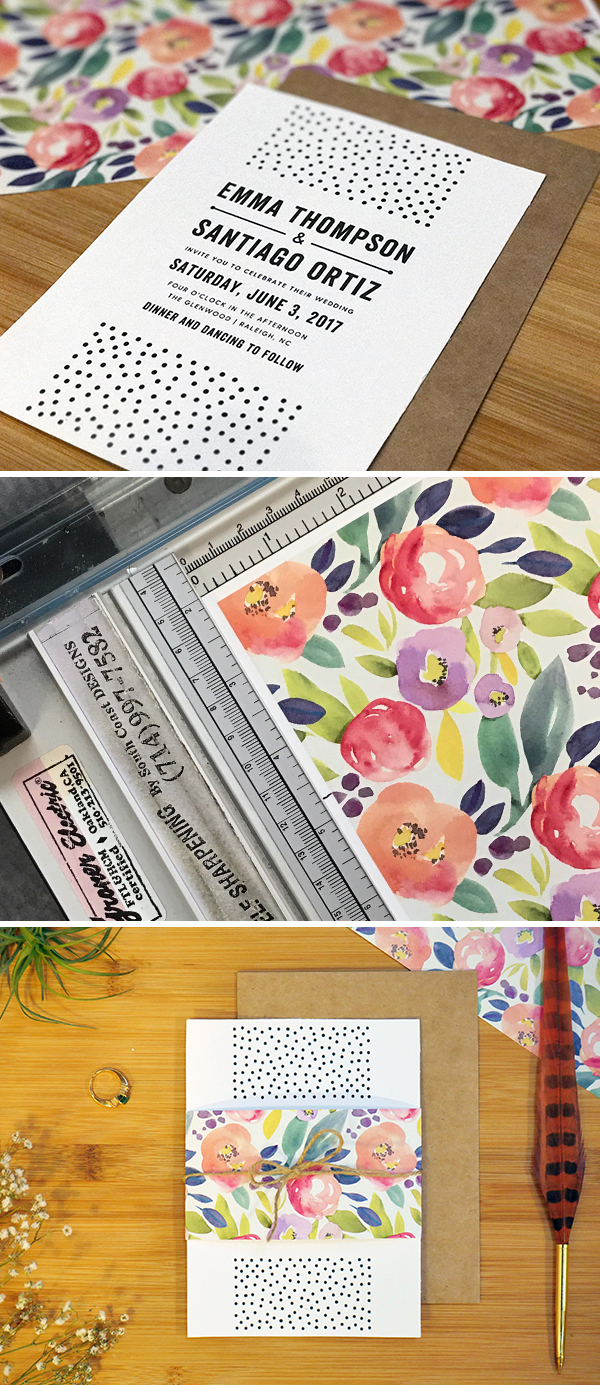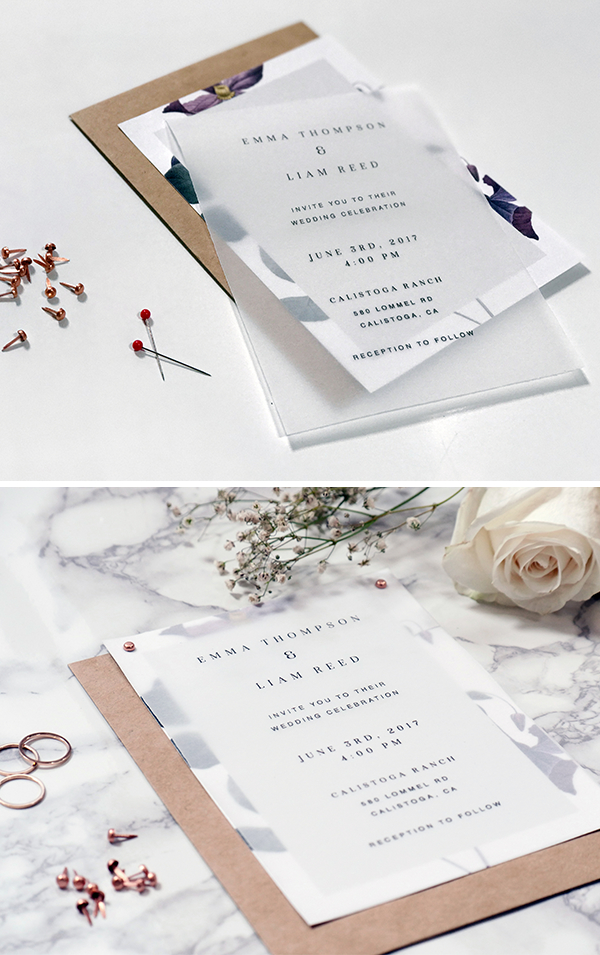 Getting started with hand lettering?
Free lettering worksheets
Download these worksheets and start practicing with simple instructions and tracing exercises.
Download now!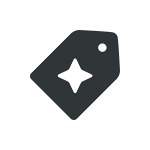 Creative Market