New: Learn Which Sites Are Driving Traffic to Your Shop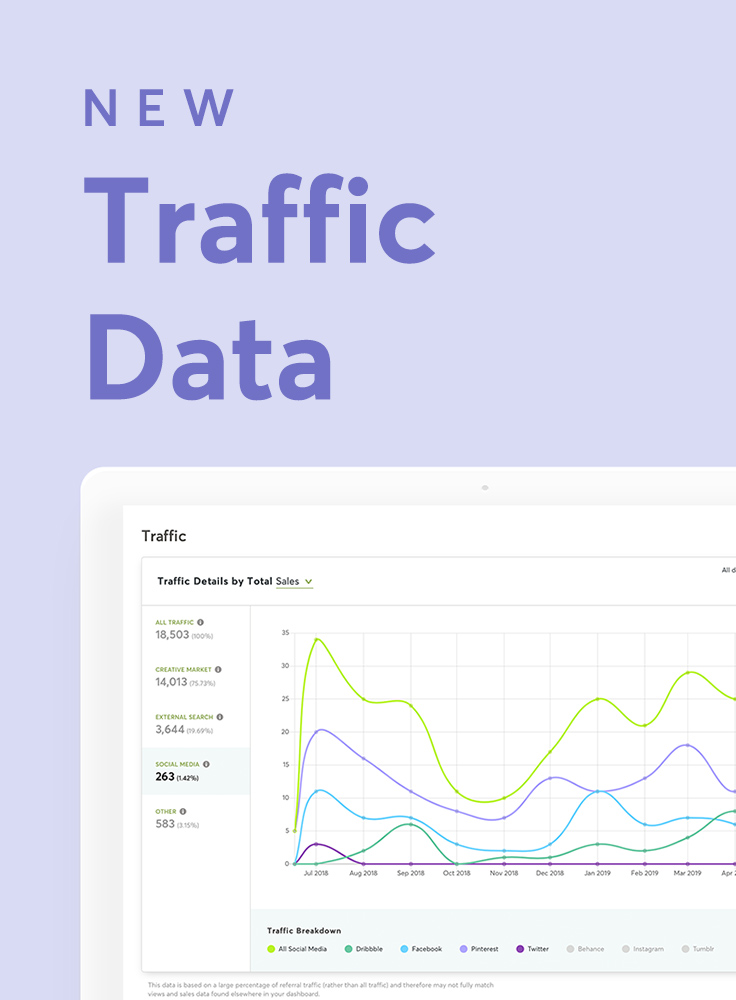 A couple of weeks ago we introduced Shop Traffic, a new analytics section in your dashboard. Since then, we've been hearing lots of feedback about your favorite parts of this feature and what's still missing. While Creative Market traffic drivers were useful, many shop owners told us they'd like to get a complete view of both external and internal referral sources. And that's exactly what we're announcing today: external traffic sources are now visible in your dashboard! 
What you'll find
To see this new data, click on the "Shop Traffic" link in your account dropdown. A color-coded line graph will display views and sales coming from 5 different sources: All Traffic, Creative Market, External Search, Social Media, and Other. Use the dropdown next to "Traffic Details by Total" to show "Views" or "Sales", depending on the metric you're analyzing.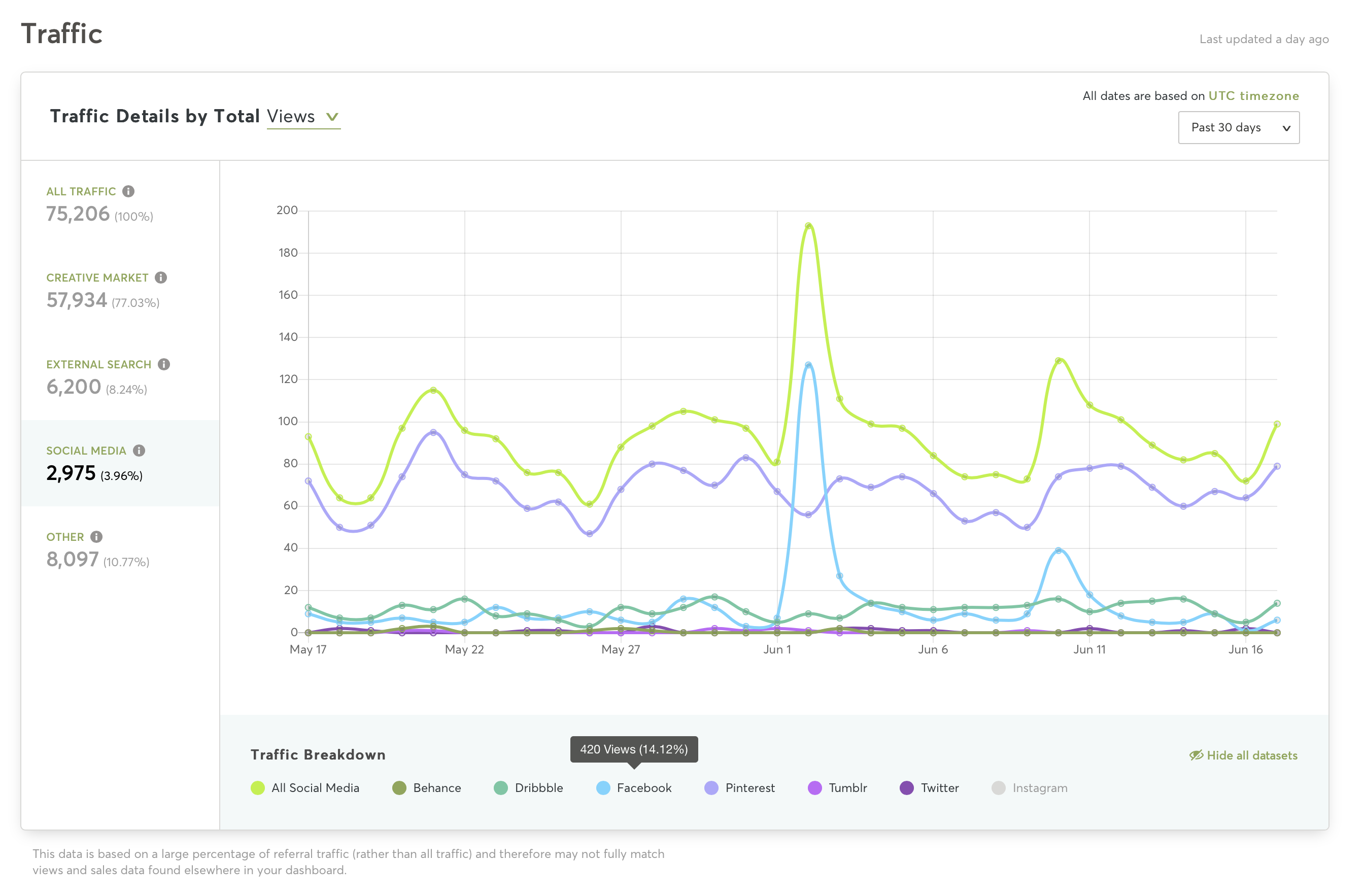 Next steps you can take
Many shop owners have noted that when they don't know where their Creative Market viewers and customers are coming from, it's hard to know where or how to best market their products. It takes time and effort to promote your products, but that time is hard to justify if you're not sure it's working. Armed with these new insights, try any or all of the following tactics to drive more traffic to your products and shop:
1. Learn more about your potential customers based on where they're coming from
The platform a user is coming from can tell you a lot about them, helping you to develop a more accurate customer persona to keep in mind as you develop and market your products.
For example, do your customers find you more often via Pinterest? A quick Google Search can tell you that 81% of Pinterest's users are female, their median age is about 40, and 80% of its users access the site through a mobile device. With this in mind, you may want to consider that your target audience could very well be women around 40 years old who are looking at your products on their phone. If this is true, how could you position your products to better appeal to this user base?
2. Learn where to focus your marketing efforts
We know a lot of shop owners post about their products across all kinds of sites. But it's likely that some of these platforms are bringing you more sales than others.
For example, perhaps you spend time sharing all of your products across Facebook, Instagram, and Pinterest, but your new traffic dashboard shows you that only Facebook and Instagram are driving substantial views to your shop. Additionally, of these three platforms, maybe only Facebook traffic is leading to a large number of sales. This could be a sign that you're on to something great on Facebook, and that your products are resonating really well with the audience on that platform.
It could be a good idea to double down on your Facebook marketing efforts, since you know the time you spend marketing on this site results in sales in your shop. Why not set a goal to share your products on Facebook at least once a day for a whole month? Then come back and check your traffic graph to see how your Facebook views and sales have improved.
3. Run experiments, analyze performance, and optimize
Have you been thinking about increasing your marketing efforts, but felt unsure about how to track their payoff? This traffic tool gives you the information you need to quickly measure the impact of new marketing initiatives.
For example, are you curious if increasing your posting cadence on Instagram would result in increased views and/or sales for your shop? Maybe you'd like to try advertising an Early Bird sale for a new product release on Facebook. Give experiments like this a try, then come back to your traffic graph in the next week or two and see if your views and sales from these sources have increased.
4. Get insights on your SEO impact
Take a look at how many views and sales you're getting from external search. External search engines like Google, Bing, and Yahoo are incredibly important for anyone selling online, including Creative Market shop owners. Like many of us do when we're looking for products online, people who are looking for design assets often go right to sites like Google to find what they need.
If you're not seeing as much traffic as you'd like from these external search engines, it's time for you to start thinking about how to optimize your products, in other words, start considering SEO for your shop.
As you work to increase your views and sales coming from external search, look over your products and ask yourself if you're including the "keywords" that customers would type into a search bar when they're looking for a product like yours. Once you've thought of those words, be sure to infuse them into your product title, tags, and description. Each of these is important!
Additionally, search engines frown on something called "duplicate content," which is a fancy way of saying if you have two or more products that have the same title, tags, or product description, you're likely hurting your SEO. These search engines want to make sure they're surfacing unique pages to the people searching for things, so duplicate content will make your products seem less unique, and therefore push you further down in search results pages where fewer people are likely to find your work. Take some time to go through your shop and make sure each of your items has a unique title, set of tags, and product description.
Tell us how it goes
We'd love to hear your feedback. We're excited to keep building on this tool, so let us know if there are things you absolutely want us to keep, or something else you hope to see in the next iteration. Share your thoughts in this quick form, and stay tuned for more features.
Getting started with hand lettering?
Free lettering worksheets
Download these worksheets and start practicing with simple instructions and tracing exercises.
Download now!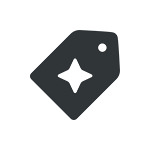 Creative Market