5 Fascinating Online Courses to Dig Deeper into Typography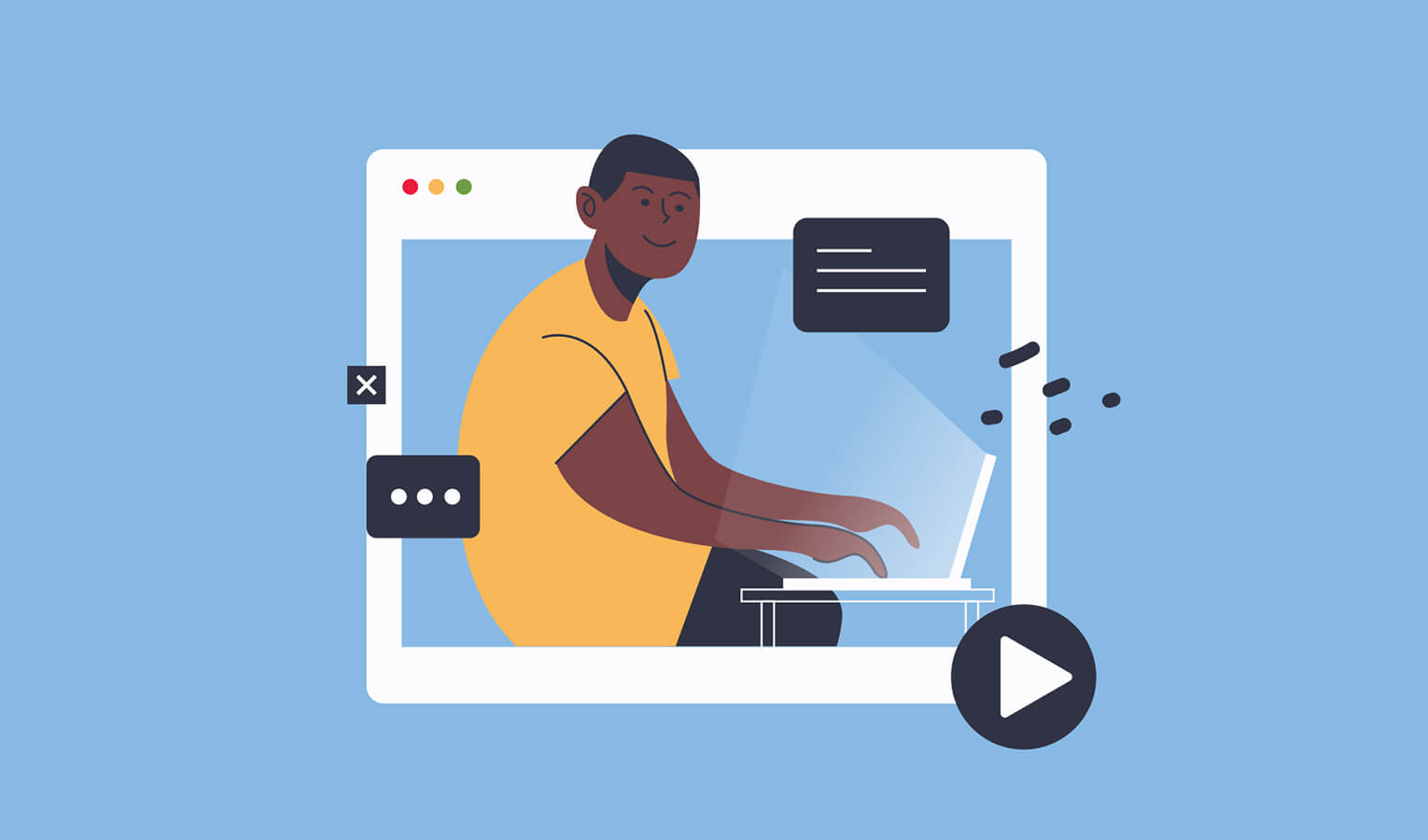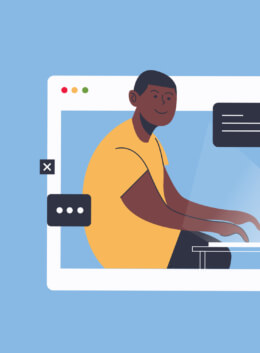 Typography is a key foundation of any design, and it's also very hard to get right. Designers and brands of all kinds heavily rely on selecting good fonts and typefaces for every single project or system they work on. Understanding what makes a good typeface, and enhancing your overall knowledge of typography can have a huge impact on how effective your future work can be.
We've previously covered typography basics and outlined some useful readability tricks here on the Creative Market Blog in the past, but in this post we're going to take it a step further and explore 5 fascinating online courses to dig deeper into the world of typography. So if you're looking to level up your understanding of type or even dabble in creating some yourself, this collection of courses is perfect for you.
Typography 01 — The Futur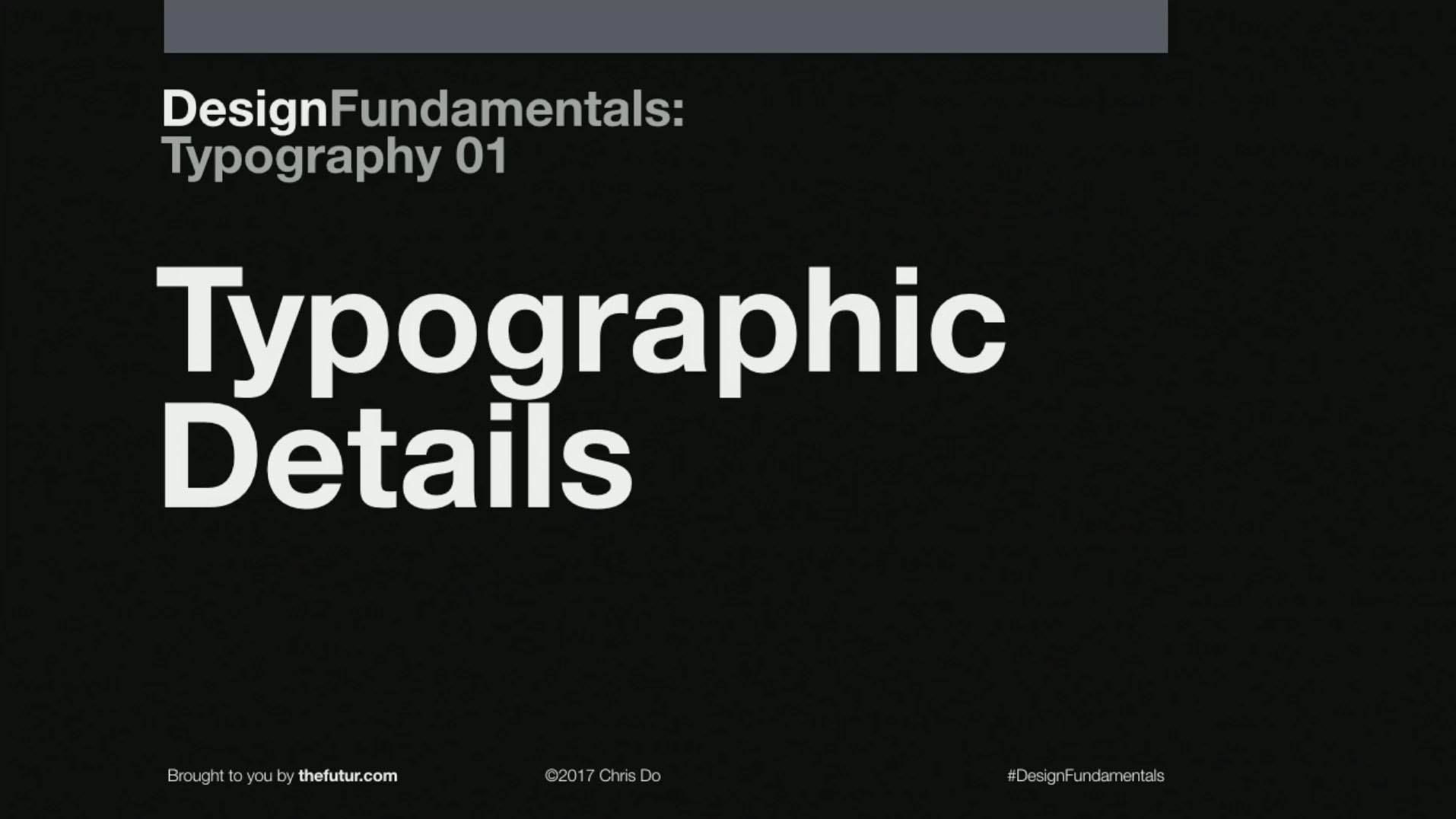 The Typography 01 Course by The Futur is a premium design course option, with a one-off purchase of $299 for access to the course — but don't let this be a barrier, as the price is fully justifiable with the authors being well established and much loved design educators. Typography 01 is the most popular course from creators 'The Futur" and it comes packed with more than 6 hours of comprehensive video content for your to absorb. The key goal of this course is to teach you how to control typography within your work so that you have a solid grasp of the impact your type has from the very start to the final stages of your projects.
The class will cover aspects such as repetition & contrast, grids, typographic details and applying type in a layout — all with the aim of teaching you to properly integrate type into your system so that everything can work together in harmony.
Trailer for Typography 01

Another welcome aspect of this particular course is that it is forever growing, meaning you'll get access to lifetime updates and some bonus design critiques, where you can watch a visual breakdown of the type used in existing projects so you can learn from live examples and see what worked and what didn't. So you get some real hands-on, real world experience along with some solid theory and fundamentals mixed in.
Typography Fundamentals by Ilene Strizver

Typography Fundamentals is a course available on CreativeLive, put together by Ilene Strizver who is the founder of The Type Studio. The course promises to teach you 'how to take full advantage of the power of type. You'll learn not only the fundamentals of typographic design, but also how to "see" type through new eyes – all to make more sophisticated type choices that will open doors and set your work apart.' all of which comes at a cost of just $29 for a one-off fee the regular price, or it can also be purchased as part of a membership plan.
Aimed at creative professionals of any level, the focus of this class is to teach you to recognise and appreciate how important type is, and then to get you thinking like a type designer as a way to level up all aspects of your work, and to put type to better use, whatever your creative background might be.
The entire course is broken down in to 13 important lessons, covering topics such as 'Type Hierarchy,' 'Selecting the Right Type for the Job' and 'Think Like a Type Designer' as well as videos breaking down popular typefaces and outlining common typography misdemeanours so that you can avoid making simple mistakes when it comes to using type.
At the time of writing this, this course has a 100% satisfaction score from previous customers, so you can be confident that the course delivers on everything that it promises.
Customizing Type with Draplin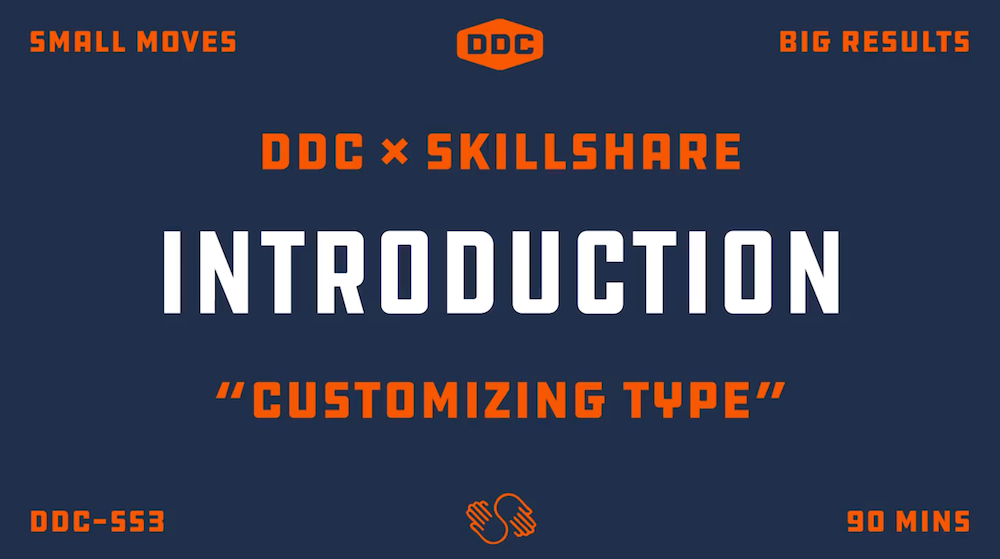 Much-loved designer and personality Aaron Draplin has a number of highly-recommended courses available online, but keeping our focus on typography, we can look to his popular Customizing Type with Draplin: Creating Wordmarks series for tips on taking existing typefaces a little further in your designs and making unique or more fit for purpose. Aaron Draplin has had a long career as a graphic designer, most notably for logo design, plus he is an author and a regular speaker (for the likes of TED and Google) and he even has some very popular Youtube videos which give an insight into his laid-back but engaging style of educating. Check out his Logo Design Challenge video for free on YouTube to get a taste for his content before picking up the full type class on Skillshare.
The reviews for this course say that it is best suited for 'intermediate' level designers and above, so this might not be one for beginners as it is a little more experimental and geared towards taking standard type in a different direction. Although Aaron is best known for his logo design skills, the lessons on display here do apply across a number of creative fields.
The vast majority of people that took the class say it 'exceeded their expectations' — so once again it gets the stamp of approval from the community. As this is available on Skillshare, you will need to sign up to access the content, which means paying for a membership of around $15 a month, but there is the option to take a free 2 month trial too and of course this gives you access to thousands of other classes on the popular Skillshare marketplace.
Better Web Typography — Matej Latin

It looks like a book, it reads like a book, but the author behind Better Web Typography, Matej Latin (Senior UX Designer at GitLab), proudly informs visitors that this is not just a book, instead it is an extensive course presented in book form. One great aspect when buying the full package for a flat fee of $29, is that it grants you access to a whole host of digital extras, example exercises, source code and Sketch/Figma files that go along with it. So we can certainly go along with the whole 'this is not a book' thing!
As the name of this course suggests, the focus here is on exploring and understanding the world of web typography. Once again this book will include advice on how to choose ideal typefaces for your projects, and it also takes a look at font combinations, teaching you how to pair fonts together in the most effective way. As this is geared towards web type, the book then starts to explore how to set paragraphs, modular scales, vertical rhythm and web page composition for type, with responsive web design in mind throughout.
As the Better Web Typography book is aimed at developers as well as designers this would be suitable for any level of experience of type, but perfect for those with an interest in the functional and aesthetic roles of type within a web project. With over 100 reviews scoring an average of 4.3 rating and over 29,000 sales you can be confident that this will be $29 well spent.
Build a Better Font — Jamie & Jake Bartlett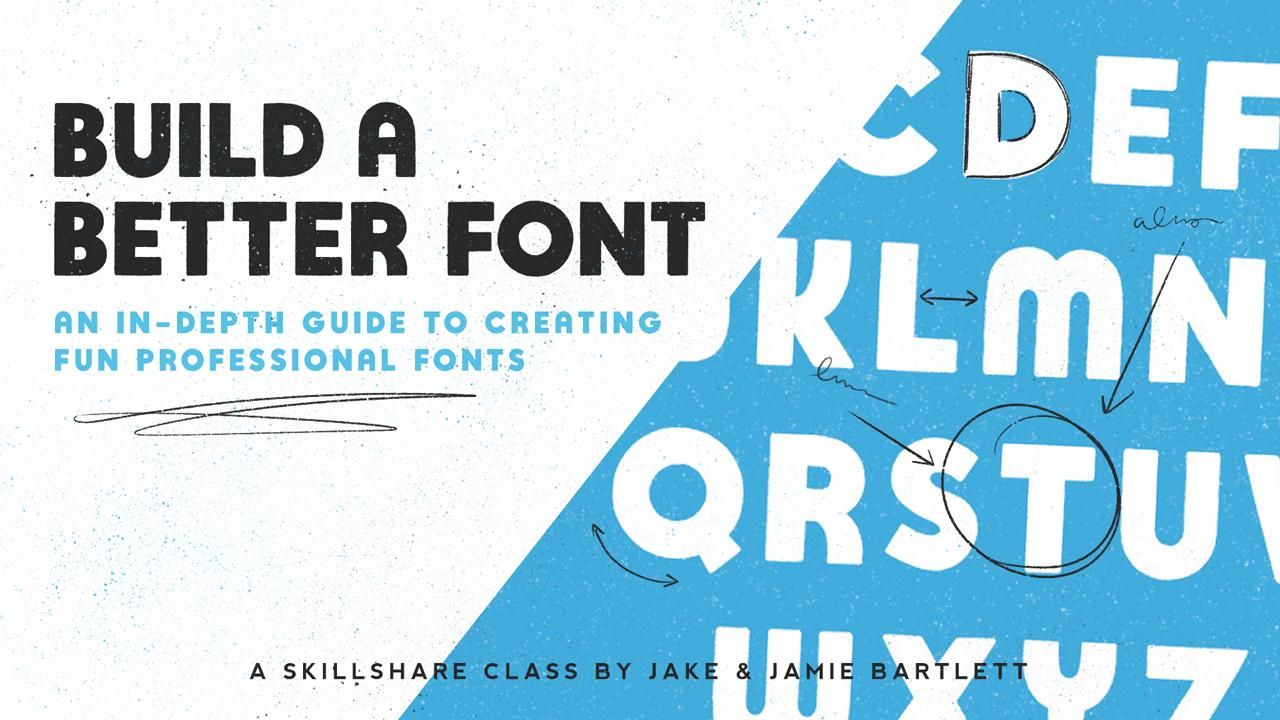 If you've made it this far, and you're feeling particularly inspired and brave, there's a chance you might actually be interested breaking into the world of creating typefaces. Nothing about the process is easy, so it's always great to get some valuable insight from someone who truly knows what they are doing. The instructor for Build A Better Font just so happens to also be a member of the Creative Market community, with her own fonts and other goodies being available in her shop. So if you're looking for a way to make a font that you hope one day you could be sold here on Creative Market, this course could be the one for you.
All aspects on the journey of making a font are explored in this 16 part class; ideas and sketching, refining, tracing, positioning, spacing, kerning and of-course the tools you'll need along the way, as well as the super important testing phase.
Once again this class is available on Skillshare, so this will require a premium account, or you can make use of the free trial period to access the class for free, a reminder that memberships cost around $15 a month or less and you also get access to thousands of other classes across a wide range of topics.
The reviews at the time of writing are all positive, with no negative reviews at all. Community feedback suggests that the course itself is best for intermediate level designers, and lets be honest, making a font is not an easy process, so you really have to be committed to exploring this new skill before diving in to such a big undertaking, but fonts can be a fantastic creative outlet and source of income when done correctly, so if you are willing to invest the time and effort to educate and practise, courses like this can give you an edge.
More Typography Classes & Courses
If you've enjoyed this collection of courses and wish to explore more around the topic of typography, here's a handy list of more resources that you may find useful. It's a combination of more courses, tutorials and videos that you may find useful if you wish to continue to dig deeper into typography:
Intro to Typography — Flux on YouTube

Intro to Typography by Flux is part of a larger series on how to design for the web, but this free 18 minute video gives you a great primer for understanding the purpose of a font and how best to choose and use them.
Typography Handbook
The Typography Handbook is a quick reference guide / website that will help get you up to speed on a lot of the same ideas explored by the featured courses in this article.
Practical Typography
The goal of Practical Typography is to give you a primer on typography in ten minutes. Quickly covering composition, formatting, font recommendations and layouts in a neat little website.
Combining Typefaces: Free Guide
Combining Typefaces is a pocket guide by Tim Brown (who is Head of Typography for Adobe Typekit) that aims to get you comfortable with choosing more than one font to use within a system. It can be very easy to get this wrong, so having a free PDF to learn from is a great help.
Choosing Web Fonts: A Beginner's Guide
Google has put together their own guide 'Choosing Web Fonts: A Beginner's Guide' to help you when it comes to web selecting fonts for use on the web.
Courses from Teela Cunningham
Teela Cunningham is another fantastic seller here at Creative Market, but she also has a number of fantastic courses available on her own website, a number of which do cover lettering and type.
The Best Typography Books for Designers
Rather than list a bunch of book recommendations, I'll instead point you towards a more comprehensive and up-to date breakdown of the Best Typography Books for Designers for you to browse through.
Level-Up Your Script Lettering
Another Creative Market shop owner and popular hand lettering artist Ian Barnard has created his own script lettering course which is available on Skillshare.
Where Do You Learn Typography?
So that concludes my collection of recommended courses for exploring typography a little further, but now it's over to you, please let me know what I've missed and what other resources you would suggest for learning typography. Which courses have you taken yourself or which books on the topic have you read that you highly recommend? Let us know in the comments.
---
Products Seen In This Post:
Remember key typography concepts
Typography terms made simple.
Grab this handy cheatsheet summarizing some of the most important typography terms.
Download the PDF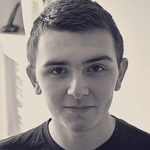 Liam McKay
Try some of my FREE goods: https://liammckay.lemonsqueezy.com - Designer with a love for beautiful Icons, Textures, Brushes and WordPress Themes.
View More Posts