How to Encourage Buyer Reviews and Use Them to Boost Sales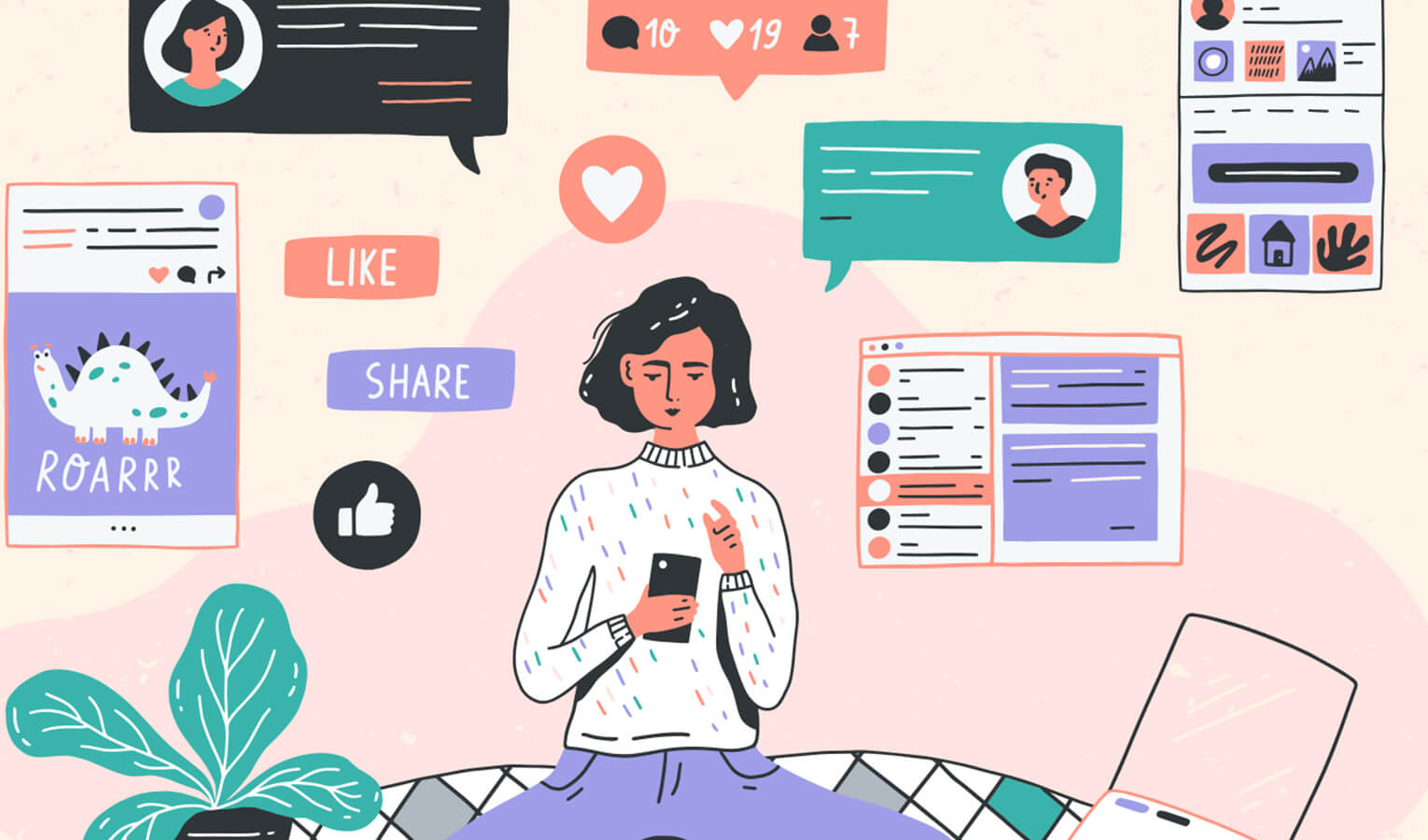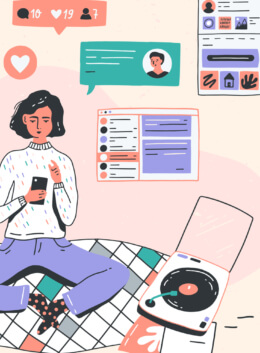 As shop owners here on Creative Market, we all know how crucial buyer reviews are for our businesses' reputation and sales – in theory at least.
We're creatives. With always more ideas than time, we tend to focus on the process of creating. We consider a project finished as soon as our product files are uploaded and can hardly wait to instantly dive into the next one. In some cases, when we upload products to our Creative Market shop, we may not often think to keep an eye on reviews. Taking the time to read and respond to them might not seem productive or even worthwhile at first glance. Some of us may even feel a little intimidated or afraid of receiving a bad review once in a while.
However, if you look at this topic from a different perspective, you'll see why we should be appreciative of every rating and review we receive (yes, even the not-so-good ones!). As it turns out, we are not helplessly at the mercy of our reviews because there are opportunities to actively use them to learn, improve, and/or further influence our customers' behavior.
How to Get Better Customer Reviews
It goes without saying that a thoughtful, well-designed, high-quality product is essential when it comes to making your customers happy. It's the very heart of our work and the one thing all creatives take pride in. That's why we go above and beyond in order to create beautiful, versatile, and useful products the best we possibly can. But you shouldn't stop right there.
Give your customers what they expect
No matter how perfect a product is, its design will always mirror its creator's perceptions of how a potential customer is going to use it and what their specific needs might be. And that's precisely what you may be wrong about! Our customers differ (and a lot so!) regarding their skill sets, their technical equipment (hardware and software), and the industries they work in. They may use your product in an entirely different context than the one(s) you're thinking of — on a mobile device instead of a Mac, or on an online platform you may not even be aware of rather than the apps you use daily. Therefore, they may have a variety of questions about your product, and it's our job as shop owners to cover as many of them as possible upfront in order to avoid a gap between their expectations and the final product we deliver. Fortunately, we have a couple of tools to achieve that.
1. Product Covers
Besides being a digital version of what one would otherwise call 'packaging,' the Product Cover is the first piece of information your potential customers see. It's the very reason why they're interested in your product in the first place! Therefore, your cover should clearly depict what the product is about and exactly what it includes. For example, Diana Hlevnjak's cover for her Whole Food Icon Collection is a great example of a cover design. It includes the most essential pieces of information a potential customer needs to be aware of: Not only does it reveal the icons' style by showcasing quite a few of them and the exact file formats being delivered, but it does so in a distinctive way and without being visually overwhelming.
Pro tip: Be precise and develop a visual hierarchy
2. Additional Product Preview Images
The subsequent product preview images offer even more space to explain what your product is all about. Your product preview images should be visually pleasing and match your product's overall style and theme. Here's an example of how I highlighted my latest one's key features (You'll notice that I've taken the opportunity to add a small note down at the bottom asking my buyers to review it, too):
You can read more about how to create great Product Shots in this article.
3. Product Descriptions
The Product Description field is the best place to answer all questions a buyer may potentially have once they've decided they generally like your product's topic and style but still need to find out whether it fits their project's requirements. Clarify as much as possible! For detailed information on how to write perfect product descriptions, check out this blog post.
… and then exceed their expectations!
Each time you ask or expect your customers to submit a review of your product, you're actually hoping for some extra engagement from their side— which requires their time. Keep in mind they've already got what they needed: they already have your product in-hands and have compensated you accordingly. Therefore, it's important to make their time (and money) spent worth it — either through some sort of bonus or exceptional service.
A 'bonus' might be something you directly add to your product files (something they hadn't expected). But in my experience, personal contact with our customers is the real game-changer when it comes to reviews. Each time your customer contacts you—whether before or after purchasing the product— it's a good opportunity to establish a personal connection and potentially make friends!
I can almost hear you thinking: "Isn't this contradictory? Your first piece of advice was to answer as many questions as possible in advance and now the remaining ones shall be the very best thing to happen?" Although this sounds like a contradiction, it actually isn't. While the answers you can easily provide your customers upfront are those directly related to the product itself and information that influences the customer's purchase decision, the questions buyer might ask afterward are usually linked to either their personal traits, their needs, or your assumed expertise. This is where you can really score points with them by showing your attentiveness and willingness to accommodate their needs. Of course, the opportunity to do this may vary by inquiry.
For example, let's say a customer messages you asking about the compatibility of a certain product. If you don't use their preferred application but have access to it, offer to check things out in order to save them some time. (You may even learn something new and helpful along the way!) If you don't have access to it, google it. And in case you can't find out, frankly tell them and maybe offer to send over a small portion of your product, so they can check out the files themselves. I know this might sound like extra work, but it's almost guaranteed that you'll get rewarded in the vast majority of cases – either through a nice conversation and a smile on both sides, a returning customer to purchase from you again, or a good review!
Pro tip: You don't have to be perfect, you just have to be yourself! Stay true to your natural tone of voice and be authentic. People – especially our fellow creatives —love buying from real human beings rather than from anonymous brands.
You Received a Review… Now What?
Good Reviews
If it's a good one: Congrats! Apparently, you've done everything the right way. But don't stop there. It's important that you actively respond to their kind words and say thank you! If the review is from a customer who contacted you for support before or after buying the product, they may feel that their questions, comments, or issues were taken seriously – so now is when you can prove that you truly meant it.
Pro tip: A sentence or two or even the simplest of thank you's are sufficient. Let the buyer know that you've noticed their review and are happy to hear that they enjoy your product and/or service. Turning on your notifications for incoming reviews helps here.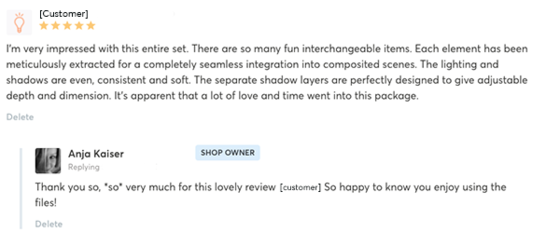 Negative Reviews
But how do you deal with a not-so-good review? The simple answer is this: like a pro.
First, start by analyzing their critique. They might be right on one point or another. If there's a technical issue with your product, for example, you can take the opportunity to correct it, send them the improved files, and (if you feel comfortable) ask them to change the rating.
Some cases are tricker than others. For example, the buyer might have expected something that was not included in the product files, such as a different or additional file format or material used in the product's preview images but wasn't included in the actual download (such as supporting fonts or mockup templates). In these cases, double-check to see whether your description was clear enough or whether you'd be able to offer them what they request. Even if the review is a result of a misunderstanding, you've still gained helpful and important information on both your target group and how to improve your future products and thus boost your sales.
In very rare cases, there may be someone who simply wants to rant. Maybe a buyer didn't read your description or is personally frustrated for a reason beyond your knowledge. If you've tried reaching out to the buyer with a polite attempt to understand and resolve their issue and they can't provide you with a real reason for their frustration — leaving you ultimately feeling unfairly treated — Creative Market offers the shop community an extremely helpful support team who may be able to have those ratings and comments in question deleted. (Other marketplaces don't offer such. Etsy, for example, solely deletes comments which aren't in line with their TOUs.) Doing so may sometimes make sense, but on the other hand, don't worry about one mediocre or even bad review among many good ones, as this makes you appear even more human.
I hope this has given you some insight into how you can actively work on getting more and better reviews in the future and how to even make use of them. Some of us may be more introverted than others, and offering buyer support and dealing with negative reviews may be a challenge at times, but it's also a great way to learn and improve both your products and sales. Putting in the work will pay off for sure!
---
Products Seen In This Post: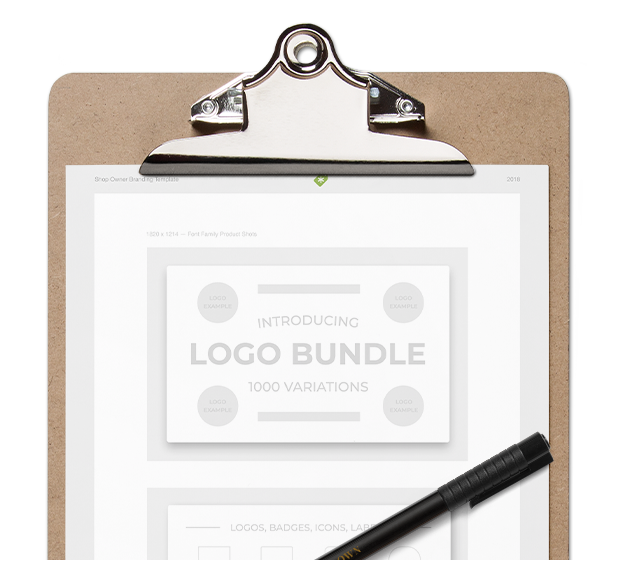 Templates & guides to grow your shop
Download your free kit
The Creative Market Shop Owner Kit includes editable branding templates for your storefront, handy cheatsheets, and an in-depth PDF guide.
Get it here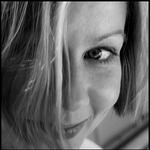 Anja Kaiser
Hey there - nice to meet you! I'm a Munich-based graphic designer with a passion for photography and pretty type. I love helping conscious brands develop a strong and authentic aesthetic as well as creating design products which are both useful and fun working with.
View More Posts