How to Start a Print on Demand Business with Creative Market Assets
A print-on-demand business allows you to enjoy what you do best: create stunning art and earn from it. Learn how and get started.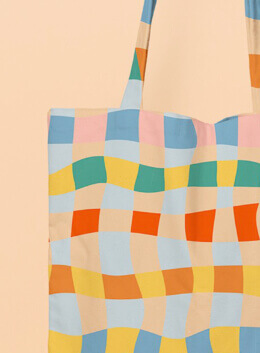 Artists looking to increase their income streams usually turn to selling merchandise that feature their art, but working with traditional business models can be a challenge to set up and sustain. With print-on-demand, artists like you can earn more without dealing with the enormous tasks of production, inventory, and shipment. And by using Creative Market's vast library of graphic design and digital assets, you can start a print-on-demand business that stands out.
Whether you're looking to make POD a side gig or a full-time business, you can take advantage of this lucrative and low-cost opportunity to expand your product line and income streams.
What is Print-on-Demand (POD)?
Print-on-demand is an e-commerce model in which your designs will be printed only as requested, with no minimum order. A provider will take care of printing on the products, as well as shipping them out. They use white-label items which are blank and "unbranded"; and can range anywhere from clothing, accessories, and stationery to office supplies, textiles, and home décor.
Common Print-on-Demand Setups
There are two common types of services:
POD fulfillment services, where you have to integrate your own website and do the selling while they take care of the fulfillment process; and
POD marketplaces, where you simply upload your designs and they take care of all the rest.
POD marketplaces are the easiest to use when you're just starting out. Simply open a storefront and upload your designs, then whenever a customer orders from your shop, a third-party supplier will print, pack, and ship out the products.
Although it's a low-risk and low-cost business model, print-on-demand usually allows only a small profit margin, albeit adjustable. So you will need to sell volumes to earn a return on investment. This also means you must aggressively promote your POD business if you want to do it full-time.
The good news is with print-on-demand you can make a steady income within your niche, and you can do so without putting out a lot of money upfront. You won't have to hunt down your own suppliers, buy in bulk, and then store inventory (which can turn stale when they don't sell). A print-on-demand business takes these off your hands and allows you to enjoy what you do best: create stunning art and earn from it.
How to use Creative Market assets for your POD business
With Creative Market's help, starting a print-on-demand business and marketing is easy. Under the new Print on Demand Finds tab, you can find illustrations, textures, icons, and templates that you can use to make your own designs. And if you need marketing materials, logos, mockups, social media, and business card templates can set your brand apart from the others.
But there are a few things you need to remember:
First, your chosen assets must be purchased with a Commercial or Extended Commercial License that covers up to 5,000 and 250,000 End Product Sales, respectively.
Second, under these terms, only you (the Licensee) have the right to use them for your print-on-demand business.
And lastly, you have to design your own original art with these assets—by editing, recoloring, and creating your own compositions—and no customer should be able to customize, download or alter these designs from your POD artist shop.
Define your niche and your audience
Armed with an understanding of the fine print on Licenses, you can freely choose the style you want for your POD business moving forward. Print-on-demand is a billion-dollar industry and is even more popular now as consumers are more inclined to shop online. As such you can expect a lot of competition, so it's important that you define your niche and your target audience.
Maybe you want to sell stationery featuring ethereal watercolor art. What about graphic t-shirts and posters that feature '90s nostalgia prints? Phone cases and tumblers with trendy abstract shapes; and stickers with cute retro icons? Think of a style with which your shop can be easily identified. This way, customers who resonate with your art can buy more items that revolve around their personal taste, and you avoid confusing potential customers who browse through your products.
Choose the right print-on-demand platform for you
Not all print-on-demand platforms are the same, and you should find one that suits your design and marketing strategy. Sites like Teepublic and Teefury are great for attracting customers who like graphic t-shirts; while Society 6 is still most known for art prints and posters, among its many products. A similar site, Redbubble offers a wide product range for a variety of consumers, which makes it flexible for different artists. Spoonflower, on the other hand, is a specialized POD platform for fabrics that crafters and designers frequent.
When looking for reputable print-on-demand providers, look out for the following basic features:
An easy-to-navigate website,
An array of products that also showcase your designs,
Suppliers that produce good quality printing,
A secure payment scheme, and
Reliable customer service.
Streamline your process with Creative Market's design assets
Let's try to use this retro-inspired vector pattern set to design print-on-demand products.
It includes more than 100 hand-drawn elements, as well as 10 pre-made patterns, all in vector and raster formats. Here I chose three different elements, changing their colors and orientation to make an original pattern. An all-over print like this would look great on clothes, as well as bags and linens.
I used a few more elements to create this original design for a sticker. I can also set this up as a placement print for a t-shirt or cap.
With a single digital asset, you can already create several original designs that will keep your shop fresh and current.
In many cases the more frequent you upload, the better you get promoted in a marketplace's front page, so design assets can really speed up your process. By tweaking your original design, you can offer product variations. Just be sure to make five at most, so your customers don't drown in options. You won't have to worry about drawing a new design from scratch each time, which makes for an efficient workflow.
Make your POD shop stand out
POD platforms normally have product previews of your design. These images can be used to promote your shop, but they are mostly static and set on a generic white background. To make your POD brand stand out and look professional, Creative Market carries a host of high-quality mockups that can bring your products to life.
Imagine your shop offers t-shirts and you want to sell to a demographic that likes to go hiking. You can use a t-shirt mockup that features hiking activities and scenarios.

Another example: your shop focuses on print-on-demand fabric. Instead of a flat fabric mockup, why not use dresses or pillow mockups? Those will help your customer readily imagine your products into their homes, and therefore bring you sales.

You can edit backgrounds, choose lifestyle shots that fit the mood your brand is going for, and reel in the right customers. Complete your branding with premade logos and business card designs that come in a spectrum of styles. And as you plan your social media posts, you can use templates to save time and create a coherent feed.

By designing a professional brand for your print-on-demand business, you can establish trust between you and your customers, and secure those repeat orders.
Starting a print-on-demand business is easy when you use Creative Market's graphic design assets. From branding to product design to promotion, all the tools you need to make your brand a success are just a search away.
Getting started with hand lettering?
Free lettering worksheets
Download these worksheets and start practicing with simple instructions and tracing exercises.
Download now!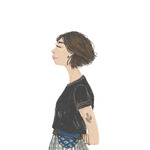 Palette Pursuit
I'm an illustrator and self-taught surface pattern designer, and I enjoy working with vectors with a hand-drawn style.
View More Posts