How to Boost Your Infographics and Presentations With Creative Diagram Templates
When you're communicating something complex, the right visuals make the difference between a memorable, high-quality presentation and yet another boring PowerPoint. It's not just about making something that looks good, the right images and infographics will increase engagement, aid memory retention, and add a professional look that helps you get noticed by your bosses, co-workers, and clients. Of course, I know what you're thinking: 'I don't have the time or skills for that!' Thankfully, with the right tools, you don't need to spend that much time to add visual flair to your next presentation or pitch deck. All you just need to do is purchase a template that has been crafted by someone who has spent that time for you. Creative Market shop owners have created hundreds of templates for PowerPoint, Photoshop, Keynote, and Google Slides that are perfect for this. This Business PowerPoint Template, for example, contains more than 100 unique custom slides in three color schemes:
All you need to do is choose the slides you want and then add your own information, and you've got a smart business presentation ready to go. It doesn't take any longer than creating a basic presentation from scratch, and it looks a lot better. You don't have to limit yourself to presentations, either. You can use a template any time you want to visually display information – in a report, as an image for your website, or even in your marketing materials (remember to check which license you need). With a little creativity, you can improve almost any written communication using these templates.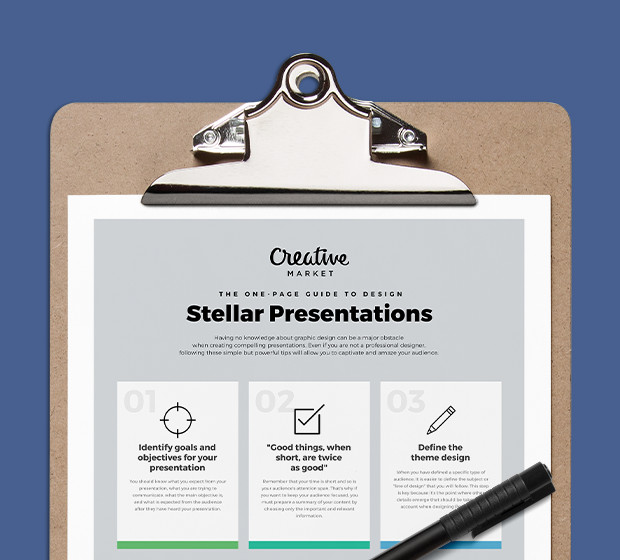 Here's the free guide you need
Make your next presentation your best presentation.
Grab this one pager with a summary of key tips to create a powerful presentation from scratch.
Download now!
How to Use Creative Diagram Templates
Getting started is easy; there's a wide range of templates you can use for creating presentations and images. Start by browsing the selection to find a template that is appropriate for your use (we've got some suggestions below) and compatible with your software, then download it. Remember to consider the audience: a set of slides that is created for a business audience might not work if you're presenting to children. Similarly, an infographic for a presentation will need to be simpler than one you might include in a report, because your audience will be further away and may struggle to read one with many elements. Once you've downloaded the template, you'll have plenty of options. Most elements will be resizable and editable, so you'll easily be able to pick out which bits and modify them for your use. If you want to get advanced, you can even combine your favorite elements from several different templates (if they all use the same software)!
If you've downloaded one of the larger packs, you'll probably be spoilt for choice. Remember that your objective is to communicate your information in the simplest possible way, so the fanciest layouts and infographics aren't always the best choice.
Recommended Templates
There are lots of templates available, so to save you some time we've collected five of our favorites:
Minimal PowerPoint Templates Bundle
If you've ever looked at the template packs included with PowerPoint and felt slightly underwhelmed, this template is for you. This highly-popular bundle contains a selection of 10 Minimal PowerPoint templates, each with all the slide designs you could need for a presentation. This set allows you to create a stylish minimalist presentation without being a master designer. The bundle includes infographic slides, process slides, team slides, maps slides, charts slides, infographics slides, and more.
MEGA EMPIRE PowerPoint + Keynote Bundle
If you only want to buy one PowerPoint template bundle, this could be it. With more than 21,000 slides included across many different styles, this has more than enough content to last a lifetime of presentations. Your only problem may be choosing which slides you want to use! This set includes 10 PowerPoint templates and 10 Keynote templets, including infographics, flowcharts, mind-maps, and tree diagrams.
Marketing Pitch Deck for PowerPoint
This marketing pitch deck is great for presenting to clients and investors. The set includes 60+ unique slides in 24 color schemes; enough to provide plenty of options, but without being overwhelming. All graphics are resizable and editable, and the set includes 450 vector icons.
ENTIRE SHOP – 1500 Infographics
This bundle contains more than 1500 infographics covering a wide range of topics, including business, marketing, education, social media, and strategy. The majority of the elements are fully editable in PowerPoint, Keynote, Google Slides, Photoshop, and Illustrator. The infographic elements include charts, timelines, maps, sales funnels, and arrows.
Gantt Chart – Presentation Template
Project timelines are often large, complicated, and a little boring, but that doesn't mean they can't be stylish. This template is great for keeping your team on track or for proposing a timeline to a client during a presentation. The template includes a range of timelines (one year, six months, four months, four quarters, and one week), and includes files for both PowerPoint and Keynote.
Conclusion
Your presentations, pitches, and reports don't need to be boring: incorporating stylish and professional charts and infographics is easy! Why not download a template and start improving your visual communication today?
---
Products Seen In This Post: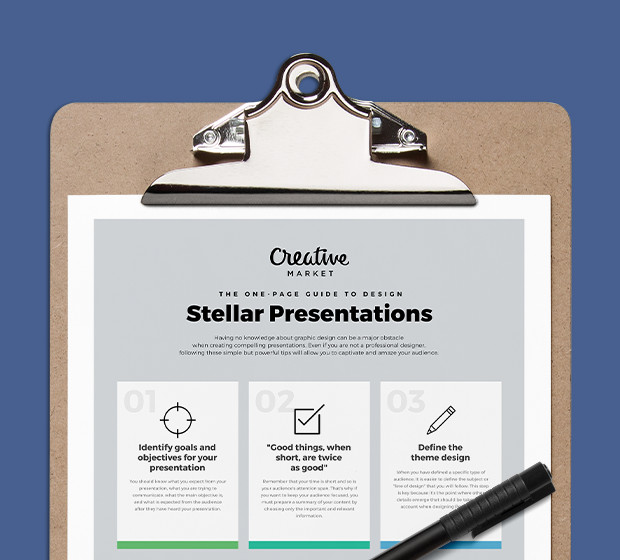 Here's the free guide you need
Make your next presentation your best presentation.
Grab this one pager with a summary of key tips to create a powerful presentation from scratch.
Download now!