Japanese Fonts that Celebrate the Land of the Rising Sun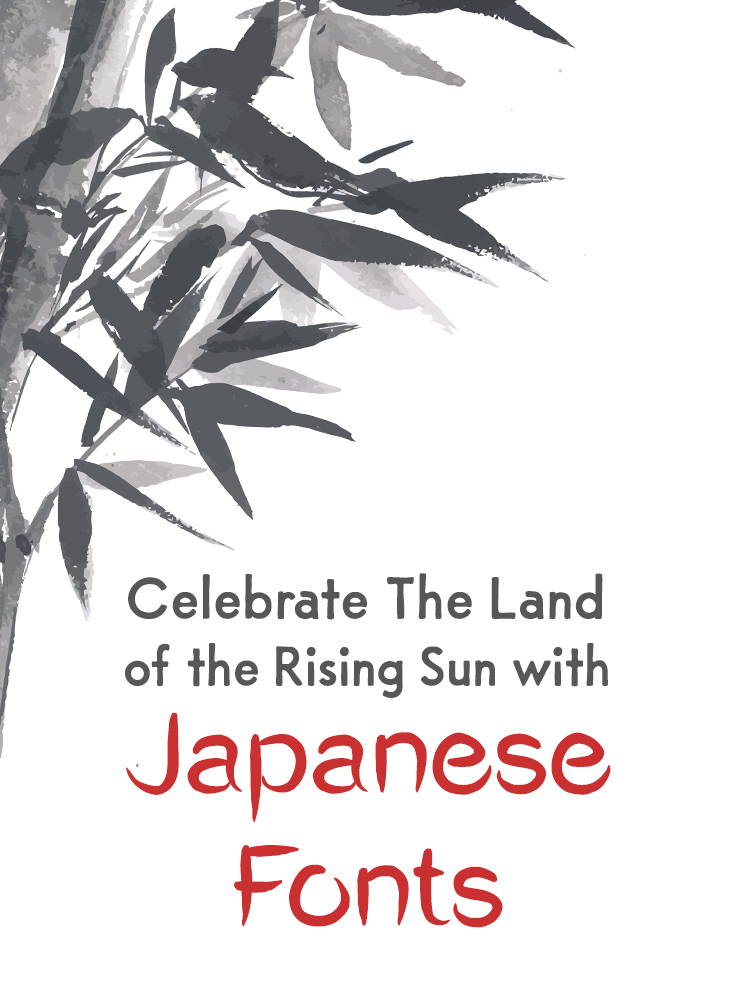 Japan can seem like a mysterious place to Westerners, but the island is home to some of the greatest foods, culture, and inventions in the world. It's impossible to cover all of the qualities that make Japan a fascinating place, but trust that Japanese lettering is among them. Fortunately, you don't have to learn calligraphy to enjoy this handwriting form. Typefaces inspired by Asian lettering make it possible to include this beautiful Eastern style in any document, poster, print project, or web design you have in mind.
Samurai Typeface
Inspired by the warrior class that existed in Japan from around the 10th century through the 19th century, this serif typeface by designer Vozzy offers a digitized variation on the familiar brushstrokes of Japanese calligraphy boasting elegant finials and spurs. Five styles are available in two file formats: OTF and WOFF.
Wakari
Wakari means "I don't know," and the name was chosen as designer Dismantle Destroy struggled to find an appropriate title for this clean and modern typeface. The angled lines and uneven crossbars give the letters personality without making this sans serif design harder to read. The font comes in four styles to add emphasis as needed to your project.
Daruma
Another option from Dismantle Destroy, Daruma is a softly curving typeface that conveys warning or garners attention with its chunky vintage style. This font would make a great choice for a title of a poster or invitations to a Japanese-themed movie night, thanks to the curvaceous counters and apertures and heavy weight.
HachiMaruPop
Sweet as soda and twice as bubbly, the HachiMaruPop typeface from NorioKanisawa will transport you back to grade school with its rounded, hairline lettering and kawaii style. This sans serif font family includes Chinese and Western characters to give you complete freedom to write in multiple languages.
OKAMI
The videogame quality, recognizable in the curved diagonal strokes and decorative squared-off spurs of OKAMI will make you want to host a game night or design a new app. This modern, all uppercase font family from Glyph44 works best when paired with bright, eye-catching colors and used for announcements or decoration.
Kayto Script
With easy, elegant brushstrokes, Kayto Script is both beautiful and accessible. Designer Dexsarharryfonts combined Western and Asian influences to create a unique style that looks handwritten in cursive (for lowercase letters), with gently arching stems, tails, and finials. The font pack comes with numerous character alternates for the ultimate in customization.
Fengo
Simple, clean and bold, Fengo strikes the eye as a welcoming font that's easy to read and suits a wide range of mediums. Created by Mostardesign Type Foundry, this typeface family includes several flourishes, swashes, arrows, and other characters, so you can achieve the perfect look for your web or print project.
Tokyo Typeface
Mimicking the look of a stencil, Tokyo Typeface has a strong geometric appearance inspired by Inkan Seals (signature stamps) and Asian characters. Designer Inspirationfeed created uppercase and lowercase letters that differ in width, rather than size and shape, and feature jagged diagonal strokes.
Wasabi
The whimsical weighted letters of Wasabi resemble brushstrokes only in the tapered ends and swirling open counters. The result is a readable sans serif that, like the Japanese condiment it's named after, can add flavor to any project. YandiDesigns created something simple and modern but with a kick of personality.
FancyHeartBK
The bubbly block lettering of FancyHeartBK has a cartoonish, or anime, feel, most noticeable in the heart-shaped dots atop the lowercase I's and J's. Fun and youthful, this font by NorioKanisawa would not look out of place in a manga, comic book, or graphic novel.
Japanese Handwritten Font
Wish you could type Western letters in the same style as Chinese characters? With this Handwritten Japanese Style Font by Fractal, you can. Each stroke of the letter has a brush-like line similar to kanji (Chinese characters) and sharp spurs jutting from the edge of every arm and stem.
YanchaPop
Appearing as if the writer lifted his pen with each stroke, YanchaPop's massive weight lettering features curved diagonal strokes and stiff–but not straight–stems for a balanced and playful sans-serif font that brings out everyone's inner child. NorioKanisawa pulled off a preschool-friendly option once again.
Yasashii
Created by Dharma Type, Yasashii's alternating bold and light diagonal strokes and stems evoke 1920s-era celluloid drama. Perhaps that's why the movie "La La Land" used a similar sans serif. Consider using this typeface for travel brochures, film marquees, or invitations to an event with a vintage theme.
Fujimaru Brush Font
Taking the description of brushstroke literally, Fujimaru by Nurrehmet Studio finishes off each terminal with a sweeping effect reminiscent of a paintbrush. The creative, informal font also includes breaks between shoulder lines for movement and activity, giving any phrase an energetic, almost aggressive feeling that best suits headers, titles, and block quotes.
Okashi
With its open counters and organic bowls, Okashi feels friendly and accessible, just like the "sweet" candies it's named after. Phitradesign Fonts created an effortless sans serif typeface with rounded finials that look good enough to eat. The entire family includes Western and Chinese characters as well as numbers, symbols, and language support.
The right font can make all the difference in design, and Japanese-style lettering instantly evokes certain feelings, experiences, and impressions. Stylish, ancient yet modern, and always profound, Japanese typefaces are beautiful and versatile, ideal for your next project.
---
Products Seen In This Post: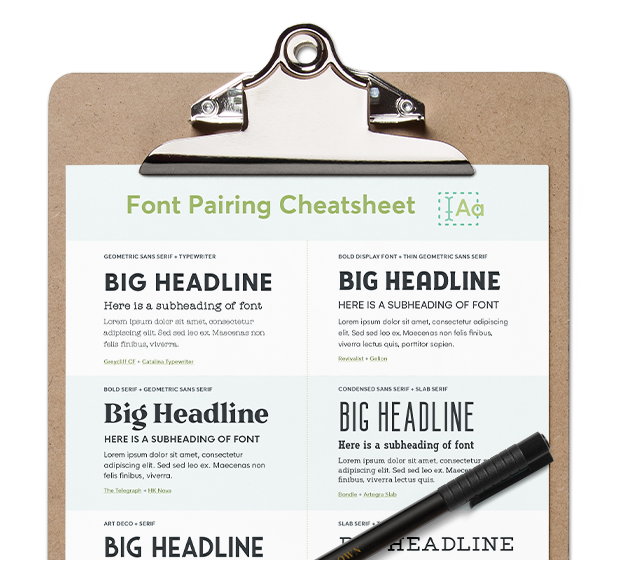 15 Pre-designed Font Combinations
Free Font Pairing Cheatsheet
We've curated a list of font styles that work well together so you can design interesting type lockups in minutes.
Download the cheatsheet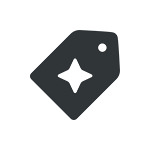 Creative Market