20 Lettering SVG Cutting Files for Your Next Silhouette Project
From lacy, elegant cut-outs to vintage-style cameos, silhouette designs in SVG cutting files add a handcrafted touch to all kinds of projects. SVG, or Scalable Vector Graphics, files can be scaled to various sizes without losing quality. SVG files and a similar file type called DXF (Drawing Exchange Format) are compatible with the software for popular electronic cutters such as Cricut, Silhouette Cameo and Brother ScanNCut. Here's a look at 20 unique SVG cutting files for projects ranging from scrapbooking to signage. Jungle Cut Files features 9 jungle-themed designs including a frog, lizard, and pineapple for projects such as greeting cards, scrapbooking and posters. Each design comes in 5 file formats including SVG and DXF, which can be used with most machines.
Faraway SVG Alphabet is a display style lettering cut file designed for craft projects such as cards, signage, and posters. The Faraway SVG Alphabet set includes a single SVG file with all letters included, as well as a bonus DXF file.
Created from original, hand-drawn designs, the Wedding Envelope Laser Cut Template set features lacy, floral silhouettes for celebrations such as weddings. The set includes envelope templates in SVG as well as EPS, AI and PNG formats.
Flower Cut Files is a set of 15 cutout flower designs for greeting cards, scrapbooking and other digital design projects. The set is available in SVG and DXF formats for most machines, and also includes PNG, EPS and AI files for other design projects.
Ideal for scrapbooks, stationery, collages and more, the Wedding Silhouettes for Crafters set includes 10 wedding-themed designs. Wedding Silhouettes includes all designs in SVG and DXF formats for popular cutting machines.
Hot Chocolate is an SVG cutting file of vector clip art for cards, holiday projects and more. The set includes SVG and DXF files for use with cutting systems, plus EPS and PNG files for print and digital.
Featuring old-fashioned mason jars, Mason Jar Tags can be used for projects like collages, scrapbooking and labeling. The Mason Jar Tags set includes SVG and DXF files for cutting machines, as well as PDF files for other kinds of design work.
You're My Person features swashy hand lettering in SVG format for projects such as mugs, shirts, and signs. The You're My Person set also includes files in PNG and JPEG format for other digital and print design projects.
Created with crafting in mind, Unicorn Letters is a fancy, swashy font for cards, invitations and more. Unicorn Letters also includes a set of individual letters in SVG format for most cutting machines.
The Spring Lettering Pack is a versatile set of spring-themed lettering and phrases as well as a set of vector illustrations. In addition to PNG and AI files, the set also features a full set of SVG and DXF files for use with cutting machines.
Featuring casual, hand-drawn lettering for photo overlays in blog posts and social media, the Food Lettering Overlays set also includes a folder of transparent PNG files for printing and SVG files for cutting.
Featuring words and phrases suited to the outdoor life, Adventure Lettering also includes a set of 12 vector illustrations and icons for posters, photo overlays, cards, and signs. Along with AI and PNG files, Adventure Lettering includes SVG and DXF files for use with cutting machines.
The Mandala Cutting File features six lacy, mandala-inspired frames for use as clip art and silhouettes for collages, invitations, and photo projects. All designs are available as SVG and DXF files for use with cutting machines.
The Crafting SVG Cut/Print file features a single, professionally typeset piece for mugs, bags, and totes. The set includes a PDF file for print and an DXF/SVG/PNG file designed for compatibility with most cutting machines.
A single calligraphy-inspired piece, Sweet Dreams features swashy lettering and a scattering of stars in SVG format suitable for mugs, cards, invitations and T-shirts. Sweet Dreams also includes files in PNG and EPS formats for digital and print.
The Valentine's Day Quotes Bundle includes 15 quotes for projects ranging from mugs, decals and scrapbooking to photo overlays, invitations, and social media posts. Every quote is individually hand-lettered and comes in both PNG files for print and SVG and DXF files for cutting.
Featuring Christmas quotes and vector images including snowflakes, baubles, and borders, this set was made for both crafters and designers. The set includes PNG, EPS, and AI files, as well as SVG and DXF formats for cutting.
"I Speak Fluent Sarcasm" is a professionally typeset piece for printing and cutting. Designed for mugs, bags, and totes as well as print display, the Fluent Sarcasm set includes both a PDF print file and a cut file in DXF and SVG formats.
Life is Better At The Lake is a typeset phrase with accompanying vector designs for both print and cutting projects. The set includes both SVG and DXF files for cutting, and PNG files for printing or for digital projects.
With SVG files and digitally driven cutting tools, you can turn shapes and letters into distinctive silhouettes for craft and design projects of all kinds.
---
Products Seen In This Post:
Getting started with hand lettering?
Free lettering worksheets
Download these worksheets and start practicing with simple instructions and tracing exercises.
Download now!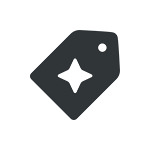 Creative Market