20 Inspiring Instagram Themes for Bloggers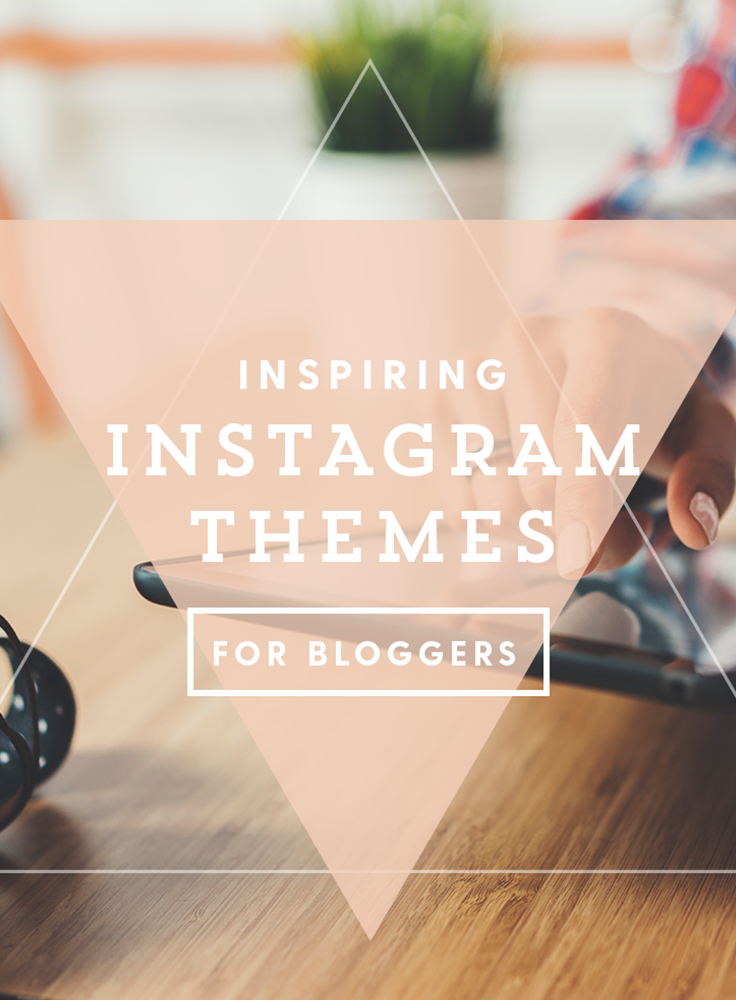 For all the attention that Facebook and Twitter get, there's no denying Instagram's popularity. This Facebook-owned social-media platform is unique in that it exclusively uses images to promote social sharing, thereby giving users an attractive feature they won't get with other social platforms. If you've perused your fair share of Instagram feeds, you'll likely have noticed that many look different from each other and boast their own distinctive style. In fact, people and brands who know what they're doing consciously incorporate Instagram themes into their feeds to heighten their aesthetics and memorability. Once you've decided which visual style works best for your brand, go ahead and download our free Instagram grid and moodboarding template to build a cohesive theme.
Design a cohesive Instagram grid

Get your free grid template

Download this kit to quickly export Instagram shots that match your brand's visual style. PSD and AI files are included, as well as a moodboard to display your brand's assets.

Download it now

If you're a blogger, you can get a ton of inspiration from following the right Instagram themes. Here are some of the best.
Pin this for later!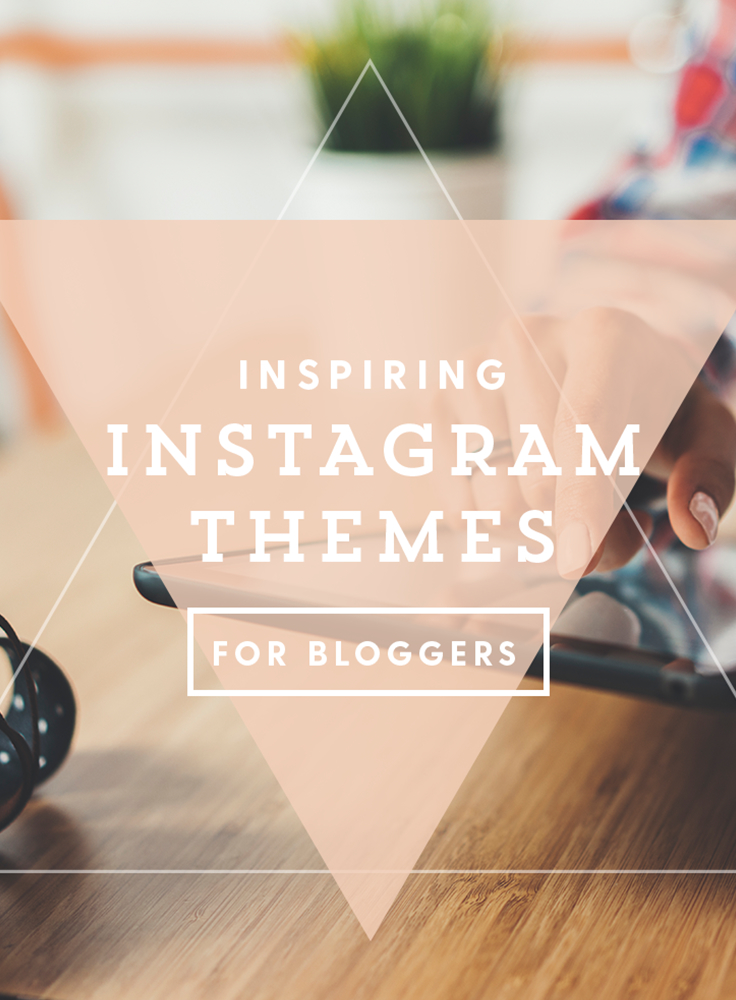 You may be a bit surprised to see Guns N' Roses' official Instagram account here. After all, they're a metal band that reached its heyday in the late 80s and early 90s!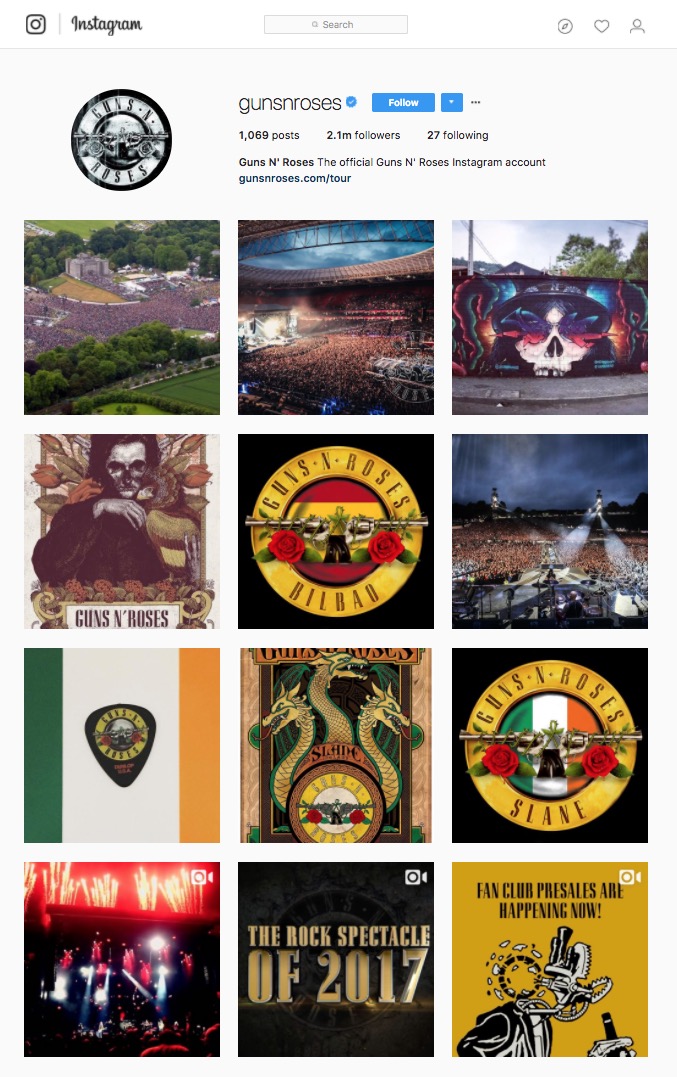 However, what their feed does so well is use darker colors and motifs (both metaphorically and hue-wise) to highlight the band's rebellious metal roots and its penchant for playing to large crowds at night, when most concerts take place. What bloggers can take away from this is that bright and vibrant colors aren't always necessary to create a popular online feed that features spectacular images and a large following. Here's a black texture sampler to make images a bit darker:
On the other side of the spectrum, we have the domestic goddess of all things home and the household, Martha Stewart. If the Guns N' Roses feed was darker, then hers is downright sunshiny.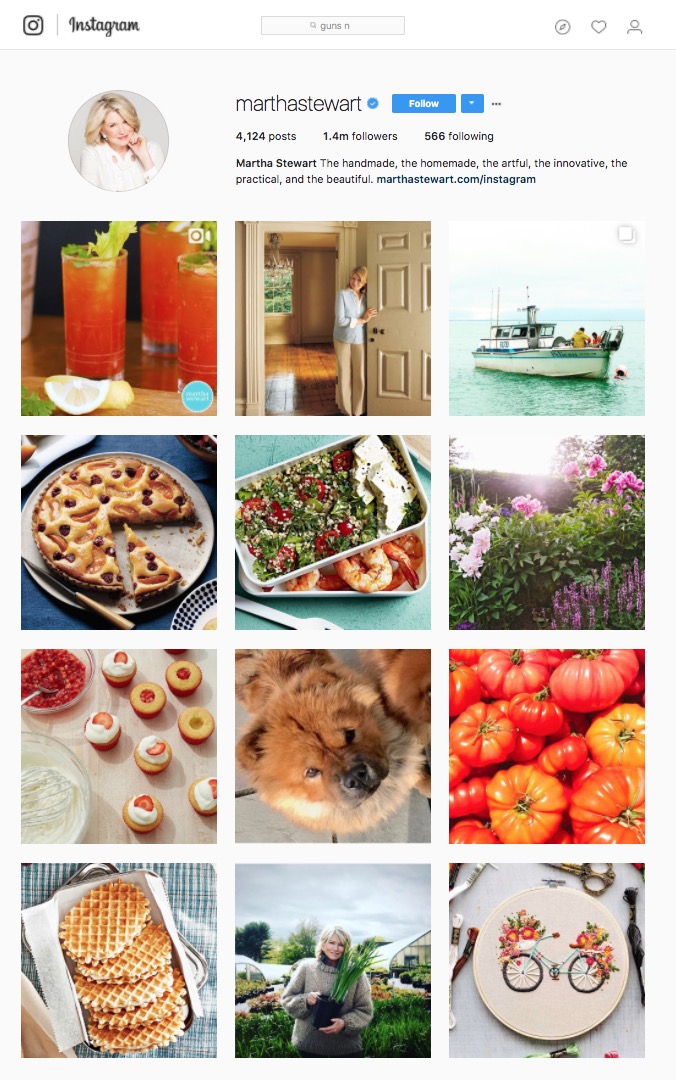 The common theme among all of Martha's posts is their focus on brilliance and luminosity. Whether it's a picture of beverages, a shot of a mouth-watering pie, or a fishing boat, you can always count on her images featuring a lot of natural light for an extremely optimistic look and feel. For bloggers, the takeaway here is that going with brighter tones and themes is also a metaphor on how to approach their content production. Check out these watercolor textures to help you make lighter and brighter graphics and images:
Cirque du Soleil's feed is truly a sight to behold, and I don't just mean due to the images of circus performers doing all sorts of insanely athletic activities. I'm talking about the feed's strategic and intentional use of cooler colors to create a soothing and relaxing experience when perusing its feed.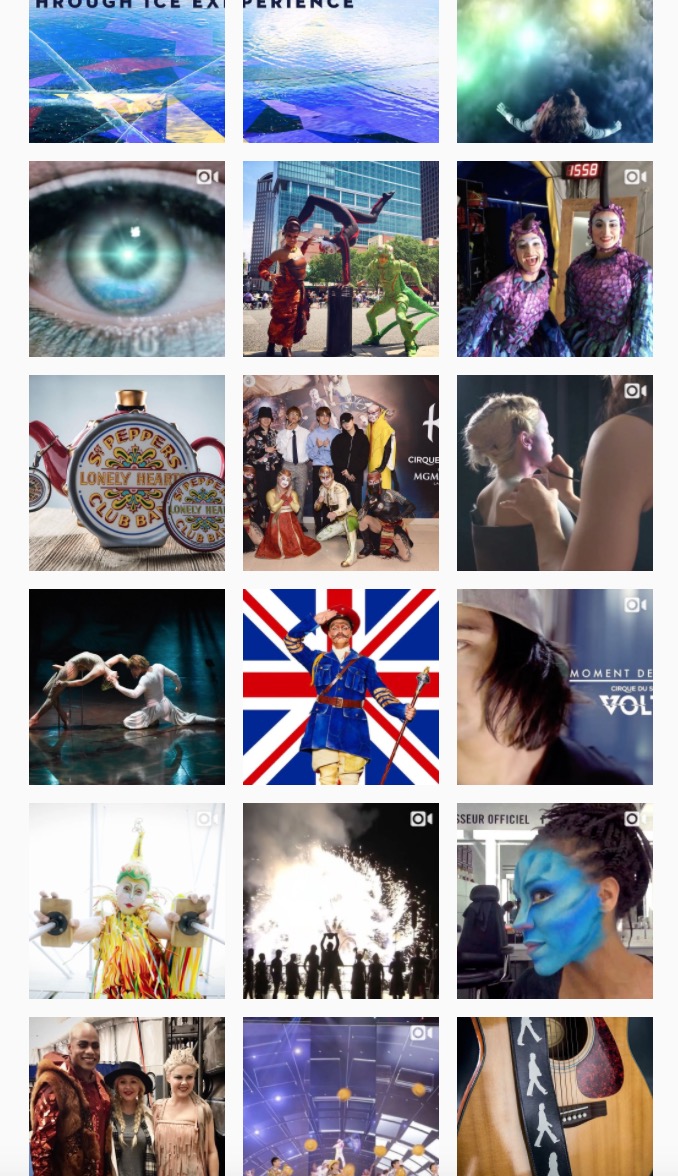 Not only is its logo a calming, blue, smiling sun, but the company's use of cool colors on almost every Instagram image is indicative of its aim to bring soothing and calming grace to each and every performance. Bloggers take note: the implementation of cooler colors on your own blog creates a more inviting and calming effect, thereby helping to attract more readers. Here are some cool watercolor pattern backgrounds to help you get the same look and feel: 
This vaunted and long-standing French maker of prep clothing utilizes white space very effectively on its feed to showcase its classic, crisp, and neat clothing to great effect.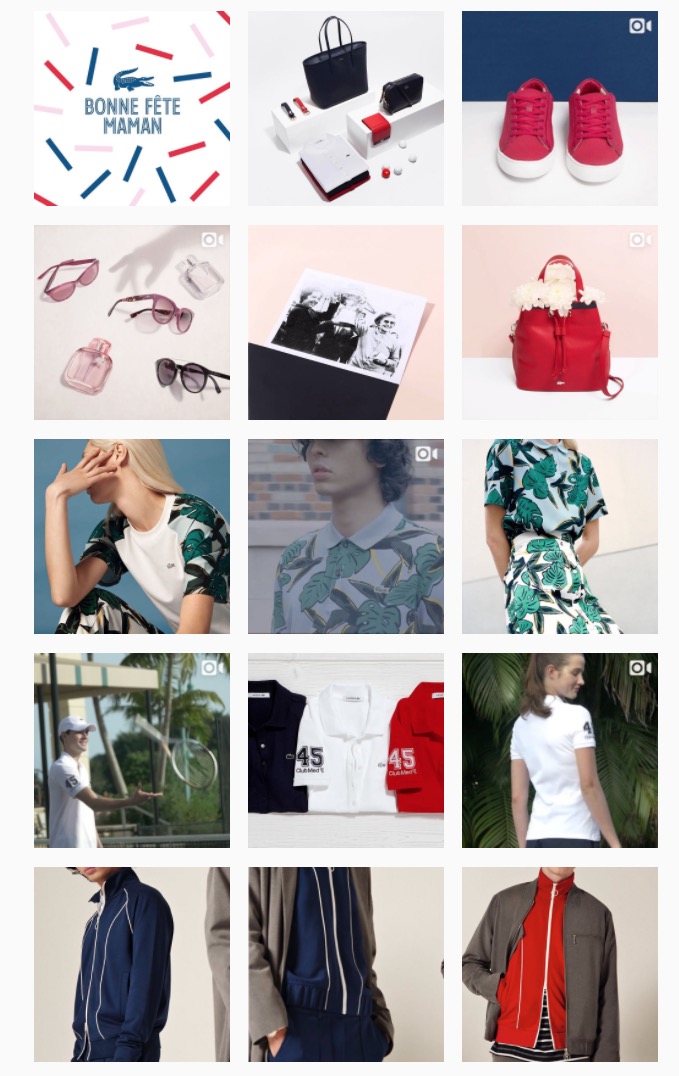 Here's a quick primer: white space doesn't have to be white, per se. In fact, it's also called negative space to simply denote the area around as well as between the subject in an image. It highlights the subject with greater urgency, as a result. Take a look at Lacoste's feed, and you'll see numerous images of classic and timeless sneakers, polo shirts, and sunglasses all being surrounded by this white or negative space. For blog formatting, nothing beats the use of white space to make your content stand out with greater clarity. Use this cracked white paint picture as a backdrop for your subjects to heighten the white space effect: 
Whole Foods' feed is best described by one word: vibrancy. That's because all the shots of delicious, organic and nutritious food on its feed are bursting with unbelievable colors and richness.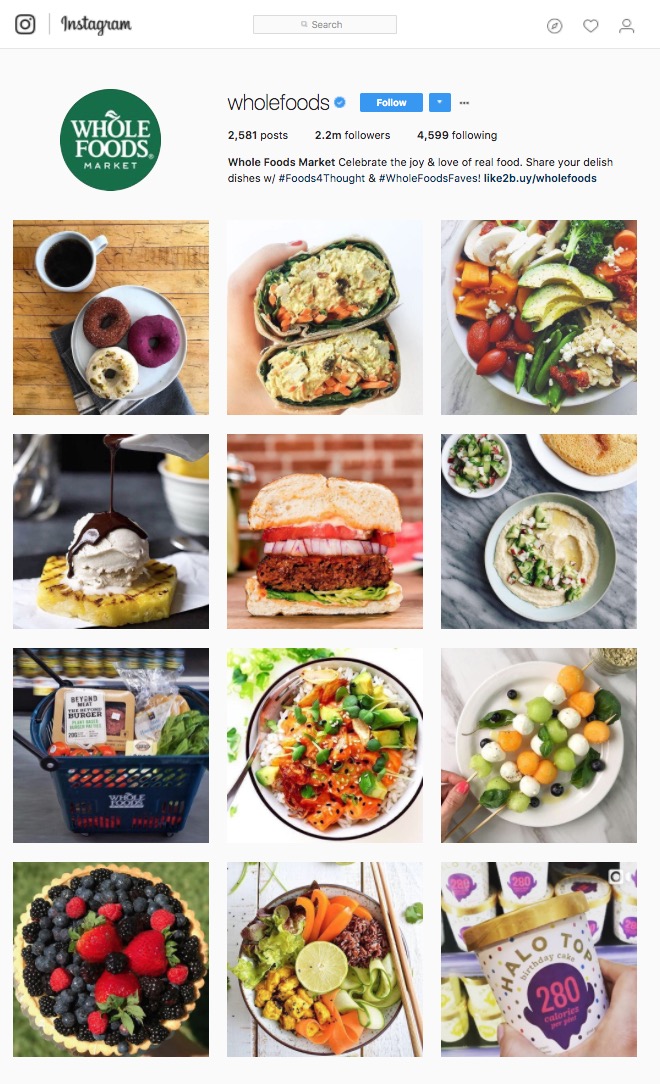 The company's take on food photography is so striking that you'd be hard-pressed not to reach right into your smartphone and try to take a bite of one of these delectable morsels! Any shot—whether it's ice cream, donuts or burgers—comes to life with an unmatched vibrancy. Bloggers will note that imagery is an important part of any successful blog since readers are very visual. By including stunning imagery on your blog that just jumps off the screen, you can attract more visitors. To add some vibrancy to your images and graphics, see these vibrant gradient blurs: 
The Food Network's Iron Chef seems to be fond of using certain filters for his Instagram feed, especially the Crema filter. It's especially popular for shots of food and gives food photography a certain vintage look that ends up desaturating the images.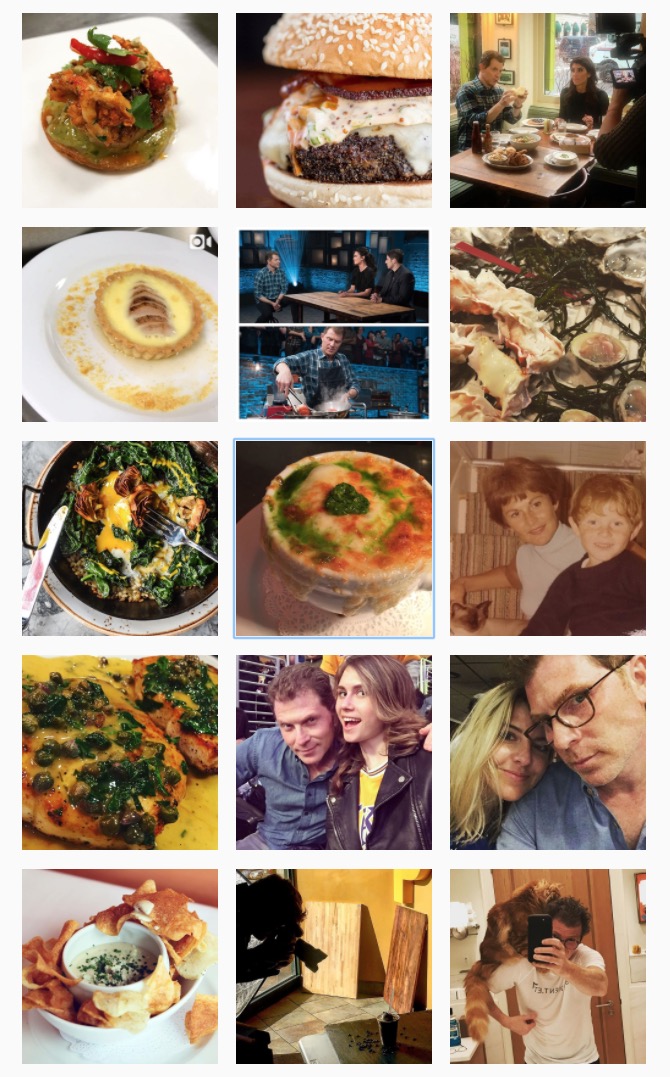 Go through Bobby's many food shots, and you'll see that he's fond of posting shots that aren't as colorful as they normally are and seem kind of hazy and even washed out. To be sure, this creates a feed that's instantly memorable because it gives viewers something different to look at. Being unique in this fashion is also something that bloggers can take inspiration from by creating content that throws a bit of a curveball at readers. We all remember Lauren Conrad from way back when she was on Laguna Beach: The Real Orange County and The Hills. Since then, she's become a really wealthy and successful entrepreneur selling fashion lines and becoming a published author.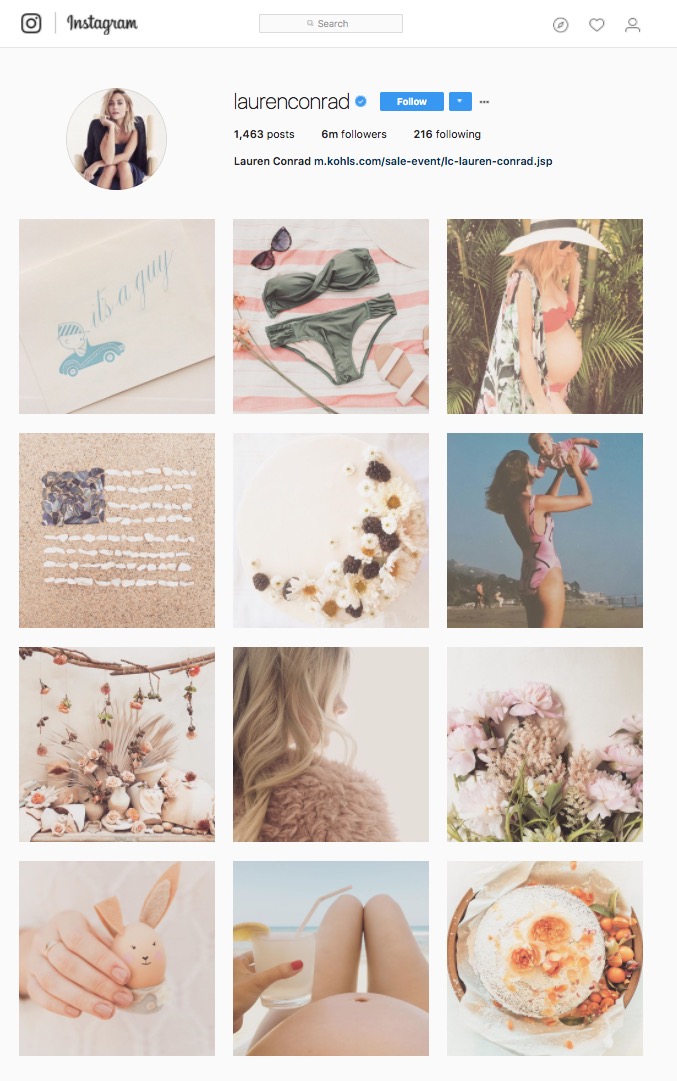 Her Instagram feed reflects this understanding of business savvy in its use of a consistent theme that makes references to her sense of style. Peruse her various posts, and you'll notice a hazy effect and an overall warm tone throughout her feed. This hazy and warm theme creates an inviting and welcoming feeling. Make your own designs a little bit warmer with these warm watercolor polka dot patterns: 
Think Alex's feed is simply all about nature and outdoor photography? Nope, think again. In fact, look closer, and you'll quickly see that a lot of images in his eye-catching outdoor photographs use reflection. This theme is repeated quite frequently among his images.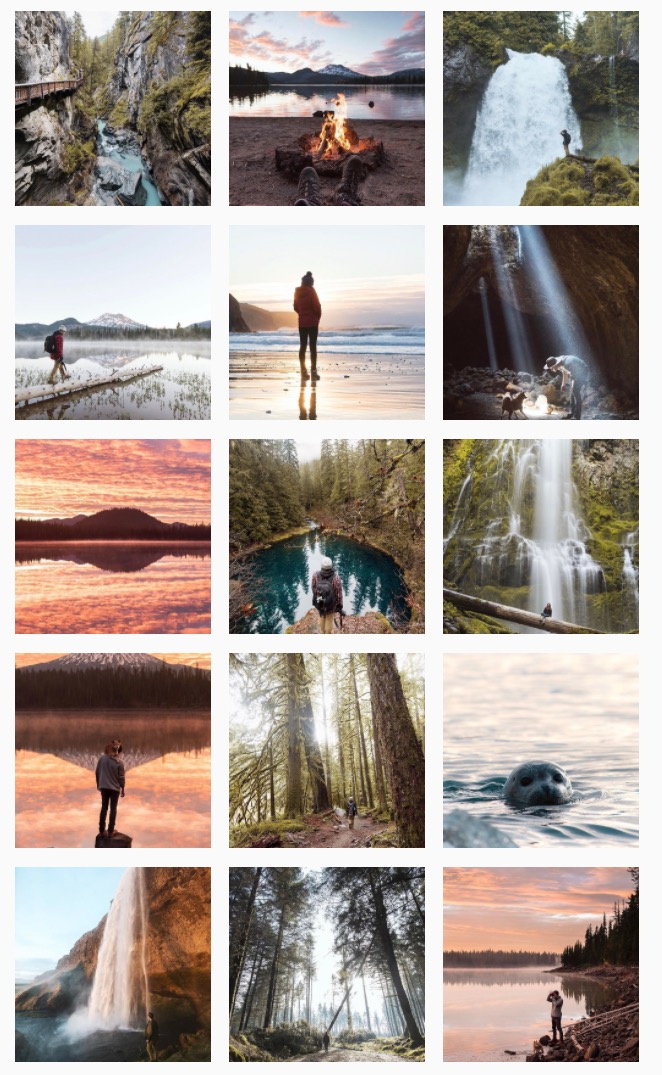 Reflection is a technique in photography, and Alex's continued use of it throughout his feed's images is telling. Not only do they boast of good skill, but also tie together his entire Instagram experience. Takeaway for bloggers: if you have the chance to demonstrate a unique skill in your writing or content production, then go for broke. Get some more reflection themes in your Instagram feed by choosing from our large selection of reflection photography. If this feed doesn't instantly make you want to drop whatever you're doing and go on vacation, you're working too hard. Conde Nast's feed is best described as piercing, in the sense that it features image after image of piercing shades of the water and sky, perfect for destination photos.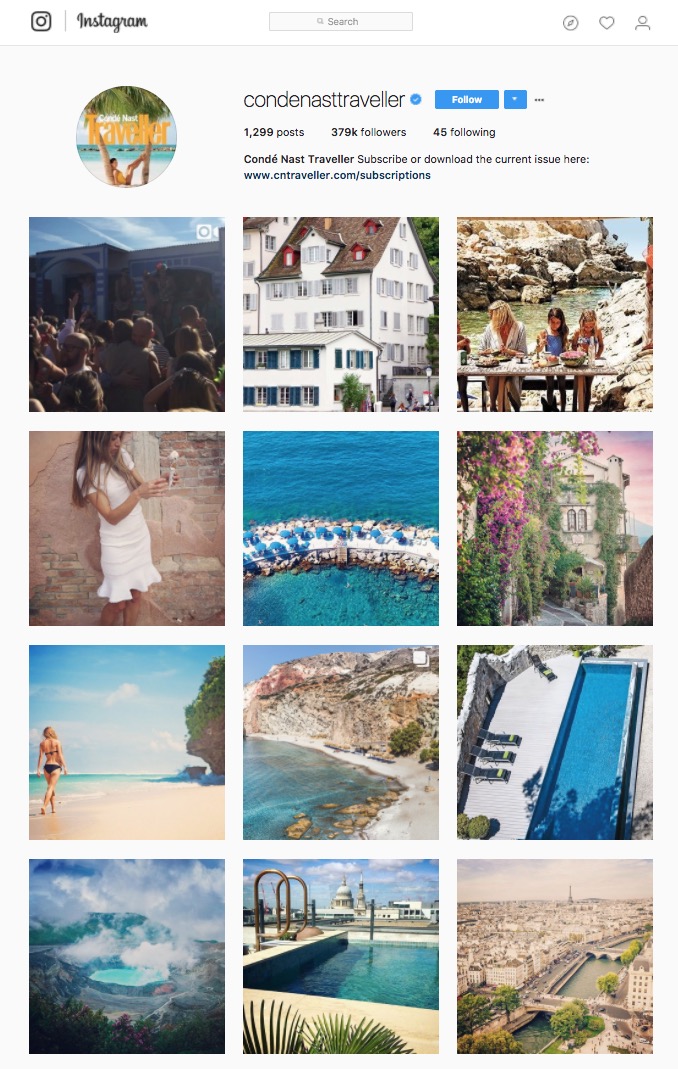 It doesn't matter if it's aerial shots of pools or beaches or pictures of the horizon line; this feed's piercing blues of water and sky will make you long for vacation time. Again, for bloggers, images with content is such an important combination. Take note of this feed and how effectively imagery is used to sell locations and the entire feed. BMW's feed has an abundance of curves as its big design theme. Whether it's the smooth angles of its cars, the shape of the steering wheel, or even just the road on which its vehicles drive, curves are well-represented in this feed.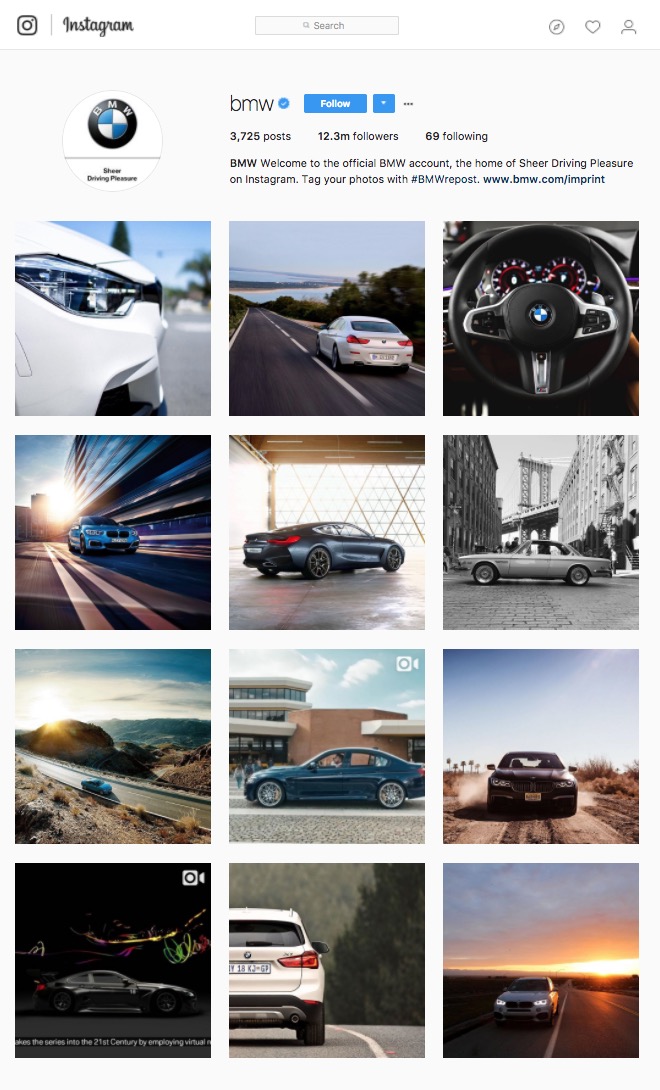 All of this comes together to highlight the sheer driving pleasure of getting behind the wheel of a BMW, which is good marketing from a social-media perspective. BMW's feed gives its viewers lots of sleek and smooth things to look at and admire, as a result. While this may be a bit challenging to apply to blogging, the same principle applies: Give your readers copy, content, ideas or images that are cool and that they won't see anywhere else. Add more curve imagery into your Instagram feed with this curved bridge photograph: 
We all know Pantone as the global standard for color communication. Its feed is incredibly clean in its presentation as well as the individual images in every post.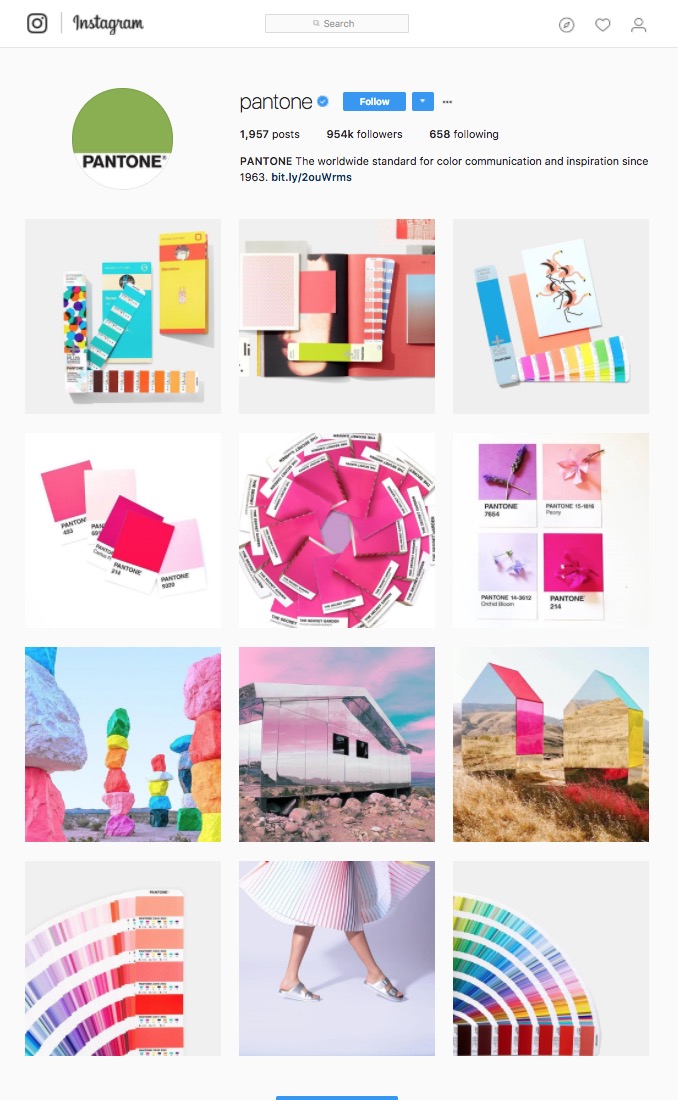 The focal point or subject of each image is well-defined, and there's no background noise or clutter getting in the way of each shot that can distract its audience. This hyper focus on cleanliness is a breath of fresh air, but isn't too surprising coming from a company that prides itself on being the authority of color systems. Pro tip for bloggers: neatness counts and presentation matters, so take pride in your own blog design and layout and make it as clean and crisp as possible. These clean & crisp photo actions can help you turn your ordinary images into something more: 
This specialty cable channel's forte is showing timeless, black-and-white movies. If you've ever watched the channel, you know that it specializes in showing fares like Waterloo Bridge and Gone With the Wind.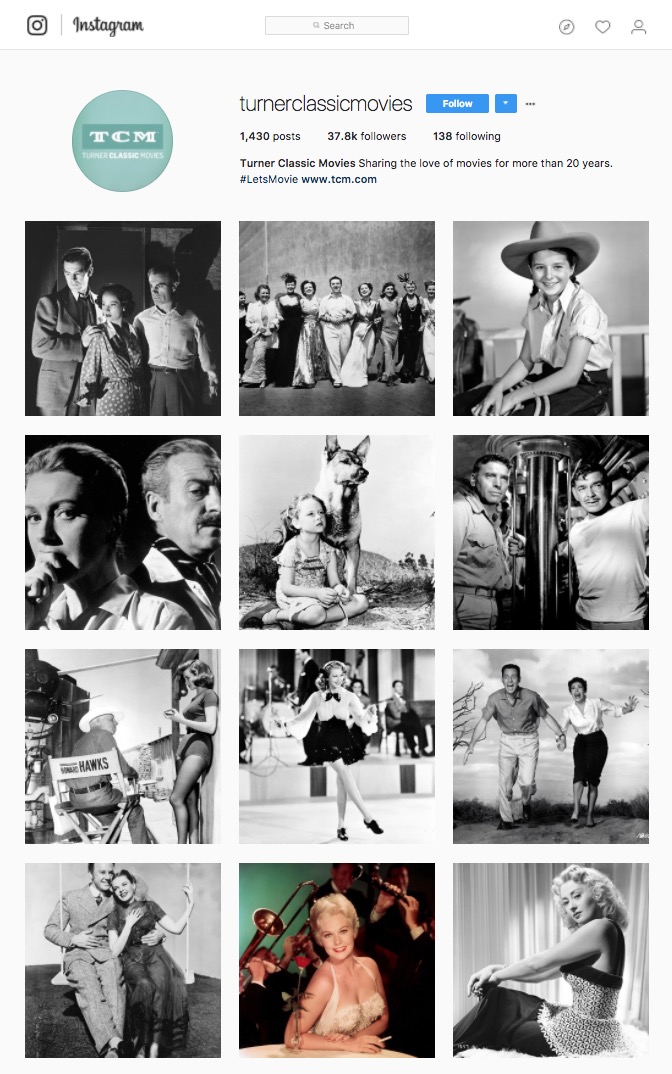 Its entire feed is in keeping with this motif, which makes for excellent branding on social media. Each post is essentially a still of an old-time movie screening on the channel or an actor from Hollywood's golden age whom TCM is profiling. While exclusively black-and-white content is a bit hard to pull off on a blog, it's still interesting to note how images come alive and become more memorable when you remove all their colors. Go classic by turning your pictures into black-and-whites with this black and white Photoshop action suite: 
This Colombian maker of bathroom fixtures such as sinks espouses a glorious minimalism on its feed. Every image is meant to highlight the specific product on display, which is why most pictures usually feature a toilet bowl or sink and only a solid-colored background.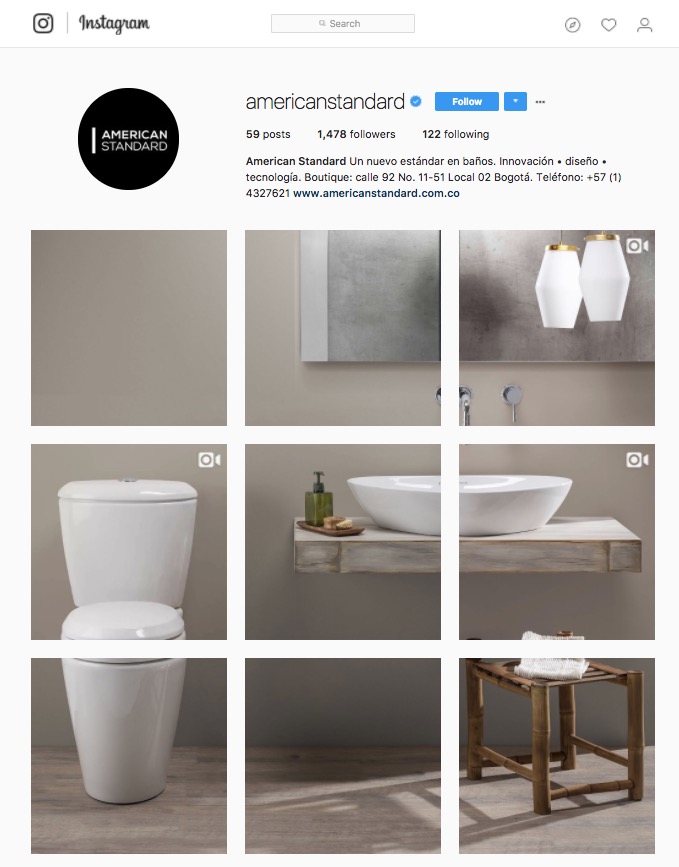 Perusing the feed, we see that these everyday bathroom items that people take for granted become the starting point of this company's Instagram. From a marketing perspective, it's a simple-yet-effective tactic, as minimalism ensures that your audience won't focus on anything else. The takeaway for bloggers is that less is more. Incorporating more minimalism in your blog design helps your content stand out more. Cable news channel Fox News broadcasts a lot of debates, interviews and commentary, so it features the comments of many newsmakers 24/7. So what does FNC do to add a funky and unique design to its Instagram posts? It features many quotes from various newsmakers it brings on its channel.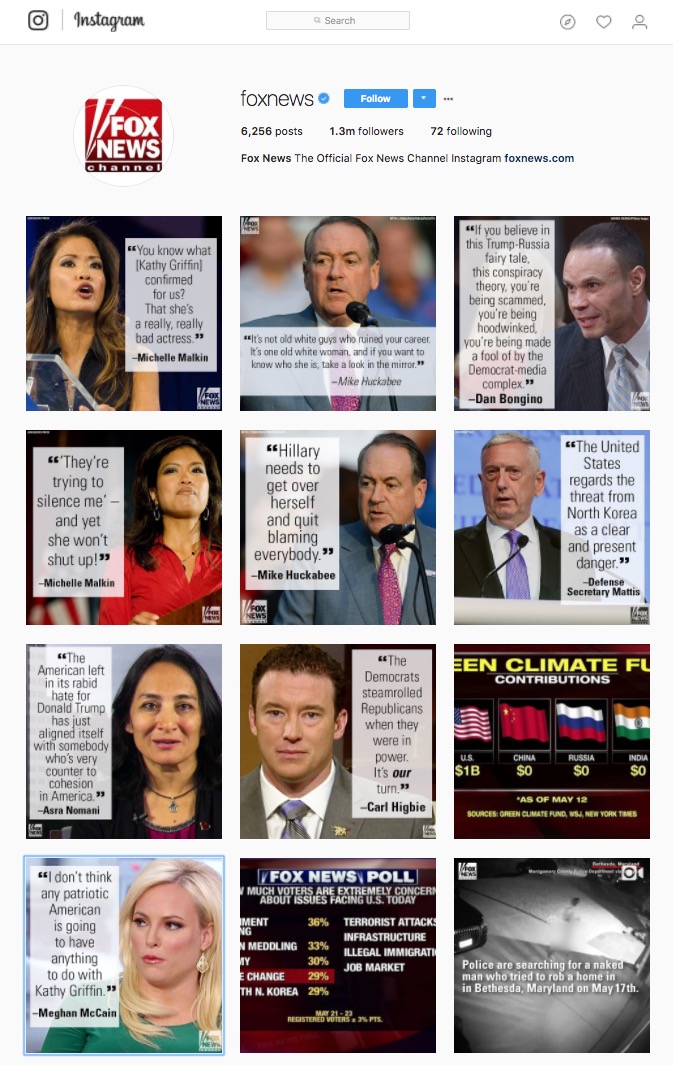 The result is an aesthetically different feed that is composed of posts that are almost exclusively the picture of a newsmaker and a quote from him or her. Social media best practices recommend the use of quotes on social media, so long as it aligns with your brand. Every now and again, bloggers may want to feature quotes from influencers in their industry on their blog, as a way of changing things up. Check out these Christmas overlay quotes to bring some quote magic into your content: 
Polaroid is known for instant snaps and its longevity in the camera business. Every time you take a picture with a Polaroid, out pops a photograph very quickly.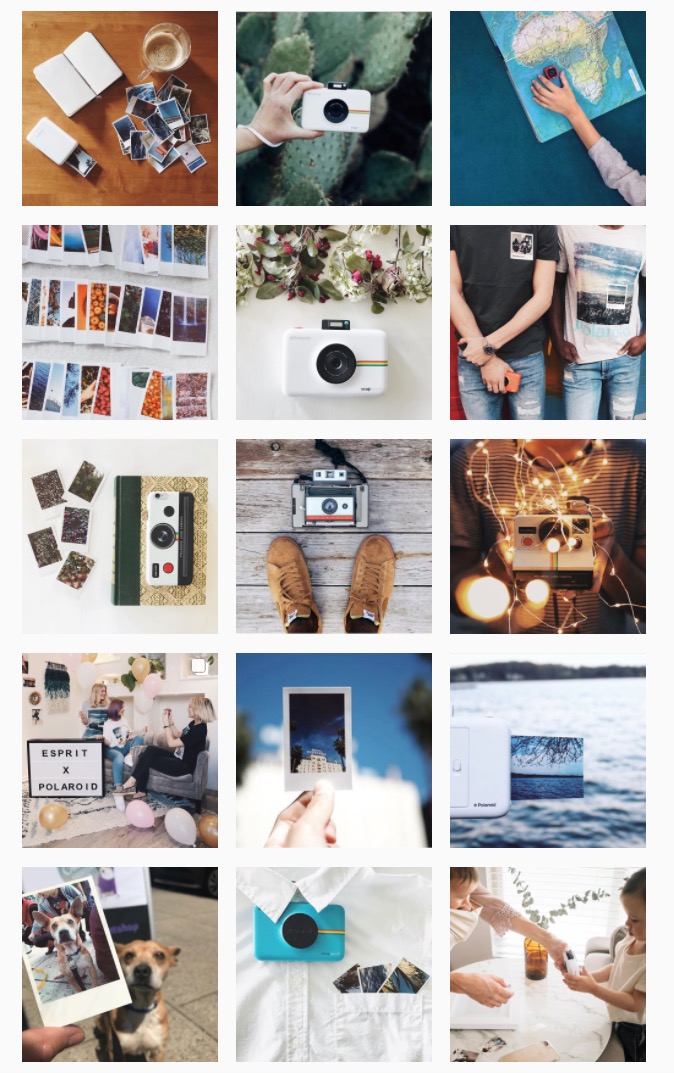 Polaroid's feed is full of the fruits of its labor, its instant pictures. Many posts feature people holding Polaroid snaps, instant snaps laid out in an arrangement, or even just carelessly strewn about. Design-wise, this begins to resemble a certain card-based theme in the overall design of its feed. Bloggers considering how to lay out their own blogs may want to take a closer look at card-based design, a grid pattern that arranges content cleanly and in good order. Happily Grey is Mary Seng's fashion line. This feed is immediately noteworthy for its reduced saturation. With less color in each of her Instagram posts, the grays become way more noticeable, thereby also tying in nicely with the name of her Instagram account.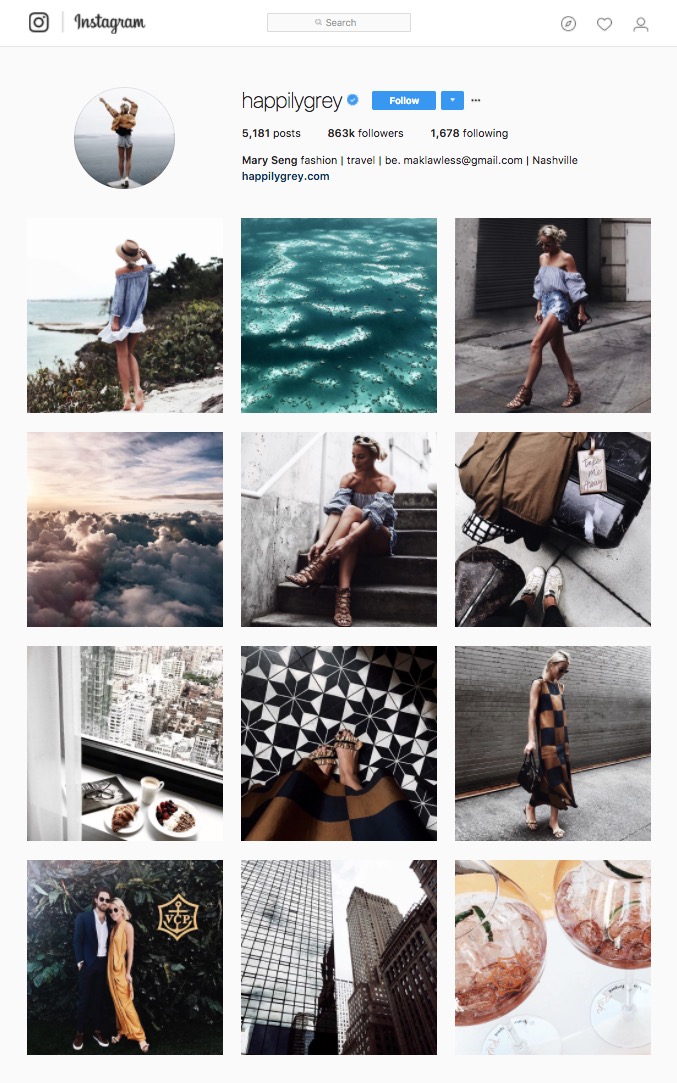 No matter how varied her shots are, therefore—of the floor, her shoes, the view outside a high-up window, out on the lake—they all feature a gray hue, creating a theme that immediately stands out. While not really monochrome, making the gray colors come alive in the feed shows the beauty of using a neutral color in one's feed. This back-to-basics approach is something bloggers can copy, too, in a sense, with content that reinforces something basic and simple that's all too easily forgotten. Have some fun in turning down the saturation with these gray watercolors and splashes: 
How's this feed for a crazily unique Instagram experience? Aptly named, it features an obsession with aerial photography of floors of all kinds—which showcases an unending series of visually stunning patterns in each post, almost like a collection of mosaics.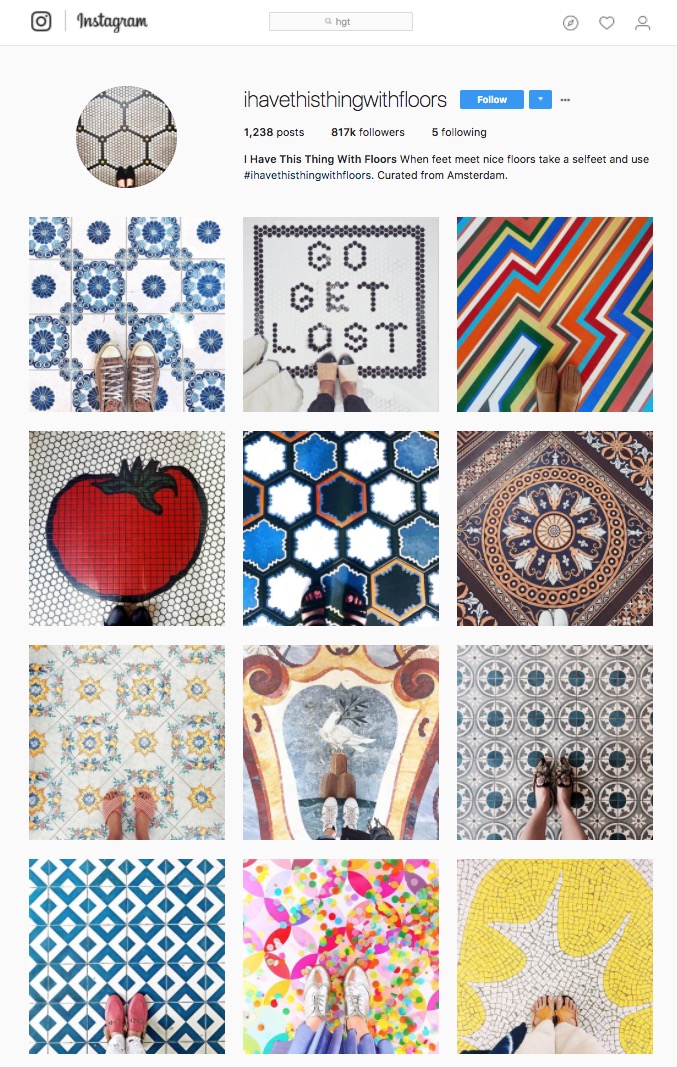 Here, you'll feast your eyes on squares, hexagons, floral patterns, and everything in between. It's a veritable cornucopia of patterns. Bloggers take note: Sometimes, the best blog posts are simply those that give your readers something visually striking to see and appreciate. With these linear patterns and frames, you can also incorporate some eye-catching patterns into your designs and projects: 
It's probably not that surprising that this feed specializes in architectural images, but the common bond is bold and makes for an instant impression. Whether it's exterior or interior shots of homes and structures, this feed specializes in showing off strong, bold lines.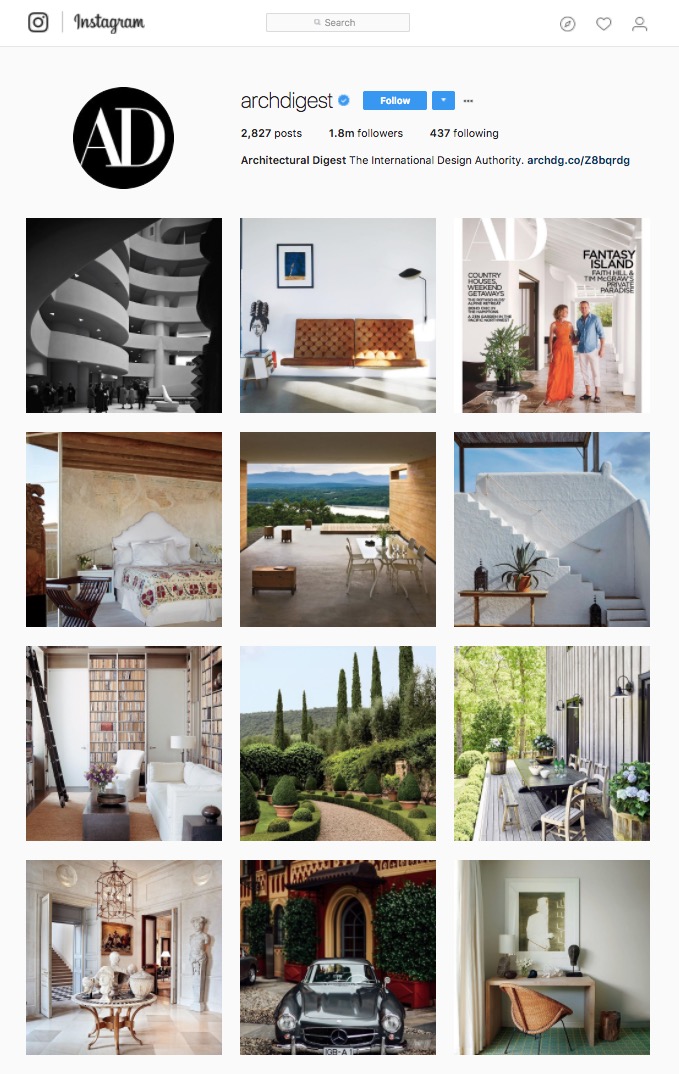 See all sorts of clean lines in anything from indoor shots of foyers and furniture to sun-drenched images of exterior staircases and ceiling-reaching bookcases. For bloggers worried about their blog's layout, it just goes to show you that, sometimes, using strong design choices makes for a lasting impression that really draws the eye. What better way to draw your readers into your content? Here are some lines and waves in patterns for use in various projects like images and designs: 
Levi's Vintage Clothing feed is a celebration of everything vintage, not just in how the shots are taken, but especially to showcase vintage fashions, environments, and styles. Peruse the feed, and you'll quickly be greeted by clothing such as ripped work jeans, 70s-inspired jackets, tassels and prints, and T-shirts.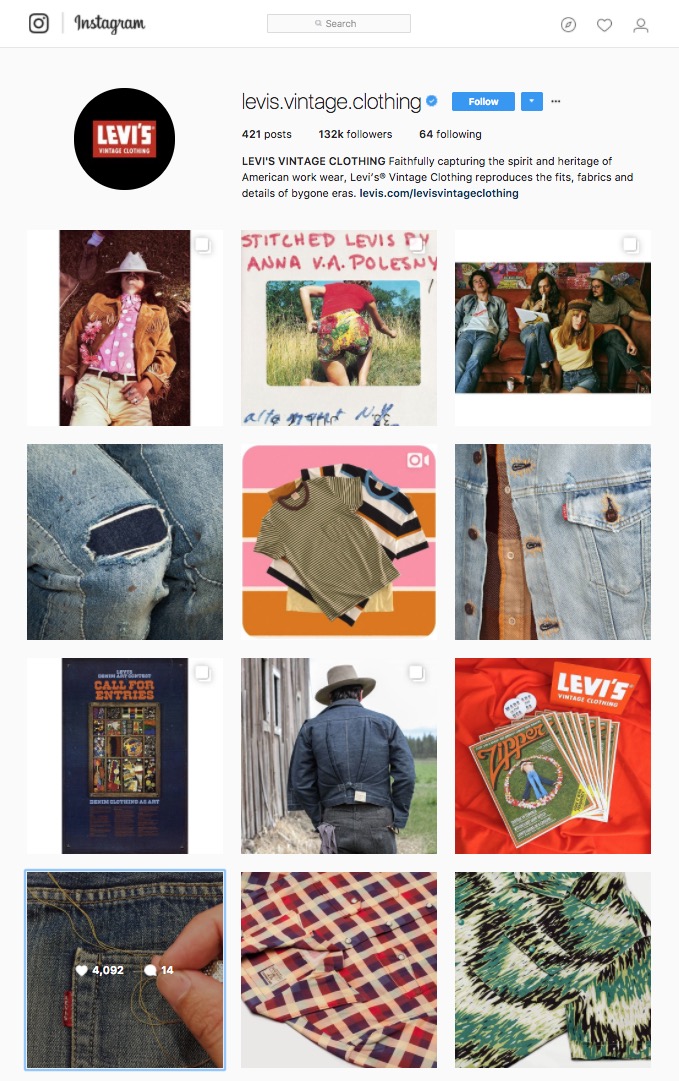 Many images also have filters applied to them to make them look grainier and more faded, helping to emphasize the entire vintage motif of this feed. Altogether, the feed makes it hip to go vintage again, even in the 21st century. It's also a reminder that ideas and concepts from a bygone era can always make a comeback and gain popularity in contemporary times. As far as blogging goes, that can mean anything from reposting an older, classic post to promoting an idea or opinion that many thought was dead, but isn't necessarily so. Check out these vintage overlay textures that you can use for your images, illustrations, and other projects: 
Former TV presenter and now lifestyle bloggers Mariana Hewitt exemplifies a two-pronged approach to an Instagram theme. Look closely, and you'll see her feed full of flatlay images (read: images shot from above and typically displayed on a flat surface as a background) and portraits of her.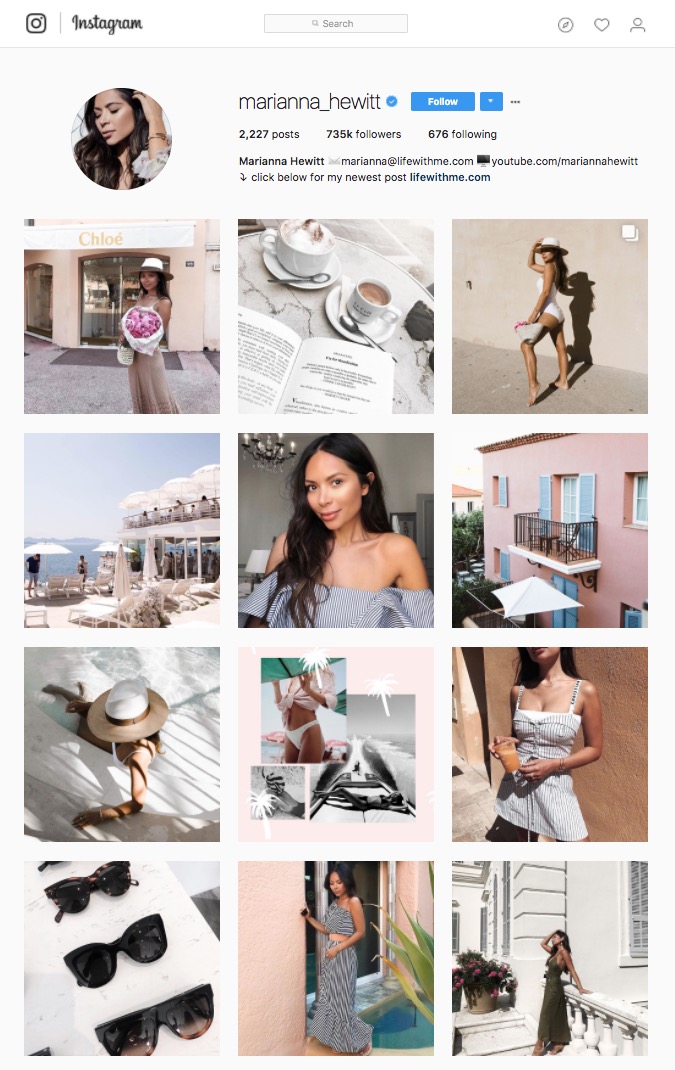 Overall, this makes for a very easy-on-the-eyes and accessible feed that also showcases comfort with simplicity and straightforwardness. In essence, her feed is all about her…and the things (foods, objects, locales, etc.) that she likes to enjoy. It's an effective way to showing one's personality. Even in blogging, it's possible to focus on yourself and the things you value most. Writing more of yourself into your own content is an ideal way for you to let your own personality shine through.
Get Yourself Noticed
Themes are the surefire way to make your Instagram feed immediately stand out from the millions and millions of accounts on this social platform. The great thing about them is how versatile you can be with them. Use colors, photography techniques, design, and special overall touches to take your Instagram feed to another level beyond the ordinary. With so many possibilities in the way of theming, how you make your feed look and therefore how you brand yourself is really only limited by your own creativity. So take some extra time to decide how exactly you want your feed to look and what you want it to say about you. While you're at it, take some further inspiration from our large selection of Instagram-related products.
---
Products Seen In This Post:
Design a cohesive Instagram grid
Get your free grid template
Download this kit to quickly export Instagram shots that match your brand's visual style. PSD and AI files are included, as well as a moodboard to display your brand's assets.
Download it now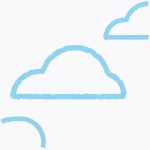 Marc Schenker
Marc is a copywriter and marketer who runs The Glorious Company, a marketing agency. An expert in business and marketing, he helps businesses and companies of all sizes get the most bang for their ad bucks.
View More Posts