Office Design: 20 DIY Tutorials for a Happier Workspace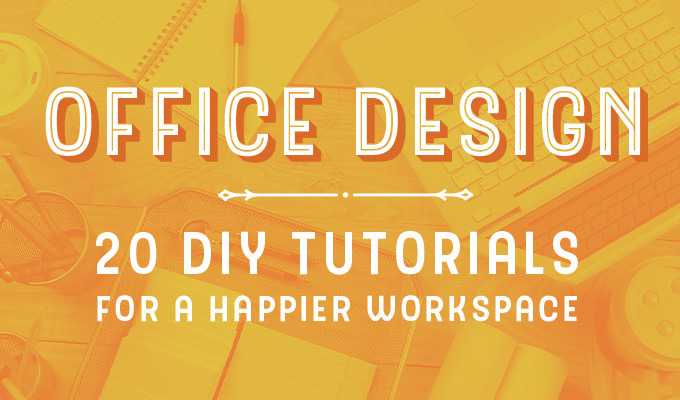 Creative workspaces have a big impact on how you feel about the work you're doing. If you change your home office decor, you may find that your motivation and productivity make a big leap forward. Browse through the 20 creative office ideas we've curated here, and imagine how they could transform your own home office.
YAY Wall Art
Give your creative office a boost with these charming lightweight plywood letters. On her site, Vintage Revivals, decorator Mandi gives a tutorial on how to create this professionally sleek look. You'll need a jig saw and some thin plywood underlayment pieces.
Rustic Shiplap Wall Makeover
Take your office from plain to rustic-chic with the application of a new wall covering. Jill of Jillify It gives simple instructions for applying strips of maple plywood over the existing wall. A coat of antique white paint completes the look.
Sequined Showstopper
Who doesn't love a little flash and dazzle in their office space? Pick up some gold sequins, spray paint, foam board, pins, and you're good to go. Classy Clutter shows how to surround your inspiring word with pure gold.
Pretty Penny
Pennies may have more value as decorative objects than currency these days. Rebecca at Crafted Sparrow shows a super-easy way to give texture and character to paper-mache letters. A jar of change, some paint, and glue will get you started.
From IKEA to Chic
The application of some decorative woodwork turns an Ikea table into a stylish office desk. DIY crafter Kate Steuernagle shows each step of the transformation. All you need are a few pieces of wood and some confidence.
Succulent Phone
A succulent or air plant growing right out of a hot pink rotary phone is one office accessory guaranteed to lighten your mood. Jenni at I Spy DIY shows you exactly how to take an old thrift-store phone apart and replace its innards with potting soil.
Organization Mini-Command Center
Office decor begins with your working tools, and this discreet command center fits into a corner and keeps them all together. Jenn Menteer at My Fabuless Life shows you strategic arrangements of a few clipboards and picture frames.
Copper Pipe Icosahedron
Who would have thought geometry could be so stunning? This light fixture built from copper pipes can be made for a total investment of $50, and Brynne Delerson at The Gathered Home totally demystifies the math for you.
Wall-Mounted Kraft Paper Roll
If your office is also a studio, you probably have a thousand uses for a roll of brown Kraft paper. But where do you stow that unwieldy cylinder? Pick up some Ikea shelf brackets and miscellaneous hardware, and follow this easy tutorial from Kim and Scott at Yellow Brick Home.
Vintage Locker Bins from the Dollar Store
An artfully applied coat of Rustoleum Flat Antique Nickel paint is all it takes to transform froggy green plastic bins to dignified vintage metallic. It's a super-affordable touch of class from Hometalker "Chic California."
Industrial Piping Shelves
You'll never find stronger shelves than the ones in this tutorial from Taryn Whiteaker at Design, Dining & Diapers. Pick up some heavy-duty galvanized piping, boards, and mounting hardware for this cool industrial look.
Paint Chip Memo Board
Do you fall in love with the Pantone color samples at your local paint store? Now you can add a whole palette of favorites to your office design. Shannon Claire's Burlap and Lace blog gives you construction details.
World Map With Lights
Choose a beautiful, large map, mount it on foam backing, and make it come alive with tiny LED lights on a string. Heather Gleim at Hazel and Ruby illustrates how easily you can put this project together.
Mid-Century Clock Makeover
Start with a starburst wall clock and transform it into a Mad-Men-era art piece. Once you have your clock, Anu at Nalle's House shows you the tools and materials you'll need. Round wooden balls from a craft store are the key.
Canning Jar Speakers
If you enjoy tinkering with unexpected combinations of objects, you'll love Apartment Therapy's plans for putting audio speakers into canning jars. Drilling a hole in glass jars may require some practice, but the end result will be a sure-fire conversation starter.
DIY Watercolor Clock
This aesthetically appealing watercolor clock can double as a painting. The Makers Society offers step-by-step instructions for assembling this clock in one quick session. You'll want to make some for gifts, too.
DIY Wall Lamp
If you've ever had any desire to learn how to wire a homemade lamp, Hannah at The Homesteady gives the most stunningly detailed pictorial instructions you could wish for. The featured lamp is a simple reading lamp with rustic jute wrapping on the cord.
Hexagon "Marble" Wall Clock
Simple assembly instructions for an adaptable wall clock are presented by Erin of Earnest Home co. As shown, the project uses shelf-lining paper to create the look of a marble clock, but any textured paper would work beautifully.
DIY Brass Chandelier
Why not put a chandelier in your creative home office? This sleek-looking brass creation definitely doesn't say "DIY," and interior designer Megan Pflug offers easy step-by-step photo instructions.
Pineapple Planter
One last office DIY project that's as quirky as they come: Hobby:Design shows a photo tutorial, but you'll have to guess at some materials since the site is in Korean. The finished planter is cute, and it may inspire you for your own creative possibilities.
You'll be eager to get to work in your home office when you liven it up with office creative ideas from one of these simple tutorials.
---
Products Seen In This Post:
Get your free printable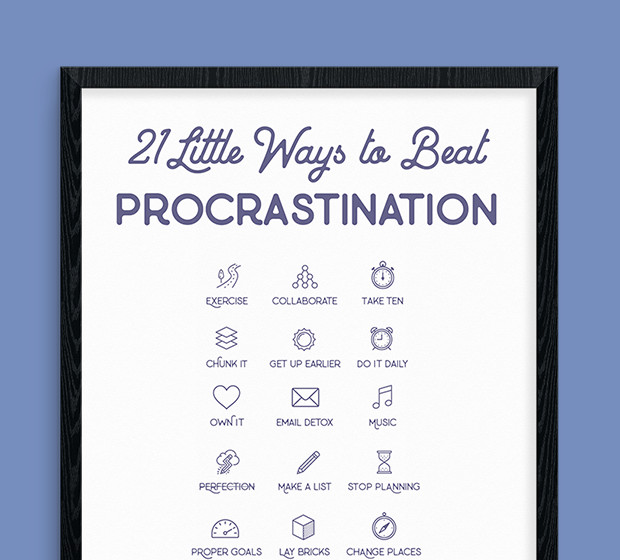 Download it now!

Beat procrastination with these 21 reminders

Tired of putting off goals and projects? Kiss procrastination goodbye with these smart tactics. Download and print this sheet to stay on top of your productivity game.
Building a platform for handcrafted, mousemade design content from independent creatives around the world. We're passionate about making beautiful design simple and accessible to everyone.
---