The Top 7 Apps for Remote Designers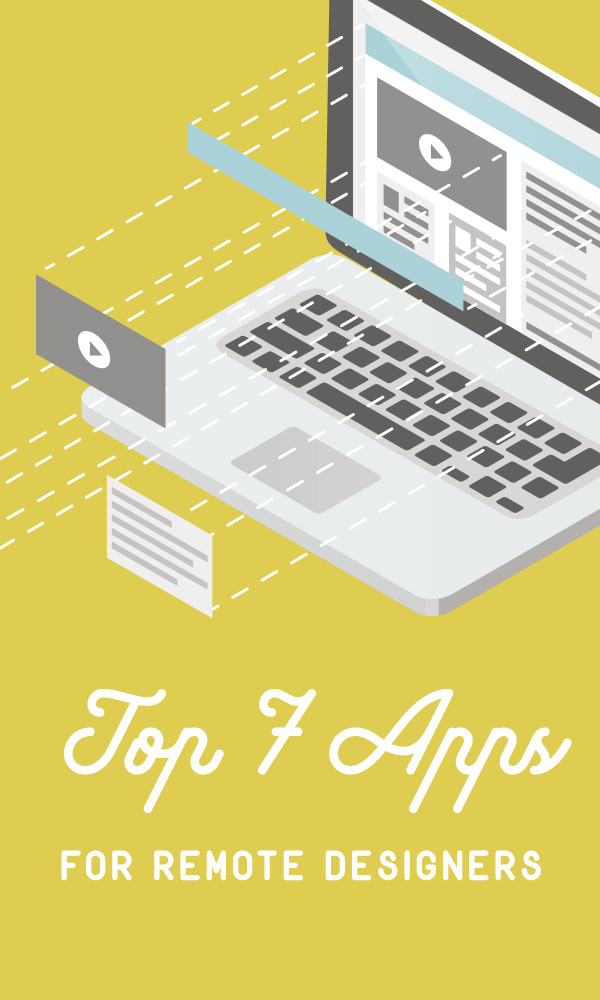 The biggest problem facing any remote worker is the communication barrier with the rest of their team and clients. No matter what way you look at it, for all of the freedoms which remote employment provides, the danger of isolation is a very real threat to your productivity and motivation.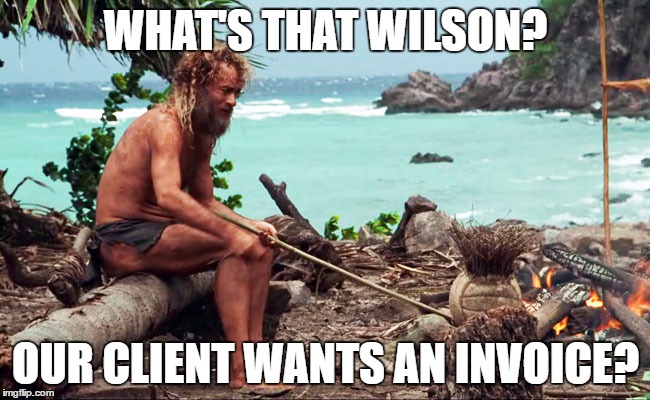 So, what's the best way to keep communicating and collaborating whilst sharing your next-level designs? Why, using the right tools for the job! From tracking your time effectively to producing quick prototypes and easily sending your designs to the rest of your team and clients alike, we've come up with a list of the top 8 tools for designers who prefer the flexibility of working outside an office.
TSheets
TSheets is a fantastic tool for today's remote workers, be they designers or developers. Taking advantage of GPS tracking, this will let you easily record your time, log where you are at any given moment and assign both to project you were working on. Plus, if you're managing a remote team or just working with someone else on a particular project, you can allocate slots of time to other people to ensure that everything stays on track. This is especially useful for designers who are not only remote, but travel often, as you really can work from anywhere whilst staying organized. At the very least you can reassure any employer that you are, indeed, working on that beach in Thailand. As an added bonus for those among you who enjoy taking even more shovel work out of the equation, TSheets also integrates with Quickbooks, allowing you to easily (and quickly) send invoices to your clients. Alternatively, you can also sort out a payroll using this integration without having to swap to several apps for the same result.
Trello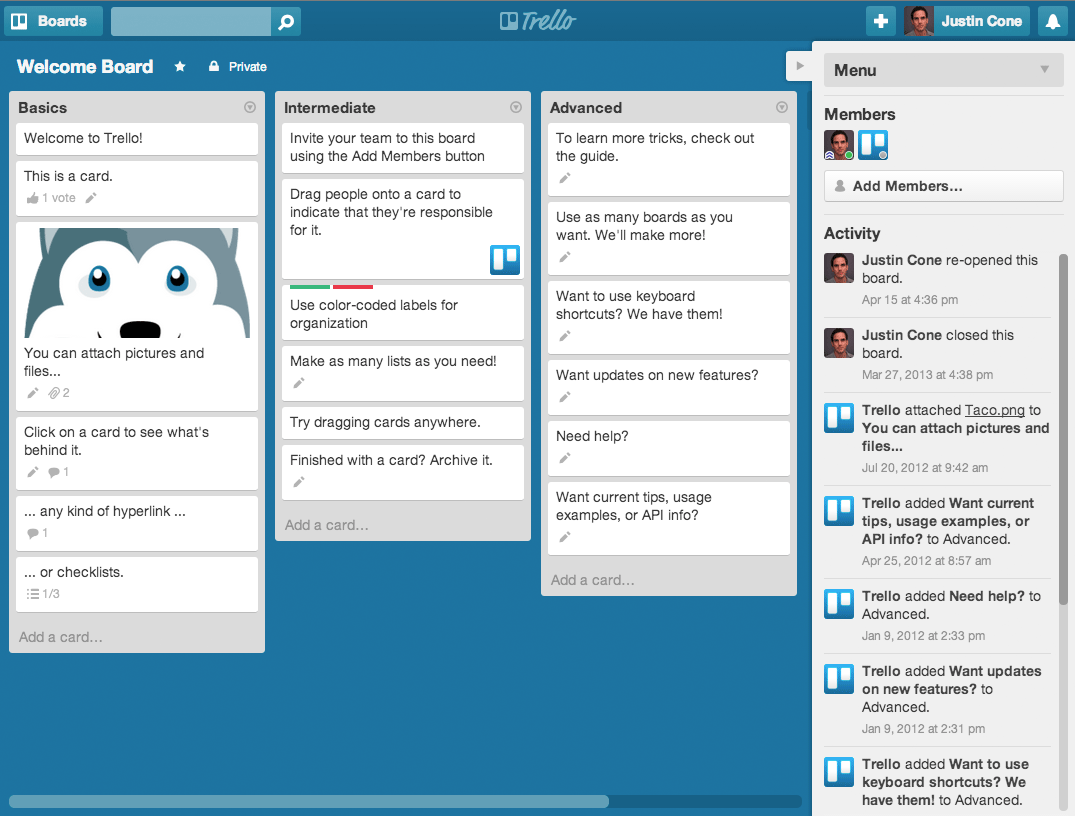 The king of project management. Trello allows you to organize your projects in boards, columns and cards, providing a succinct dashboard for everything you're tackling. The dashboard has the added bonus of making team collaboration incredibly easy, as you can just send a link of the relevant card to your team mate and request their input, or @mention them within Trello to keep everything on record in the same application. For example, you could create one board called "Design Projects" and another for "Clients", then break each of these down into columns such as "In Progress", "Backlog" and "Require Payment". Within each of these columns you can then create cards for each project or client, attach files and images as necessary, add checklists, labels, due dates and so much more. Back at Process Street, we've been using Trello for everything from employee onboarding to content creation and web design – if you need to track a project, this is the tool for you.
InVision
Have you ever attempted to explain how a website will function and look, based on only the initial images you've made so far? If so, our hearts go out to you. Conveying design to clients can be frustrating for both parties, as talking just doesn't cover the span of information you need to convey. That's where InVision comes in. In their own words: "Upload your design files and add animations, gestures, and transitions to transform your static screens into clickable, interactive prototypes" – InVision We couldn't have put it better ourselves. This tool allows you to quickly and easily create prototypes for your web and mobile design projects, meaning that you'll never again have to tear your hair out in communication frustration. Just grab your design files from Photoshop and shift them over to get started.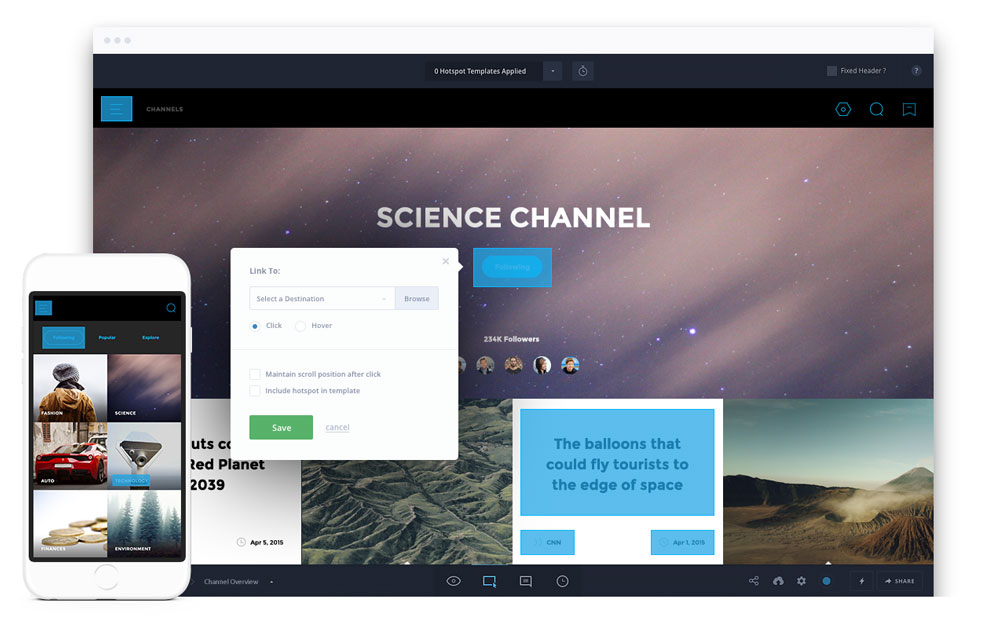 Consider using this not only to send prototype builds to your clients, but to the rest of your team as well (if you're collaborating). This will save untold amounts of time in the long run, as you can catch any potential problems before they become a crack in the vital foundation of your final design.
Sketch
What designer hasn't heard of Sketch already? At its heart, Sketch is akin to a simplified version of Adobe Illustrator (which is by no means a negative). Every shape you create is an item on the layers list, allowing the easy manipulation which can be the difference between a happy designer and hanging up your coat. It's a standalone app, but their integration with InVision allows you to create prototypes even more rapidly than before; all you have to do is create the design in Sketch and then shift it over. We'd recommend taking it one step further to get the most out of using Sketch, by creating your own UI library. If you've ever lost track of a vital resource in the sea of other design projects, then fret no more. As a final note, if you're still not (literally) sold on Sketch, consider this; compared to Photoshop, it's cheaper, easier to use and learn, faster, takes up less of your system requirements and still manages to do pretty much everything a designer could ask for. That is, if you're not using Sketch already – it's popular for good reason.
Pomello
First up, yes, we've already covered a tool which can be used for time management. However, if you're already using Trello then we highly advise that you check out Pomello – it's a match made in heaven. If you've ever heard of the Pomodoro technique, then this app will be familiar to you. Essentially, this little timer will stay at the front of your screen at all times, giving you a constant reminder of how much time you've spent on any given task. You set the timer, work for 25 minutes, then have a quick 5 minute break. Rinse and repeat, having a good 15 minute break every 2 hours to keep your head fresh.

Now for the real power behind Pomello; its Trello integration. As a warning, if you're not using Trello, then you won't get nearly as much out of this time tracker. If, however, you are, then you can select which boards and columns Pomello syncs to, select a card (task) from any of those boards and automatically log your sessions to the task you've chosen. Plus, once you've completed a task, you can move it to a different Trello column (let's say, from "In Progress" to "Done") from the timer itself – there's no need to get distracted by going into Trello. Oh, and did we mention that it's completely free? It's free. Go get it.
Focus@Will
Now we come to a bit of a wild card; Focus@Will. If you're not already paying for Spotify, then we'd urge you to at least try out this program for the full 15 day trial and measure your success; one of our team members managed to almost quadruple his work output by using this app, amongst a few other basic productivity techniques. Focus is a program built entirely around helping you do just that: focus. By playing a mix of pre-selected music centered around keeping you on track, keeping this in the background during your average work day can serve as a massive boon to those remote designers who just can't work in total silence.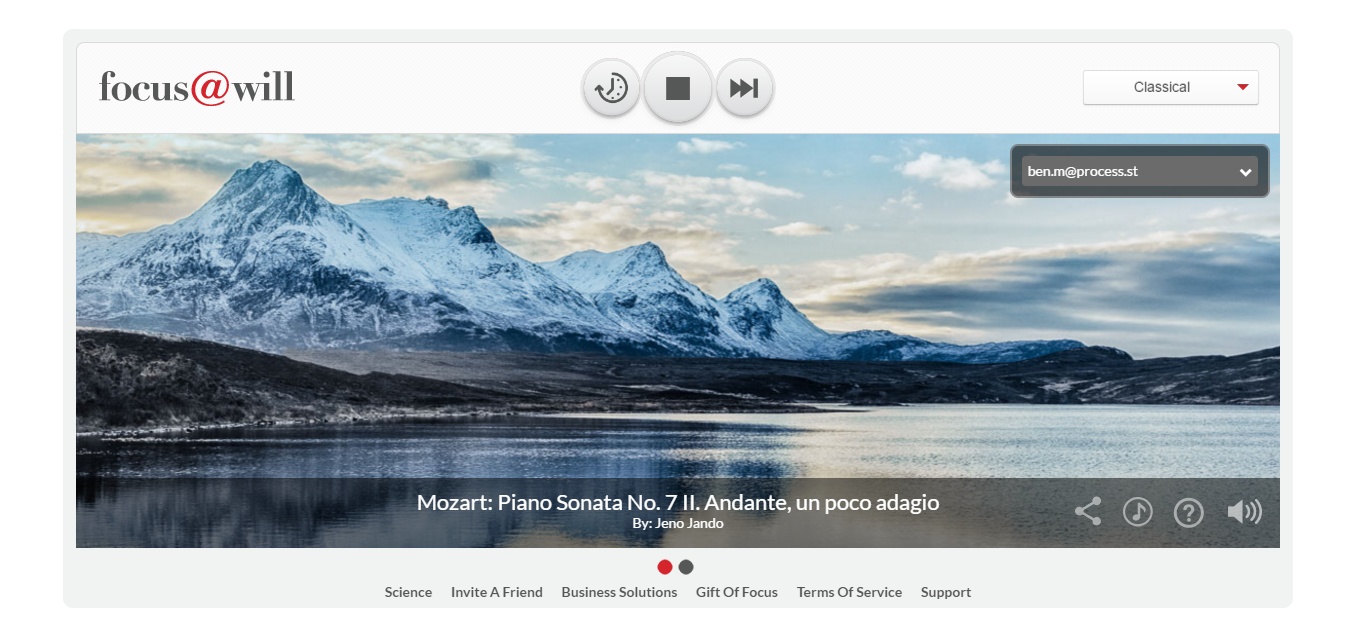 With more than 20 channels of music to choose from, experimenting is the name of the game. Test out your progress with classical, their own brand of "Focus Spa", acoustical or even ambient noises to see what gels best with your own work style. If you're like me and enjoy a good strong coffee in the morning, Focus also comes with a variable "Music Energy Level", allowing you to select calmer or more invigorating backing tracks as the need arises.
Zapier
No matter what apps you're using, you should be integrating them to make sure that you're saving as much time as possible. Zapier works on precisely this principle, allowing you to select a "Trigger" which can cause several "Actions" to automatically fire. Although there is a free plan on offer, you'll want to pay a little to unlock the full potential of your business process automation. For example, you can set up a Zap (Zapier's term for the processes you want to automate) so that when a particular Trello card is moved (let's say, a card representing a client is moved to "Charge Client"), any numbers of actions can automatically fire, such as sending out an invoice. Alternatively, you could integrate your cloud storage with your email or Evernote to automatically save images taken by clients, teammates or even yourself for a project. This way you can ensure that you'll always have a backup of your resources, without any extra effort.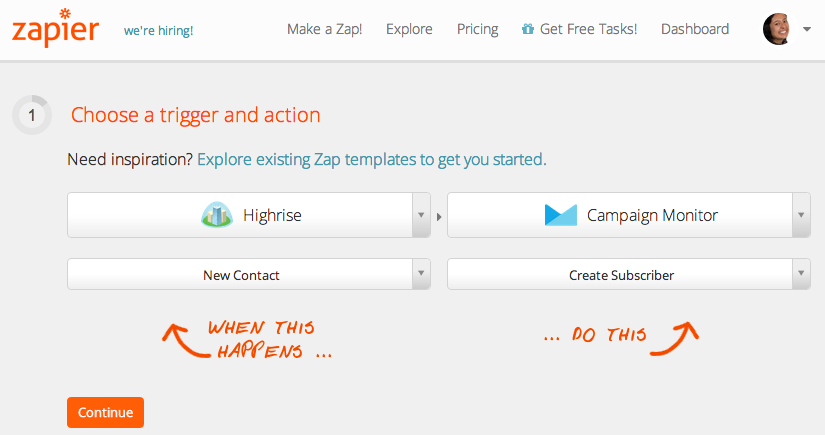 So, what are you waiting for? Experiment with these apps and see what fits your personal style to boost your productivity as a remote designer.
---
Benjamin Brandall is a British writer, publishing thoughts on productivity, SaaS, design and startups. Get in touch with him here.
---
Products Seen In This Post:
Getting started with hand lettering?
Free lettering worksheets
Download these worksheets and start practicing with simple instructions and tracing exercises.
Download now!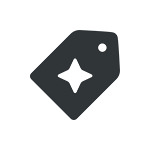 Creative Market