Perfectly Paired Font Combinations for Bloggers

One of the first decisions every blogger faces is what his/her brand will look like. You are 100% sure about your space, the topics you want to talk about, and the people you'll be talking to. It can still be challenging to figure out what kind of visual identity suits that strategy best. Today we're demystifying the font selection process for you, hoping that these handpicked combinations will help you decide what's the best fit for your brand. To do so, we will be looking at ideal font pairings for seven types of bloggers:
Fashion Bloggers
DIY Bloggers
Lifestyle Bloggers
Food Bloggers
Travel Bloggers
Business Bloggers
Design Bloggers
Pin it for later!

You'll notice that each of the font duos that we're recommending below come from the same designer. Pay attention whenever someone creates a pair of fonts that are inspired by the same style, meant to work together, are different enough to add variety, and make part of the same family. These special duos are ideal for branding purposes because their creators already conceived them as a system. In many cases, they are able to provide vivid examples of how the fonts work together — despite being essentially different. If you'd like a refresher on logo design for bloggers, head over to this guide we shared a few weeks ago. Read along and you'll notice how easy it is to work with font combinations that work straight out of the box.
Fonts for Fashion Bloggers
Blogging in the fashion industry demands fonts with sophistication and sensitivity. The font shouldn't be too whimsical that it makes your audience question your aesthetic, and not too bland that makes them think you don't have one. This particular combination, fruit of Nicky Laatz' wonderful talent, provides the right balance of script elegance and sans serif restraint — with a hand-drawn twist.
Fonts for DIY Bloggers
The DIY space is all about the handcrafted feel and a level of naïveté. Audiences don't expect crisp perfection, but an organic, spontaneous look instead. Your font combinations should fit a variety of uses like tutorial graphics, step by step videos, blog banners, and the logo itself. Makers Script & Sans Serif, designed by Andrey Sharonov, is a fun font duo meant to reflect the aesthetic of hand crafted products.
Fonts for Lifestyle Bloggers
Lifestyle blogging encompasses a wide array of spaces. There are creators who feel like this term reflects their platform more than individual areas like fashion, DIY, food, and travel. They do, however, deal with all those spaces in their regular publications. What this means is that lifestyle bloggers are better off using font combinations that reflect that ecletic spirit. The Treasured Years, designed by Sam Parrett, has a very distinct bold dry-brush effect. In his words, "this font set is perfect for creating hand-lettered quotes, logos and printed designs with a rustic & personal touch".
Fonts for Food Bloggers
Let's talk about food, shall we? We can all agree that food bloggers have one of the coolest jobs on Earth. They get to comment and share about the one thing we're all interested in: eating. While photography is undeniably a food blogger's best friend, finding font combinations that work well with images is a must. You expect these pairings to feel organic (versus artificial), playful, and realistic. In this respect, Cultivated Mind's Garden Grown Font Duo is a perfect choice for the food blogging space.
Fonts for Travel Bloggers
Travel bloggers show us the world through their eyes and hold the responsibility of doing so honestly. Their font choices must not reflect a particular culture, but rather adapt to various kinds of locations that they might visit and discuss. Not too American, not too Asian, not too European, not too African. These pairings should be universal enough that they're globetrotters on their own. In this case, I'm recommending Local Brewery: a vintage-inspired font duo that includes one script and one sans serif font. Despite using the word "local", this font is truly "glocal" — it can work well in a variety of contexts. You can easily picture any cup of coffee anywhere on Earth working well with this type family.
Fonts for Business Bloggers
There is a certain professionalism expected of business bloggers that drives reader trust. The sharp, geometric nature of a font family like Pontiac surely fits the bill. La Goupil Paris has designed a variety of styles that work great when combined. In this case, we're recommending a mix of Pontiac inline and filled.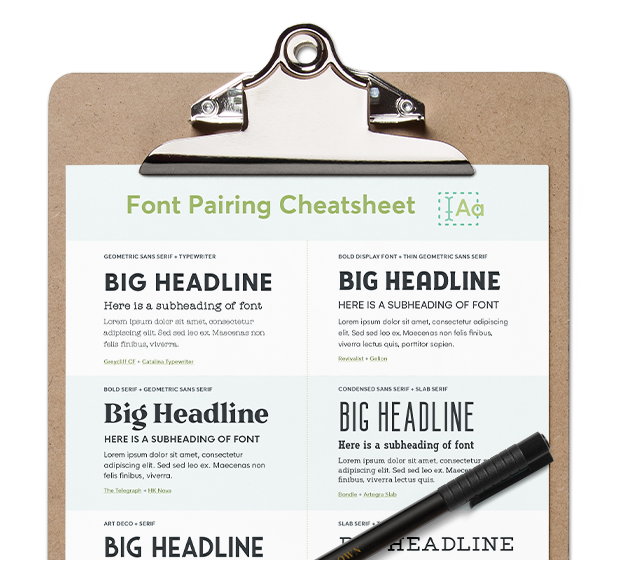 15 Pre-designed Font Combinations
Free Font Pairing Cheatsheet
We've curated a list of font styles that work well together so you can design interesting type lockups in minutes.
Download the cheatsheet
Fonts for Design Bloggers
That's us! Creators thinking about typography, logo design and color theory all day long. Because we actually work in the design space, there are higher expectations attached to the types of graphics that we share. While we use a variety of fonts, The Wild Things truly captures that spirit of creation and exploration that designers seek so much. This beautiful font duo combines a cursive script with lots of alternates and OpenType features and a rounded sans-serif with both normal and italic styles. Versatile and strong, this pairing would complement your design blog perfectly.
Your turn: any favorites?
We've shared our picks, but would love to know yours. As a blogger, which font duos do you find yourself going back to time and time again? Let us know if the comments area below.
---
Products Seen In This Post: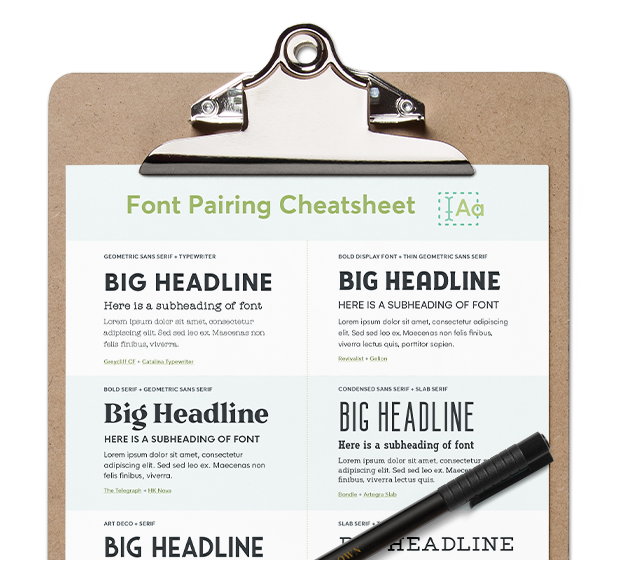 15 Pre-designed Font Combinations
Free Font Pairing Cheatsheet
We've curated a list of font styles that work well together so you can design interesting type lockups in minutes.
Download the cheatsheet
Laura Busche
Brand strategist. Creating design tools to empower creative entrepreneurs. Author of the Lean Branding book. MA in Design Management from the Savannah College of Art and Design (SCAD).
View More Posts