How to Select Stock Photos That Look Unique and Authentic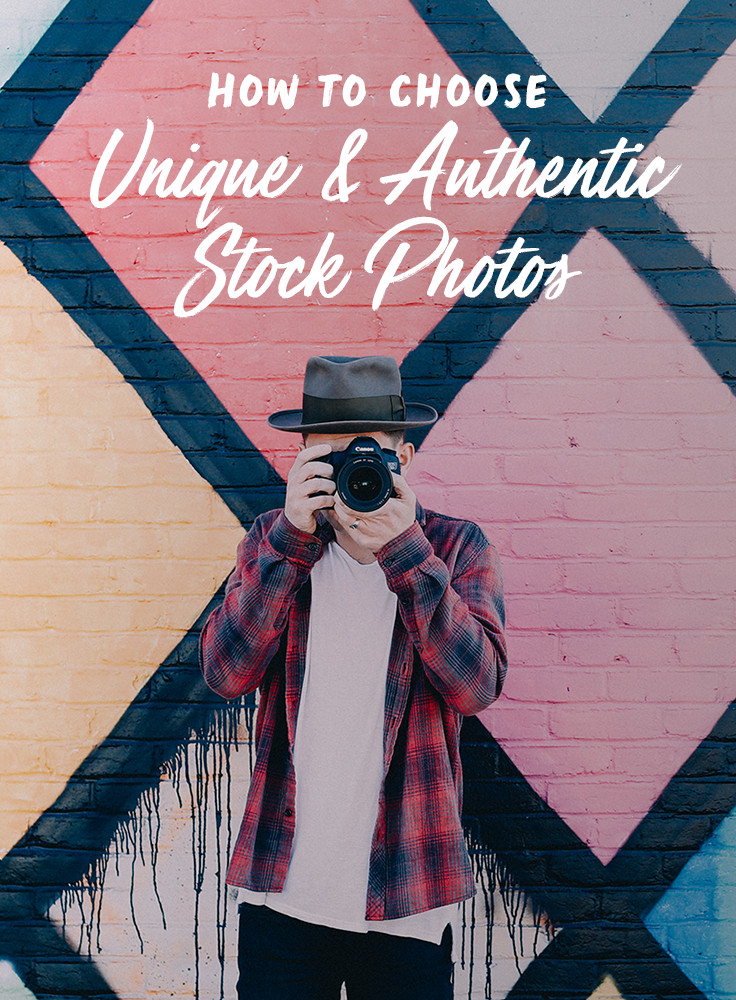 Stock photos are integral to marketing products and services. Since people are visual creatures by nature, using images in marketing materials both online and offline is a need you'll run into often. The right image as part of a website, brochure, social-media post, or Facebook cover can lead to great results. Not all stock photos are created equally, though. While there are many that are high-quality, there are also some that are, well, obviously clichéd, with the photo subjects standing around in contrived poses and environments (think of the typical stock image of businesspeople standing around, shaking hands, and smiling broadly). Such images generally don't do well because your audience, leads, clients, and customers are extremely talented at discerning which photos look authentic from the ones that aren't. If you seek marketing success, you need to become adept at differentiating between stock photos that look clichéd and those that look unique and high-quality. It's really not that hard—you don't need to be a certified photography expert to do this. All you need is to understand what to look for and what to steer clear of. Then, you won't get caught using generic pictures ever again! Here's how.
How Critical Is Photography to Marketing?
For starters, we should really home in on the importance of great photography for your marketing campaigns. The use of high-quality and relevant images in marketing today is akin to the use of balls and strikes to keep track of a batter's count in a baseball game. They're inseparable. Let's look at some stats that further make this point. According to MDG Advertising, content with compelling (read: unique and authentic) images gets about 94% more total views than content without.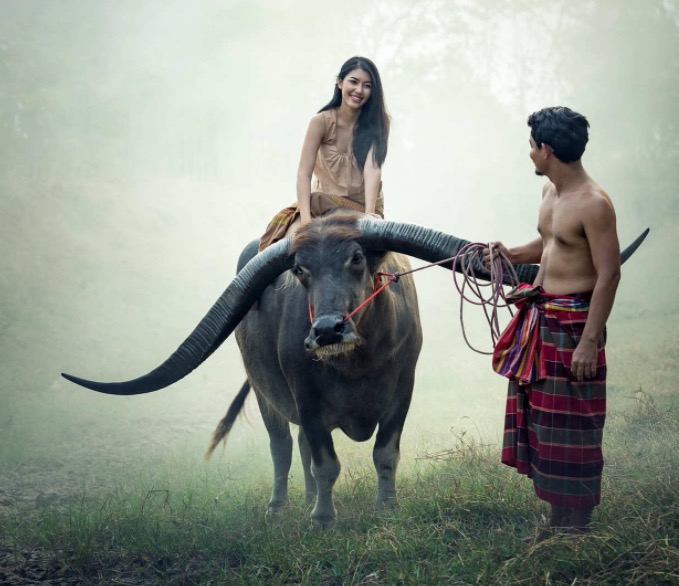 Similarly, an analysis in Inc. reported that posts with images received 650% more engagement than posts with only text, and tweets with photography garnered 18% greater clicks, 89% more favorites, and 150% more retweets. HubSpot reports that organic Facebook engagement (comments, likes, shares, etc.) is highest on posts that contain photos. So if you're marketing anything on the web or social media, then you definitely need photos to secure more views, clicks, and overall engagement, measured across a variety of valuable metrics. That's why it's also crucial that you know how to select those stock photos that look unique and authentic over those that have that less genuine and generic look and quality to them. Stock photos that come across as authentic do better with your audience. The other benefit to stock photos is that they're more economical to use and reuse than the pictures produced by hiring a professional photographer who'll go all-out for a full photo shoot. Especially in the case of small and medium businesses, saving on photography costs with unique and authentic stock photos is the way to go.
Step 1: Be Clear About the Purpose of the Image
A lot of the problems with using stock photos come from people not taking the time to really understand what they're being used for. For example, is your photo going to be used for a case study, a hero image, a blog post, a social-media update, or print material such as a brochure or a poster? That helps to explain why, as you're perusing the vast content available on the web, you've seen so many stock photos that seem to look out of place and pretty clichéd. It's because some people are just throwing them in a marketing campaign without first carefully evaluating their purpose.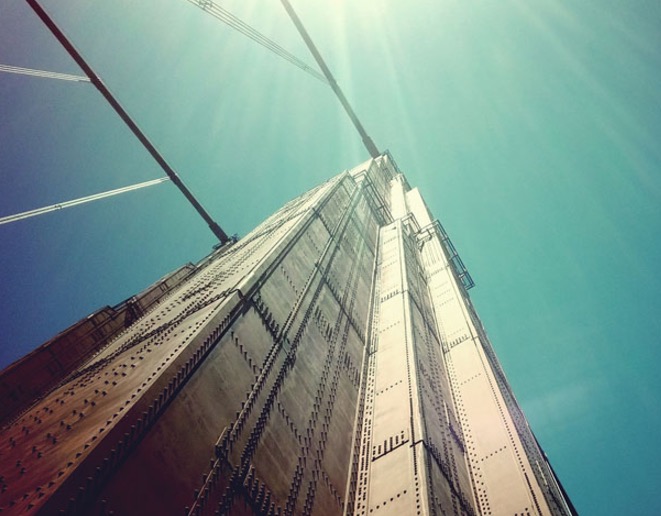 Clearly, an image for a case study, which implies a more serious use and purpose, would need to be different from a photo used for a hero image, which is often used to get your audience's attention quickly, in an impactful way. Another factor to consider is if the stock image is going to appear by itself or with some text on top of it, as is usually the case with social-media posts or infographics, for instance. When you settle on precisely what you're using the stock photo for, you remove all the guesswork that plagues images that aren't appropriate for the content they're paired with.
Step 2: Understand What Makes for an Inauthentic Stock Photo
Now that you know to define the purpose of your images, you have to be able to distinguish between the authentic and the inauthentic. Synonyms for inauthentic include insincere, disingenuous, and incredible. It helps to also analyze the specific scenario in which your stock photo will be used to determine if it's going to be inauthentic for the project. Suppose for a moment that you're putting together a presentation—we have a multitude of presentation templates in our marketplace—for a client or partner meeting. Let's say that the presentation's topic is business etiquette or decorum for specific situations like networking, being social around the office, etc.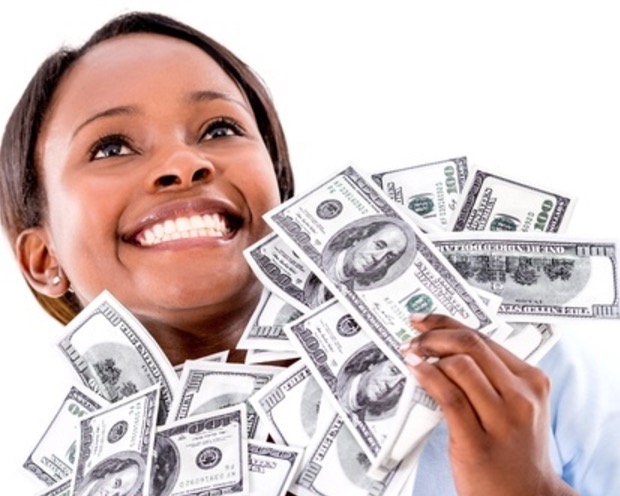 It goes without saying that the images you want for this presentation relate to business, yet an inauthentic stock photo in this case would be something similar to the first results you'd get if you entered "business" as your search term in Google Images. Examples of inauthentic images would be:
A generic hand holding a pen, pointing to a generic "business plan" scrawled on a piece of paper
Two people in suits whose faces you don't even see talking over a tablet
An overhead shot of the top of the heads of several people seated around a conference table
Inauthenticity is literally dripping off of them, but what makes these examples so inauthentic? Several factors, some of which are:
The severe lack of personality, evidenced by the absence of people's faces in those shots
The use of too-literal tropes like the word "business" to make the point that the image is about…business
Wide-angle shots that are distant from the subjects in the frame, thereby robbing the image of relatability
Watch out for and avoid these undesirable qualities in stock photos when you're making your selections for your marketing campaigns.
Step 3: Select a Stock Photo To Complement Your Message Instead of Detract from It
One of the biggest determinants of stock-photo uniqueness is how closely an image supports and is consistent with your messaging. A good number of stock photos you see on the web tend to be images that were chosen almost like placeholders—simply for the piece of content to actually have an image rather than showcasing an appropriate one. The temptation that gets many marketers is choosing images that grab the audience's attention. Ordinarily, there's nothing wrong with this; in fact, it can be extremely beneficial if done right. However, when the attention-grabbing nature of the stock photo is so aggressive that it's all that your audience focuses on, that's a problem.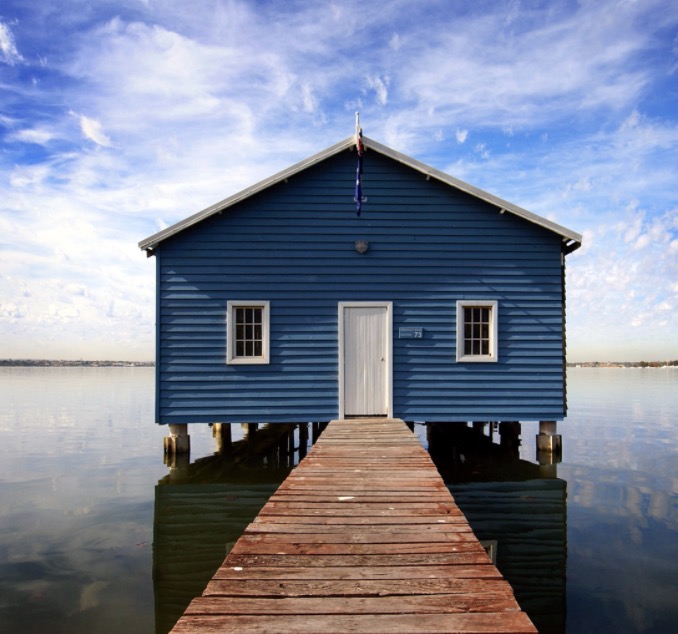 Avoid stock photos with these qualities, as they tend to distract your audience:
Extremely specific
Controversial
Gaudy or in poor taste
When your stock photos have the above qualities, your audience will focus more on the photo than on your marketing message or your content, which is not what a great stock photo should do. Good stock photos will complement your message and not drown it out. An example of a good stock photo that supports your message would be one that shows a pet when you're trying to sell anything pet-related, like food, supplies, equipment, etc. that you've designed. Here are some great examples of stock photos that tend to support the message instead of subtracting from it:
Step 4: Choose a Person or a Person's Smiling Face
There's been a good amount of eye-opening research about the effectiveness of people in images used for marketing. Maybe it's that we human beings simply enjoy looking at other human beings, but it likely has to do more with the fact that people and faces are very familiar to us, which stands to reason. According to a scientific paper published by the Center for Consumer Marketing, Stockholm School of Economics, "joy in marketing" as represented by a person's smiling face has very beneficial results for a marketing campaign, including:
A positive attitude to the smiling person
A positive attitude to the brand behind the smiling person
Intentions to support the brand
In other words, a consumer looking at an image that has a smiling person is far more likely to feel positively about the brand behind the image, which has excellent implications for conversion and revenue.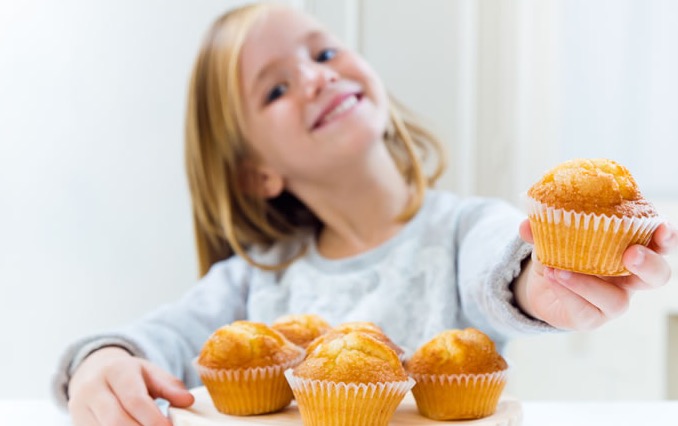 Using a stock photo with a smiling person in it, as part of your brand's handmade packaging or your website, will be beneficial for your goals. Furthermore, not only does this increase the positive response to your product, service or project, but it also ratchets up the personability of your messaging. Forbes calls it the "personal brand," which is essentially when you incorporate some form of humanity into your brand. This makes your whole campaign seems less, well, distant, out-of-touch, and "corporate." A famous experiment with images and people's smiling faces was conducted by Highrise, a CRM application for the web created by Basecamp. Highrise tested out various landing pages for their then-new marketing site, all with pictures of people featured prominently. However, the iterations that tested the best and saw conversion lifts were ones that featured big photos of smiling people. This is another strong indication that the familiarity and personable nature of smiling people really help sell your product or service. Be sure to pick stock photos with smiling people for your design-based marketing campaigns, and you'll surely see good results, too. Of course, be careful about picking irrelevant or generic stock photos of smiling people, which would be inauthentic. Here are some tips to picking more authentic people photos:
Choose photos of people looking right at the camera versus away from the camera (this increases the connection with the viewer because of the direct gaze and eye contact)
Choose well-lit photos of people with good lighting
Use well-defined photos of people instead of indistinct silhouettes
Finally, refer back to Step 2 for more information to avoid choosing inauthentic stock photos.
Step 5: Use a Realistic Context for Stock Photos
Though stock photos are staged, that doesn't mean that you shouldn't emphasize their realism and relevance within the context of your marketing campaign. Audiences can tell when a stock photo is chosen for the sake of having a placeholder image versus a contextual placement. For instance, if you need an image of something travel- or vacation-related because you're designing a holiday-themed landing page for a client, it's tempting to just go with the usual and clichéd picture of any old beach with some sand on it. Again—not very realistic, though. Instead, selecting a stock photo that shows an actual human being in an airport, on a plane, or at their destination of choice makes all the difference in establishing some degree of realism. The same thing goes for other photography topics like technology.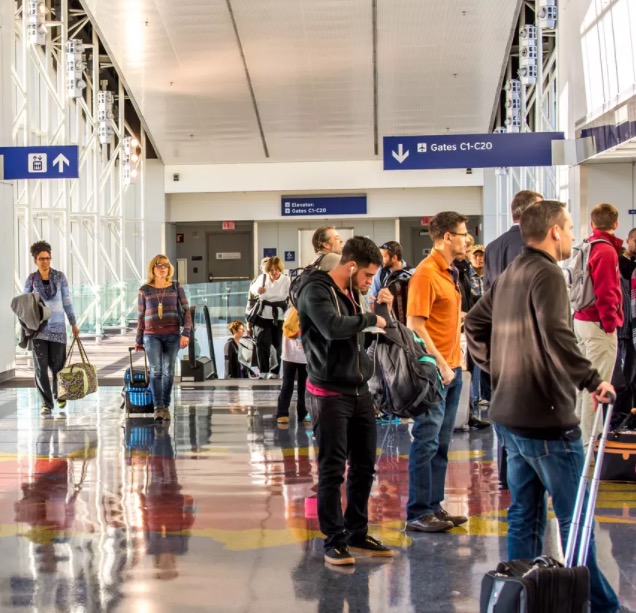 Peruse stock photos in general, and you tend to see technology images being presented in a predictable fashion. You'll see that there's an attempt to place people right next to the tech to play up the human side of things, but in very clumsy ways. For example, you'll see hands reaching out to tap a smartphone or press a key on a laptop or digital overlay graphics that distract from the messaging of an ad campaign. Instead, select the stock photo that shows the entire person interacting with the technology. This can mean anything from a person talking on a smartphone or a freelancer working on his iMac in his home studio to an employee reclining in his task chair as he taps away on his tablet. Images like these would be ideal for campaigns where you're designing a social media cover for a brand or you're presenting a case study that delves into how a specific tech product has helped increase people's quality of life. When you spend some extra time to ensure that your chosen stock photos seem like they could realistically depict an aspect of the project or campaign you need them for, that makes a big difference to your audience and helps make a bigger connection. Consider these appropriate examples from our marketplace that depict people interacting with various forms of technology:
Step 6: Learn How to Use Filters to Narrow Your Search
All of the above actionable tips aren't going to help you one bit if you don't know how to efficiently navigate any stock photo site to find the best images suited for your objectives. Your average stock photo site has a plethora of images. Here at Creative Market, we sell more than 1 million stock photos! That's why sites usually have a handy filter feature that lets you quickly find what you want—if you know how to use it. Normally, you're able to pick and deselect various options to help you narrow down your search.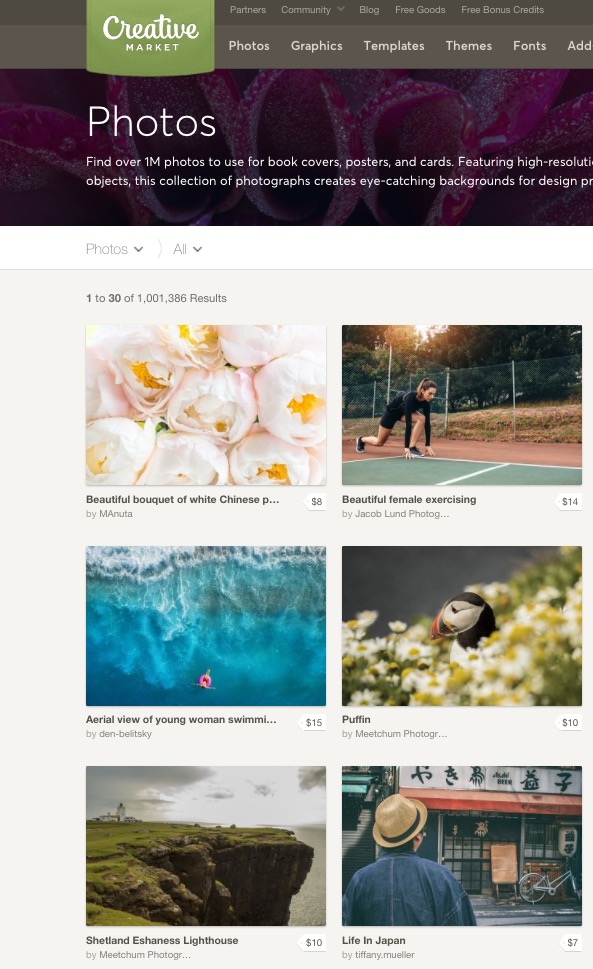 In our marketplace, we have a slew of filter options that will make your search easier and faster. Find your perfect stock photo by:
A specific price range (anywhere from $2 all the way up to $500)
Various properties like "layered," "landscape," "portrait" or "square"
Different themes like "abstract," "animals," "people" or "sports"
Let's say that you only want to find the stock photos that include people in the frame. No problem: Simply choose the "people" theme from the dropdown menu, and you'll see all the relevant results right away. Or let's say that you're working within the confines of a specific budget, and your allotment for stock photos is limited. Just move the slider to the left and the more competitive side of the pricing structure, and instantly see all of the appropriate stock photos within your budget.
Understanding What Makes a Great Stock Photo
Ask around and you're bound to hear that some stock photos have earned a bad rap over the years. That's only because many users don't know how to search for stock photos that are unique and authentic-looking. Stock photos are every bit as genuine and impactful as images produced by professional photographers in shoots set up specifically to capture a certain event or moment. It all comes down to sorting through the sheer plethora of stock photos available on the web until you understand how to find the ones that look authentic. When working on a design project or marketing campaign, be deliberate, methodical, and selective in your search for the right stock photos—don't just settle for any because you're in a hurry or think that the right images don't matter. To your audience, seeing visuals that line up with the overall messaging of your project or campaign makes a world of difference, and they can help you win over more customers than ever. Take to heart these actionable tips the next time you're looking for stock photos for your client work, and enjoy the great results that come about when you choose only unique and authentic-looking stock photos.
---
Products Seen In This Post: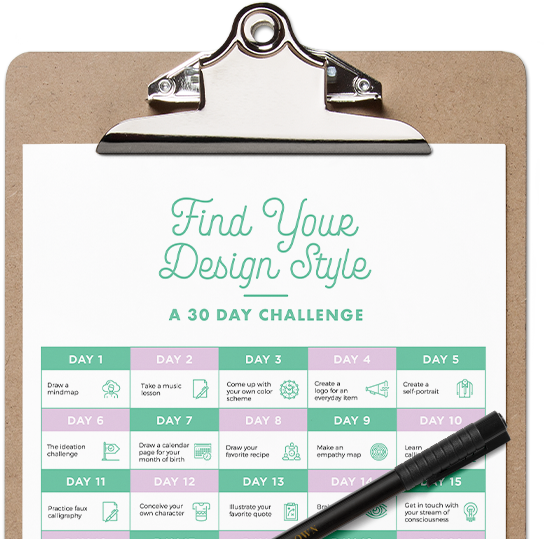 Find your design style in 30 days
Free Challenge Calendar
Having a hard time finding your unique design style? This creativity challenge will get you on the right track.
Download it here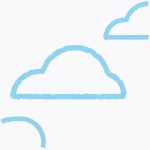 Marc Schenker
Marc is a copywriter and marketer who runs The Glorious Company, a marketing agency. An expert in business and marketing, he helps businesses and companies of all sizes get the most bang for their ad bucks.
View More Posts