The Unexpected History Behind 4 Iconic Logos
What differentiates an average logo from an iconic logo? An iconic logo is universally recognized because it evolves over time, adapting to modern trends while staying true to its brand's roots. To illustrate the principles of remarkable logo design, we've dug deep into the history of 5 iconic logos. These logos all have interesting and unique histories, but achieve the same eternal greatness. Let's take a look at how 4 of the world's most iconic logos came to be, and what we can learn from each one.
1) Chupa Chups
When the Chupa Chups lollipop was created in 1958, founder Enric Bernat originally decided to call it "GOL," imagining the candy as a soccer ball and an open mouth as a net. The name wasn't catchy enough, so Bernat hired an advertising agency that renamed his product "Chupa Chups" from the Spanish word chupar, meaning "to suck." In 1969, Bernat asked his good friend Salvador Dali (yes, the famous surrealist painter!) to design the logo. Dali went to work immediately, doodling on newspapers that were laying around while the pair ate lunch. Dali designed the logo's daisy shape, aligning with the brand's easy-going and cheerful personality. He also insisted the logo be displayed on top of the lollipop instead of on its side, ensuring the logo would always be clearly visible. The Chupa Chups logo has remained virtually unchanged since.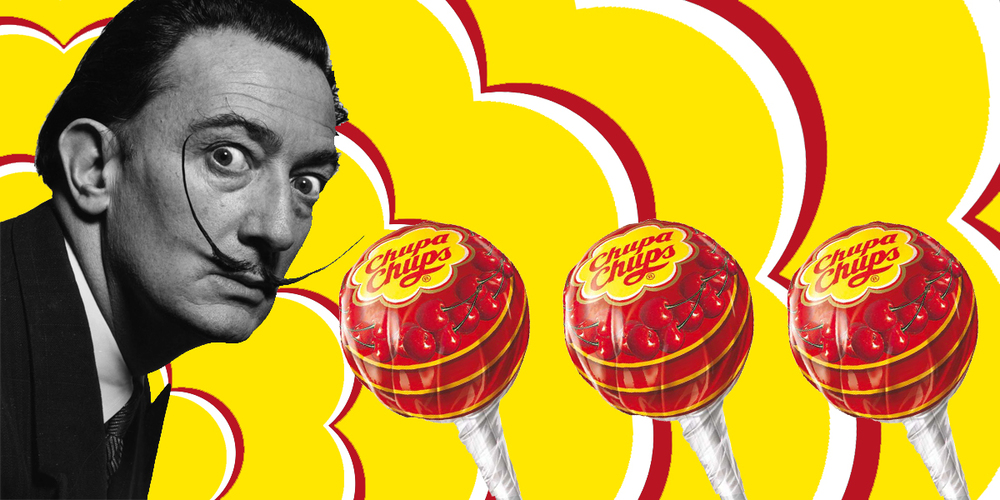 Image via The Dieline The Chupa Chups logo has stood the test of time, proving that it's important to stick with what works. Modern trends can be fleeting or misaligned with your brand, so be sure to stay true to your brand's core values.
2. Starbucks
The original Starbucks logo was a nude mythological siren, who traditionally seduced men while shapeshifting into different creatures. In his book Pour Your Heart Into It: How Starbucks Built a Company One Cup at a Time, Starbucks CEO Howard Schultz states "that early siren, bare-breasted and Rubenesque, was supposed to be as seductive as coffee itself." The Starbucks logo was later redesigned, removing any controversial sexualized characteristics.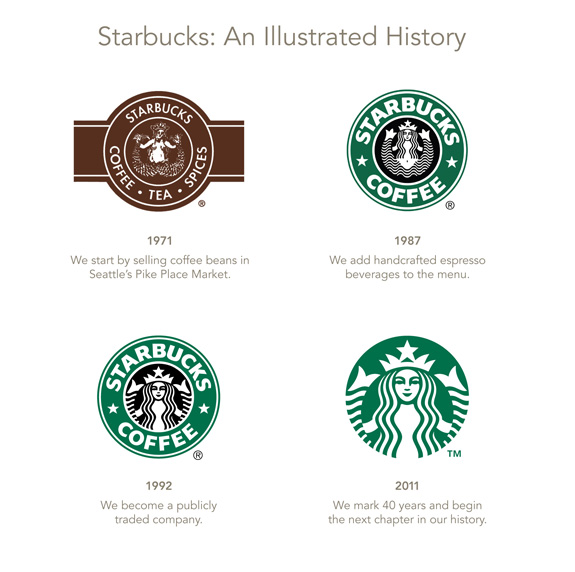 The evolution of the Starbucks logo illustrates that it's important to listen to your consumers and their preferences. The logo has slowly become more simple and minimalistic, keeping the brand aligned with modern consumer tastes without a huge, disruptive change. And, this design method is definitely working – their most recent iteration achieves the pinnacle of remarkable logo design – brand recognition without the brand name text.
3) Apple
There are many rumors about how the original Apple logo came to be. One widely-spread tale is that the technicolor apple was a tribute to the late, great Alan Turing, who's known as "the father of computer science." Turing committed suicide in 1954, possibly by eating a cyanide laced apple. Although this tribute to Alan Turing is a somewhat romantic gesture, it's completely untrue. Walter Isaacson's new biography of Apple CEO Steve Jobs reveals that Jobs was in the middle of a fruitarian diet, and had just come back from an apple farm. Jobs simply thought that "apple" sounded like a nice word that was "fun, spirited, and not intimidating." As for the bite out of the apple? That's just so people wouldn't mistake it for a cherry.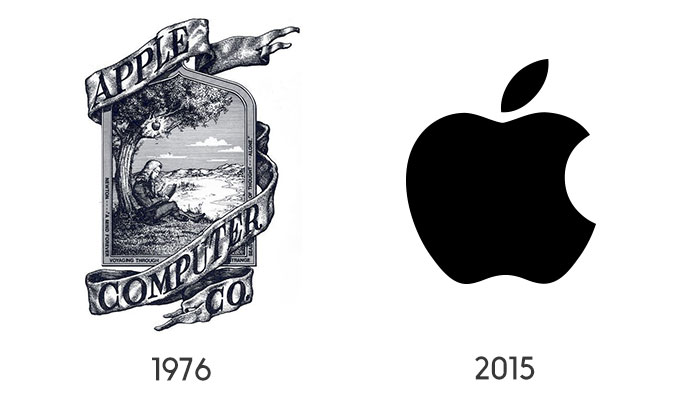 The big takeaway from Apple's logo is that it's imperative to keep it simple. According to a recent study by DesignBuddy, 95% of the world's top brand logos are comprised of only one or two colors – proving that simplicity is championed in logo design. A simple design is versatile, allowing the logo to shine across both physical products and digital platforms, and stays evergreen throughout time.
4) McDonald's
You'd assume that the giant "M" of McDonald's Golden Arches was derived from the company name, but it was actually an architectural choice made in the 1960's. The original McDonald's restaurants featured prominent, golden arches as a way of making the buildings stand out from the highway. These iconic arches became the symbol of the entire brand, and they remain a staple of the company's branding today.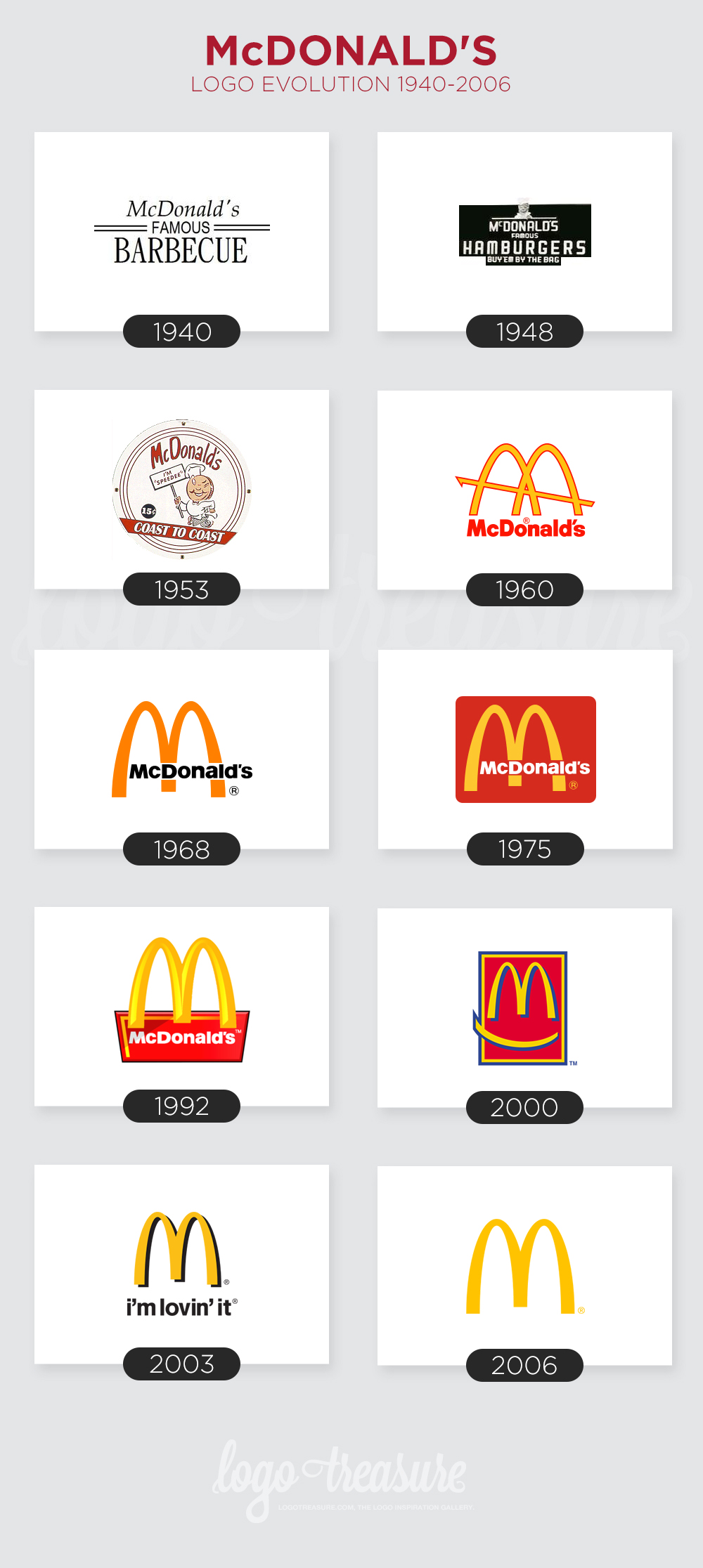 Image via Logo Treasure McDonald's original intention is considered an essential principle of logo design today – stand out from the competition. Differentiating your brand from similar competitors will make your company stand out in the minds of consumers, paving the way to customer brand loyalty.
---
These 4 brands may have taken different routes to get to where they are today, but they all have one thing in common – great, iconic logos. And, there are some important logo design takeaways from their success stories: stick with what works, listen to your customers, strive for simplicity, and stand out from the competition. Take a cue from these iconic brands, and you're well on your way to the same iconic greatness!
---
Katerina Jeng is the Digital Marketing Coordinator at Brandfolder, the world's simplest tool to manage and share your digital assets. She enjoys traveling, writing, and all things hip-hop. Follow her on Twitter for marketing goodness and snippets of everyday life.
---
Products Seen In This Post:
Getting started with hand lettering?
Free lettering worksheets
Download these worksheets and start practicing with simple instructions and tracing exercises.
Download now!