Bring the Drama With These Unique Theatre Inspired Fonts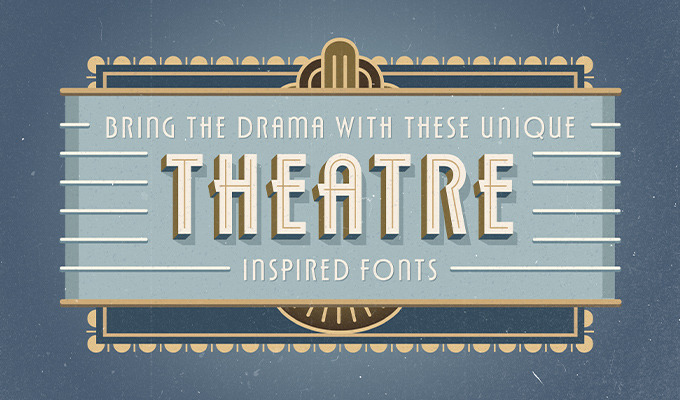 Theater has always been a source of inspiration for graphic designers in different fields. This form of art expresses human emotions through comedy, mystery, tragedy, action, and other kinds of vibrant scenes that can become the starting point for any design project. Here are some dramatic fonts inspired by the charming experience of theatre.
This stout font can be used for editorial, logos, or packing. Its thick curves make it great for a clear heading font with a subtle style. Millenia supports English, Portuguese, Spanish, and French.
If you're looking for ligatures, small caps, interlocking swashes, and filled counters to bring an elegant retro style to your branding, use this font on your business cards and resumes. A Pompadour is inspired by a Maria Keil poster.
Quiche is a high contrast font that swoops from thin to thick perfect for elegant labels or magazines. Contrary to its inspiration (Serif Didone) this font is a sans serif, to convey a modern take on an 18th-century font.
Another Didone-inspired font, Didonesque brings a luxurious high fashion aesthetic that is great for headlines. This font separates itself from the crowd by adding curvature to some characters.
Inspired by the feeling of a night camping with friends, rising star will keep you up playing with the possibilities. It's three different styles and alternative characters make this font as endless as those summer nights.
Petralina has the refined characters of a universal typeface, while adding accents and swashes of a bold header font. Truly meant to be used all around, Petralina works in over 200 languages, and supports fractions, subscripts, and superscripts.
Cooper Italic is known for its humanist capture of a handwritten font. This is the essential Cooper collection. It even contains a new set of original Cooper swashed capitals that have not been released until now.
This font brings you the humanism of hand-drawn type along with a pristine headline style in 8 different weights. The two opposing fonts come together in their use of dramatic serifs that will create an exception brand identity.
A truly theatrical font based off the classic Broadway font. This modern take on it is great for invitations, or any time you want to evoke the feeling of theatres golden age. It comes in 4 distinct styles to capture whatever mood you need.
Cobalt 27 truly captures the modernist typefaces of Eastern Europe during the 20s and 30s. It conveys a retro-futuristic reminiscent of Art Deco. Cobalt 27 can be used for everything from bold holdings to long chunks of text with its various styles.
This font takes you on a journey through Europe with the designer. Created for use with premier programs, the pack includes many font layers to arrange into unique combinations along with banners, borders, arrows, and more.
Taking its look from vintage movie posters, Rodeqa makes an eye-catching header. The wide counters and characteristic serifs give it a dramatic flair that evokes the grit of old Hollywood.
Thin and crisp like it's inspiration, Optima, Clasica is a great body font, but its unique serifs and 9 weight options make it an attractive choice for headings as well. It also comes with glyphs for certain characters adding to its versatility
A bold statement font that takes its inspiration from the working class of the 1850's. Porter is a font that will make your brand feel like a captain of the industry. The package includes both desktop and web fonts.
Chalmers takes the exaggerated ligatures and swashes of a classic hand-drawn script and pairs them with a bold stamped letter look reminiscent of old printing presses. Great for t-shirts or letterhead.
Follow this designer as they stroll through the streets of the once famous tobacco town, Winston Salem, NC with this typeface. Modeled after the shop signs of the old bustling town, this all-caps font is great for brand identity.
If you want to capture the mystique of old world fantasy kingdoms, than Qardoos is your font. With its distinct character style you a sure to develop a unique voice using the regular or shadow style.
This contrasting font family is meant to evoke the multiculturalism of New York City. Knickerbockers's Grotesk uses tall straight lines to allude to the iconic buildings, while the signature script adds a humanist touch. With support for over 70 languages, it is a true mirror of New York's vibrant culture.
The designers of Belgium took a mathematical approach with this cosmopolitan font. Geometric precision and low contrast strokes come together for a font that provides an elegant statement as a header or logo font. It includes alternative letters and standard ligatures to really make the font your own.
Bring your brand and your customers into the retro future with this lovely Art Deco font. Adelios's 8 styles and layering features like highlight, extrude, and cast allow you to customize it to fit your design needs.
Tell us which is your favorite and how you plan on using it in the comments!
---
Products Seen In This Post:
Free lettering worksheets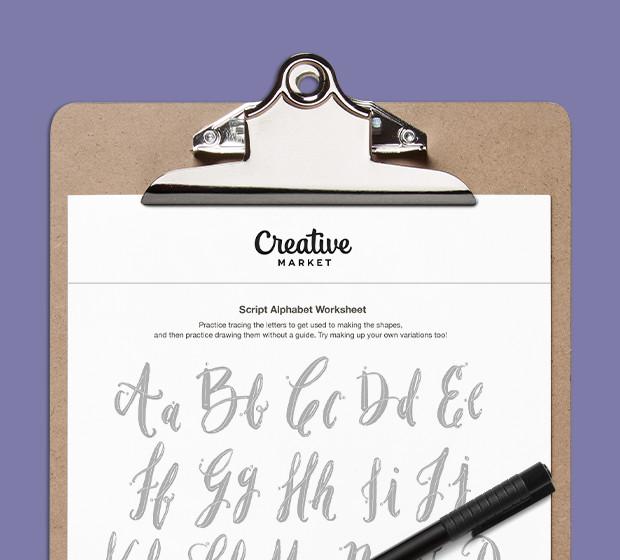 Download now!

Getting started with hand lettering?

Download these worksheets and start practicing with simple instructions and tracing exercises.
Building a platform for handcrafted, mousemade design content from independent creatives around the world. We're passionate about making beautiful design simple and accessible to everyone.