20 Vintage Flower Illustrations, Backgrounds, and Graphics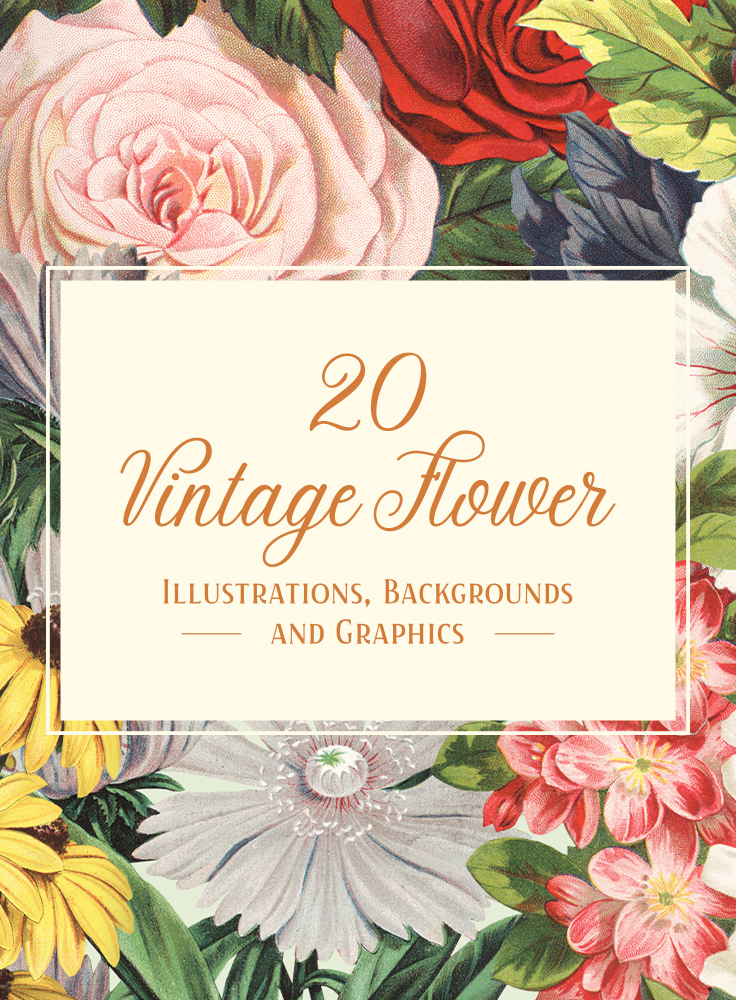 The delicate lines and soft colors of flower illustrations in vintage seed catalogs, botany books, and magazines can add a sweet retro feel to invitations, cards, packaging, and prints. These flower-themed collections include graphics, backgrounds, and patterns for use with a variety of image editing platforms. The third volume in designer Greta Ivy's antique flowers series includes Victorian-era illustrations for posters, wedding invitations, and branding. The pack features full-color images of 14 flowers including primrose, hyacinth, and field rose.
This set of hand-drawn lilies from Tatsiana Kondrashova suggests the pen and ink drawings of a bygone era. Each flower comes with its own Photoshop layer for scaling, and the set also includes a bonus seamless pattern of all lily designs.
The Vintage Flora set of vectorized vintage flower illustrations from Ormai includes 30 individual flower images for invitations, posters, cards, and prints. Each element is built on two separate layers with a transparent background for using alone or as an overlay.
This set of flower images by designer Olga Korneeva includes 28 illustrations of exotic flora, including cymbidium orchids and amaryllis. The set comes with three vector files for use in designing invitations, cards, and prints.
This volume from Greta Ivy's Antique Botanica Collection features 14 full-color images of flowers. The set comes as high-resolution PNG files with transparent background for use in art prints, invitations, and posters.
The Herbs and Wild Flowers Set by Olga Korneeva includes vintage-styled black and white illustrations for use in designing posters, cards, and branding materials. The set comes in two files including raster preview and raster transparency.
Restored from vintage books, this set of images from Verdigris Studios features peonies and other flowers. The set includes 24 colored and eight black and white images with transparent backgrounds, plus a brush file for designing invitations, prints, and packaging.
The Vintage Flower Clipart collection by Verdigris Studios includes flower images recovered from an antique book. All images come as high-resolution PNG files with transparent backgrounds, plus an .abr file version for use with Adobe Photoshop.
Featuring antique engravings of roses from seed catalogs and encyclopedias, this set of vector illustrations by Brigantine Designs includes 70 vector graphics for logo design, branding, posters, or cards. The set includes both EPS and PNG files and includes an extended license.
This collection of vintage fruit and flower images by Eclectic Anthology was sourced from an antique seed catalog, circa 1900. All graphics are available as very large high-resolution PNG files for use in packaging, t-shirt design, art prints, and more.
The Vintage Wild Flowers Bouquet by Holii Carmody features a clipart collection of native Australian flowers for product design, art posters, prints, and invitations. The set comes with individual PNG files for each flower, plus two pre-made bonus bouquets.
The Antique Botanica Bundle from Greta Ivy includes the complete set of 56 large size flower illustrations from Volumes 1-4 of the Antique Botanica Collection at a special discounted price. The images come as high-resolution PNG files.
The Blush collection by Holii Carmody features 26 vintage-style illustrations of roses for wedding invitations, branding, packaging, and posters. Each flower comes as an individual PNG file, and the set also includes a bonus boutonniere and arrangement in PNG and PSD formats.
Tropical Flowers and Leaves is a seamless pattern featuring palm leaves, birds of paradise, and other tropical flowers from designer Mystel. The pattern comes as a high-resolution JPG file for packaging, branding, and posters.
This set of vintage flower graphics from Eclectic Anthology features 100 small images in PNG format on a transparent background for use on websites, cards, or smaller print projects. The set also includes seven printable collage sheets in JPG format.
The Flowers Engravings set by Graphic Goods features 66 vintage images. The all-vector set includes files in PNG, PSD, AI, and EPS formats for flower shop logos, stationery, greeting cards, and gardening-related design projects.
The Vintage Botanical Bundle from Ephemeral Paper Studio features 70 high-resolution botanical prints in PNG format for wedding invitations, cards, posters, or branding. The set also includes a bonus Save the Date template.
The Vintage Rose & Floral Botanicals set from Eclectic Anthology features 75 vintage rose and floral graphics for use on invitations, cards, posters, or packaging. Each image comes in a separate high-resolution PNG file with transparent background.
The Vintage Flower Vector Graphics collection from Eclectic Anthology includes 50 vintage engraving graphics of flowers including tulips and lilies. The set comes in both EPS and individual PNG file formats for posters, invitations, cards, and prints.
Featuring authentic plant and flower illustrations from 1850 – 1910, this collection of 36 vectorized images from Vector Hut includes hibiscus, jasmine, and hyacinth. The set comes in EPS, PNG and JPG formats for posters, apparel design, product packaging, and invitations.
These flower graphics collections combine the look and feel of antique drawings and engravings with thoroughly modern digital technology. With easy editing and a variety of bonus features, they add retro styling and the romance of the past to design projects of all kinds.
Getting started with hand lettering?
Free lettering worksheets
Download these worksheets and start practicing with simple instructions and tracing exercises.
Download now!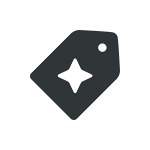 Creative Market