50 Hipster Design Resources For Your Next Creative Project
The hipster aesthetic is alive and well across the world today, and its influence has seeped into the world of design in a big way. If you want access to some of the best hipster design resources available, just check out the following themed resources below. Short on time? Skip the blog post and check out our Hipster Fonts category page. Hipsteria is a fun script typeface that is great for anyone looking to make hipster-themed designs.
These light leaks can be customized in a number of different ways, and they also come with filters for each light leak.
You can add tonal adjustments to any photo with this collection of retro filters.
This collection includes seven vintage, hand-drawn logos and badges that can be used for logos, apparel design, and poster typography.
This pack of logos is centered around old-school Americana fonts and graphics. It includes six select vintage-style logos.
These hand-drawn badges are fully editable and available in Ai, EPS, and PDF formats.
This pack includes four new Photoshop files for giving images a vintage look with ease. It's simple to use; just drop your artwork into the file and you've got an instant vintage picture.
These hand-drawn badges can be used as a design for T-shirts, tags, cards, or posters.
These hand-drawn elements come in an EPS 10 vector file and can add a hipsterized look to any design element.
This pack comes with old-school tattoo art such as a skull and crossbones and a compass star.
Pop your design into this graphic computer screen to show clients what it will look like on a computer. You can also add Instagram-like filters.
This pack features a bunch of hipsters with nerdy touches. They are great designs for websites and flyers.
This lovely and romantic font family is great for headlines and can be used for logos, badges, T-shirts, and other items.
This is a cool and colorful hand-drawn font that is completely original and great for use in any design, from T-shirts to invitations.
Adventure Is Out There is a typeface that was inspired by the wonderful outdoors and has a great, vintage feel.
These hipster emblems are set on a brick wall background and make interesting, old-fashion labels for retro-styled design.
Holy cuteness, Batman! These adorable woodland hipsters can liven up any hipster design.
This archive comes with one EPS vector file and corresponding JPEG image, and each element can be edited and copied separately. It includes terrific designs like vintage sweaters, bicycles, and boomboxes – all the things that hipsters love.
  This pack includes 18 unique and carefully crafted vintage-style logos. It's easy to modify and use for logos, labels, apparel, and typography.
This hipster product filters your photos to give them the same effects you can get with Instagram.
This set of hipster badges and graphics can give a fashionable, retro edge to your marketing material.
This pack includes hand-drawn vintage animals – a leopard, a poodle, and a fox – that add a attractive, vintage feel to your designs.
These hand-drawn elements are great for anyone who likes the vintage look and feel of old postcards.
This collection is awesome for printed paper products and web design. You can clip out different elements and use them individually.
Nothing says hipster more than a mustache, skateboard, and fixed-gear bicycle. This pack includes 77 hipster vector files for use in all kinds of artwork.
This file includes vintage hipster icons with an empty speech bubble for you to write your own message. It's great for getting a message across on social media.
This collection of hand-drawn hipster icons is perfect for a minimalist hipster design. Flat-design bicycles, mustaches, and iPods add a cool effect to your artwork.
This vector seamless pattern with hipster symbols makes a great background design for marketing material.
These brightly colored design elements are perfect for adding a little retro flair to your creative works.
This reindeer-shaped design is filled with retro hipster icons and is great for use in all kinds of designs, from T-shirts to flyers.
This hipster set comes with a fashionable crowd of hipster men and women donning various hipster looks. They can be isolated for separate use or bunched together into groups.
This terrific file comes with awesome hipster office designs for use in ads and branding materials.
This file comes with six ready-made poses of a young hipster character that make a great mascot for any teenage-oriented products.
This pack contains three great retro patterns that make great background décor or filler for marketing material.
These hipster objects and backgrounds are designed in a very elegant fashion, with intricate detailing in a black-and-white vintage texture.
This vector pack offers 30 hipster elements, from top hats to bow ties. They are great for vintage shops and any hipster-oriented design needs.
If you need to make vintage logos, badges, or signs, this hipster pack has everything you need.
This pack includes high-quality beer labels, vintage badges, and stamped hipster objects.
This funny pack has a hipster sense of humor and is great for designs meant to entertain and amuse.
This set of retro-looking men gets right to the heart of what it means to be a hipster, from the thick-framed eyeglasses to the woodsman beard.
This retro set of hipster icons and illustrations offers the perfect touch of old Americana.
These hipster icons are perfect for coming up with an attractive, unique design or logo. There are plenty to choose from, so you can get creative with them.
This bundle includes hi-res photos for use in hipster-inspired design.
This hand-drawn hipster with tattoos, a mustache, and beard is an attractive illustration to use for advertising or getting your hipster message across.
This hipster office image has a great, vintage filter and makes a sweet background design for a website or poster.
These are the coolest Christmas cards out there, and your friends and family will love getting one from you this year.
Hipsters love Halloween. This vector set has a bunch of different hipsterized Halloween elements to use in all kinds of design.
This vector file comes with isolated pixel-art hipster objects that look like they're right out of an old Nintendo game.
This graffiti character is a hand-drawn hipster posing with a pipe and old point-and-shoot camera.
For some reason, hipsters have appropriated deer antlers and mountain-men looks. These rugged, forest-themed hipster icons make a great addition to any design.
Want to see more great assets? Check out 25 Beautiful Vintage Logo Templates, 15 Unbelievably Awesome 1980s Design Resources and 7 Vintage Logo Design Trends.
Getting started with hand lettering?
Free lettering worksheets
Download these worksheets and start practicing with simple instructions and tracing exercises.
Download now!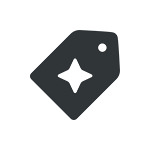 Creative Market