10 Best Fonts For Newsletter Examples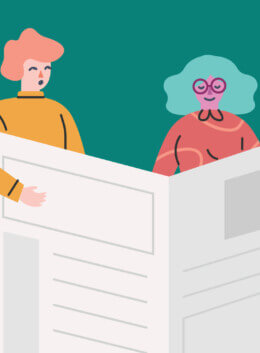 Newsletters are a powerful tool where relevant information such as new products, upcoming events, and new promotions are announced. It is used to help establish your brand's credibility and provide a great avenue to connect with your customers.
Newsletter design can be either very simple or complex. But there are a few basics that all newsletters should have, besides the content. It is the overall look that includes: the choice of font, distinct style and design, that will allow your viewers to remember you.
There are many factors at play when it comes to creating an appealing and engaging newsletter. Typography is one of the most important design considerations that will determine the effectiveness of your newsletter.
Luckily, Creative Market is home to some of the best fonts for newsletters. These, along with some helpful tips can ensure that your newsletter will be a success. Read on to learn more:
What Makes a Good Font for Newsletters?
Choosing the best font for your newsletter can guarantee that your message is properly conveyed and will evoke the right emotions from readers. Whether you want to be simple and serious or creative and casual, your font selection will be responsible for the overall look and feel of your newsletter. These are the qualities and characteristics of the best font that you should look for:
Clear & Readable
Your newsletter font should be clear and easy to read. If you should use loud or elaborate fonts such as decorative or display fonts, use them only for your header. Your header is mainly for attracting attention while the rest of your text is for reading, so highly legible and readable fonts such as serif fonts and sans serif fonts are the best way to go for your body text.
Displays Properly
If you're creating an email newsletter, choose web-safe fonts or fonts that render correctly online regardless of where the email will be read. You can also use web fonts or fonts that are downloaded by web browsers and then applied to the text as the message is being opened and the web page is being loaded. A web font is specifically created for websites and is usually stored on a web server.
Legible at Small Font Sizes
The main copy for most newsletters is set between 10 and 14 points, so you should choose a font that will allow readers to view your newsletter naturally and won't require them to squint or zoom in on their screen just to be able to read it. Fonts with a taller x-height, normal kerning, wider set width, and shorter ascenders and descenders will be much more legible at smaller sizes.
It is also important to consider which fonts will be the best fit for your brand, suitable for your design, and compatible with your chosen format.
Best Fonts for Email Newsletters
With email newsletters, there is more room for creativity in your design. They consist of a variety of content and sections and can include interactive features such as GIFs and animations that you can match with fun, distinctive fonts for your headers and headlines. Since email newsletters generally have very little body copy, you can focus on making your headers and headlines more visually appealing. Here are some ideas:
1. The Dreamer Font
This display font combines a serif and sans serif font with its spurs and thin, low-contrast strokes that are best used at a bigger font size and therefore perfect for titles and headers.
If your brand is more on the organic, natural, or minimalist side, this font with a semi-handwritten style can help you achieve a softer, cleaner look for your newsletter.
2. Radona: Geometric Sans
Sans serif fonts have better on-screen readability than serif fonts, so they are the ideal body fonts to use for your email newsletter. Radona is a geometric sans serif font that comes in five styles and has a neutral tone and modern look that can fit most brands. Brands such as Adidas and Spotify use geometric fonts to promote a simpler and more approachable vibe in their design, and this font can do the same for your body text:
3. Miamo Font Family
The Miamo font family includes a script and sans serif font in various weights so it can be used for your entire newsletter – from your header to your body text. The script font is an elegant handwritten font with alternates and ligatures while the sans is a versatile font with a modern look and feel.
If you're creating a newsletter for your fashion or lifestyle blog, you can use this font to give your design a stylish and sophisticated look.
4. Avegas Royale: Modern Sans
Avegas Royale has smooth curves and lines that are contrasted by the light and heavy strokes. Its bold and regular styles can be used for your headings and body text respectively.
Simple yet visually appealing, this modern, professional-looking font can suit newsletters across different industries; from business to travel, to beauty and fashion, to architecture and design.
5. Boldoy: Bold Decorative Typeface
With creative, playful shapes, this display sans comes in a regular style that you can use to create bold, high-impact headlines while its stylistic alternates and ligatures can help you add visual interest to your headers.
Best Fonts for Print Newsletters
As with books, fonts for printed newsletters should stay in the background and not distract the reader from your content. Since serif fonts look better on print, using a combination of sans and serif fonts for your headlines and body copy is recommended for printed media. Aside from simple and classic serif fonts like Times New Roman, here are different fonts that will make great body fonts for printed newsletters:
6. Radiograph: A Stylish Serif Font
Radiograph is an elegant serif font with stylized features, subtle curves, and unique proportions. Its thin, low-contrast strokes are perfect for making the text flow in your paragraphs, and when used in all caps or with the additional ligatures, this font can help you create strong, eye-catching headlines.
7. Fast & Cure: An Expressive Slab Serif
Specifically designed for luxurious brands, this sophisticated font with thick, block-like serifs and angular strokes that result in uniquely shaped corners can make your body text look more stylized and expressive. With stylish ligatures, it also doubles as a headline font so you can use it throughout your newsletter.
8. Briston
If you want to give the impression of authority and dominance in your newsletter, use this condensed serif typeface for a more formal and traditional look. Vintage with a classic feel, Briston has a tall x-height and sharp, wedge serifs to make your body text look more defined, as well as seamless ligatures that you can use to create attractive headlines.
9. Optimus: Serif Font Family
This serif font family is characterized by sharp lines, a wide set width, and thick, low-contrast strokes. From clear and readable body text to big, attention-grabbing headlines, this versatile font that comes in 18 styles can make your text stand out and help you create different looks, from classic to bold and modern:
10. Big Mamma
Lastly, this hand-drawn slab serif font with soft, thick strokes has a relaxed feel and can be used for both your headings and body copy. If you're a serious brand, this font can give your newsletter design a human touch and help you connect better with your customers:
And that completes our best fonts for newsletters. Make the most of them by signing up here and getting exclusive deals from Creative Market in the future!
Getting started with hand lettering?
Free lettering worksheets
Download these worksheets and start practicing with simple instructions and tracing exercises.
Download now!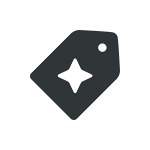 Creative Market