20 Creative Business Proposal Templates You Won't Believe Are Microsoft Word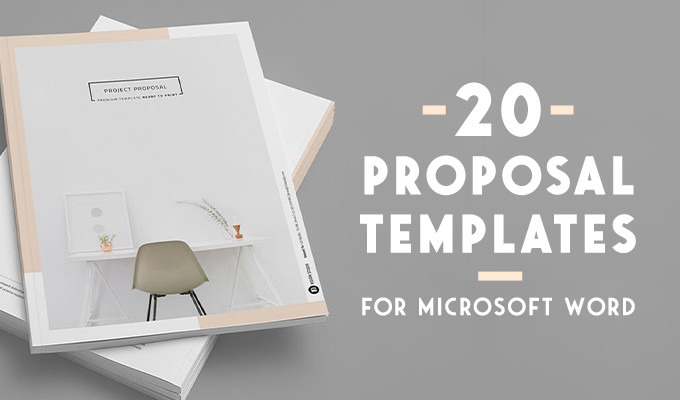 If you have a proposal for a new business idea, you want to package it in a way that is impressive and sells. Luckily, you don't need fancy design software to create that proposal. In fact, all you need is Microsoft Word! Check out these 20 creative business proposal templates that designers have made available on Creative Market. Just add in items like your unique logo and information about your company, and you'll be sure to impress investors, VCs, potential partners, and other recipients.
This proposal template is easy to use and straightforward for someone looking for a template that covers the basics. It contains sections for information like Objectives, Services, Projects, Team, Case Study, Project Overview, Terms & Conditions, FAQ, and more.
This template for a business proposal is simple and minimalistic. It's great for communicating just the most important info, like a brief, skills, team, and timeline.
This 36-page document can be edited in InDesign and MS Word. It is ready to print and uses a document grid and baseline grid.
Proposal by Sabin is a template that is designed to look professional and persuasive. It's a great choice for project proposals. While the photos in the preview of the template aren't provided, the designer includes links to easily access those photos.
This is another 36-page proposal template, and it can be used to pitch a business or prove that you're the right person for a job. It includes 380 icons you can use with the template.
This business proposal template is extensive, and it has many pages to include helpful information about your idea. Included in the template is space for team, services, portfolio, case studies, client feedback, latest clients, project brief, timeline, FAQs, and more.
The proposal template also comes with a template for contracts and invoices. The 10-page business proposal template can be edited in Photoshop, Word, or InDesign.
ID Vision Studio created this sleek portfolio, which can also be used to showcase a business idea. The template itself is 40 pages long, and it is print-ready.
This is an extensive business proposal template, and it includes Word, Excel, Adobe Reader, and InDesign files. The template uses free fonts and includes space for things like a design package, update on project progress, fee estimates (linked with Excel for automatic calculations) and more.
This proposal template from ID Vision Studio includes A4 and U.S. Letter sizes. The designer also includes a live flipbook of the template, so you can see it in action before you start designing.
Sabin has created this template called Proposal, which is bright and minimalistic. The template contains 28 pages, and there is a PDF preview included.
This classic proposal brochure template is compatible with Word and InDesign. It has a clean, well-laid-out design, and it is in CMYK color mode.
Make your company profile pop with this template from Kahuna Design. It uses bright geometric accents to make the document look good and to highlight your business's most important features.
This is another great proposal template from ID Vision Studio, and it uses light blue design accents for a lighthearted, clean aesthetic. The document is 40 pages long and can be edited in InDesign and Word.
Get more bang for your buck when you buy this bundle of proposal templates from Mastergfx. This bundle has more than 60 pages of proposal content, so you can be sure you get across all of the info you need.
Mastergfx has also created this 31-page proposal template, where you can outline your deliverables, clients, case studies, services, experience, additional services, and more. You can check out a live preview of this proposal before you download it.
This proposal is intended to propose a project, rather than a business. The template can be used to show the process you plan to use to implement the project, what resources you'll need and how you will manage it.
This clean and modern business proposal template helps communicate info about your idea in a clear and straightforward way. The template is 22 pages long.
This business proposal template was designed with designers in mind. It can help designers refine their brand and communicate it, thanks to a straightforward layout that's easy to use and understand. This template also comes with a bonus professional business card.
Graphicsegg has created this proposal template, which includes automatic page numbering, one-click color changing, a slew of free fonts and an info file that helps explain fonts and images.
If there's a business proposal that you need to create and you want it to look professional, try using a template from Creative Market. You can also find a plethora of design assets to include in the proposal, including logos, graphics, handmade fonts and more.
Make your next presentation your best presentation.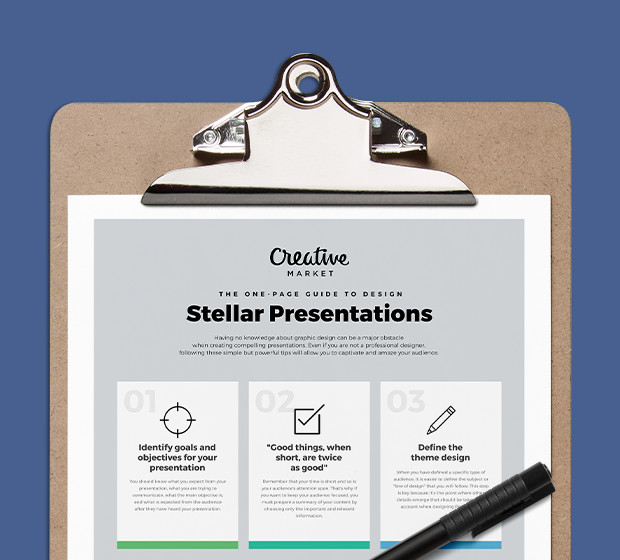 Download now!

Here's the free guide you need

Grab this one pager with a summary of key tips to create a powerful presentation from scratch.
Building a platform for handcrafted, mousemade design content from independent creatives around the world. We're passionate about making beautiful design simple and accessible to everyone.