Perfectly Unique Fonts to Replace Comic Sans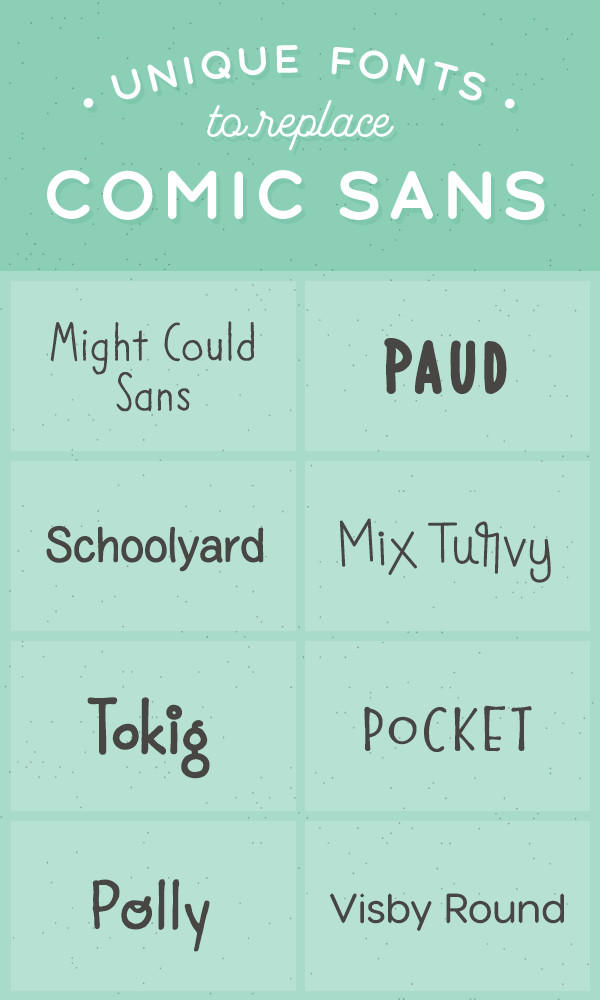 Comic Sans is the font designers love to hate: a woefully overused typeface that's come to represent bad design and a dismal understanding of font psychology. But if you're looking for that light, informal touch of a whimsical, handwritten font, here are 20 unique and versatile options to replace the dreaded Comic Sans in design projects of all kinds.
Pin the list for later
Oduda is a geometric, sans-serif typeface whose perfect round shapes and very low ascender height create a playful, friendly look. Oduda captures the informality of children's printing, but adds sophisticated styling for a unique look. Available in four weights, Oduda also supports web fonts.
A rounded sans-serif font, Visby Round features wide, curved letterforms. Friendly and open, Visby Round is available in six weights and provides a fresh, smooth look with an informal feel.
Void is a modern, sans-serif font with open, rounded styling. Available in five different weights ranging from light to bold, Void adds a minimal, casual look to headers, titles, logos and more.
Polly Rounded is a fresh, geometric sans-serif font available in thin, light, regular and bold weights. Friendly and open, Polly Rounded features plenty of open space and blocky, stable letterforms.
A tidy, legible font inspired by schoolroom chalkboards, KG Neatly Printed is intended for educators who are creating teaching materials. With its easily recognizable letterforms and thin lines, KG Neatly Printed is available in both regular and widely spaced forms.
Mix Turvy is a casual, quirky font that combines irregular hand-printed styling with distinctive letterforms. Use Mix Turvy on DIY and handcrafted projects for a light, informal touch.
A casual font with a hand-drawn look, Schoolyard is inspired by children's chalk lettering. Available in two weights, Schoolyard also includes numerous special symbols, as well as symbols for international currencies.
Might Could Pencil is a hand-drawn sans-serif typeface with rough edges and thin strokes for use in graphic novels, comic books and promotional materials. Casual and legible, Might Could Pencil also includes foreign language symbols and comes with a "How to Install" guide.
An informal script font with whimsical embellishments, Tokig Px has varying heights for a casual, printed feel. Available in regular, rough and bold styles, Tokig is an OpenType font for use on all platforms.
Available in both regular and bold, Pocket is a modern, informal hand-drawn font with a whimsical, informal feel. Pocket's letterforms are irregular in size and shape for a whimsical feel, and its many alternate letterforms help create an authentically hand-lettered look.
With elongated, handwritten letterforms, Take It or Leave It has a clean, informal look. Take It or Leave It is available in regular and bold, as well as an artsy, embellished serif style.
With dashed lines to help learners make their letters, as well as outline and regular letterforms, Dash to School is a rounded hand-printed font designed for learning games and classroom materials. It comes in regular, drop shadow and dashed variations, and includes a set of guides.
A warm, informal font inspired by printing with markers, Margarine Pro features thick, rounded letters with rough edges. Margarine Pro comes with numerous OpenType features, including SmallCaps, three figure sets and several stylistic alternatives.
Rounded and warm, Sofia Soft is a geometric, sans-serif font with a casual feel. Sofia Soft comes in eight styles ranging from light to bold, and includes a variety of stylistic alternatives, ligatures and support for many Western, Central and Eastern European languages.
With rough edges and an irregular, hand-printed look, Polly was designed for text in children's books. Polly features rounded, open letters and includes support for a number of languages, including Cyrillic.
A serene, hand-lettered font, Postcard features rounded corners and subtly curved letterforms for an informal, yet sophisticated feel. Postcard is derived from its creator's own handwriting, and includes over 200 glyphs for most Latin-based languages.
Inspired by children's doodles and comic book style, PAUD features irregular, hand-printed letterforms and an extensive collection of vector "stickers" that includes pop-art images of lightning bolts, ice cream cones and cute characters. PAUD's full feature set can be accessed with any program that supports OpenType features.
JollyGood Sans Condensed is a tall, narrow comic font suggested by children's printing for a fun, yet legible look. For use in children's books, comics or cards, the complete font package includes four font weights, an array of alternates and ligatures, and support for most European languages.
For children's books, packaging and even longer texts, JollyGood Proper Essentials is a rounded, comic-style font with a light, informal feel. Inspired by children's printing, JollyGood Proper includes four font styles, as well as numerous alternates and ligatures.
A rounded, handwritten typeface, Jenna Sans has a casual, balanced look. Suitable for invitations, headers and text, Jenna Sans features carefully kerned letter pairs and an extensive set of glyphs and punctuation.
Handwritten fonts add a warm, casual feel to projects ranging from children's books to wedding invitations. These custom fronts from designers around the globe add sophisticated styling and whimsical touches to the basic forms of Comic Sans for a look that's memorable and unique.
---
Products Seen In This Post:
Getting started with hand lettering?
Free lettering worksheets
Download these worksheets and start practicing with simple instructions and tracing exercises.
Download now!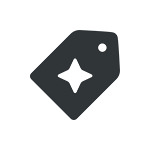 Creative Market